Oakland, CA
Oakland
Monster Energy AMA Supercross Championship
A few riders have gone out with injuries, but there's still a lot of talent in the 450SX class, and lots of storylines. Our crew caught up with three riders after Oakland to get an update.
Jason Anderson | Rockstar Energy Husqvarna Factory Racing | Fourth in 450SX
My night was pretty average. I got a heat race win and fourth in the main. It wasn't anything to be super stoked about, but it was better than last weekend getting 10th. So just gonna go back to Florida and get back on the regimen and see if we can come back stronger.
First couple laps we saw you guys out front and it seemed like that's the way it would finish on a track like that.
[Eli] Tomac was ripping, he was not to be denied by anyone tonight. It's cool, he bounced back from those first few races and he's been riding really good. But I want to be up there, I want to get that start and stay up there for sure.
Were you walking a balance between pushing it and staying up?
Yeah, for sure. You didn't want to overdo it; you didn't want to be laying on the ground. That could have easily happened. You could get cross-rutted or whatever it is. I'm was working on trying to be safe. – Aaron Hansel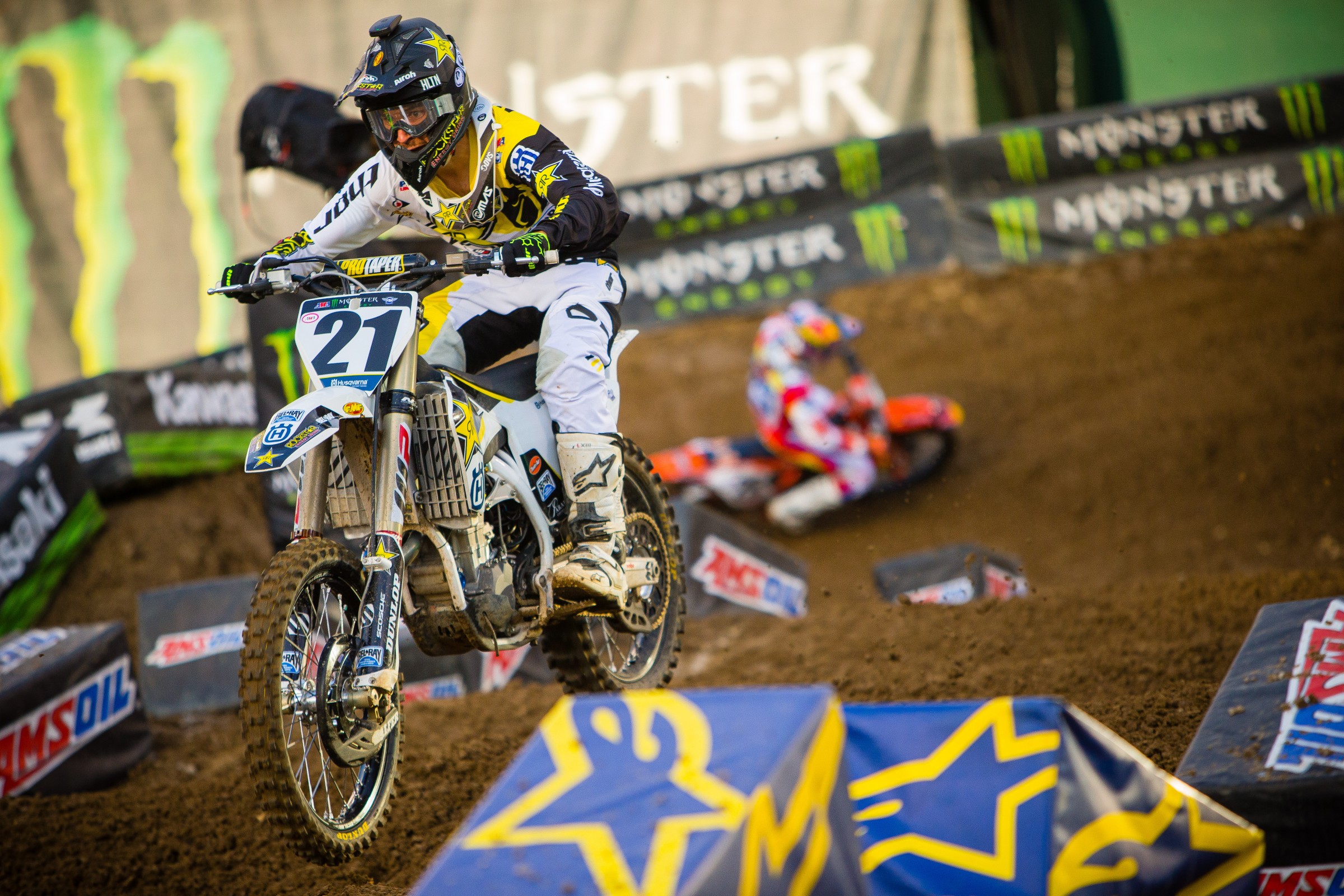 Dean Wilson | Rockstar Energy Husqvarna Factory Racing | 10th in 450SX
I qualified sixth, which was cool, my best yet. Heat race I fell first lap so it was pretty much a scratch. Semi, I was in third and didn't hit the rhythm correctly and it kind of pitched me forward. I crashed and I went to pick my bike up and it was standing straight up and down against a Tuff Block! I was like, "What?!" So then I go and jump on the thing, but it didn't start right away so I was kind of bummed on that. So I had to go to the LCQ and made it through the LCQ. In the main I was battling for like seventh for probably a good 12 minutes or so and got a little tired at the end. I've only had two days on the bike so I'd say it was a good day.
Was it easy to pick up on the bike after being on the KTM?
Well, it's a little bit similar to the KTM, but I feel like it's a little bit different. It's just getting familiar with the bike again, and the more time the better. I'll be better next weekend. The track was absolutely gnarly tonight too, I completely forgot to add that. It was brutal out there. Surviving healthy tonight in the top 10, we'll take it.
How does this track rank with some of the other gnarly supercross races you've been in?
I don't know because I've missed so many races. I've done four supercross races in the past two years, so for me it's just about being at the races. If I have to back it down a little when things are getting hairy, I will at the moment because I just want to be at every race.
Take us through the incident when Malcolm Stewart got into the back of you in the main.
I don't know. I passed him and coming through the whoops, he like, came in super hot and I don't know what happened. He just nailed me from the back. I don't know what was going on. I don't know if he was trying to T-bone me or what. He went down.
How much better are you expecting to get once you're used to the bike?
I'd say give me a couple weeks. Next week will be better. The bike is good, and being familiar with it is important. – Aaron Hansel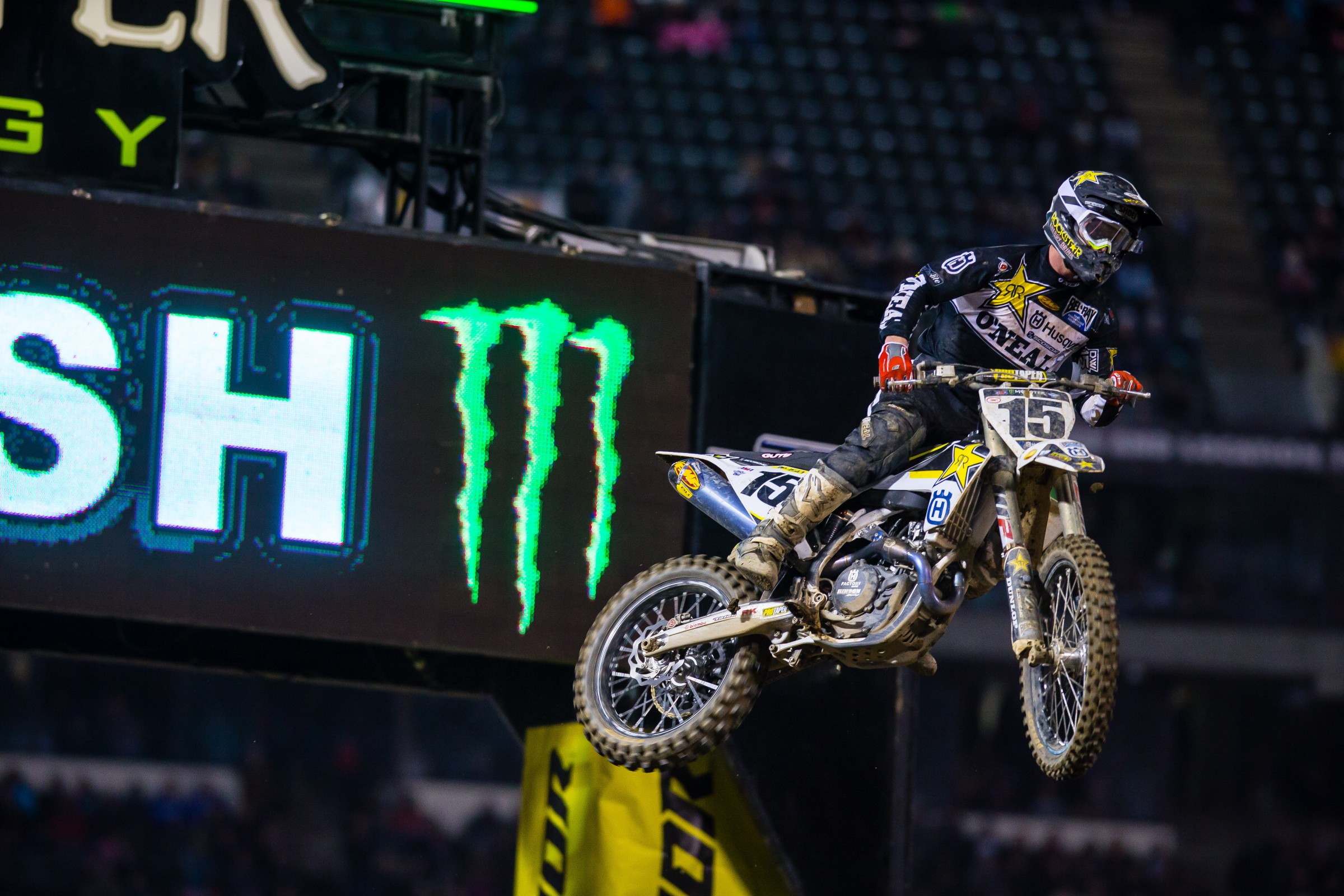 Malcolm Stewart | Ride365.com/Stewart Racing | 17th in 450SX
I went down behind Wilson—I still don't even know what happened. I tried to cut under him and I guess I clipped his back wheel. Man, I need to just stay off the ground. I tweaked my bike up pretty good, it was turning left constantly. I mean, we just need to get a little bit better and stay off the ground and the results will come. This is like me two years ago! I haven't crashed this much in two years—if I had crashed like this last year I wouldn't have won the championship! Speed's there, I just have to put it together when it counts. The heat races, damn, three seconds in the three heat races I've done, but I'd rather ride the semi and have a good main event! Hopefully … I know Dallas won't be this muddy. We'll get a nice, smooth, hard-packed track and we'll take it from there. – Steve Matthes