When we last talked to Chase Marquier during the off-season, his plans for 2017 were up in the air. After a disappointing rookie season, things fell through with the RIDE365.com Honda team he was expecting to ride for in 2017. Eventually, like many other pros, he decided to get a few sponsors on board, load up the box van, and head to the West Coast rounds with his mechanic and dad. After a strong off-season training with Robbie Reynard, Marquier found himself near the top 10 at the first two supercross rounds with 12th and 13th place finishes.
We called up the Oklahoma native to see how everything came together before the season, what happened with RIDE365, and how he feels he's doing this season.
Racer X: When we talked to you a couple months ago your sponsorship situation was pretty rocky. How did everything come together before the start of the season?
Chase Marquier: Coming in [to the season] I was kind of promised I would have a ride with the RIDE365 team and last minute, you know, I was trying to get a hold of Chris Crossland, couldn't get a hold of the guy. Finally, it was last minute so I was like, "Man, I gotta make a decision. Do I keep waiting around or do I try to find a way to go racing on my own?" I knew my mechanic back here in California, Justin, and him, me, and my dad just kind of sat down and were like, "Man we just need to go after it. Do our own thing, see if we can get some support from Honda, chase after some sponsors that helped me out last year." And that's what we did and luckily Honda gave me a little bit of support, Matt at Proven Moto is hooking me up with my motors, and I'm really happy with the program we've got going.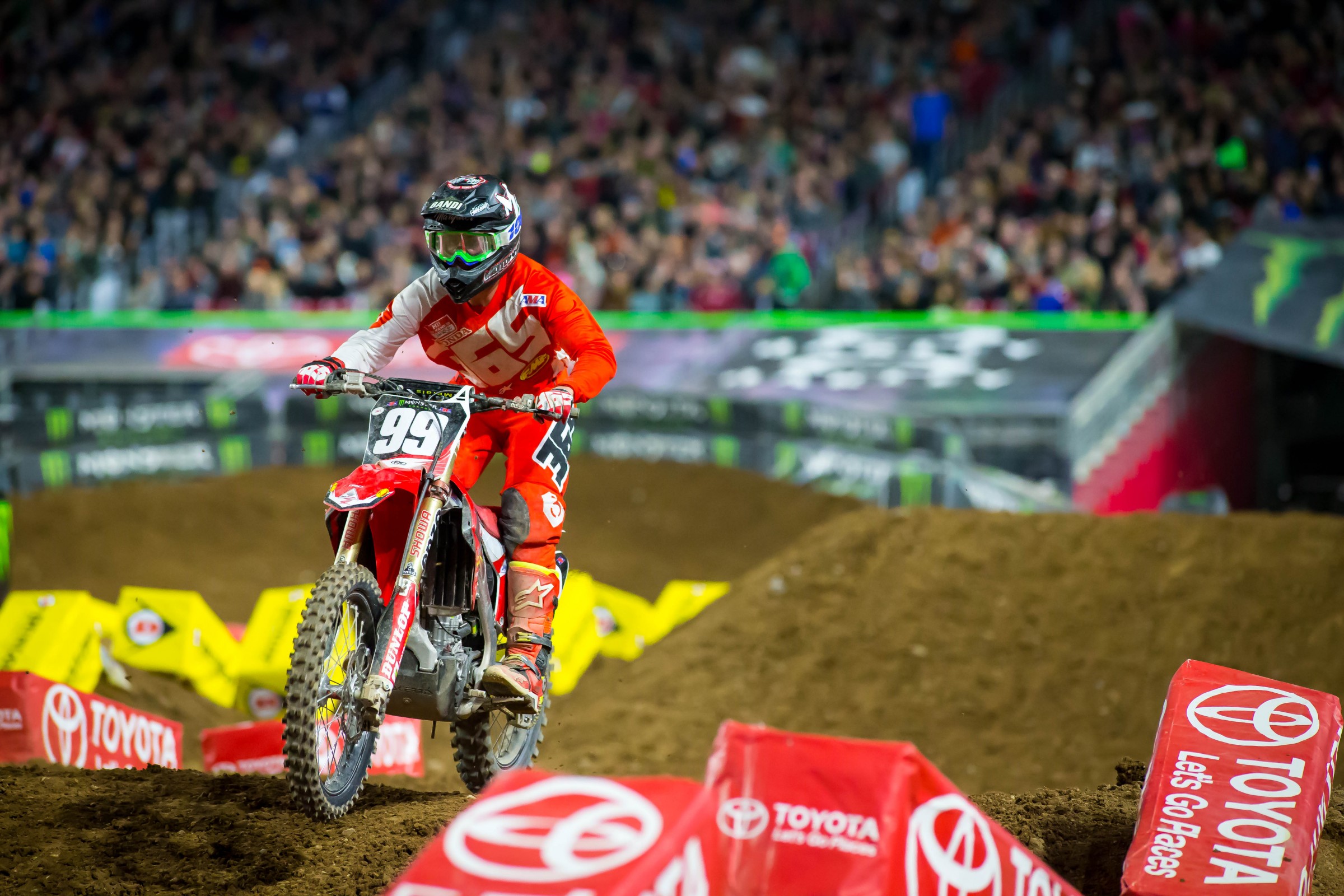 Does it irk you a little bit when you see Chris pouring a ton of money into the new RIDE365 Stewart Racing team when he promised you a spot for this year?
Yeah a little bit. I like Chris and everything. He's a good guy. I just really wish he would have called me back when I called him 50 times and left him probably 50 voicemails. [Laughs] No hard feelings though, it is what it is.
What kind of support is Honda giving you? Is it bikes, parts, or just support at the races?
They actually didn't hook me up with bikes. I bought my bikes at full price. I got a parts deal with Honda and some extra contingency, which helps a lot on the weekends.
And you're just driving to all the races with your mechanic and your dad?
Yep! I've been out in California staying with my trainer Robbie Reynard, so I've been close to all the rounds so far. So just driving to them all. I'm gonna race Oakland this weekend and I'm actually gonna fly back home to Oklahoma and I'll drive down to Dallas. Dallas is kind of a home race.
"Should I just quit and go to college or what?"
What's it like to have a trainer like Robbie Reynard? Someone who can still throw down when he needs to.
It's awesome having Robbie in my corner. He helps me out with so many little things on the track whether it be standing up a little bit longer into a corner. Things that I don't notice when I ride, he notices. In life in general he helps me out too.
Do you get to split any time between Oklahoma and California during the season?
Typically, it's pretty cold back home in Oklahoma so in the winters I like to come out to California. This year I came out here in the beginning of December and honestly I haven't even got to ride that much. I don't think anyone has because it's rained so much out here. It's really rare for California so I think I would have been better off at home! [Laughs] But it is what it is.
When the rain was coming down did you ever think it might just be better to brave the cold back home?
Oh yeah. Me and my dad talked about it. I thought about driving back home, but getting a flight each weekend just wasn't doable moneywise.
What's it like to have your dad travelling with you and having him at the races?
Oh it's awesome! I love having my dad there. He kind of gives me motivation each weekend; he's the one that keeps me going for sure.
Last year you were pitting out of the RIDE365 truck. Do you feel like you're at any disadvantage with your setup this year?
No not at all. Last year was my first year. I wouldn't say I sucked last year … I mean I did suck. [Laughs] Just my head wasn't in the right spot, I was nervous to be out there with those guys. I don't know … I look back at last year as a terrible year. This year I'm a lot stronger mentally and physically. This year—racing out of a van—I think it gives me more motivation to get back under a tent for next year. My goal this year is to go out there and prove to myself and other people that never called me back that I can go out there and do good.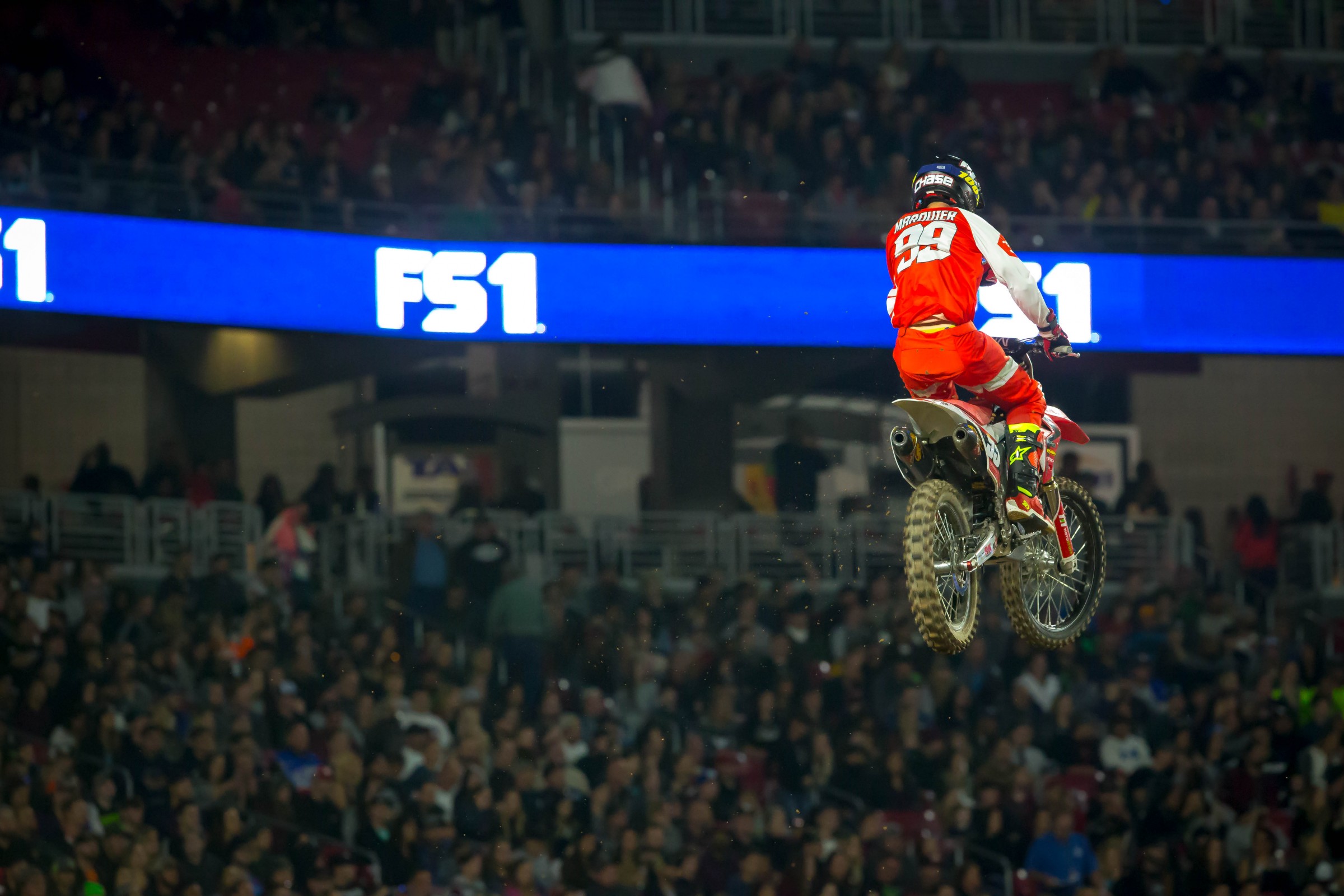 Last year was your rookie year in supercross. What do you think you've improved on for this year?
I learned you've gotta be there every weekend no matter what. You gotta be ready to race and you've gotta be ready to slam guys! It's crazy out there. I mean, everyone's kind of out there to kill each other. It's like … I don't know. Last year I got a rude awakening. I think Adam Cianciarulo said one time, "It's like everyone's acting like they got with each other's girlfriends and they're just trying to kill you out there." [Laughs]
Last year you were contemplating giving up racing and going to college. Now you're flirting with a spot in the top 10 at a few rounds. Are you happy you decided NOT to go to school?
Absolutely! The last thing I wanted to do was not going racing, but there was a short period of time there where I was like, "Man, I don't have anything. Should I just quit and go to college or what?" I'm glad with the decision I made because the first few rounds were pretty good and then these last two have been rough. But we'll get back up there.
What happened with these last two rounds?
At A2 … leading up to that I got strep throat and I was just super sick and was on a lot of medicine. Saturday I still wasn't recovering. I had no energy really. It was just one of those days that was super sucky. Phoenix was … I felt okay. In the heat race a rider kind of punted me off the track and I missed the transfer spot by a few spots. I felt like I rode good, I just kind of had bad luck that night.
Any sponsors you'd like to thank?
I'd like to thank everyone that's making it possible for me this year. My mom and dad and brother. Justin at Motowhips, Matt Jory at Proven Moto, everyone over at Honda for helping me out this year—Sam and Dave, the 365MX crew. Everyone that's making it happen. Thank you.