Jace Owen Back on Top in Nashville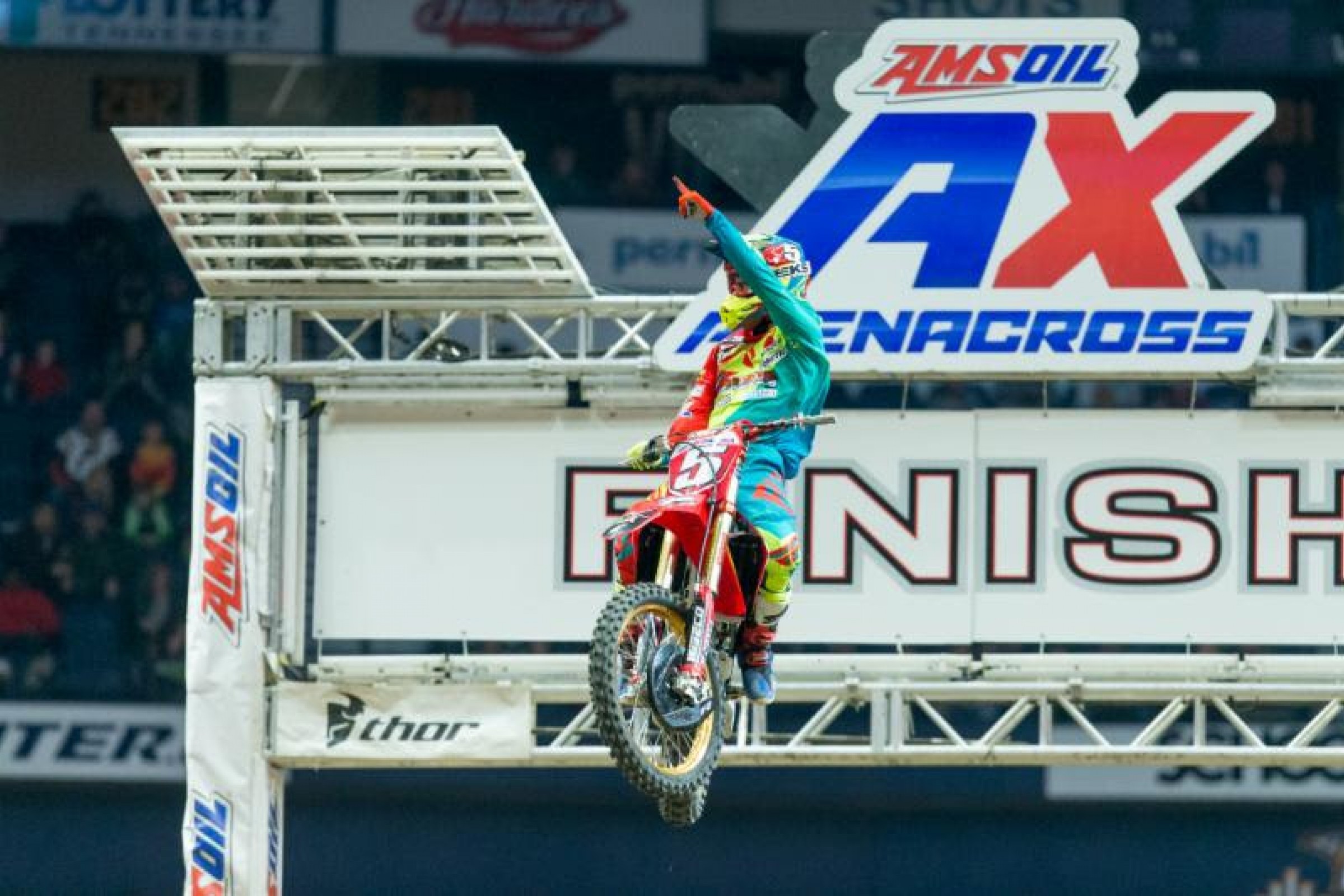 NASHVILLE, Tenn. - The fourth round of the 2017 AMSOIL Arenacross season featured arguably the most competitive battle for victory in the championship thus far inside Bridgestone Arena. For the first time this season, the 250AX Class featured two different Main Event winners, but the rider who emerged with the overall victory was a familiar one, with TiLUBE/Jack Link's/TUF Racing Honda's Jace Owen claiming his fourth win of the season to extend his points lead. In the Eastern Regional AX Lites Class, Babbitt's/GPF/Monster Energy Kawasaki/MMCR's Jacob Williamson became the third different winner in that championship.
Before the Main Events got underway, defending AMSOIL Arenacross Champion and Team Babbitt's/Monster Energy/AMSOIL Kawasaki, presented by AP Design, rider Gavin Faith earned his third RMATV/MC Head 2 Head Challenge win of the season, defeating Rockstar Energy/OTSFF/Yamaha, in association with Cycle Trader and Rock River, rider Chris Blose. The triumphant effort gave Faith two championship bonus points.
Faith was able to carry that momentum into the first 250AX Class Main Event, securing the holeshot ahead of TiLUBE/Jack Link's/TUF Racing Honda's Ben Lamay and Rockstar Energy/OTSFF/Yamaha's Matt Goerke, while Owen slotted into fourth. Almost immediately Faith and Lamay set a torrid pace out front, which allowed them to open a gap over Goerke in third. The lead group settled in through the mid portion of the 15-lap Main Event. Faith and Lamay remained separated by mere tenths of a second, but Goerke continued to lose ground to Owen and on Lap 9 the duo engaged in a battle for third, with Owen ultimately taking over the position.
Keeping Faith within striking distance allowed Lamay to mount a challenge for the lead in the closing laps. He successfully made the pass on Lap 13 and held on for his first Main Event win the season. Faith followed with a close second, with Owen finishing third. Goerke was fourth, with Blose in fifth.
The start of the second 250AX Class Main Event saw Owen put his Honda into the lead, edging out Goerke and Custom Powersports/Spinechillers/TiLUBE Racing Kawasaki's Steven Mages. Blose and Faith weren't far behind. After a seventh-place start Lamay was able to move into sixth on Lap 1.
Owen was able to open a comfortable gap in the opening laps, while Goerke settled solidly into second. The battle for third intensified, as Blose made the pass on Mages on Lap 2. On the following lap Faith passed Mages for fourth. The leaders continued to spread out through the remainder of the race, holding on to their positions. Owen went on to take his seventh Main Event win of the season, finishing nearly two seconds ahead of Goerke. Blose followed in third, with Faith fourth and Motosport Hillsboro Kawasaki's Gared Steinke fifth, just ahead of Lamay.
When the overall results were tallied Owen's (3-1) finishes were enough to give him the edge over Faith (2-4) by just a single point. Goerke rounded out the overall podium in third (4-2). Lamay finished fourth (1-6), with Blose fifth (5-3). Owen was able to add one point to his lead in the 250AX Class championship standings, which now sits at 21 points over Faith in second. Goerke sits third, 25 points out of the lead.
The 15-lap Eastern Regional AX Lites Class Main Event saw Williamson get out to an early lead over Powerband Racing & Suspension Suzuki's Broc Gourley and Yamaha rider Keith Tucker. Title contender Justin Cooper rounded the first lap in last place, 16th, aboard his Yamaha. The clear track allowed Williamson to open a slight gap, leaving Gourley and Tucker to battle for second, from which Tucker took over second on Lap 3. As the battle up front was unfolding, Powerband Racing & Suspension KTM's Brandon Gourley was on a hard charge to the front after starting sixth. He progressively made his way into fourth, and was then able to pass his brother for third on Lap 5. He didn't stop there, passing Tucker for second on Lap 7.
As Williamson pulled away out front, Brandon Gourley and Tucker continued their fight for second, with both riders suffering their own bouts of misfortune on Lap 12. Gourley lost several spots and remounted in fifth, while Tucker found himself in eighth. That allowed Team Babbitt's/AMSOIL/KTM's Isaac Teasdale to take over second, and Yamaha Rock River bLU cRU rider Justin Cooper to move into third. Williamson led every lap to take an easy win, with Teasdale second and Cooper third.
Cooper's third-place finish allowed him to maintain control of the Eastern Regional Championship. He now sits just four points ahead of Williamson, who moved into second. KTM rider Heath Harrison is third, 16 points out of the lead.
AMSOIL Arenacross continues next weekend with its fifth round of the 2017 season from Louisville, Kentucky's Freedom Hall. The action kicks off at 7 p.m. ET on Saturday, February 4.
250AX Class Results - Main Event 1
1. Ben Lamay, Forney, Texas, Honda
2. Gavin Faith, Fort Dodge, Iowa, Kawasaki
3. Jace Owen, Matoon, Ill., Honda
4. Matt Goerke, Lake Helen, Fla., Yamaha
5. Chris Blose, Phoenix, Yamaha
6. Gared Steinke, Woodland, Calif., Kawasaki
7. Steven Mages, Sardinia, Ohio, Kawasaki
8. Cory Green, Nowata, Okla., Suzuki
9. Cody VanBuskirk, Harvard, Ill., KTM
10. Josh Osby, Valparaiso, Ind., Kawasaki
250AX Class Results - Main Event 2
1. Jace Owen, Matoon, Ill., Honda
2. Matt Goerke, Lake Helen, Florida, Yamaha
3. Chris Blose, Phoenix, Yamaha
4. Gavin Faith, Fort Dodge, Iowa, Kawasaki
5. Gared Steinke, Woodland, Calif., Kawasaki
6. Ben Lamay, Forney, Texas, Honda
7. Daniel Herrlein, Bethesda, Ohio, KTM
8. Steven Mages, Sardinia, Ohio, Kawasaki
9. Cody VanBuskirk, Harvard, Ill., KTM
10. Josh Osby, Valparaiso, Ind., Kawasaki
250AX Class Overall Results (Main Event Results)
1. Jace Owen, Matoon, Ill., Honda (3-1)
2. Gavin Faith, Fort Dodge, Iowa, Kawasaki (2-4)
3. Matt Goerke, Lake Helen, Florida, Yamaha (4-2)
4. Ben Lamay, Forney, Texas, Honda (1-6)
5. Chris Blose, Phoenix, Yamaha (5-3)
6. Gared Steinke, Woodland, Calif., Kawasaki (6-5)
7. Steven Mages, Sardinia, Ohio, Kawasaki (7-8)
8. Cody VanBuskirk, Harvard, Ill., KTM (9-9)
9. Cory Green, Nowata, Okla., Suzuki (8-11)
10. Daniel Herrlein, Bethesda, Ohio, KTM (12-7)
RMATV/MC Head 2 Head Challenge Results (Bonus Points)
1. Gavin Faith, Fort Dodge, Iowa, Kawasaki (2 points)
2. Chris Blose, Phoenix, Yamaha (1 point)
3. Ben Lamay, Forney, Texas, Honda (1 point)
4. Cody VanBuskirk, Harvard, Ill., KTM (1 point)
5. Matt Goerke, Lake Helen, Florida, Yamaha (1 point)
6. Jace Owen, Matoon, Ill., Honda (1 point)
7. Cory Green, Nowata, Okla., Suzuki (1 point)
8. Josh Osby, Valparaiso, Ind., Kawasaki (1 point)
Eastern Regional AX Lites Class Results
1. Jacob Williamson, Swartz Creek, Mich., Kawasaki
2. Isaac Teasdale, Robbinsville, N.C., KTM
3. Justin Cooper, Cold Spring Harbor, N.Y., Yamaha
4. Broc Gourley, Boonville, Ind., Suzuki
5. Jared Lesher, Ball Ground, Ga., KTM
6. Dylan Greer, Summerfield, Fla., Yamaha
7. Josiah Hempen, Argyle, Iowa, Yamaha
8. Keith Tucker, Fuquay Varina, N.C., Yamaha
9. Dylan Rouse, Florence, Ky., KTM
10. Jerry Robin, Corcoran, Minn., Yamaha
250AX Class Championship Standings
1. Jace Owen, Matoon, Ill., Honda - 161 (7 Main Event Wins)
2. Gavin Faith, Fort Dodge, Iowa, Kawasaki - 140 (2 Main Event Wins)
3. Matt Goerke, Lake Helen, Florida, Yamaha - 136
4. Gared Steinke, Woodland, Calif., Kawasaki - 119
5. Ben Lamay, Forney, Texas, Honda - 111 (1 Main Event Win)
6. Chris Blose, Phoenix, Yamaha - 106
7. Daniel Herrlein, Bethesda, Ohio, KTM - 95
8. Steven Mages, Sardinia, Ohio, Kawasaki - 74
9. Heath Harrison, Silverhill, Ala., KTM - 69
10. Cody VanBuskirk, Harvard, Ill., KTM - 69
Eastern Regional AX Lites Class Championship Standings
1. Justin Cooper, Cold Spring Harbor, N.Y., Yamaha - 74 (2 Main Event Wins)
2. Jacob Williamson, Swartz Creek, Mich., Kawasaki - 70 (1 Main Event Win)
3. Heath Harrison, Silverhill, Ala., KTM - 58 (2 Main Event Wins)
4. Isaac Teasdale, Robbinsville, N.C., KTM - 56
5. Brandon Gourley, Boonville, Ind., KTM - 40
6. Josiah Hempen, Argyle, Iowa, Yamaha - 31
7. Scott Zont, Algonquin, Ill., Kawasaki - 30
8. Broc Gourley, Boonville, Ind., Suzuki - 27
9. Dylan Greer, Summerfield, Fla., Yamaha - 26
10. Cody Williams, Barneveld, Wis., Kawasaki - 24