Antonio Cairoli Cruises to Win in Italy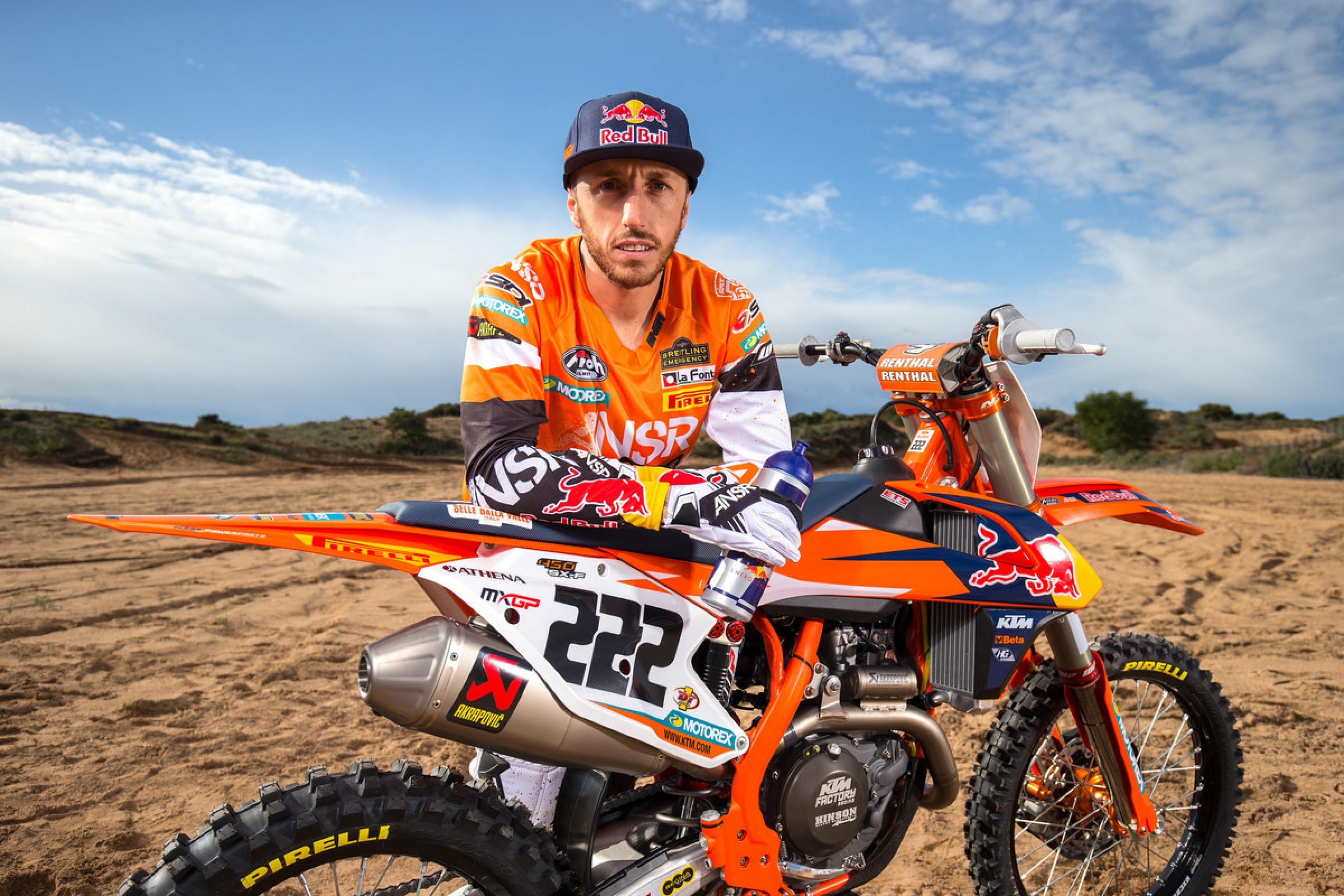 The first major race of the European motocross season took place today at Riola Sardo for the first round of the 2017 Italian Motocross Championship.
The field consisted of GP heavyweights like Antonio Cairoli, Jeremy Van Horebeek, Tim Gajser, Romain Febvre, and many more.
Cairoli, the eight-time world champion, made it look easy in his home country, taking an easy win over Van Horebeek and 2016 MXGP world champion Gajser.
Spanish teen sensation Jorge Prado won the MX2 Class over Benoit Paturel and Alvin Ostlund.
Jeffrey Herlings was expected to race the MX1 Class, but had to withdraw due to a stretched wrist tendon sustained while testing in Sardinia.
[Update]
Cairoli would also cruise to the Superpole (MX1 and MX2) win over Van Horebeek and Gajser. Pauls Jonass was the highest ranking MX2 rider, finishing sixth.
MX1 Overall
| | |
| --- | --- |
| Finish | Rider |
| 1 | Antonio Cairoli |
| 2 | Jeremy Van Horebeek |
| 3 | Tim Gajser |
| 4 | Romain Febvre |
| 5 | Evgeny Bobryshev |
| 6 | Tanel Leok |
| 7 | Max Anstie |
| 8 | Glenn Coldenhoff |
| 9 | Max Nagl |
| 10 | Arnaud Tonus |
| 11 | Gert Krestinov |
| 12 | Jose Butron |
| 13 | Alessandro Lupino |
| 14 | Rui Goncalves |
| 15 | Shaun Simpson |
| 16 | Martin Barr |
| 17 | Ken De Dycker |
| 18 | Gautier Paulin |
| 19 | Jonathan Bengtsson |
| 20 | Klemen Gercar |
MX2 Overall
| | |
| --- | --- |
| Finish | Rider |
| 1 | Jorge Prado |
| 2 | Benoit Paturel |
| 3 | Alvin Ostlund |
| 4 | Pauls Jonass |
| 5 | Michele Cervellin |
| 6 | Brian Bogers |
| 7 | Davy Pootjes |
| 8 | Samuele Bernardini |
| 9 | Morgan Lesiardo |
| 10 | Brent Van Doninck |
Superpole overall
| | |
| --- | --- |
| Finish | Rider |
| 1 | Antonio Cairoli |
| 2 | Jeremy Van Horebeek |
| 3 | Tim Gajser |
| 4 | Evgeny Bobryshev |
| 5 | Glenn Coldenhoff |
| 6 | Pauls Jonass |
| 7 | Max Anstie |
| 8 | Alvin Ostlund |
| 9 | Brent Van Doninck |
| 10 | Shaun Simpson |
| 11 | Alessandro Lupino |
| 12 | Tanel Leok |
| 13 | Jose Butron |
| 14 | Brian Bogers |
| 15 | Rui Goncalves |
| 16 | Max Nagl |
| 17 | Jorge Prado |
| 18 | Arnaud Tonus |
| 19 | Gautier Paulin |
| 20 | Samuele Bernardini |