We've seen how difficult it can be for riders to organize their own programs and make it to the races, even if you've had good results in the past. Heck, just look at Malcolm Stewart, who missed the first two rounds of supercross trying to complete his race team. But quietly in the background, Ronnie Stewart has been managing his own race team with 20 different sponsors for five years, all without a podium or even top-10 results everyone thinks are necessary to succeed. Now, with the help of his wife Brooke, they are looking to turn the Microbilt PRBC Yoshimura Suzuki team into something that will last long after Ronnie has retired.
We sat down with the team owner/rider to talk about how he keeps his team on the road, find out what exactly Microbilt is, and discuss how much the results really matter.
Racer X: Congrats on making your first main event of the year. How'd your weekend go?
Ronnie Stewart: My weekend went awesome! We were able make the main event and finish in 20th place. It was great just to get to the main, ride the 20 minutes, and be in the environment with the best guys and being in that mix. I ended up going down a couple laps into the race and that kind of put me a little bit behind and I lost touch of the pack. Because I lost track of the pack and there was no reason for me to be even close to holding up the leader, I was trying to get out of the way and they just kept coming. So that was a little bit of a challenge, but overall it was a successful weekend for us. We were successful in the pits with our fan activation with Suzuki and Ecstar Geniune Oil. We had clients there from Microbilt, so we did a good job in the pits. It was a good event.
So you're the team owner as well as the team's only rider. Are you also the team manager?
I'm the team owner, my wife manages the effort along with … we have a few in-house people at Microbilt that help with operations. But we don't get too caught up in titles, we all wear many hats and it takes everyone's commitment and cooperation to make the team function.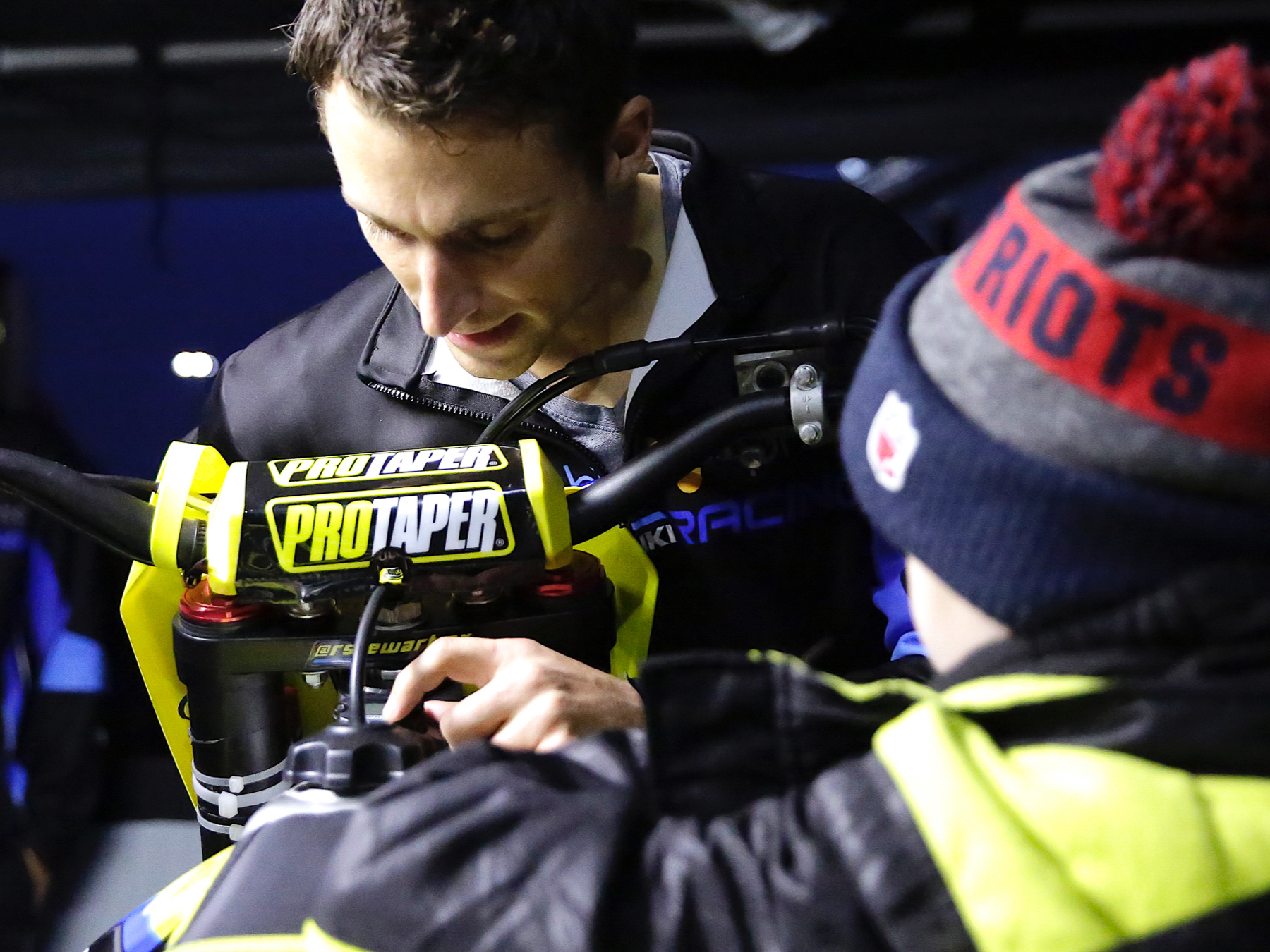 How tough is it to own a small team and ride at the same time?
There's times when it can be a challenge. Realistically, if it was all about riding a dirt bike, it would not be possible for me to be out there. We're a business. In my opinion if you're not focused on your sponsors and how you can provide value for them off the track as well, then you're not doing it right. So for me I've always focused on trying to excel off the track and that's led to the position that I'm in now.
I would say 75 percent of our time is put in to the team as far as return on investment for sponsors, just making sure that our team is running fluidly and professional and that our image is good at the track. I think that the riders that can just focus 100 percent on riding, there are only a couple guys in our sport. You know, the Roczens and Dungeys, they can get away with not doing well on social media or not going to all the dealer signings or not doing certain things, just because they can go out and get on the podium and then their sponsors are happy. But everybody else has to have other objectives to give themselves value. For me, it's what we do with MicroBilt. We provide hospitality and entertainment for their clients which they have in basically every city in the U.S. As well, now we have our fan activation area in the front of the semi where we have a deal with Suzuki and Ecstar Oil. We have two parts in the pits that we focus on during the day.
What exactly is MicroBilt?
They have credit protection software tools that help businesses and then their sister company is PRBC. We have MicroBilt as the number one sponsor because we wanted to have our clients, our VIPs, be able to identify where we are [in the pits and on the track] because they come from MicroBilt. But then PRBC is second. That's a product that we want to push to the consumers. It stands for Payment Reporting Builds Credit. And what they do is they take bills that you already pay that don't go towards your traditional credit, like utilities, cell phone, rent, satellite, different bills like that. Then they use those bills to establish an alternative credit score and then they have lenders that recognize PRBC's score so they can help people be approved for small loans.
How did that sponsorship come about? It's not your typical energy drink sponsor that we normally see in motocross.
Our business relationship started five years ago and we've been ramping up our efforts ever since. Prior to that, I met the owner through riding lessons! That's something that I've always done since I was 17 years old—provide instruction for riders, young and old, at my local track in Englishtown, New Jersey. And that's how I met Phil [Burgess, founder of MicroBilt]. Just giving lessons to his kids and then we started a friendship from there and then that evolved into a business relationship about year, year and a half later.
Then you got Yoshimura and Suzuki support this year. What level of support are you getting from them?
That was a huge piece to the puzzle that we were missing and something we're very excited for moving forward into the season. We were able to take over the semi since they're not using it this year. It's the old Yoshimura Suzuki semi. We saw it as a great opportunity to expand our presence and to add more layers to our relationship with Suzuki with the fan activation with the Suzuki models that we have out on display. It's nice to have a direct line into the company with Chris Wheeler [the new head of Suzuki motocross]. The other piece of the bike puzzle is the suspension end of it. We're thrilled to be working with Rob Hendrickson at RG3. He's been affiliated with Yoshimura and Suzuki for a long time so we thought that be the absolute best to have that trifecta.
"It's not about just going out and riding a dirt bike."
Does it make you chuckle a little bit when some of the faster guys complain about not being able to make it to the races? You've managed to create a legitimate race team without getting top-10 results.
It does a little bit. It's never a good thing to come off like you're complaining and just waiting for a phone call, and then if it doesn't happen just saying "Oh, well this stinks," or "Poor me." I don't think that's the way to go. I believe that if there's a will there's a way and if you really want it bad enough, you can learn, figure it out, and put yourself in touch with the right people. That's been a huge part of where I am today.
To me, each one of these riders, if they really wanted to look outside the box, they can make happen for themselves. There's plenty of money out there and for years I've always had this mind where there are many many business in this world that are lucrative and make money and if you can just tap into that. I always thought there has to be an outlet, there has to be a way where we can get into a little niche where we can get significant funds to do a real effort.
It's not about just going out and riding a dirt bike. You know, the dirt bike end of it—when you're on the track—it's only a small percentage. When you ride, we're at the track three hours a day. You're at the gym for maybe one hour. So you're traveling for another hour or two, what are you doing in the other hours? Maybe it does take more time, maybe you do have to put in more work than the next guy, maybe you have a little less recovery time or maybe you have to ride a little bit less. But at the end of the day it's not a perfect world and the only people that can go out—like I said before—and just worry about riding a dirt bike are only the people that can finish on the podium every week. I'm very grateful to be in this position. I love to be able to demonstrate that you can do it without having a big team sign you. I hope that I can change the way people approach the sport, how the athletes … their approach to it as well as the sponsors. I feel like there's a part of racing that's going the wrong direction and it's becoming a bit unhealthy. So if we could start the change and make things go in a different direction I think that would be beneficial for the sport.
You mentioned earlier that your wife is the team manager/organizer. When did she take on that role and how did she respond to it?
Brooke, my wife, has a sports management background. It's a perfect fit for her. She has different certifications in sports management, like being an agent—her background came from hockey because she's from Maine. She's had some stuff in the NFL and hockey, and she's always had this passion for extreme sports. She's ridden herself through the years. So it's pretty natural for her to be in this environment. She's been in a more professional environment before—not to say that motocross isn't professional—but it's just a very natural transition for her to be in this position. She works very closely with the senior vice president of marketing for MicroBilt and PRBC. They both oversee the management and operations and make sure that we're doing what we need to do with promotional and advertising and everything.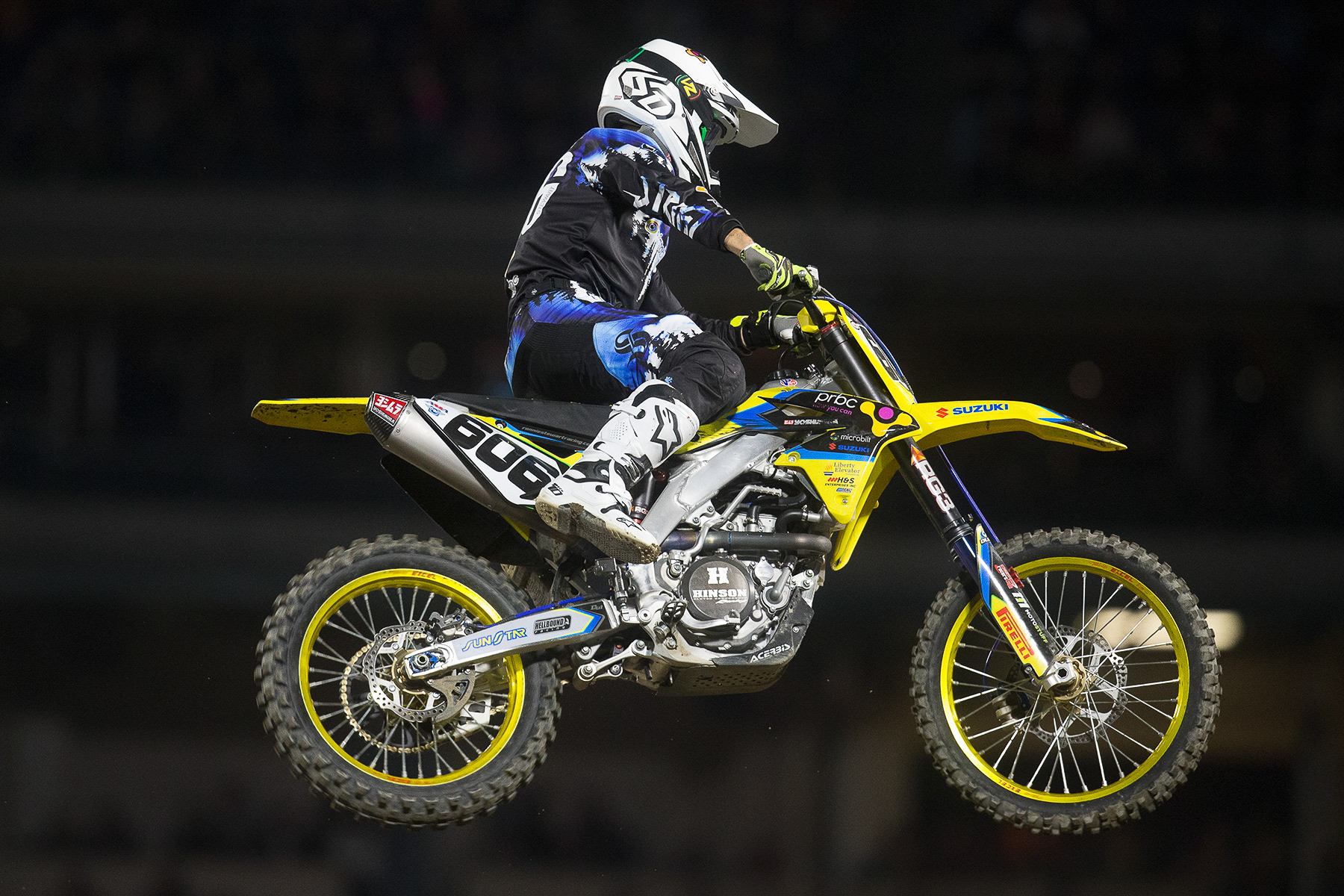 Did you guys struggle to bring your personal relationship into a work relationship?
There's time where it can be a struggle. We have a lot going on and it's hard to balance husband life and work. There's definitely times where it can be a struggle but there's also a lot of times where it's totally awesome! To be doing it together and creating these memories together, it's special. When you grow up people tell you, you know, women will take you away and change you and kind of like take away from your riding career. With her, that's the complete opposite. She's totally behind me 100 percent. Everything she does is to better myself and I really do trust her with my destiny. She pretty much deals with almost all our sponsors at this point and that's a huge deal for her to be talking to MicroBilt and PRBC. That's the backbone of our operation, those are our title sponsors. And I've nurtured that sponsorship for four years and then letting go I was a little nervous. But all of last year she did an awesome job. I'm really proud to call her my wife and to call her my team manager.
Getting away from the moto a little bit. What do you like to do in your free time?
[Laughs] I don't have a lot of free time! We're so busy. When I can I try to do recovery activities such as reading, maybe some type of light exercise whether it's rock climbing, cycling, swimming, or going for a hike. We're pretty active so there's not a whole lot of time for other activities. But … one of my passions and what I love to do is eat good food! Usually my time is spent cooking whenever I have a free moment. I love to know what my body needs to recover and put the right stuff in my body. It takes up a lot of time too! [Laughs] Like going to the grocery store … I don't mind because I like to do it. It's almost a little relaxing when you're at the grocery store, going through the aisles. My personal favorite is Trader Joes. It's not overwhelming because at most of the food stores there's thousands of things that aren't good for you. And when you go to Trader Joes everything is much more condensed. That's pretty much what I do. [Laughs]
Any sponsors you'd like to thank?
Obviously MicroBilt, PRBC, Yoshimura, and Suzuki Racing. But also, Liberty Elevator Corp., H&S Trucking, Ecstar Genuine Oil, ISC Racers Tape, RG3, 50 Yard Line Sports Bar, Strikt, Hinson Clutch Components, DeCal Works, Hellbound Racing, 6D, Novik, Motostuff, Sunstar, DT1, Dubya, Kite, VP Fuels, Works Connection, Von Zipper, Matrix.