Faith Stops Owen's Win Streak in Baltimore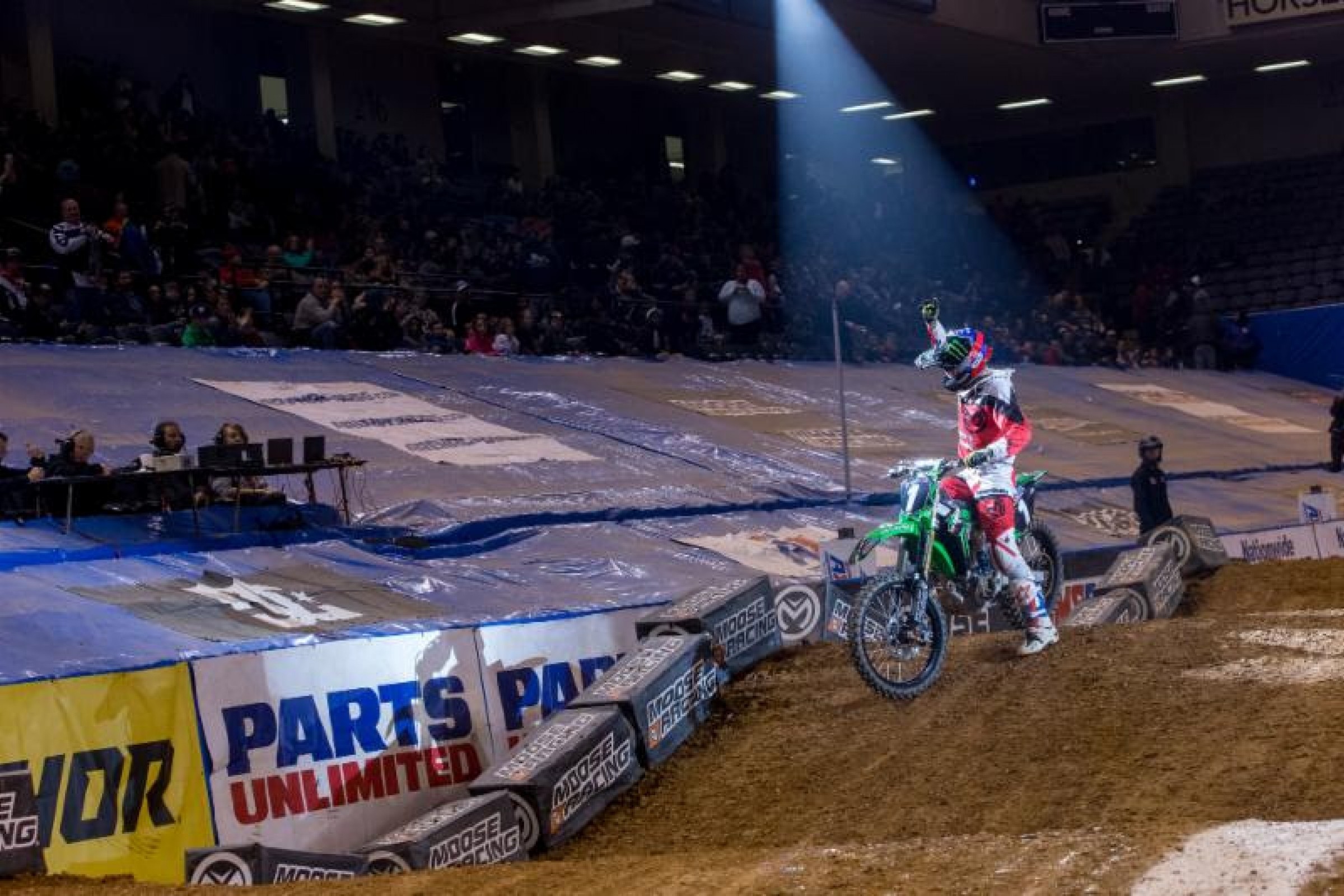 BALTIMORE - The third round of the 2017 AMSOIL Arenacross season came to a dramatic conclusion on Saturday night inside Royal Farms Arena. Following an undefeated start in which he won the first six Main Events of the year, TiLUBE/Jack Link's/TUF Racing Honda rider and championship leader Jace Owen saw his streak come to an end as defending 250AX Class Champion and Team Babbitt's/Monster Energy/AMSOIL Kawasaki, presented by AP Design, rider Gavin Faith earned his first overall victory of the season with a sweep of the Main Events. In the Eastern Regional AX Lites Class, Yamaha Rock River bLU cRU rider Justin Cooper made it a clean sweep in Baltimore, posting back-to-back wins to take over the points lead.
Owen was poised to race his way to another overall win after emerging victorious in the Rocky Mountain ATV/MC Head 2 Head Challenge, where he defeated Team Babbitt's/Monster Energy/AMSOIL Kawasaki's Travis Sewell. The win gave Owen two championship bonus points.
When the first of two 250AX Class Main Events got underway it was Faith who put his Kawasaki out front, grabbing the holeshot over Owen and Rockstar Energy/OTSFF/Yamaha, in association with Cycle Trader and Rock River, rider Chris Blose. The lead trio looked to pull away from the field, but Blose encountered misfortune on Lap 4 and pulled out of competition, which allowed Custom Powersports/Spinechillers/TiLUBE Racing Kawasaki's Steven Mages to move into third place.
From that point forward the battle at the front of the field went unchanged as Faith slowly started to pull away. He led all 15 laps to take his first Main Event win of the season, 4.5 seconds ahead of Owen. Mages followed in third, with Sewell fourth and Woodstock KTM's Daniel Herrlein.
The second Main Event holeshot saw Sewell put his Team Babbitt's Kawasaki out front initially, but he was soon surpassed by several riders and dropped outside the top five. Motosport Hillsboro Kawasaki's Gared Steinke emerged from the fray with the lead, followed by Faith and Rockstar Energy/OTSFF/Yamaha's Matt Goerke. Owen tucked into fourth.
Steinke's time out front was short lived, as Faith was able to make the pass on Lap 1. Once in control of the race, the defending champ quickly pulled away. Behind him Goerke, who qualified for the Main Event through the Last Chance Qualifier, started to apply pressure on Steinke for second, successfully making the pass on Lap 4. The top three then stabilized through to the finish.
Faith capped off his winning effort by taking the checkered flag 1.2 seconds ahead of Goerke. Steinke rode to a solid third-place effort, holding off Owen in fourth. TiLUBE/Jack Link's/TUF Racing Honda's Ben Lamay completed the top five.
With Faith's sweep of the Main Events, each of the first four nights of action in 2017 have been won via 1-1 performances. Despite finishing outside the top three in a Main Event for the first time this season, Owen still brought home a runner-up finish (2-4), while Goerke completed the overall podium in third (7-2). Steinke finished fourth (6-3), while Herrlein rounded out the top five (5-6).
With three overall wins to his credit, Owen maintains control of the 250AX Class championship standings, 20 points ahead of Faith, who moved into second. Goerke dropped to third, 23 points out of the lead.
In the Eastern Regional AX Lites Class Main Event, KTM rider Hunter Sayles grabbed the holeshot over Babbitt's/GPF/Monster Energy Kawasaki/MMCR's Jacob Williamson and Cooper. Points leader Heath Harrison found himself outside the top 10 in 11th aboard his Motorsport/Quick Roofing/Super Charged Energy KTM. As Williamson looked to chase down Sayles for the lead, he crashed after the Catapult jump, dropping two positions but quickly remounting in fourth. That allowed Cooper to take over second, while KTM rider Isaac Teasdale assumed control of third.
With his sights set on the lead, Cooper closed down on Sayles and made the winning pass on Lap 5, quickly opening a gap once out front. That left the battle for the remaining spots on the podium between Sayles, Teasdale, and Williamson. On Lap 9 Williamson began a climb back to the front following his misfortune, passing Teasdale for third. He gained even more ground on Lap 12 by making the pass for second over Sayles. Third place would change hands on the final lap when Teasdale took Sayles off the podium.
Cooper cruised to another Baltimore win, crossing the line 7.1 seconds ahead of Williamson, who recovered nicely from his early crash. Teasdale completed the podium in third. Harrison bounced back from his tough start to finish fifth.
The victory allowed Cooper to take over control of the Eastern Regional Championship, surpassing Harrison to establish a two-point lead. Williamson sits third, just six points out of the lead.
AMSOIL Arenacross continues next weekend with its fourth round of the 2017 season from Nashville, Tennessee's Bridgestone Arena. The action kicks off at 7 p.m. ET on Saturday, January 28.
250AX Class Results - Main Event 1
1. Gavin Faith, Fort Dodge, Iowa, Kawasaki
2. Jace Owen, Matoon, Ill., Honda
3. Steven Mages, Sardinia, Ohio, Kawasaki
4. Travis Sewell, Westville, Ind., Kawasaki
5. Daniel Herrlein, Bethesda, Ohio, KTM
6. Gared Steinke, Woodland, Calif., Kawasaki
7. Matt Goerke, Lake Helen, Fla., Yamaha
8. Ben Lamay, Forney, Texas, Honda
9. Cody VanBuskirk, Harvard, Ill., KTM
10. Isaac Teasdale, Robbinsville, N.C., KTM
250AX Class Results - Main Event 2
1. Gavin Faith, Fort Dodge, Iowa, Kawasaki
2. Matt Goerke, Lake Helen, Florida, Yamaha
3. Gared Steinke, Woodland, Calif., Kawasaki
4. Jace Owen, Matoon, Ill., Honda
5. Ben Lamay, Forney, Texas, Honda
6. Daniel Herrlein, Bethesda, Ohio, KTM
7. Travis Sewell, Westville, Ind., Kawasaki
8. Chris Blose, Phoenix, Yamaha
9. Heath Harrison, Silverhill, Ala., KTM
10. Isaac Teasdale, Robbinsville, N.C., KTM
250AX Class Overall Results (Main Event Results)
1. Gavin Faith, Fort Dodge, Iowa, Kawasaki (1-1)
2. Jace Owen, Matoon, Ill., Honda (2-4)
3. Matt Goerke, Lake Helen, Florida, Yamaha (7-2)
4. Gared Steinke, Woodland, Calif., Kawasaki (6-3)
5. Daniel Herrlein, Bethesda, Ohio, KTM (5-6)
6. Travis Sewell, Westville, Ind., Kawasaki (4-7)
7. Ben Lamay, Forney, Texas, Honda (8-5)
8. Steven Mages, Sardinia, Ohio, Kawasaki (3-15)
9. Cody VanBuskirk, Harvard, Ill., KTM (9-11)
10. Isaac Teasdale, Robbinsville, N.C., KTM (10-10)
RMATV/MC Head 2 Head Challenge Results (Bonus Points)
1. Jace Owen, Matoon, Ill., Honda (2 poins)
2. Travis Sewell, Westville, Ind., Kawasaki (1 point)
3. Chris Blose, Phoenix, Yamaha (1 point)
4. Steven Mages, Sardinia, Ohio, Kawasaki (1 point)
5. Cody VanBuskirk, Harvard, Ill., KTM (1 point)
6. Gavin Faith, Fort Dodge, Iowa, Kawasaki (1 point)
7. Cory Green, Nowata, Okla., Suzuki (1 point)
8. Daniel Herrlein, Bethesda, Ohio, KTM (1 point)
Eastern Regional AX Lites Class Results
1. Justin Cooper, Cold Spring Harbor, N.Y., Yamaha
2. Jacob Williamson, Swartz Creek, Mich., Kawasaki
3. Isaac Teasdale, Robbinsville, N.C., KTM
4. Hunter Sayles, Merrill, Wis., KTM
5. Heath Harrison, Silverhill, Ala., KTM
6. Brandon Gourley, Boonville, Ind., KTM
7. Jared Lesher, Ball Ground, Ga., KTM
8. Dylan Rouse, Florence, Ky., KTM
9. Kai Mukai, Hilo, Hawaii, Yamaha
10. Dylan Greer, Summerfield, Fla., Yamaha
250AX Class Championship Standings
1. Jace Owen, Matoon, Ill., Honda - 130 (6 Main Event Wins)
2. Gavin Faith, Fort Dodge, Iowa, Kawasaki - 110 (2 Main Event Wins)
3. Matt Goerke, Lake Helen, Florida, Yamaha - 107
4. Gared Steinke, Woodland, Calif., Kawasaki - 96
5. Ben Lamay, Forney, Texas, Honda - 83
6. Daniel Herrlein, Bethesda, Ohio, KTM - 80
7. Chris Blose, Phoenix, Yamaha - 79
8. Heath Harrison, Silverhill, Ala., KTM - 69
9. Steven Mages, Sardinia, Ohio, Kawasaki - 55
10. Cody VanBuskirk, Harvard, Ill., KTM - 52
Eastern Regional AX Lites Class Championship Standings
1. Justin Cooper, Cold Spring Harbor, N.Y., Yamaha - 60 (2 Main Event Wins)
2. Heath Harrison, Silverhill, Ala., KTM - 58 (2 Main Event Wins)
3. Jacob Williamson, Swartz Creek, Mich., Kawasaki - 54
4. Isaac Teasdale, Robbinsville, N.C., KTM - 41
5. Brandon Gourley, Boonville, Ind., KTM - 35
6. Scott Zont, Algonquin, Ill., Kawasaki - 30
7. Josiah Hempen, Argyle, Iowa, Yamaha - 21
8. Cody Williams, Barneveld, Wis., Kawasaki - 21
9. Carter Gordon, Matoon, Ill., Yamaha - 18
10. Dylan Greer, Summerfield, Fla., Yamaha - 15