Anaheim, CA
Anaheim 2 (A2)
Monster Energy AMA Supercross Championship
Ryan Hughes raced professionally from the early 1990s through 2005. With his hard work ethic, aggression, and never say die attitude, Ryno was one of the fiercest competitors on the track. Since retiring from professional racing he has focused on training motocross athletes and his motocross supplement company, RynoPower. He has also recently become the team manager/trainer for IBCorp Yamaha, a team that didn't exist two months before Anaheim 1 this year.
We caught up with Ryno to see how the team came together, where the team is at, and their unique plans to acquire a rider for 2018.
Racer X: What's up, Ryno? This rain probably isn't making your life easy this week?
Ryan Hughes: It does kind of make it easy because then I don't have to do shit. If the dirt is too muddy then we rest. That's not a bad thing.
So you're managing a team now. Can you tell me a little bit about that?
So this team got dropped in my lap about two months before Anaheim. I had somebody call me that wanted to start a team from South America. They had one rider that was their nephew and he already rode I think one or two supercrosses, or tried. He was living back east. So they asked me if I wanted to be team manager/trainer, this and that, and I said, "Yeah, I do, but we need a chief mechanic, and stuff like that." So my first idea was [Jonathan] Hoody, who was my mechanic in 2003, 2004, 2005, and 2006. He was the best guy I could think of that could get stuff done, had a good work ethic. So we went over there and we talked to Hoody. He was excited about it, so that's how we started the team. It was myself and Hoody. We're both team managers. He's team manager/chief mechanic. I'm team manager/coach. So we kind of share the role, share the responsibilities, so that makes it easy on both of us because we both have a big laundry list of other things that we do.
So then we said, "Okay, we need two mechanics." We had Brent Myron, who was Mike Brown's mechanic when myself and Hoody were teamed up together. So that was really cool. Brent comes with a ton of experience and a ton of passion. So with myself, Hoody, and Brent we have a lot, a lot of experience on this team. I would say more experience on this team than probably most other ones. Then we have another guy named Puffer, which is another mechanic who was already working at Hoody's shop. He's a 20-year ex-military guy, so very passionate, determined, and strict with his work. So the basis of our team is very strong.
Then I made a call to Rock River and said, "Hey, we need some bikes and we need a good deal." He gave us a great deal. I actually bought like eight bikes and got them into the shop. So we had Martin Castelo who came with the team and then we started going back and forth on which riders we wanted to get. Cole Martinez's name came up and we started talking to him but he was over in Europe racing the German supercrosses. We had him all kind of programmed to go and then we found out that he broke his ankle. We were like, "Oh shit." We only had like a month to go so we started testing some people and trying some people. Then we talked to Cole again after a couple weeks of rest and he said, "Hey, man, I think my ankle is going to be better. I've been going to Doc G. I think I'll be ready to go. I'm not 100 percent, but I'll definitely make A1."
So with three weeks before A1 he got on the motorcycle and we started to do our riding, do our testing, do our training. Everything was limited because of what he could do with his ankle. In two months we started a team, got all the bikes, got all the equipment, got all the gear, made all the things that you need to make to get the sponsors and stuff like that.
How is everything going with the team?
The team is going good. Cole finished 17th the first race which is not the best, and I'm not the best with not getting good results, so I came down on him pretty hard, but I also have to swallow my competitiveness and remember that he's only had three weeks of riding. But that's me. I push people and I push and I push, I push them to get the best out of them. A lot of times people don't know what they have inside of them because they've never had anybody around them that can truly push them, but also push them in a positive way. Most people just push people in a negative way and almost take the fire out of them. Martin didn't have a good race. Everyone came from South America to watch him so there was a lot of pressure on him.
Then in San Diego Cole finished 12th which was much better, but still not to my liking because of what I see with Cole. He has a lot of talent, a lot of potential. Unfortunately, he's never been able to show everybody his true potential either from a mental thing or somebody not pushing him the correct way, or whatever it is. So that's where I'm at right now. Trying to bring out what's inside Cole, what I see in Cole. He should be a top three guy no problem with the talent that he has. So this week was a really good week for him. He's getting his fitness back. He's getting his feel back. His ankle is doing much better. We're looking forward to A2 and then continuing with the rest of the year. We're going to do West Coast. Probably do one or two Arenacrosses, do the first three Nationals, then we're shutting the doors for the following year.
Our idea is just to make it a West Coast team—West Coast Nationals, West Coast Arenacross, and that's it. We can get enough publicity for the sponsors to do it than to drive all around America going after all these other races when the West Coast, to me, is the most popular side of the series.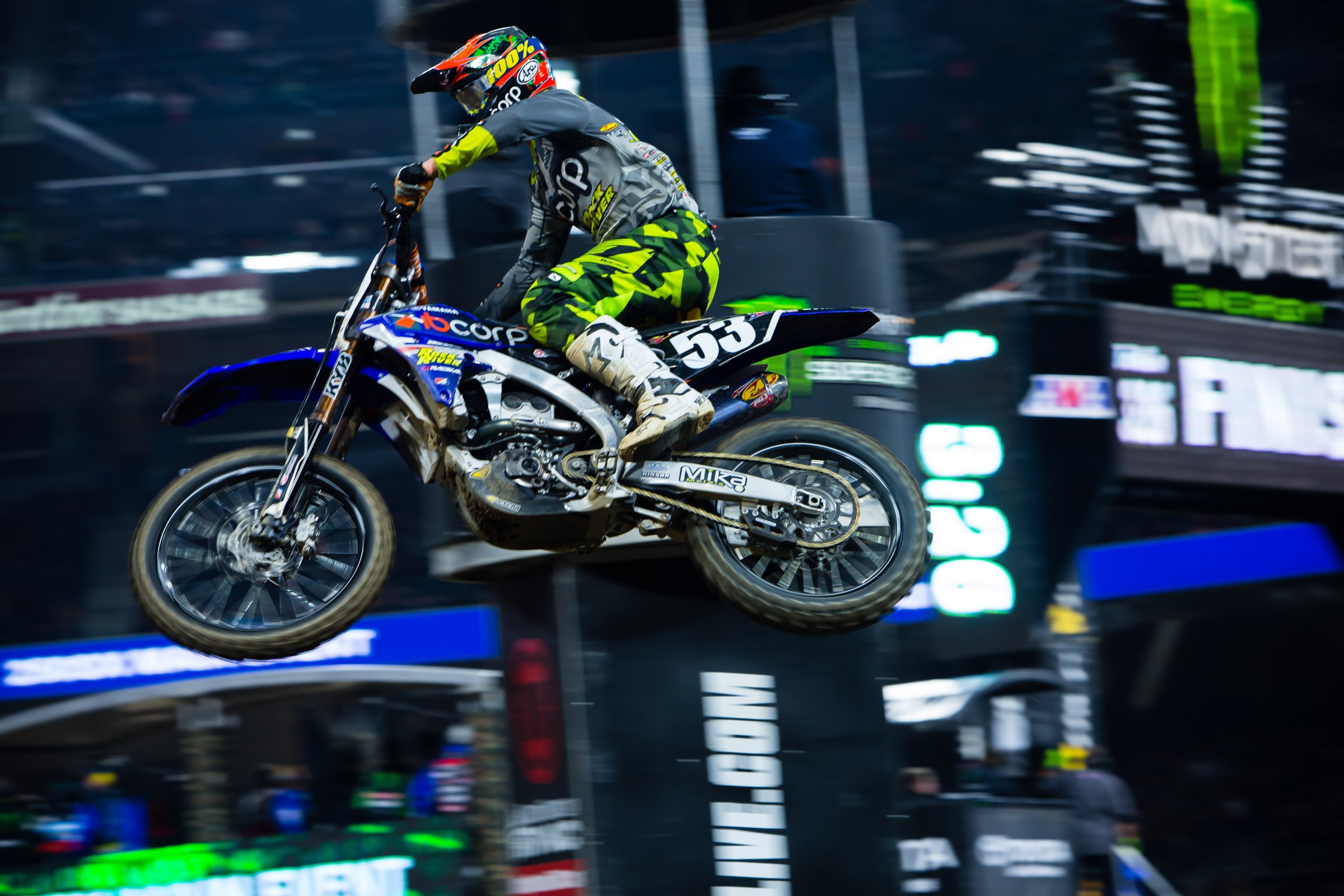 We're going to be wrapping a show around this thing too—like a YouTube channel or a YouTube show. So we have filmers and people following us around documenting how we put the team together, how the riders have come together, the races, the ups and downs, and all these different things. It's a pretty cool thing. My idea was to do something different to get publicity for the sponsors because the only way the people are going to know that we're using these sponsors' products is if our riders are on the podium, or if they get a big cover shot or a picture. So that's a lot of hope. Well, I don't want to hope on anything. I want to make it happen and it's easy with a YouTube channel and a YouTube show, then it's showcased around the world where we can get a lot of people to follow it and the sponsors are getting their money's worth and not just paying money or giving product and not getting anything back, which is a big problem in the sport. Because we don't have a lot of signage on our gear and we don't have a lot of signage on our bikes and things are moving around so much.
It sounds like you guys have a lot going on.
It's a lot, but it's not a lot. It is a lot to a small little team but it's not a lot to a big team. But myself and Hoody, we don't want to run ourselves thin. We don't want to be that team that's here for one year or two years and be done. We don't want to be that team just chasing its ass around all the time. We want to make sure that what we do, we do correctly. Also the burnout thing too—we don't want to drive around the whole damn United States all year long. Who wants to do that? We want to race and kick ass and then get the team dialed in for the following year.
In the meantime we have an idea of doing another show, kind of like—I wouldn't say American Idol because that's kind of stupid— but it's a call to all the riders, because I'm sure you've heard many, many, many riders over the years say, "Man, if I just had a f*****g bike; if I just had a better trainer; if I just had money like that guy; if I just lived in California like that guy I could be really good." Okay. Well, you know what? Here's the opportunity. We're going to give everybody from around the world an opportunity to send in a video to show us your skills, and if we like your skills we're going to fly you out here to California to Castillo Ranch and we're going to test you, judge you, and compare you to the other riders and the winner is going to get a $100,000 supercross contract to be on our team. So something kind of cool like that where we can give the underdog a chance. And then the show is going to show these guys being tested and then being picked and then also being trained and then following them through supercross on the West Coast. So I think that would be something kind of cool that nobody's done.
You guys plan on doing that after the season is over?
It's happening now. We're getting all the footage. We're getting a press thing out there about, "Hey, if you guys think you're good, if you think you can make it, send me a video and let's see what you've got." We want to give the underdog a chance. It doesn't matter if you're from the Philippines to Australia to Europe or my next-door neighbor. It doesn't matter. Here's a chance. A lot of people from other teams don't give anybody chances. It's like you have to be on the podium or you have to win or whatever or we don't want you. Well, that's not our sport. That's not that exciting sometimes for TV and that's what we're trying to do, is make more of a show out of this. Nobody knows what's going on behind the scenes, or nobody knows what's going on because the riders aren't getting the results that they want them to get. Sometimes the only time you can get results is by paying out two or three hundred thousand dollars to top riders. Right now our team doesn't have that money to do that, or maybe we don't want to. I kind of like the underdog. I kind of like the guy that doesn't have a chance. I can build them up and I can teach them and I can progress them and I can get them to places where they never knew they could get to. And that's exciting for the average fan.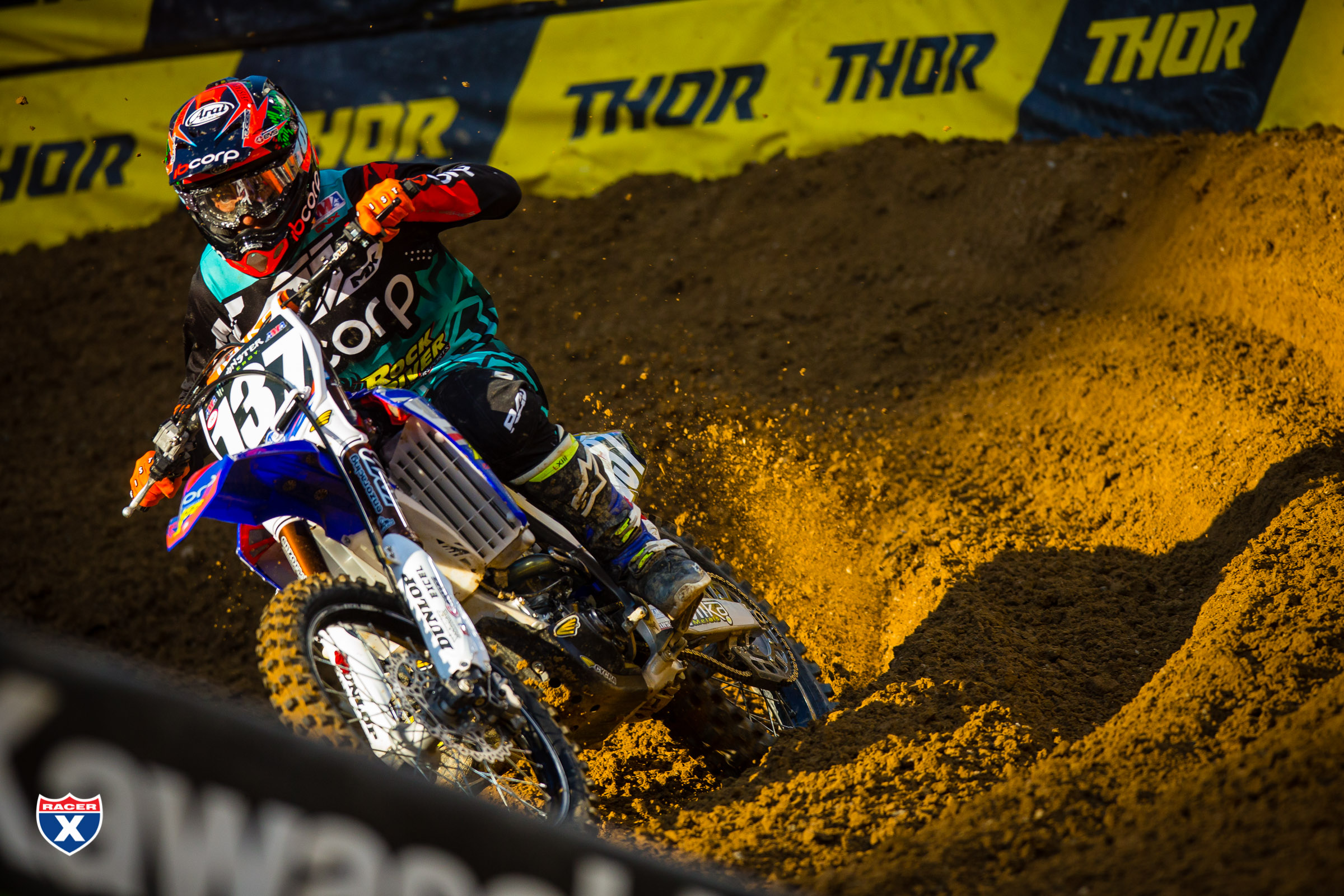 People can relate to that much better.
Why not? You've got to think outside the box. The sport is stale right now. It's stale to almost dying a little bit and we have to put a little kick in its ass. Not saying that our show is going to do that, but it's just going to allow something different. We've got to think outside the box for our team. That's it. Not that this show is going to help build motocross and supercross—no, but it's going to help build our team, and that's our main focus. So we have to think outside the box and not just put all the pressure on the riders to perform, because if they don't perform, then what? You're going to answer to the sponsors next year and say, "Hey, we want more." For what? What did you guys do? "Oh, yeah, you're right. We never even got on the podium. Nobody even saw that they used your products." But we have a show now that four or five hundred thousand people around the world are watching every week. Now they're seeing your product on there for 15 or 20 seconds. Now they're getting publicity.
Do you have a timeframe for when you guys are trying to launch that?
We don't really have a timeframe right now. We're still building it. All day yesterday I did a bunch of filming and things like that, the call to action I guess of what's going to go out. So they have to edit it, this and that. We'll have a date when it's going to go out, but it's going to go out pretty soon because it takes so much time to put things together and to coordinate everything. So that's the idea, to get it out there and then by 2018—well, way before that. We'll have the rider picked by then so it will be a couple months … I'll be training them before then.
So the rider that you guys are searching for would be for the 2018 season?
Two thousand and seventeen is just our building year. It's our year to get our feet wet. I've never been a team manager. We're putting a lot of pieces together. We had to tighten down a lot of bolts, so to speak. So this year is just a building year for the following year. We already have a commitment for money for next year, but we're trying to make sure we try to get some money outside the sport and in different ways. I had to think outside the box and offer somebody a different way of being publicized.
How is being a team manager? Can you talk a little bit about that?
Actually, it's kind of cool. It's a little bit more relaxing to me. Hoody does a lot of the work because he does the little things, and that's what he's good at, and then I'm good at the other side. So it works out quite well. Instead of putting all the pressure and all the workload on one guy we have two guys doing one guy's work. Then we can do a better job. A lot of teams they get their riders and they send them off to other trainers and you have no idea what this coach and this trainer is doing. So you pay these guys hundreds of thousands of dollars and Anaheim 1 comes up and you're like, what happened? Why did you get tired? Well, because you're not keeping an eye on them. You're not figuring it out. So that's why we want to keep this in-house and make sure that our team knows exactly what our riders are doing at all times. That's why I'm coaching them. And then with that taking so much time, I don't have time to do the little things like call the sponsors, the trucks … so that's where Hoody comes in. So it works out quite well. Myself and Hoody, we get along quite well too. So that's an easy thing for us. But it's cool. I like to see the team grow. I like seeing sponsors come on. I like seeing the riders grow. I like seeing things develop. I like to have ideas for the following year. So it's cool. It's pretty interesting to me.
Is there anything else that you'd like to add?
Yeah, the team, it's called IB Corporation, IBCorp. It's a hedge fund company and stock market company. They're based out of Ecuador but also based in Florida. They have many different branches of their company.