By Jason Weigandt and Aaron Hansel
Timed races have replaced the traditional fifteen and twenty-lap main events in Monster Energy Supercross. That didn't affect last week's season opener in Anaheim, though, because the track produced one-minute laps, and both classes ended up running fifteen and twenty-minute main events anyway. But the track for round two at San Diego was shorter, and as the clock ticked away and the laps clicked off, the events moved into record territory, with eighteen laps for 250s and twenty-four for 450s.
The best part? Those extra laps ended up being the best of all.
The 450SX main event was a twenty-four-lap duel between Ken Roczen and Ryan Dungey, offering all of the close, tense racing that last weekend's race in Anaheim lacked. A week ago Roczen got the early lead and was gone instantly. This time Dungey started first on his Red Bull KTM and led for a few laps, then Roczen pulled off a quick block pass to steal the lead on his HRC Honda. The three-time and defending champ wasn't going anywhere, though, and stayed within about a second of Roczen the entire way. On it went, minute after minute and lap after lap, the two pulling away from everyone else and keeping the crowd in anticipation the whole time. Dungey got really close as the white flag came out and had a few alternate lines and passing spots ready. He pulled alongside Roczen once, but Roczen held him at bay. Dungey had one last shot at the end of a long rhythm, but he needed to nail the whoops and a corner perfectly to set it up. But he bobbled in the corner, allowing Roczen to get away and hold it to the checkers. Two wins in a row for the German, but this one was totally different than the last.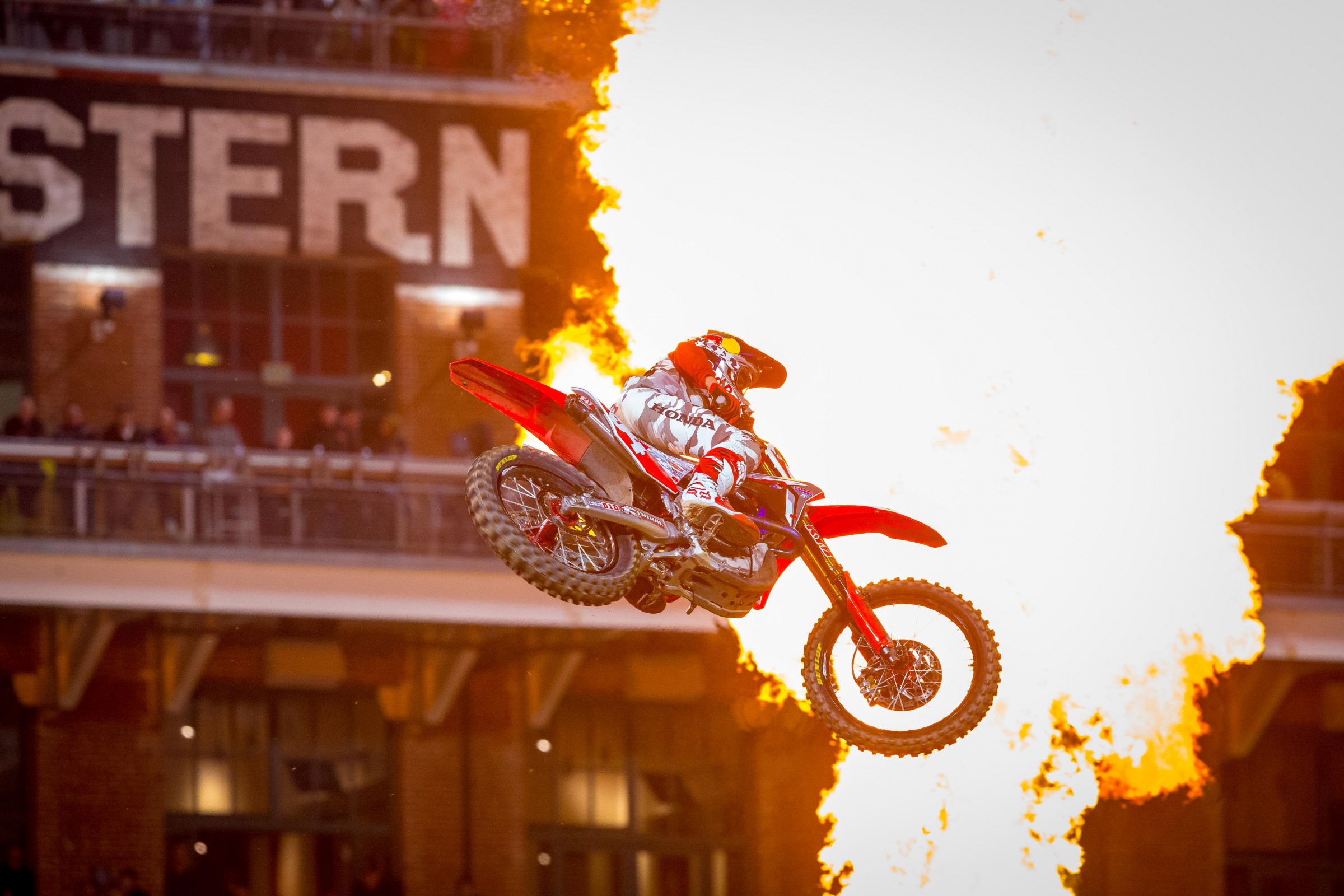 After the race, Roczen talked about how tough the track was, and how he had to spend the race being patient and hitting his marks instead of rushing things. Rain has pounded Southern California for the last few weeks, and San Diego's dirt was soft, and the track really broke down. Instead of trying to put in heater laps and pull away, Roczen said he just tried to focus on the track and the lines and stay consistent. He also said he was actually happier with this win than the sixteen-second victory last week!
Dungey was second again but much improved over Anaheim, and he's happy with the progress they made with his bike, even though he's only made small changes. He was a little bummed to have made the bobble on the last lap while trying to set up a pass, but overall he's happy with the performance.
Marvin Musquin rode awesome. He rode great. He finished twenty-one seconds behind the leaders to finish third. That's how fast Roczen and Dungey are riding! The Red Bull KTM rider started the race second but made a huge bobble on the first lap and nearly crashed it all away, somehow saving it and going off the track, but maintaining third. He maintained that all the way to the end for his second-consecutive podium. He was a good ways back from the lead duo, but was still happy because he doesn't feel these west coast tracks are his forte. He said he'll just try to keep improving so he can close that gap to the lead.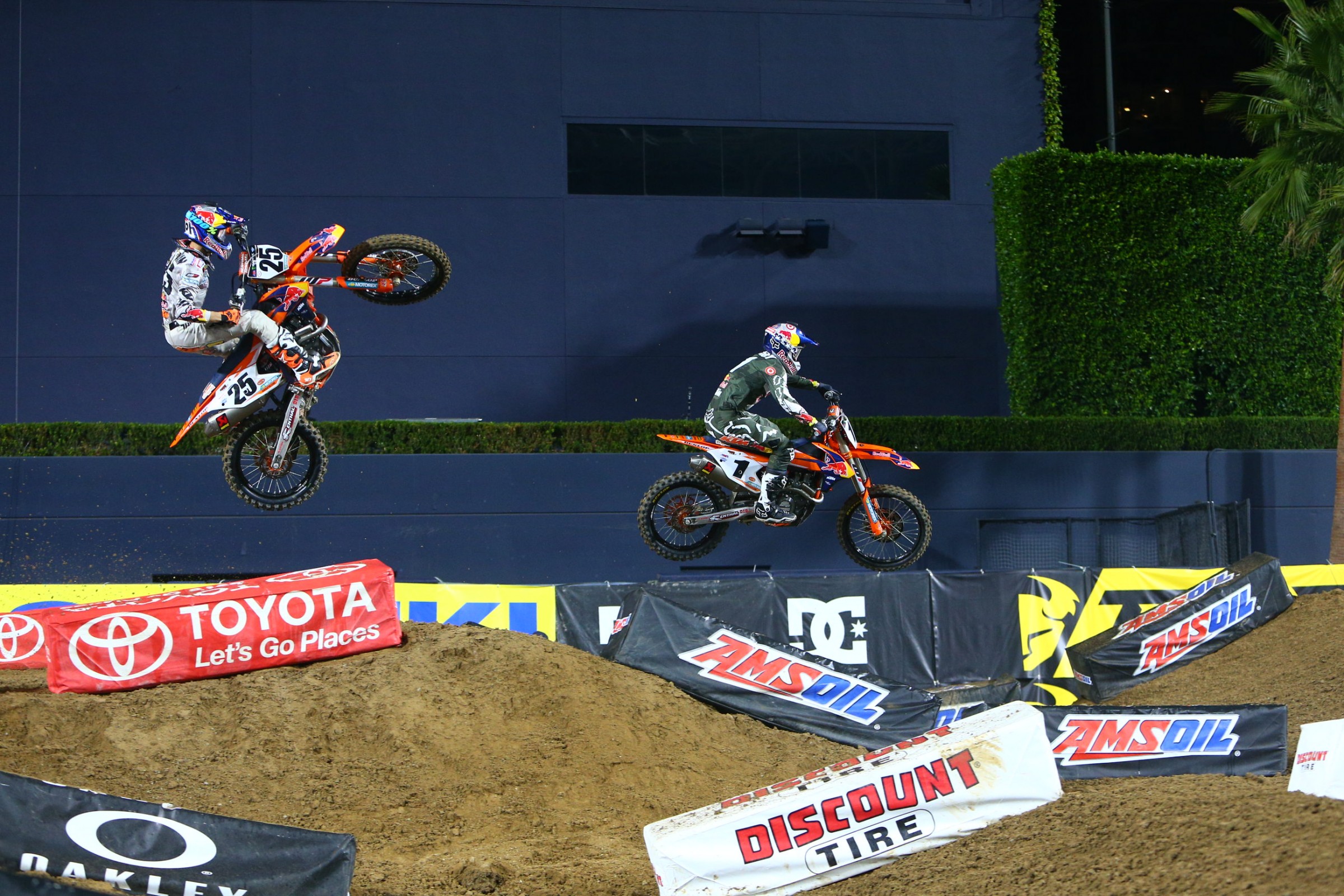 Jason Anderson was fourth for the second-straight week on his Rockstar Energy Husqvarna. "I really need to get out front so I can battle with those guys, because we're getting smoked right now," said Anderson. "We need to figure it out and problem solve."
Cole Seely improved one position from last week, taking fifth on his HRC Honda. "We'll get there, I think tonight was a step in the right direction," said Seely. "I'm still getting my groove back." He flip-flopped in the order with Monster Energy Kawasaki's Eli Tomac, who had another disappointing night. Tomac rose to fifth in the race early behind Roczen, Dungey, Musquin and Seely, then got ahead of Seely at one point. Trouble set in, though, and Seely and Anderson got by him. On the last lap, Weston Peick was right there and nearly passed Tomac for sixth. Davi Millsaps was solid again taking eighth on his Rocky Mountain ATV/MC KTM, Chad Reed ninth on his Monster Energy Yamaha, and Justin Bogle was 10th on his RCH Suzuki.
If you're Cooper Webb you can't be happy with how things are going so far. After struggling with nerves and a setup that didn't agree with him last week, he had another off-night in San Diego. He got a bad start, finished the first lap in eleventh, and wasn't able to work his way up like we're used to seeing. In fact, he went backward, eventually getting lapped and ending the night in fourteenth. It's unlikely this will persist all season, but nevertheless, it's a bit of a surprise, and not in a good way.
Not a great start to the season for Christophe Pourcel. After failing to qualify for the main event last week in Anaheim, the Frenchman dealt with the flu all week leading into San Diego. He was running third in his heat but ended up crashing all by himself. Afterward team owner Bobby Hewitt told us about Pourcel's illness and said he went to the Alpinestars Mobile Medical Unit for an IV, which, in accordance with the AMA rulebook, disqualified him from any further competition for the rest of the night.
The extra laps paid off in the 250 class, also. The last three laps were furious, providing some of the best racing you'll ever see, with Shane McElrath ending up with another win. He really had to work for this one, though. First, Jimmy Decotis (!) took off early in the main event with some sprint laps, but Martin Davalos eventually got around. Davalos led past the old main event finish—lap 15—but McElrath was there stalking, and then pulled off a pass with two to go. But McElrath and Davalos slowed while battling each other, and that allowed a charging Justin Hill and Aaron Plessinger to catch them. Into the last lap all four of them went, together, and both Hill and Plessinger displaced Davalos, pushing him from first to fourth on the final two laps. Hill then made a run at McElrath and came up just short of the lead at the line.
McElrath said his goal all week, and in the race, was to forget that his win from last week even happened, and just take it like any other race. Seemed to work out as he patiently and methodically worked his way forward to net the win. Hill says after struggling last week his dad and his brother got on him to push harder and push through fatigue in the race, and he did that and it worked. He and Plessinger didn't get the start, but they came through together for valuable points.
Mitch Oldenburg unfortunately never made it to the main after breaking his collarbone in a crash during qualifying. Jeremy Martin and Jimmy Albertson both crashed in the same spot, prompting the track crew to reshape the landing of the jump that seemed to be causing the crashes.
After a crash relegated Bradley Taft to thirteenth in Anaheim, the CycleTrader.com/Rock River/Yamaha rider was looking forward to logging better results in San Diego. Unfortunately it went the other direction—Taft crashed twice in the 250SX main and finished twenty-first. The good news is, there's another race next weekend!
Jeremy Martin had another substandard night (by his standards anyway) due to another bad start. When the gate dropped Martin found himself stuck in it, along with Josh Hansen. Martin did his best to motor back, getting up to seventh behind Jimmy Decotis, but if he's going to keep his championship hopes alive he's going to have to click off a few wins. He now faces a twenty-one-point deficit to Shane McElrath, which isn't insurmountable, but it's not an ideal situation, especially this early in the season.