Jace Owen Sweeps Amsoil Arenacross Opener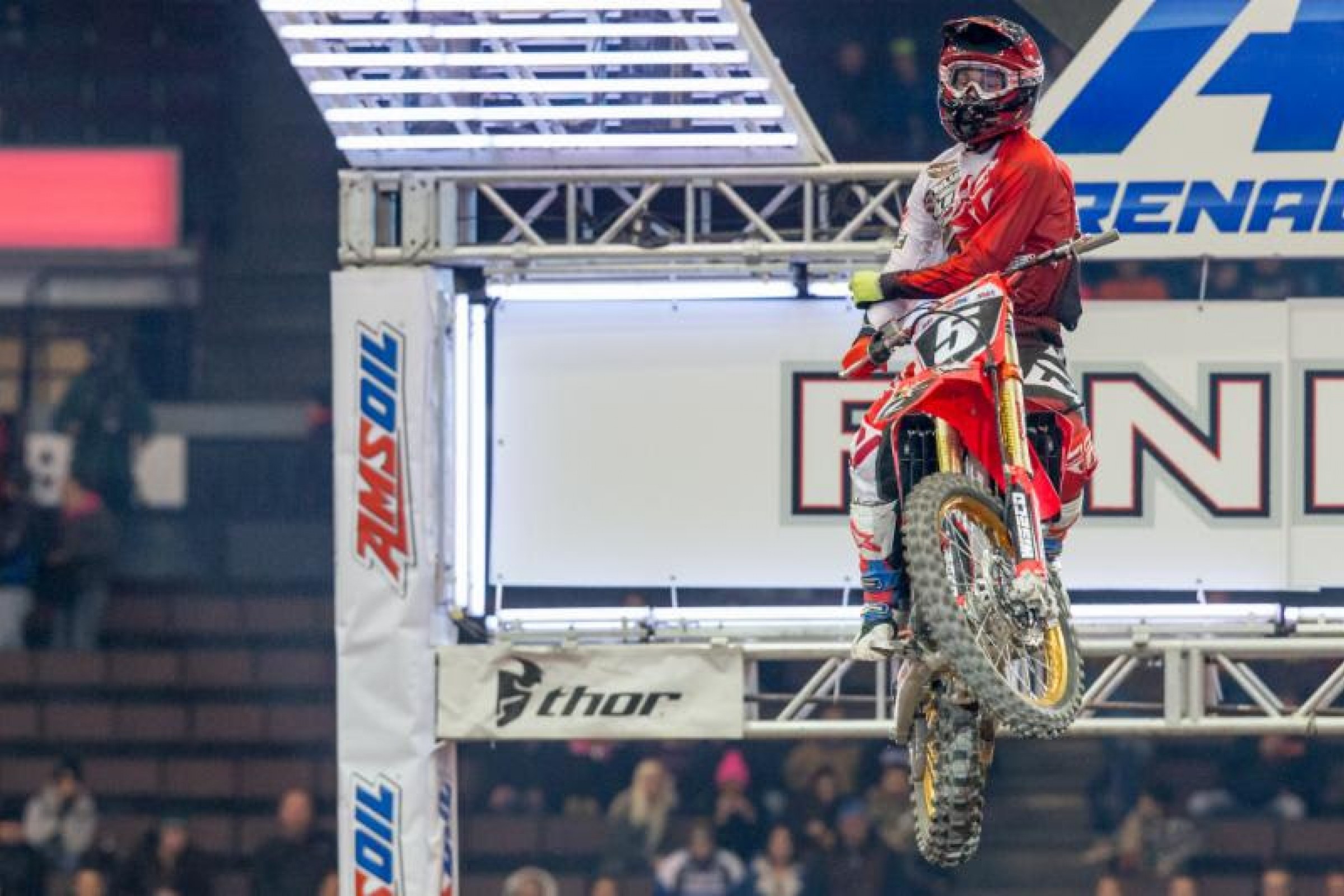 CINCINNATI - The 2017 AMSOIL Arenacross season got underway on Saturday night from U.S. Bank Arena, setting the stage for the battle to capture the Ricky Carmichael Cup. The anticipation and buzz surrounding the opening round culminated with a dominant performance from TiLUBE/Jack Link's/TUF Racing Honda's Jace Owen in the 250AX Class, who captured his first career overall victory. In the AX Lites Class, Motosport/Quick Roofing/Super Charged Energy KTM's Heath Harrison cruised to the win.
Owen's path to victory started with a triumphant effort in the RMATV/MC Head 2 Head Challenge, where he outdueled defending AMSOIL Arenacross Champion Gavin Faith to claim two championship bonus points. When the field launched out of the gate for the first 250AX Class Main Event, it was Owen who pulled the holeshot ahead of Team Rockstar Energy/OTSFF/Yamaha, in association with Rock River and Cycle Trader, rider Matt Goerke and TiLUBE/Jack Link's/TUF Racing Honda's Ben Lamay.
While Owen was able to assert himself out front, the battle for position behind him quickly intensified as Faith was able to put his Team Babbitt's/Monster Energy/AMSOIL Kawasaki, presented by AP Design machine into third on Lap 1, bringing teammate Jacob Hayes with him into fourth and dropping Lamay to fifth. On the ensuing lap Faith made his way past Goerke for second, but was faced with a deficit of more than two seconds to Owen. The gap between the top two continued to fluctuate, but Owen was never seriously challenged and took the win over Faith. Hayes followed in third after making a pass on Goerke in the late stages of the race, while Lamay finished fifth.
Owen put his Honda out front again to start the second 250AX Class Main Event, this time with Lamay and Woodstock KTM's Daniel Herrlein in tow. Faith started in fourth. Owen quickly laid down his fastest lap of the Main Event to open up a gap over his teammate, and the pair appeared to be in control of the race. However, Faith was on a hard charge to the front after starting fourth, moving into third on Lap 2 and immediately chipping away at the deficit. Behind him, both Goerke and Motosport Hillsboro Kawasaki's Gared Steinke moved past Herrlein to round out the top five.
Faith's determination brought him to the rear fender of Lamay in the closing laps, and the champ was able to make the pass for the position on Lap 11. Owen went on to clinch a sweep of the motos, leading all 30 laps of Main Event competition, with Faith in second. Goerke slipped past Lamay on the final lap to steal third, with Steinke fifth.
Owen's perfect night gave him maximum points, while Faith's title defense got off to a strong start with a runner up effort (2-2). Goerke (4-3) finished third in his return to AMSOIL Arenacross competition, followed by Lamay in fourth (5-4) and Hayes in fifth (3-7). Owen will carry the red number plate as the championship leader for the first time next weekend, holding a three-point lead over Faith.
In the Eastern Regional AX Lites Class Main Event, Harrison stormed out of the gate to grab the holeshot over Team Babbitt's/GPF/Monster Energy Kawasaki/MMCR's Jacob Williamson and Auto Revo Powersports/Shawnee Motor Company Suzuki's Cheyenne Harmon. Harrison and Williamson fought hard for the lead, staying within a few bike lengths of one another. Brewer Cycles/FMS/Team Green Kawasaki's Kyle Bitterman moved up from his fourth-place start to pass Harmon for third on Lap 1 and from there the top thee remained unchanged, with Harrison eventually pulling away to take the victory. Yamaha riders Justin Cooper and Jerry Robin rounded out the top five.
Harrison now holds a one point lead over Williamson in the Eastern Regional AX Lites Class standings.
AMSOIL Arenacross will head to Grand Rapids, Michigan, next weekend for the second round of the championship from Van Andel Arena on Saturday, January 14. The action gets underway at 7 p.m. ET.
250AX Class Results - Main Event 1
Jace Owen, Matoon, Ill., Honda
Gavin Faith, Fort Dodge, Iowa, Kawasaki
Jacob Hayes, Liberty, N.C., Kawasaki
Matt Goerke, Lake Helen, Fla., Yamaha
Ben Lamay, Forney, Texas, Honda
Gared Steinke, Woodland, Calif., Kawasaki
Daniel Herrlein, Bethesda, Ohio, KTM
Kyle Bitterman, West Pelzer, S.C., Kawasaki
Steven Mages, Sardinia, Ohio, Kawasaki
Cameron McAdoo, Sioux City, Iowa, Honda
250AX Class Results - Main Event 2
Jace Owen, Matoon, Ill., Honda
Gavin Faith, Fort Dodge, Iowa, Kawasaki
Matt Goerke, Lake Helen, Florida, Yamaha
Ben Lamay, Forney, Texas, Honda
Gared Steinke, Woodland, Calif., Kawasaki
Daniel Herrlein, Bethesda, Ohio, KTM
Jacob Hayes, Liberty, N.C., Kawasaki
Heath Harrison, Silverhill, Ala., KTM
Cameron McAdoo, Sioux City, Iowa, Honda
Cory Green, Nowata, Okla., Suzuki
250AX Class Overall Results (Main Event Results)
Jace Owen, Matoon, Ill., Honda (1-1)
Gavin Faith, Fort Dodge, Iowa, Kawasaki (2-2)
Matt Goerke, Lake Helen, Florida, Yamaha (4-3)
Ben Lamay, Forney, Texas, Honda (5-4)
Jacob Hayes, Liberty, N.C., Kawasaki (3-7)
Gared Steinke, Woodland, Calif., Kawasaki (6-5)
Daniel Herrlein, Bethesda, Ohio, KTM (7-6)
Cameron McAdoo, Sioux City, Iowa, Honda (10-9)
Heath Harrison, Silverhill, Ala., KTM (12-8)
Chris Blose, Phoenix, Yamaha (11-12)
RMATV/MC Head 2 Head Challenge Results (Bonus Points)
Jace Owen, Matoon, Ill., Honda (2 points)
Gavin Faith, Fort Dodge, Iowa, Kawasaki (1 point)
Matt Goerke, Lake Helen, Florida, Yamaha (1 point)
Ben Lamay, Forney, Texas, Honda (1 point)
Jacob Hayes, Liberty, N.C., Kawasaki (1 point)
Gared Steinke, Woodland, Calif., Kawasaki (1 point)
Daniel Herrlein, Bethesda, Ohio, KTM (1 point)
Chris Blose, Phoenix, Yamaha (1 point)
Eastern Regional AX Lites Class Results
Heath Harrison, Silverhill, Ala., KTM
Jacob Williamson, Swartz Creek, Mich., Kawasaki
Kyle Bitterman, West Pelzer, S.C., Kawasaki
Justin Cooper, Cold Spring Harbor, N.Y., Yamaha
Jerry Robin, Corcoran, Minn., Yamaha
Dylan Rouse, Florence, Ky., KTM
Cheyenne Harmon, Colleyville, Texas, Suzuki
Scott Zont, Algonquin, Ill., Kawasaki
Carter Gordon, Matoon, Ill., Yamaha
Cody Williams, Barneveld, Wis., Kawasaki
250AX Class Championship Standings
Jace Owen, Matoon, Ill., Honda - 34 (2 Main Event Wins)
Gavin Faith, Fort Dodge, Iowa, Kawasaki - 31
Matt Goerke, Lake Helen, Florida, Yamaha - 28
Ben Lamay, Forney, Texas, Honda - 26
Jacob Hayes, Liberty, N.C., Kawasaki - 25
Gared Steinke, Woodland, Calif., Kawasaki - 24
Daniel Herrlein, Bethesda, Ohio, KTM - 22
Cameron McAdoo, Sioux City, Iowa, Honda - 15
Heath Harrison, Silverhill, Ala., KTM - 14
Chris Blose, Phoenix, Yamaha - 12
Eastern Regional AX Lites Class Championship Standings
Heath Harrison, Silverhill, Ala., KTM - 16 (1 Main Event Win)
Jacob Williamson, Swartz Creek, Mich., Kawasaki - 15
Kyle Bitterman, West Pelzer, S.C., Kawasaki - 14
Justin Cooper, Cold Spring Harbor, N.Y., Yamaha - 13
Jerry Robin, Corcoran, Minn., Yamaha - 12
Dylan Rouse, Florence, Ky., KTM - 11
Cheyenne Harmon, Colleyville, Texas, Suzuki - 10
Scott Zont, Algonquin, Ill., Kawasaki - 9
Carter Gordon, Matoon, Ill., Yamaha - 8
Cody Williams, Barneveld, Wis., Kawasaki - 7