Teams Announced for 2017 AMSOIL Arenacross Championship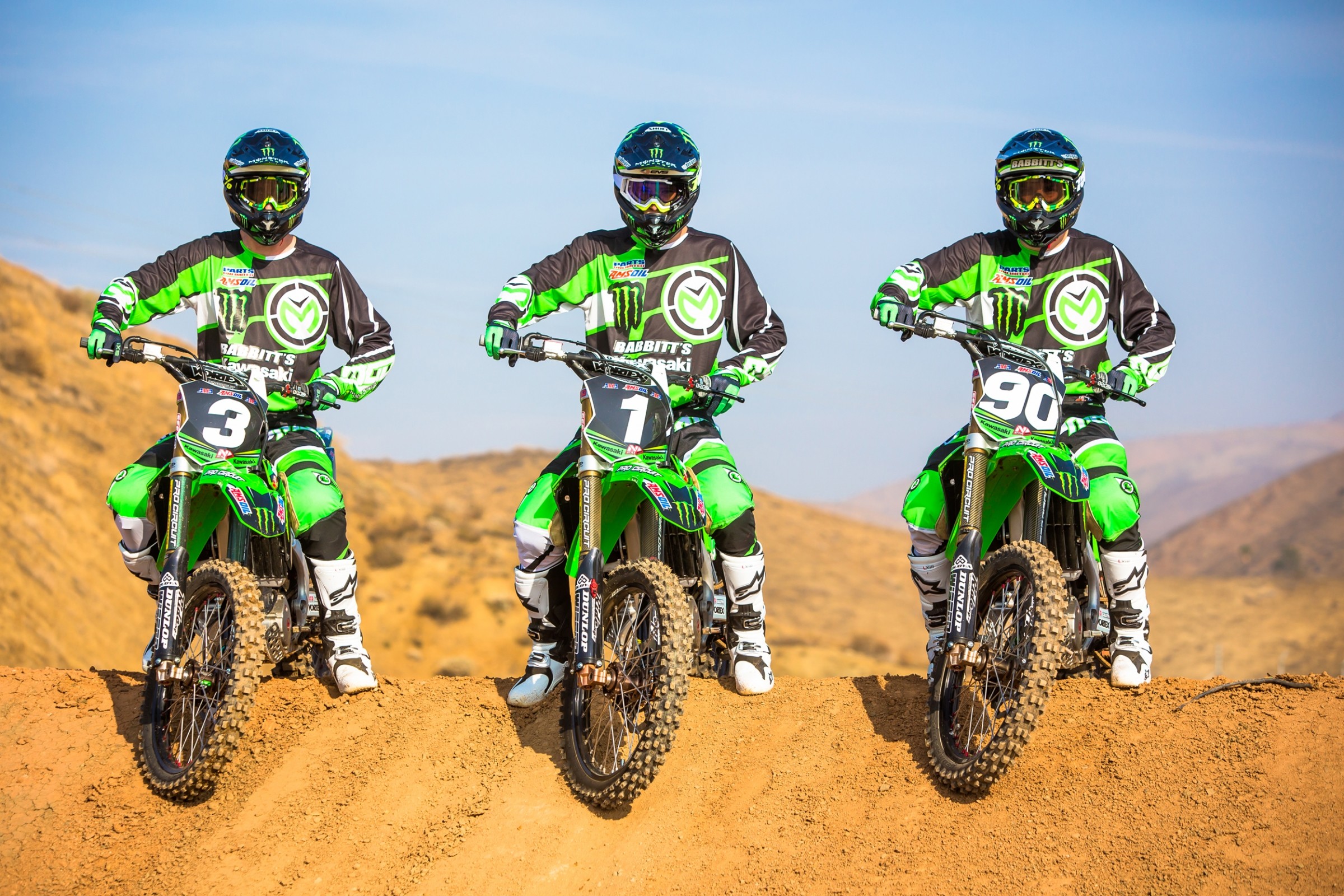 ELLENTON, Fla. – AMSOIL Arenacross welcomes 12 factory supported teams heading into the 2017 season, which will consist of 14-rounds in the battle for the Ricky Carmichael Cup. The "Buckeye State" of Ohio will serve as host to the opening round of the championship on Saturday, January 7, inside Cincinnati's U.S. Bank Arena. Ohio has long been known for producing some of the most talented riders to ever compete in AMSOIL Arenacross, and that legacy provides an ideal setting for a rider to make an early statement and set the tone for what is destined to be an incredible season.
AMSOIL Arenacross is the most intense motorcycle racing on the planet, featuring the most promising and technically skilled riders on two wheels. These fearless and highly talented athletes compete on man-made dirt battlegrounds built inside the country's most well-known arenas for 17 nights of high-speed, high-flying action that is expected to produce the most competitive championship battle in history.
Introducing the teams for 2017:
Team Babbitt's/Monster Energy/AMSOIL Kawasaki, presented by AP Design
Team Manager: Denny Bartz
Riders: Gavin Faith, Jacob Hayes, and Travis Sewell
After a memorable 2016 season in which it finished 1-2-3 in the final championship standings, Team Babbitt's is ready to chase another AMSOIL Arenacross title in 2017 with a talented three-rider lineup. Gavin Faith became the first recipient of the Ricky Carmichael Cup last year and returns to the team for a second season, chasing back-to-back championships. He is sure to have a target on his back and could arguably face his toughest challenge from stable mate Jacob Hayes, who has narrowly missed out on the title for three-straight seasons. Hayes is more motivated than ever to capture that elusive championship and will be a fixture at the front of the field. Fresh off a breakout season in 2016, Travis Sewell is the newest addition to the lineup and completes a formidable team that is capable of sweeping the championship podium yet again.
Team Rockstar Energy/OTSFF/Yamaha, in association with Rock River and Cycle Trader
Team Manager: Andre Laurin
Riders: Chris Blose and Matt Goerke
After narrowly missing out on the championship last season, Chris Blose enters his third season of full-time AMSOIL Arenacross competition in search of nothing less than a title. As a result, the veteran made the highest-profile move of the offseason in joining the OTSFF Yamaha squad with a proven track record. Flanking Blose will be Matt Goerke, who returns to AMSOIL Arenacross after a one-year hiatus with the same team that helped him win the 2015 Canadian Motocross Championship. Together, this experienced and highly talented duo is poised to push their Team Babbitt's rivals every step of the way, each with a very real shot at claiming the 2017 title.
TiLUBE/Jack Link's/ TUF Racing
Team Manager: Dave Antolak
Riders: Jace Owen, Ben Lamay, and Dillon Cloyed
As one of the longest tenured teams in AMSOIL Arenacross, TUF Racing is a championship contender whenever it lines up on the gate. For the 2017 season, both Ben Lamay and Jace Owen will return to the team for their second full season of AMSOIL Arenacross, each looking to build off strong debuts one year ago and take the next step to being championship contenders. Dillon Cloyed will also return to the team in the AX Lites Class, his sophomore season as a pro.
Woodstock KTM
Team Manager: Kurt Jennison
Riders: Daniel Herrlein and Cody Vanbuskirk
Following a breakout season for Woodstock KTM, the team returns for 2017 with two of the most promising young talents in AMSOIL Arenacross. Both Daniel Herrlein and Cody VanBuskirk qualified for the Race to the Championship for the first time last season, and both riders emerged with their first professional titles, winning the Eastern and Western Regional AX Lites Class titles, respectively. More success looks to be in store for the young squad.
Team Babbitt's Factory Suzuki
Team Manager: Denny Bartz
Rider: Cory Green
There isn't a rider in AMSOIL Arenacross with more experience than Cory Green, and the veteran competitor will look to take advantage of that in 2017 with the support of Team Babbitt's. Green has been a perennial contender for many years and hopes to make a run at the title with arguably his highest level of support yet from Suzuki, which will ultimately provide assistance to all other Suzuki-mounted competitors through Green's Babbitt's effort.
Custom Powersports/Spinechillers/TiLUBE Racing
Team Manager: Randy Bellaw
Riders: Steven Mages, Mike McDade, Jake McKinney, and Ben Nelko
After years of serving as one of the leading amateur support entities in AMSOIL Arenacross, Custom Powersports will make the move to professional competition in 2017, aligning with longtime competitors Spinechillers Racing. Anchoring the team are veterans Steven Mages and Mike McDade, both of whom know what it takes to success in the 250AX Class. Complementing the experience of Mages and McDade will be the youthful passion of Jake McKinney and Ben Nelko.
Team Babbitt's/GPF/Monster Energy Kawasaki/MMCR
Team Managers: Josh Woods and Denny Bartz
Riders: Ryan Breece, Cody Williams, and Jacob Williamson
Longtime riding coach and mentor Josh Woods will put his knowledge and experience to work in 2017 with a new team aligned with Team Babbitt's. The three-rider lineup will chase an AX Lites Class title with up-and-coming riders Cody Williams and Jacob Williamson, while Ryan Breece will look to build off the success he achieved in 2016 going head-to-head with the elite in the 250AX Class. As owner of the Georgia Practice Facility (GPF), Woods' can ensure his riders will be fully prepared for the 2017 campaign.
TZR/Sportland 2 Kawasaki
Team Manager: Tom Zont
Riders: Josh Osby and Scott Zont
While this Tom Zont-led team is new, it's not without a vast wealth of experience. Tom Zont Racing (TZR) has been providing AMSOIL Arenacross teams with high-performance tuning for many years, and now that practice will evolve into a full-fledged effort with the experience of Scott Zont complementing the promising talent of Josh Osby, who will make his full-time AMSOIL Arenacross debut in 2017.
Driven MX KTM
Team Manager: Clay Elliott
Riders: Chance Blackburn, Andy Daggett, Jared Lesher, Vincent Murphy, and Jeramy Taylor
Last season Clay Elliott's upstart team achieved considerable success with a lineup filled with young talent. The team will take that same approach for 2017 with a loaded five-rider team ready to chase success in the AX Lites Class.
Team Faith/FLY Racing/Ohlins USA/Pirelli/KTM
Team Manager: Brian O'Rourke
Riders: Dawson Newby and Dylan Rouse
One of AMSOIL Arenacross' longest running and most beloved teams will rely on promising young talent in 2017. After a rookie season in which he gained valuable experience Dawson Newby will look for continued progression, while Dylan Rouse joins the team for the first time this season. As always, Team Faith will provide its popular race day chapel service and dinner at each round of the championship for riders and their families.
Team DirtBike Mike
Team Manager: Mike Lambert
Rider: Jordan Giambelluca, Hunter Hilton, Dylan Parun, and Jeremy Wahlstrom
Team DirtBike Mike has quickly made itself a staple in AMSOIL Arenacross and for the 2017 season it will field four riders, each of whom will chase an AX Lites Class title. Under the guidance of Mike Lambert, each young rider is poised for success.
Motosport Hillsboro
Team Owner/Rider: Gared Steinke
Thanks to his fun-loving personality and hard-nosed race ethic, Gared Steinke has become one of AMSOIL Arenacross' most beloved riders. He'll once again return to the role of owner/rider for 2017, a position he embraces fully thanks to past success with the support of Motosport Hillsboro. Expect to see Steinke in the thick of the battle for victory each and every weekend.
For more information on AMSOIL Arenacross, please log on to Arenacross.com.