Last July, the Travis Pastrana-inspired Nitro World Games debuted at Rice-Eccles Stadium in Salt Lake City, Utah. The actual work on the project began two years prior, when Pastrana and Mike Porra, CEO and creative director of Nitro Circus, began to conceptualize what would eventually become the Nitro World Games.
It was obvious from the beginning—and even more so after the Nitro Games debuted—that they didn't want a reincarnation of the X Games, the popular action sports competition created by ESPN in 1995 where Pastrana made his name in freestyle motocross and later Rallycross, winning 17 medals (11 gold), becoming the most celebrated action sports athlete in history. The concept was to bring "Big Air" back to freestyle, where bigger ramps, safer landings, and a new scoring system would hopefully change the sport's future.
It was recently announced that the Nitro World Games would return for a second year in 2017. On Monday, we spoke with Pastrana, now 33 years old and a father of two girls, about Nitro World Games, the future of freestyle, timed main events, and more.
Racer X: It was just announced that Nitro World Games is coming back for a second year. What did you learn from the first year that you can apply for next year and then even going forward?
Travis Pastrana: A lot. It was way more successful than we thought it was going to be. I knew that we needed action sports, even kind of a big air of action sports. All the technology that we've been learning with the safer landings and the new ramps for takeoffs and just working with the best in the world and all-year round with the Nitro Live shows. We knew we could make a good event but everything else was definitely foreign. How to run a show, how much time we needed to pull it off, the fact that in six months the guys basically pulled off a world caliber event live on NBC. It went off air … literally we finished the last jump about 32 seconds before we went off the air. So not a lot of wrap-up time, but it worked. Kind of. It was a success as far as ratings and sponsors and media was concerned. So it gave us a great platform to learn from all of our mistakes and make the next one a lot better.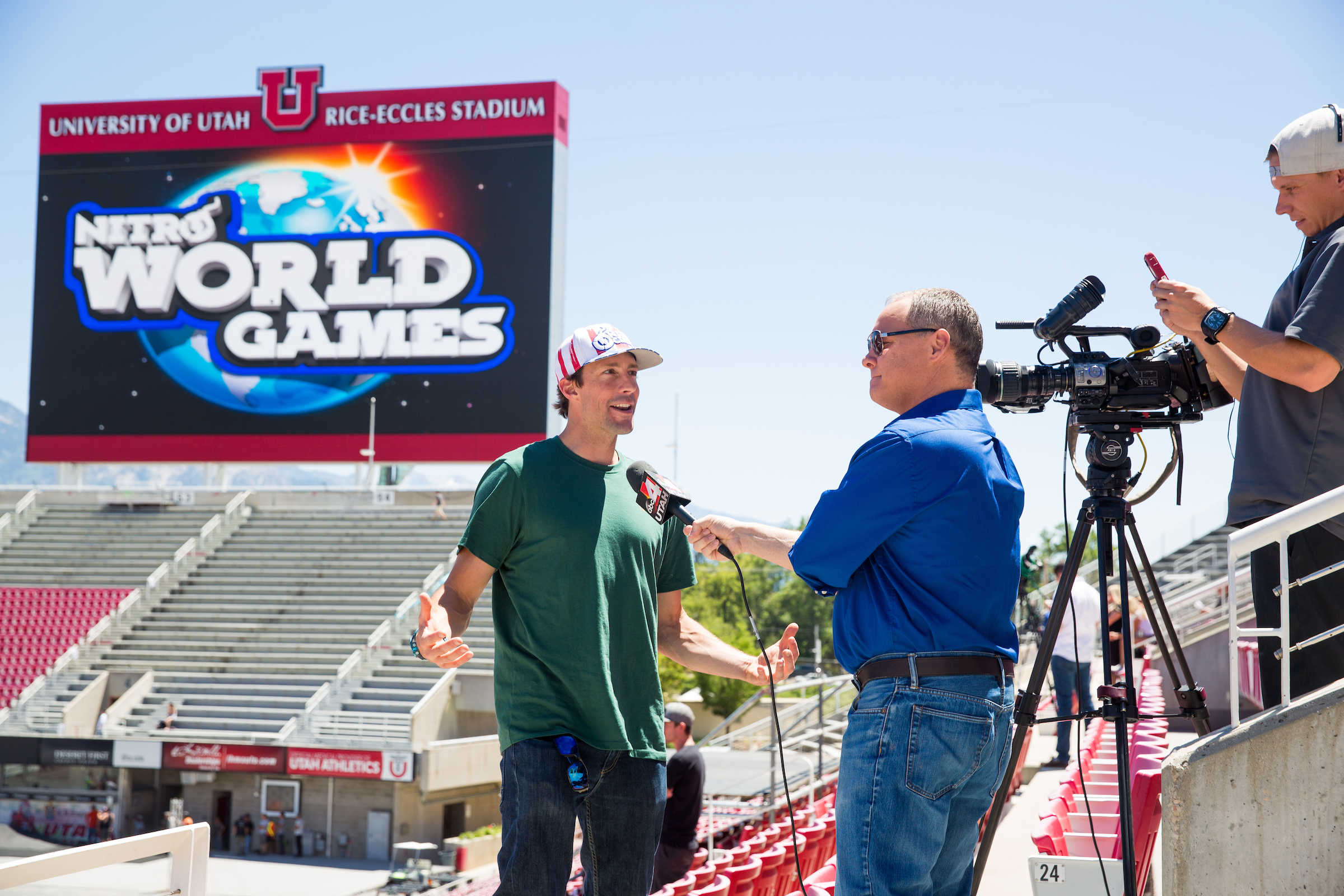 When does the planning start? Does it start now? Did it start three months ago?
Basically it took us about a month to get all the data that we needed to see what really worked and get some opinions out there of what people were thinking. And then we went right to work. I'm not a skater. I failed the skaters for sure as what we did to be able to do stuff that hasn't been done before. So we went right away and just basically got all the guys, and Elliot Sloan who won the event has been just amazing. We basically took all those guys aside and even the judging and how it was scored, because Mike [Porra] and I try to stay out of that completely but we just try to get everything on the same page from one event to the next. So that was our first concern. Nitro World Games for us it's about just evolving the ramps every single year, so the riders have input. If someone wants to do something that's never been done, we give them an opportunity to do it. We give them all the safety stuff they need to work up to it.
I think we kind of hit on this last time we talked that you yourself as an athlete, it's kind of hard for you to balance it as far as being the businessperson and also being on the side of the athlete. How much do you reach out to the athletes of all these disciplines and get feedback?
I think you really have to. It's easier to standardize it. It's way cheaper to standardize it if you don't have to build quarter-million dollar ramps for every sport every year. From a business perspective it makes a lot of sense. It worked pretty good last year. Stuff was great. But that's not what action sports is about. It's about evolution and not doing stuff that they did last year a little better, but stuff that's never been done. For me what's awesome about what Nitro Circus is as a brand is that we can lose money trying to advance the sport because that will build the sport. The company is in a really cool position right now. There's video games and toys and clothing and the live tour. There's so much going on that it's really the better the industry does, the better we do. It's been a really cool position to be in.
How do you balance your time? You have a lot going on. How do you make all this work?
Surround yourself with people smarter than you are. That's honestly the truth. Nitro grew very fast over the last two years. We finally got on top of it and it's a very tight-knit group all the way from the business side to the rider side. That's something that I think is challenging, but good.
You brought up the evolution of freestyle. With freestyle you can't really continue to do the same things over and over. Some of those tricks those guys were doing last year were just incredible. Where do you see this going? How far can it go?
It was really difficult—especially on the freestyle moto side is what I've been working the most on. Josh Sheehan has a 44-foot tall takeoff, goes 100 feet in the air and does a triple backflip. Then on the bicycle side you've got guys like Jed Mildon, James Foster trying quadruple backflips on a 21-foot tall BMX takeoff, no suspension, to a landing that's 40-feet tall. Then on the moto side, the Best Trick, half the industry was scared shitless. They did not want to come out and hit those ramps last year. That was a 14-foot tall takeoff. It was a smaller jump than the BMX guys were going and Jed landed a quad with no padded landing on a takeoff seven-feet taller and six-degrees steeper than the big moto ramp last year. The amazing part was everybody left that contest going, "that was the biggest ramp we've ever seen." Because of that we're not going bigger with the moto ramp this year. The skate stuff will be a lot bigger. The BMX stuff will be a lot bigger. Bigger and safer, if that makes sense. Sort of a step up. But still they have more time in the air. But the moto ramp, we kind of have to catch the industry up to what we've been doing on Nitro and without making it too unfair for guys like Josh Sheehan who's been over here testing those ramps for the last four years. So progression and safety are our main priorities, but what's been good about this is now that we have that ramp built, everyone's basically been out and starting to jump it and starting to try to the landing and getting more comfortable. It was only a 50-foot long jump, but it was double the height on the takeoff. It was a standard jump instead of around 45 degrees—it was a 72-degree takeoff. So almost double. It's daunting.
We used the cheater ramps. We'll probably put them back in again this year. Just like to get the guys trying it. It was funny because even Andy Bell didn't really understand the ramps. He's talking about it and he's like, "Oh, yeah, it just throws you into a front flip." No. You hit a curb at the top of a jump and you can straight air it if you want. It's like hitting a kicker on top of a jump at a local track. That's pretty much all it is. But it does give you that little extra. Anyone that's ever endoed because they hit a kicker on a jump, that's pretty much what we built into this takeoff. But it's cool because if you do that you can do tricks to a front flip, which you really can't do without it. It makes it a little more interesting.
It's crazy for how big all this stuff was and it was relatively safe. I don't recall any big injuries or anything like that, but how do you find that balance?
We didn't have one single broken bone all through practice, and we had a week of practice. Well, four days, which is more than pretty much any contest. Starting with air bags and landings. We had one concussion, but that was on the smallest jumps that we have because we don't have the safer landings on the BMX triple hit, because they requested not to.
It feels like you've found a balance between "Oh my God, this is insane," but it's still safe and it's still competitive. How did you strike that balance?
The safer you make the landings the bigger you can make the takeoffs. The bigger you make the takeoffs, the safer you have to make the landings. It's a vicious never-ending loop of dumping money into building ramps. But at the end of the day it's been a lot of fun. I think that's the key, if the riders are excited. At the end of the day, with BMX we went a little too soft with their landing for the World Games, but we had a triple backflip scoring pretty high because there's only two BMX'ers in the world that had ever done one before a week before the event. By the end of the event, all but one person had landed the triple backflip. But what was cool about that event—I think it was one of the favorite events for pretty much everybody, including myself—is that the guys were laughing. They were high-fiving. They were so excited. They were trying stuff they've never tried, riding out of stuff they've never ridden out of. If they crashed they weren't scared that they were going to die. That's kind of what action sports started around—a bunch of guys in the backyard just going, "Hey, what can we do?" And the jumps were a lot smaller, so you could crash on them back then.
You're coming at it from an athlete's point of view. Were you able to take that and apply it to the Nitro Circus and the World Games and all the stuff you're doing?
It's an interesting thing but as an athlete, as a motocross racer, I hate being injured. That's why most people stop these sports. If you look at long-term and concussions and everything else, it's not healthy to be hurt. I try and avoid that, but still get the fun. If you look at video gaming right now, it's sad in my opinion but it depends on what your view is on everything, but that it was action sports was for my generation. I hate to sound that old, but video games are probably the most popular "sport," if that's even possible to be called a sport. I know that's what they said about action sports when I was coming up. But it is the new kind of action sport. The reason is you can do all of these things and there's no risk of injury. You can be competitive, you can have fun, you can try stuff you've never tried before. My goal is to not take the danger out of it but have as much fun as possible and not have to have as many surgeries. So in a sense, yes.
You've also been a big proponent of the Nitro Academy and really getting younger kids into riding and freestyle. What do you have planned for '17 with that?
It's been an interesting thing because right now we basically have the academy set up—one in Europe and two here in the States and then one in Australia—but it's more or less at people's houses, riders that are really passionate, guys that have been in the sport for a while that are just trying to stay in the sport and kind of opening up and teaching the younger kids how to do it. We'd like to do more where we actually have these facilities open year-round, not necessarily at someone's house, even though it's awesome having people at my house 24/7. As the company grows we're expanding and that's awesome. It's what I think needs to be done. I feel like the vicious cycle is skateboarding where it comes from backyard jams and that passion and that fun and that excitement, then the guys that get good now have the finances to have the foam pits and these big ramps. They can practice every day and they don't have to have a real job. All this stuff is almost unattainable for kids. That's really our goal at Nitro is to build action sports back up from the ground up. I feel like when you see Josh Sheehan do a triple backflip 100 feet in the air you're going, "How am I ever going to learn that?"
But coming up in March we'll have the entire World Games course set up. It's open for anybody, but basically you have to have a reference. It's not like, "Hey, this is my first time on a skateboard and I'm going to just drop in the ramp." There is kind of a funneling process to get down, but it's all explained on the Nitro Circus website. Basically anyone that's truly good enough to go down these ramps and to be on a world stage that's come through Woodward or even their backyard or wherever, has an opportunity to then learn safely and to have a few months of practice with the best in the world to try to get up there. That's one thing that we've noticed with the live tour. We go to each country and each different state. We have regional tours and capital city tours, so we're able to bring in a lot more of the younger talent, and you find people with passion that might not be quite up to the level of a capital city tour, but you bring them on these tours because you can see how enthusiastic they are and how much they love it. Guys like Curtis Downs came on as just a passionate kid for the tour and he ended up third this year at World Games Best Trick in BMX. Brandon Schmidt qualified second, got fifth. He made a video at Woodward and sent it in to my wife, Lyn-Z. It's cool that with the internet we're able to find these kids. Hopefully with this open event format it makes it attainable again to be a world champion.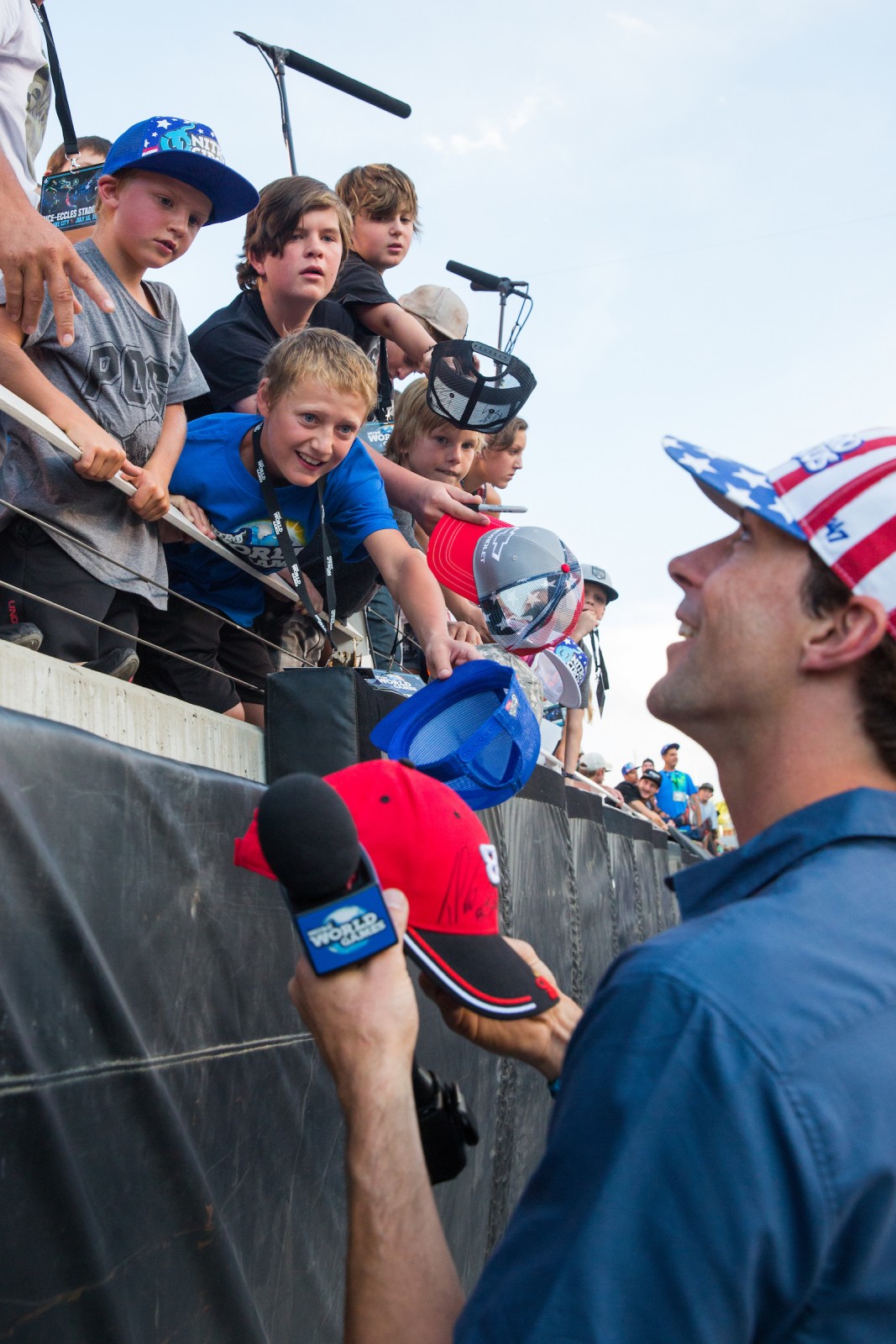 You brought up a good point. When freestyle was first getting started it was nac-nacs and no-handers and now it's double backflips. It's progressed so rapidly. How can you get kids to see it as obtainable? That they're able to get into this on a lower level and then kind of work their way up?
That's the interesting thing. The goal is every town that we go into with Nitro Circus—it's funny because we start doing these different level of tours and we have guys doing the biggest tricks at all of them, but a lot of the guys that we'll have on some of the tours aren't the same names that have been around for a while. They're the guys that are coming up. Honestly it's more passion. I think even more exciting than some of the capital city tours we do but it's been cool to get into stadiums that might only hold 2,000 or 3,000 people and putting on a show and having those kids be fired up. How do we get into it? There's Woodward, there's all these other camps, there's all these other places to go. Then if we get good enough to where we can actually ride down these ramps, I can go and I can try to qualify for an event. It's not an invite-only, it's not whose sponsor you have. I think that's helping. We'll keep pushing that direction.
What do you guys have in store for Nitro Circus that next year?
Nitro's been quite a ride. Right now we had meetings all last week with different toy companies. The apparel with '47 brand has been awesome. We had really, really good stuff. It's wild now with the video games. The same video game guys that are making the Halo video games are coming down. We took them for a tour and it was amazing seeing these guys. We made them jump off of the lift under the air bag and took them for a ride in the razors. To see basically the guys that are making the game so enthusiastic and just pumped up about all this stuff, it's going to be really cool. So there's a lot of different avenues that we're going as far as the business, but at the end of the day the passion is riding. That's what Nitro Circus is. Trying to do as many events as we can and find as much new talent as we can and put on as many good shows as possible.
I know you still follow supercross. Last week they announced that timed main events are coming for next year, which is the first major change since the '80s. Instead of 20 laps it will be 20 minutes plus one in the 450 main event.
Yes! That's going to be super long.
I didn't know your thoughts on it and when you were racing if that was something you'd be into. What do you think about it?
I've been out of the loop [I hadn't heard about it]. Mike LaRocco is going to come back out of retirement. [Laughs] I think it's awesome. Honestly I really liked the Australian format where every race was a little bit different where you had the elimination rounds and some nights were just heat races. I think this is good because it definitely puts it back not just to the riders who are the quickest but the riders who work the hardest, who are in the best shape. So I think that'll be good. You hate to go away from what's been done, but as a rider too if you always have the same format, the same thing with Nitro, if the format's the same, you get a lot of similar results. It's good because the guys that really work the hardest can get in there, but if you made six-lap main events, all of a sudden you've got riders like [Josh] Hansen coming back going for a champion, or whoever. You open it up. Guys like Stephan Roncada, he would always go out super hard in the heats, or Kevin Windham would go out super hard in the heat races, but everyone kind of paces themselves. You get to Daytona and everyone's kind of riding around, especially when it was a daytime event and the heat was just … I shouldn't say riding around but everyone's like, "Okay, I'm going to die." It was the first outdoor event and the roughest. You're like, "Okay, I could probably pass him right now but if I just hang right here for a little longer maybe he'll get tired first." I loved it though. It was probably my favorite race. But that attitude mixes it up a little bit. So I think they should have a 30 plus two.
You had the producer of the Pulpmx Show come down. It was really cool. You taught him how to backflip and he landed it, but there was maybe initially a little skepticism on his ability when he was doing the BMX stuff?
He did great. Honestly I was very, very impressed. Everyone's like, "I want to come over and do that" until they get here. I'll take anybody and have them try to do a backflip in a foam pit. No big deal. Just don't turn right, don't let go. It's a big deal but it's not the end of the world if you just don't mess up. But almost everyone crashes first time to dirt. So when you go to dirt, you have to understand that in a foam pit it's easy. If you go five-feet further or five-feet shorter and you land on the wheels, you're perfect. If you go five-feet short on the jump, now the landing's higher. So you're going to land on your face. You go long, you're going to land on your ass. That hurts. So it's a big difference mentally going to dirt. He pulled it off great.
Something I would never try but I'm glad he did it.
We have guys honestly on a weekly basis come out and it's awesome. Randy Richardson and the guys at Michelin have been awesome to me. He comes up quite a bit and just has fun. On his 50th birthday he landed a flip and he belly-flopped his first one so bad I thought for sure he broke like everything. He got right back up and he's like, "I gotta get back on before my old body stops working." He landed his second one. But you rarely get people, even if they come over and they're like, "Yeah, I'm going to dirt," even four days, five days, the more they go to the foam pit and realize what big of a step that is…. Is it a difficult thing to do a backflip on a dirt bike? Not necessarily, but it's the timing of everything. When you go to dirt it changes everything. So I was really impressed. It's a weekly thing over here.