The Jones family is synonymous with the early, golden years of motocross in America. Brothers Gary and Dewayne, along with their father/tuner Don, were known as both fierce competitors and skilled mechanical engineers who could win races.
During the 1970s, the Jones family played a very important role in developing dirt bikes for the Japanese—products that would eventually be sold into the lucrative American market. In fact, the Jones' were so adept at product development that Soichiro Honda, founder of the Honda Motor Company, hired them to develop the first generation Honda CR250 Elsinore in 1973.
In 1972, Gary was crowned the first AMA Motocross Champion in history, winning the championship over Jimmy Weinert. Today, nearly 44 years after winning his first national championship, Gary is still a hard-core racer. We caught up with him recently as he was taking a break for lunch.
Racer X: Gary, thanks for taking the time to chat with us. You were a hard guy to track down over past few weeks.
Gary Jones: Well, I am just now back from an extended trip to Baja. My son just won the overall at this year's Baja 1000, and along with Colton Udall, Mark Samuels, and the entire Ox Motorsports crew. So I was down there for that with some friends.
Wow, congrats. That is a huge accomplishment. Were you down there helping them out, running the pits and chase stuff?
Yeah, it was a big deal for sure. It was his second win in the 1000; they also won the 24 hours and the 12 hours of Glen Helen. But no, I went down there early with a bunch of friends and we all drove around Baja in those RZRs. There were 13 of us, and we had our own chase crew and the whole deal. We were down there driving around for 14 days, just having fun. We took those things all the way down to Laredo, then drove back up to catch the start of the race. It was just a ton of fun, and I got a bunch of pics up on Facebook.
What are you up to these days?
Well, for one thing, I am recently divorced after 30 years of marriage. So that's been an adjustment, but I have been having lots of fun. I also work for Hinson Clutch Components, and have been there for about 10 years or so. Wayne [Hinson] and I go way, way back, and he is a great old friend. I do R&D for Hinson. I used to do race support, and was mainly just helping the kids and parents out. But I recently moved more in-house and have been staying in the shop more. That's a good thing though, as I get more time for myself, and can now take a vacation for 14 days like I just did. Hinson is located in Upland, but I live up in the High Desert area here in SoCal.
Are you still doing much racing?
You know, this is the first year I have ever taken a year off. I was riding and racing pretty much every weekend for as long as I can remember. Last year, I raced the World Vet and afterwards I decided to take a year off and get my life in order. But I am still involved. This year I laid out the 24 and 12 hours course at Glen Helen and have been doing that for the past 15 years. But yeah, prior to that, I was pretty much racing every weekend with either the WORCS series or with REM.
Tell me a little about your son's racing, he is a very accomplished off-road guy.
Yes he is. I guess it is just a family thing. We all raced off-road as a family. There were 12 of us all together and racing on the weekends. He got a late start—with the actual racing—when he was around 12. All of sudden, he just got good at it. When we first started, he didn't want to race, and he just rode around and didn't want to do it.
In 2014, he went Argentina to ride the ISDE, and he came home with two gold medals, and was in the top-10 overall. That was really cool. He is also a really, really good mechanic. When we were at the Six Days, he changed those Bib Mousse tires in eight and a half minutes. That is one of the fastest times for anyone!
But yeah, he is number three in the WORCS series, and was also leading the Baja 500 this year. He then had a head-on wreck, which took him out. He came back for the 1000 last week. He loves it. Back in 1972, I won both the Baja 500 and the 250, so I guess it is part of the family tradition.
Wait a minute: you also won the first AMA Motocross Championship in 1972. So you were racing both desert and motocross at the same time?
Oh yeah. That was no big deal back then. We rode it all. Flat track, desert, whatever. But back then, when you raced Baja, you had to take care of yourself. There was almost no pit support or whatever. You had to know where you are going, you had to navigate, etc. You had to work on your own bike. It was a lot more work. But it was no big deal to race both events.
How many championships have you won?
I have not a clue! I have won a ton of different things over the years. Baja, the Vet World Championships, the outdoor championship in 1972, some speedway stuff. I also won the Mint 400; that was a real big deal back then.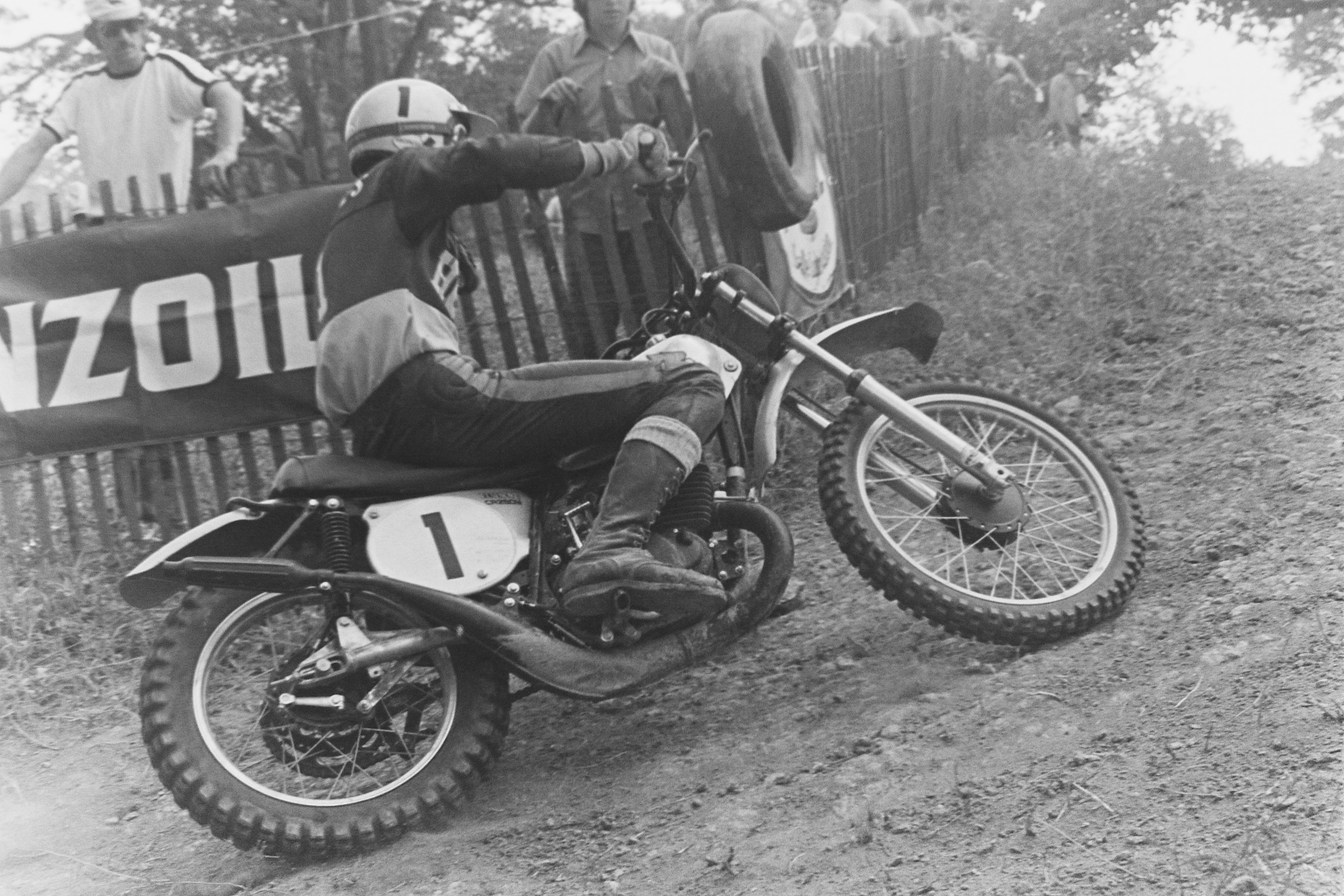 What has been your proudest racing accomplishment?
That's hard to say. I would probably say the time I won the Boise Idaho Inter-AM, and in the 250cc class. That was my first really big win. It was a world-class race with all the Europeans. I won both motos and pretty much swept from start to finish. You had guys like Torsten Hallman, Hakan Andersson, Torleif Hansen, Jimmy Weinert, and a bunch of other fast guys. If you can believe it, I am actually going back there next spring as an honored guest for the big vintage event that they have. I am really looking forward to that.
When was your last national?
I think back in 1975 I broke my leg pretty bad. Back then medicine was nothing like it is today. They did not have the plates and pins and screws that we have now. It took me almost two years to come back. During that time, me and my family bought the Cooper Motorcycle Company and renamed it Ammex. If we had made it, we could have been like KTM is today. But our factory was in Mexico and the peso declined. Our costs went up, and we had money in Mexican banks, which then became basically worthless. That was 1977 or so. That was the same time that Chrysler and Ford lost all the money down there as well.
I came back and rode for Mitch [Payton] in the 1980s on a Husky, won the SCORE Championship, and was doing the Vegas to Reno rally, and stuff like that. I guess my last big pro race I did on a factory Honda. That was that Baja 2000 event back in 2000. We got second overall behind Johnny Campbell. I rode the pro class with a bunch of old guys. We finished just 15 minutes back, and the average age of our team was 43. That was basically my last real big pro deal.
That's amazing. Still a factory rider nearly 30 years later and challenging for wins. Switching gears here, tell me a little about your dad. He was well known in the sport and very adept in building bikes and performance.
My dad was an engineer. Well, he was a self-proclaimed engineer. He was really pretty harsh on me and my brother racing wise, but it kept us in shape. He knew how to build a bike. You really can't compare him to anyone else in the sport. Jody [Weisel, Motocross Action Magazine] called him "The Smokey Yunick of Motocross." My dad just had a knack to see things that were weak and just totally get them sorted. We built the first Yamaha YZ for Yamaha, and our bike changed everything back then. We changed it all: hubs, frame, piston ports, he even made a mechanical valve that used a knob on the frame that was revolutionary for time. He was a Yamaha dealer, and Yamaha used his work to build the first YZs.
Tell me about the deal with Soichiro Honda and the Elsinore program.
That was a good deal. He [Soichiro] signed us in 1973 and wanted to release the bikes using our input. We rode the factory Honda stuff and they kept breaking. They would literally break every time we rode. My dad decided to ride a version of the production bike, and we parked the works bikes. We used that as a platform and we killed it. No more DNFs and lots of wins.
How did the Japanese feel about you shunning the works bike?
It caused some friction. But they wanted to win races and so did we, and the main thing was winning. Nothing else mattered. Mr. Honda said we could do whatever we wanted; he loved that. Then in 1974, we rode for Can-Am. They offered us a ton of money. We didn't want to ride the bikes, we had never seen one or heard of it, but they offered us enough money to build it and win. And we did. We had a three-year contract, but then I broke my leg, and they bought me out of my deal. We then went on to Cooper and Ammex.
Thanks for chatting, Gary. Hopefully I will see you at a national or two next year.
Thanks, and for sure. Oh, and one more thing: this was a big deal for me—MX Sports and the AMA named the 250cc national championship trophy for me. That is something that is really special and has a lot of meaning. I've been able to present it to the champion a few times over the years. I really enjoy the sport and riding; I did it all because it was fun, and I like to win. I'm not a good loser!