If you don't know much about the long-time privateer from Minnesota, Gannon Audette, you aren't alone. Audette is one of the most humble riders in the pits and he keeps to himself most of the time. As we've found out, it takes several interviews for him to warm up and show us his real personality.
If you remember all the way back to the 250SX East Region, Audette had his best season yet. He stayed healthy, which has been an issue, and reeled off seven top-10 finishes including three top-five finishes and a podium at Indianapolis. He started off the year riding for Kissimmee Motorsports/Legends and Heroes and finished off supercross as a fill-in rider for Monster Energy/Pro Circuit Kawasaki.
The magic ended for Audette when the series moved outdoors to the Lucas Oil Pro Motocross Championship. He was now on his third team of the year underneath the Traders Racing Kawasaki awning. It was apparent things weren't going well when he struggled to score just eight points the entire season and didn't even make the show at the Ironman Raceway finale.
What happened between May and August to cause such a drastic change in the results? We called up Audette—who's in Germany this week—to figure out what exactly went wrong and to see what the future holds for him.
Racer X: It's been since supercross since we've talked to you. You had everything going for you then with the Pro Circuit fill-in and you had a podium. Then you went into outdoors and it was just a struggle the entire summer. What happened?
Gannon Audette: I don't have an explanation for that. I got hurt at the first round and I had to take a few weeks off. It was downhill all season. I have never had such a bad outdoor season, even coming back from injury. It was a bummer deal. I can't dwell on the past though, and I'll keep my focus forward.
It was just really weird from the outside looking in. You only scored eight points all summer. That isn't like you.
No, not at all like me. That was my worst outdoor season ever. I can't do anything about it now. It was weird. I had my best year in supercross and my worst year by far in the outdoors.
You're so laid back about it too. You've got that Minnesota-nice attitude to where it's like, "We'll get them next time".
[Laughs] I don't know if that's a good thing or a bad thing, but we'll see.
So you do great in supercross and then you get your outdoor ride with Traders Kawasaki. What was your time with them like?
It was good. Everyone was super nice and welcoming to me. I had already known them from the past with all of us being at the races you get to know everyone. I have no complaints with anyone there.
When you're struggling like you did this summer, did you get a chance to test and get more comfortable during the season?
I don't feel like I came into the season super-prepared as far as bike testing was concerned. I did a little bit of testing with Mitch [Payton] on some suspension heading into Hangtown. Then I ended up getting hurt and that put me back for three weeks. That wasn't too good obviously. After that I just tried to put it together. Some weekends I felt like I was making progress and other weekends I would take some steps back. I was basically fighting it all outdoors trying to get back to where I was. I never got there and the last round I didn't even make it. It was an outdoor season I'd like to forget.
Were you more focused on supercross since you were doing so well instead of gearing up for the summer?
No, I was doing some testing for Mitch even up until before Las Vegas. I felt good and just made the transition and the wheels came off.
What some people don't understand is that it's not easy to just get out of a slump like you were in. Once you fly home from the race you maybe ride three times and then you're immediately flying to another race. It's hard to change anything in that amount of time.
In between the weekends in the outdoor season is like anything else once you get into it. You can make small changes, but you aren't going to make huge differences, you know? It's really tough to do and everything goes by really fast. It's not good when things don't go your way, but that's how motocross is. That's why you have to prepare yourself before you get into it.
What has been up with you since the summer ended?
Well, I haven't been riding at all, but then I did a race in Sweden. Now I'm actually in Germany doing some races here.
I saw that you were there, but I wasn't sure what the plan was going forward. At this very moment you're in Germany then?
Yeah! I just got done doing a cave tour actually. I'm with Paul Coates. It's been an experience for sure. This weekend didn't really go my way though. It's raining here all of the time. I really loved it in Sweden.
You guys just did a cave tour? What was that like?
It was really cool and different. It was like a mine cave. Have you ever been to Loretta Lynn's cave tour?
I've been to Loretta's but I never knew they had a cave tour.
It's in the town, but this one was a lot different than that one. You see stalactites and stalagmites in there. It's really not like anything you see in the States. I'm driving right now, can you hear my shifting skills?
No, it's hard to hear anything really. I now understand why we have such a bad phone connection! You're with Paul right now, but are you guys hanging out with any other American's doing the series?
It's just Paul and I basically and then we have a teammate that comes and stays with us. I knew nothing about this coming here and we are staying in an apartment three and a half hours away from Stuttgart. It's in the country and where the team is based. I'm not sure where everyone else is. I've seen them at the races and then we all leave. We're all scattered across Germany.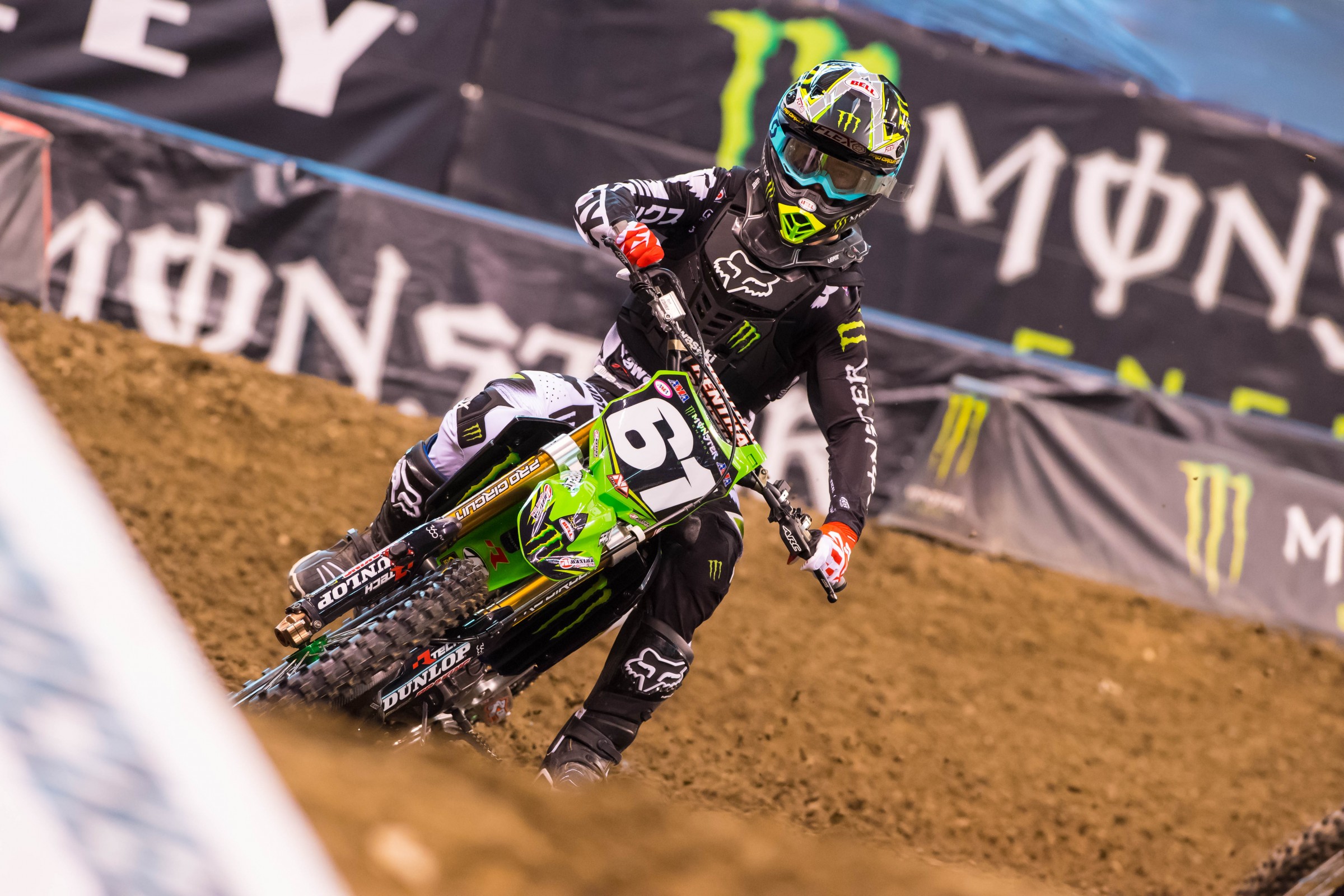 How did the first round go for you?
It didn't go the best for me. It's a different format over here. You race a heat, semi, maybe an LCQ, and then a main event if you make it. Only 12 people make it to the main and I didn't make it. In both nights I made it to the semifinal, but hopefully we can change that for this weekend. It's an arenacross type track and I'm not an aggressive rider, as most people know. You can basically sum that one up.
You'll be busy racing in Germany the next few weeks, come home for the holidays, but what comes next for you? Are you doing the East Region again?
Yeah, I'll be doing the East Region again for the Kissimmee Motorsports/Legends and Heroes team again. I'll be doing what I did last year for training and come in prepared. I'll use what I learned last year and apply it to this year and see what I can do.
A lot of riders don't like this term, but you are a veteran now.
Yeah, I am. This is my sixth year in the class because I turned pro in 2011. It's pretty crazy to think about it. I was hurt for two years in 2012 and 2013 and didn't do any supercross races. I have a lot of experience out there.
What do you make of all of these new riders that have come up with teams and now are gone from the sport? You're still doing your thing and on the privateer route too!
I've been fortunate to do it this long as a privateer. This sport doesn't last that long for a lot of people because it's not cheap to do. You don't make that much money either from the races. I just consider myself very fortunate to be in the sport still and I'm enjoying the experience.