Las Vegas, NV
Monster Energy Cup
Monster Energy Cup
Another year, another Monster Energy Cup in the books. The Monster Energy Cup is a unique race in many ways. For many teams and riders, they are debuting all sorts of new things. New bikes, new teams, new gear, and new mechanics are just a sampling of what riders have to work through. This year's event witnessed the return of Ryan Dungey from injury in what was the longest absence of his career. Ken Roczen made his highly publicized debut at Honda HRC, and Eli Tomac made his Kawasaki debut at the race after missing last year's event due to shoulder surgery that summer. For all three of the key contenders, the race was a question mark on some level. Having so many aspects in flux, one would think there would be some variance in what we saw in 2015, right? Not so much.
Last October, Ken Roczen won the MEC with a solid performance. He used good starts and his incredibly solid technique on the slippery Las Vegas dirt to win two out of three main events. Kenny's strength lies in sprinting and a talent for staying low through rhythm sections. Those strengths serve him well at this event because the track is usually pretty easy (there are different skill levels and ages racing on the track so it's necessary to tame it down). Last year, Dungey kept him honest, but Kenny deserved the win. Eli wasn't even riding yet and after watching his first few supercross events of 2016, it's hard to think he would have had much for Roczen that night.
Flash forward to 2016, and we saw many of the same tendencies play out. Kenny was lightning fast all day, scrubbing his way around the track en route to the fastest qualifying time, and two main event wins. He threw away the win in main event two with a spectacular crash, perhaps costing him a million dollars, but absolutely the $100,000 for an overall win. Surely that stung a bit, but I think Kenny still left happy. He has money, and will make plenty more. The more important aspect was that the 2017 Honda was more than competitive in its first race. He went head to head with his fiercest competition and looked to have them in check. Tomac was able to match pace in main event two but otherwise, Kenny seemed unbothered. With such a huge change in his program, it would have been understandable to see a step back while they sorted the new bike. Unfortunately, for anyone wearing orange or green, that was certainly not the case. He looked Anaheim 1 ready, in October. That's bad news for everyone else.
For Ryan Dungey, I was pessimistic about his day until that final main event. He hadn't really shown me much until then. He was fourth in timed qualifying and really didn't have the elite pace that I saw in the 2016 supercross season. I know, I know, it was his second race back and I kept that in mind. I also knew that he had been riding for quite a while and wasn't rushed back for this event. I just expected a bit more speed from him. It was an underwhelming race for him until about three laps to go in the final race. A couple laps prior, Tomac had made a move on Dungey to secure the overall. Being passed by Tomac was just a show of how Dungey's day had gone, really. He just didn't have it.
Now, I am not sure if it was rust or a mental thing, but Dungey seemed to have his fill of his performance to that point. I visually saw his aggression level skyrocket and his racing persona switch on. He went from being very smooth and calm to finding the hectic, high intensity approach winning requires. Coming from a long layoff, I think he needed a wake up call to find what he is capable of again. In just a couple of laps, I really think he found himself and remembered what it takes to be Ryan Dungey. He blitzed back by Tomac and dropped all of the hesitation that injuries typically create. Tomac still won the overall, but the final laps were a very good sign for Ryan Dungey fans.
As for Eli Tomac, he was impressive all day. He wasn't quite as polished as Roczen, as his starts and early laps hindering a battle with the German. That's been the story with Tomac, though. He has speed to burn but if he doesn't put himself in position to win, it takes a backseat when someone else can sprint early. Tomac did win the overall, though, which is always the goal. This is Monster's marquee event, and after an up-and-down season, it had to feel good for Eli to put smiles on the faces at Monster Energy Kawasaki. Eli will be better than last season come Anaheim 1, I think he proved that on Saturday. The one concern that still shone through, however, is the inability to beat his closest rivals to the first turn. If he continues to give Kenny and Ryan big leads in the opening laps, the season will be much tougher than it has to be.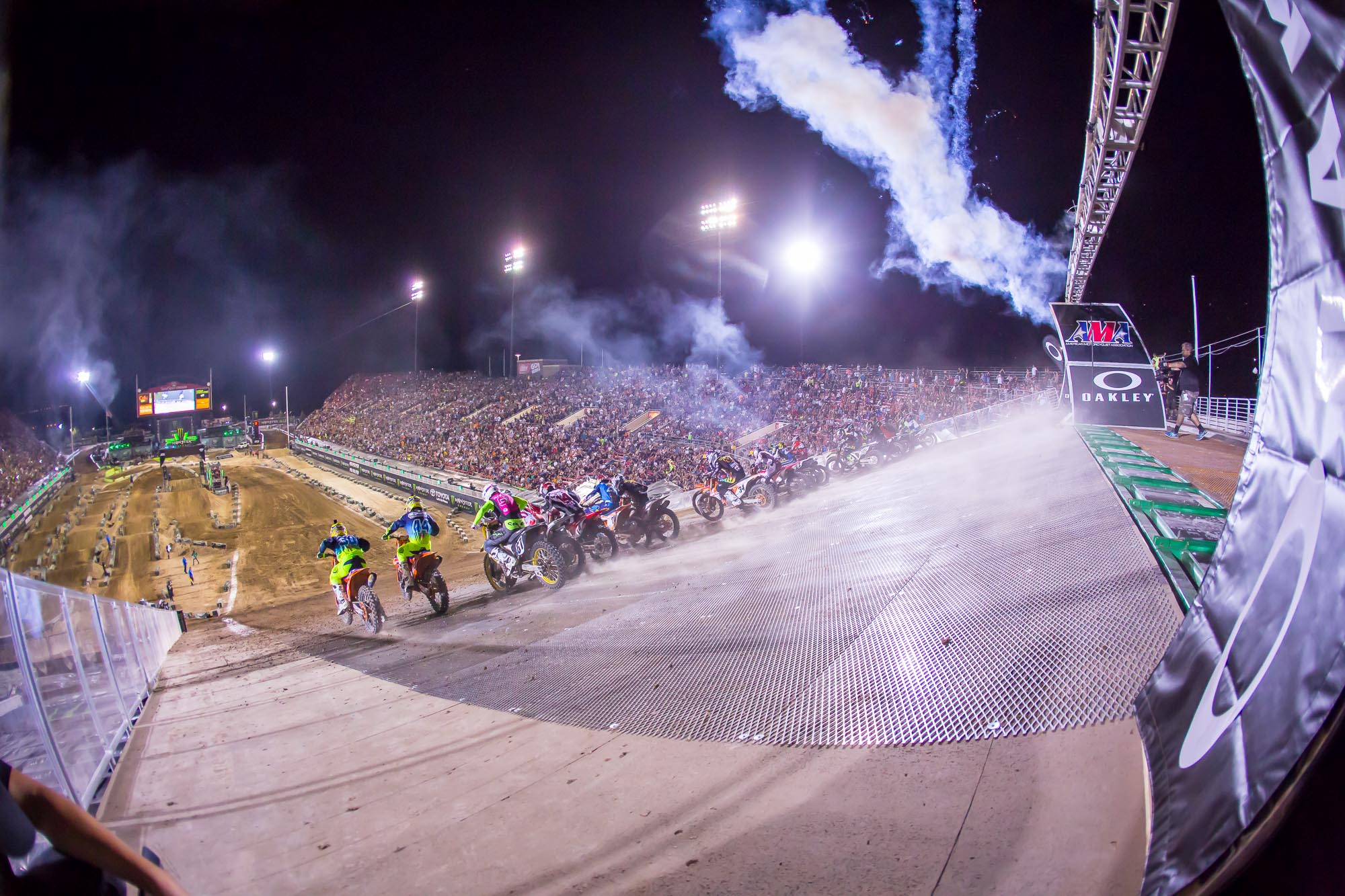 So, a year later, after big injuries and big changes, we are basically in the same place. Kenny was the fastest rider and if not for one mistake, dominated the event. Ryan was as solid as ever, missing the overall win by one-point. He improved each time he went out there, working out the cobwebs that a broken neck would surely conjure. More importantly, I saw that white-hot intensity return, even if only for a lap or two. He will carry that momentum into the next couple of months, knowing he is still the Ryan Dungey that everyone is putting their money on. Finally, for Tomac, he may not have had a perfect day, but he is the one leaving with the win. He showed impressive passing savvy in that final race, coming through the pack decisively. That same scenario wasn't all positive, though, because the comeback only happened because he put himself in a bad early-lap position once again. His tendency to effectively ruin his race on the first lap is one that could inhibit winning a supercross championship.
We have 10 weeks or so until the dirt is laid on the Anaheim floor. There will be literally thousands of laps put in before then. Every morning will start with their first thought being the 2017 supercross season. It becomes an obsession and singular train of thought. I know because I lived it. I wasn't thinking about a championship, mind you, but the focus is one and the same for all. Every decision and plan will revolve around being the best racer possible. The workload is seemingly unbearable at times, but as the days are strung together, the picture becomes clearer. These three (Dungey, Roczen, and Tomac) all know what it takes to be a champion and have nothing but time to improve on what they showed us last Saturday.