Tim Gajser Ruled Out of Monster Energy Cup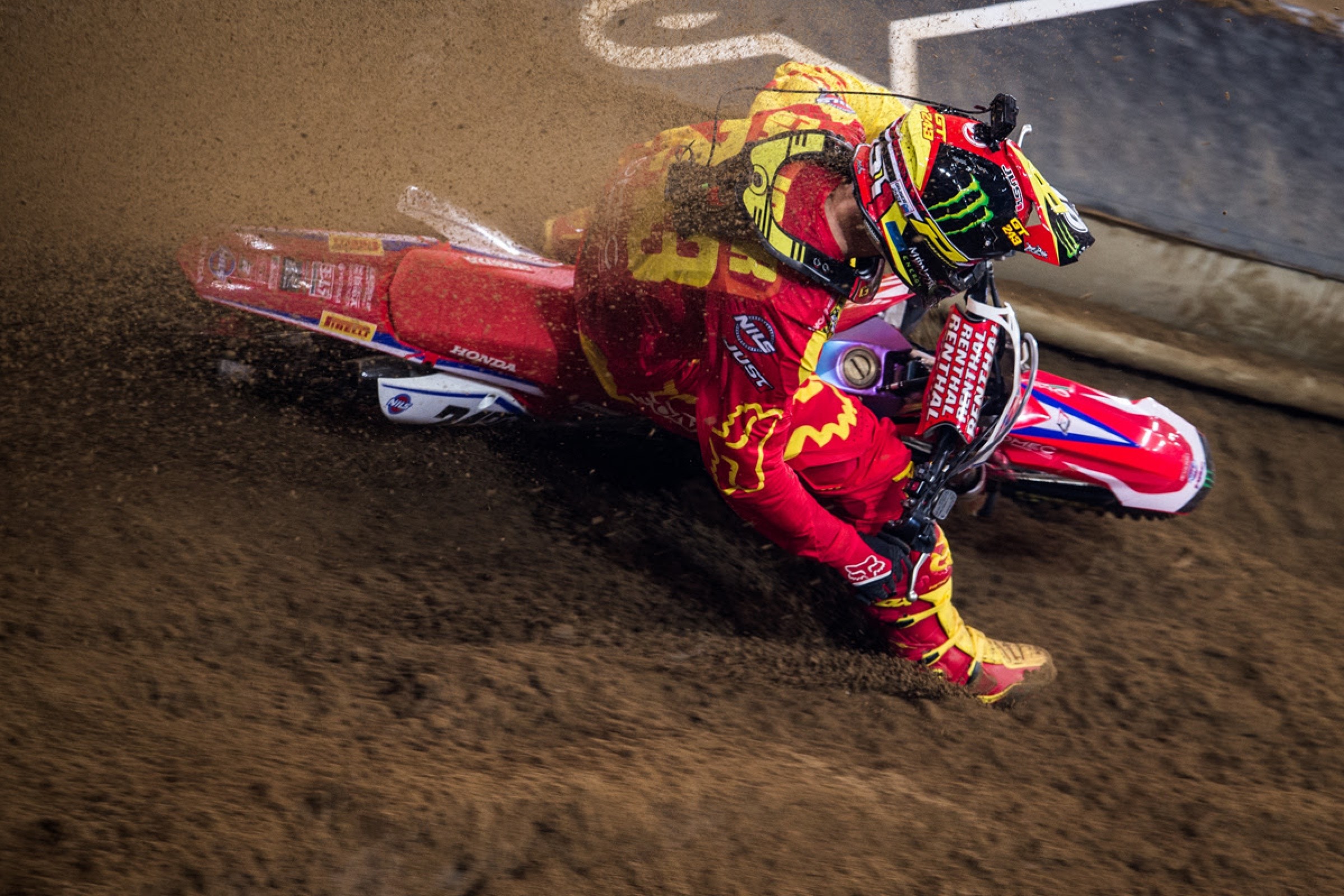 Las Vegas, NV
Monster Energy Cup
Monster Energy Cup
Tim Gajser's U.S. debut has been put on hold. The reigning MXGP World Champion has been ruled out of this weekend's Monster Energy Cup in Las Vegas after aggravating a previous shoulder injury at the inaugural SMX Riders' and Manufacturers' Cup in Germany on Saturday.
In his first action since missing the Motocross of Nations due to heavy bruising and swelling to his right hip and shoulder and a small crack in his right collarbone, sustained in a practice crash in his home country of Slovenia, the 20-year-old won the Superpole and the first of three main events. Gajser was leading the second main event as well, when he crashed on the back section of the track and went down on his right shoulder. Gajser would finish the race and line up for the third main event, finishing fifth.
Despite finishing the race on Saturday, Gajser said there is too much risk of further injury to his shoulder and has elected to sit the Monster Energy Cup out and focus on the 2017 season.
"I feel so bad that I can't go to the Monster Energy Cup this year because it's no secret that I want to race against the best in the world in America and I was really looking forward to it. I showed at the start of SMX that I am fast also in this mix of motocross and supercross and I think it would have been a great battle this weekend in Las Vegas, but there is too much risk with the injury in my shoulder," he said in a statement. "It was so painful at SMX, and even though we raced in the final race I wasn't fighting—I was letting people pass when they caught me because I didn't want to have any contact in my shoulder or push harder and make it worse. I was holding on, and this is no way to go to race something as important as Monster Energy Cup.
"When you are scared of making an injury worse, that's no way to race, so it was a very hard decision to make but we know it is the right one. So I'm sorry for the fans and the sponsors like Monster and Fox that I can't race out there, but there is always next year and I think it's important for everyone that we do it properly with the best chance of winning. It's been an unbelievable season this year taking the MXGP title, and for that I want to thank everyone with me for all their support. But it's also been a long season so now we need to take some time and make sure we go into 2017 stronger than ever. So I wish everyone the best for racing this weekend and I'll be watching, and ready to come out there next year and give it my best."