It's been almost 10 years since Sean Hackley made his professional debut with the Motoworld Yamaha team. As an amateur, Hackley spent a few years riding for Team Green Kawasaki and battled with the likes of Ryan Villopoto, Josh Hill, Wil Hahn, Ryan Dungey, and on occasion even beat them for titles.
Unfortunately for Hackley, he had some hard crashes early on in his career that set him back. He doesn't like to talk about the crashes, but he's made the most of everything and still gets to race for a living.
Now 26 years old, Hackley is on the verge of getting married and enjoys most of his weekends at the track. He's dabbled in some amateur motocross announcing on RacerTV and is also working on getting his college degree. We thought it would be fun to call up the Maryland native-turned Texan to take a trip down memory lane, as well as to see what he's got coming up next.
Racer X: What's been going on in your life these days, Sean?
Sean Hackley: The main thing right now is that I still ride four days a week at least. I've been training and helping out a lot of kids get ready for the Winter Olympics. I'm also back in school right now. I started back in 2007-08, so now I'm finishing up some more right now. I'm working on my degree.
What are you going to school for?
Right now I'm doing all of the basic stuff. I'm just going back to further my education to see what sparks my interests now that I'm older. I had some things I was interested in when I was 17 and 18 years old, but now that I'm older I want to look into something else. I'm getting myself prepared for the real world and growing up.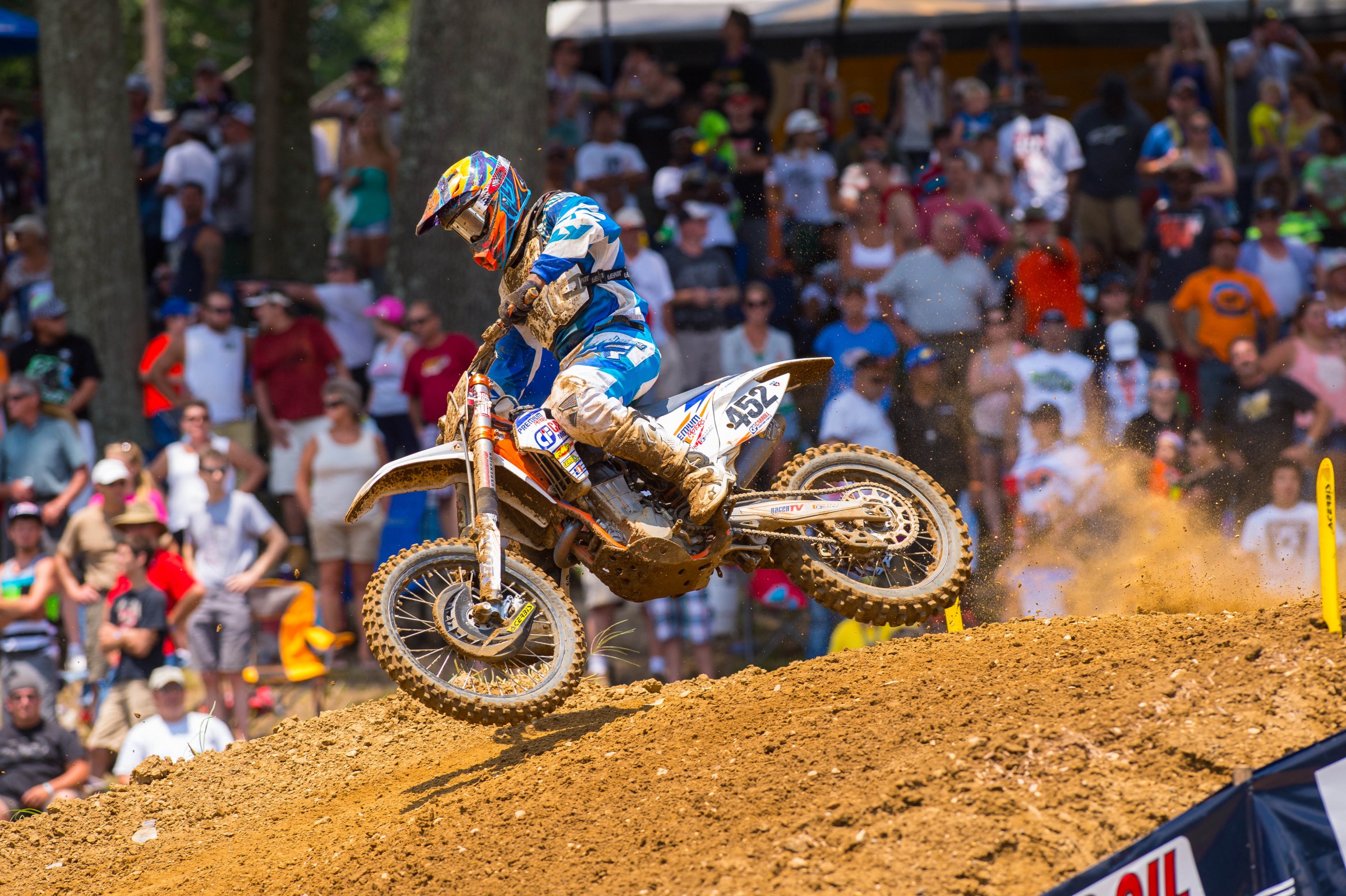 Let's go back and talk about your amateur days. You came up in a very talented class back in the day.
That's the coolest thing. It sucks going to the races now and it doesn't look the same to me. I wish people would just have more fun with it now. All of these 50cc and 65cc kids are coming up and thinking that they are going to be their career. That's always the dream, but I think in my generation we did it for fun as a family. Right now my generation is winning everything. We just had fun with it. A lot of people dedicated their entire lives to it, don't get me wrong, but it doesn't work out for everybody.
Who are some of the guys you used to battle with in those days?
Man, I just don't even want to name drop. It sucked for me at one point to look back after all of my injuries and now Dungey is just dominating. I remember one race we did together at Ponca City we split all four motos. I've won a lot of championships and the ones that I finished second to were usually Ryan Villopoto, Josh Hill, and Jason Lawrence. Everybody who I finished right behind or in front of has won championships and races. It kind of sucks for me to look back at it now, but after all of my injuries I'm just lucky to be racing dirt bikes.
The dynamic has definitely changed. The sign-up numbers are not the same anymore because of the economy. You see these kids coming up on the right path to make it in this sport, but everything changes once you turn pro. You know that better than anyone.
When I turned pro I was doing very well. It's just a shame that I never got to show it. I was with the Motoworld Racing Yamaha team and my first day on the supercross track was very scary. I had never ridden supercross before. I went down to [James] Stewart's house and got it down and I came back and everyone was like "Wow, you can win!" I crashed two days before Atlanta and spent the first two rounds of supercross in the hospital.
We're going back to 2007, which honestly seems like yesterday. It's crazy how fast time goes.
It does feel like just the other day, but we are going on 10 years! I coulda, shoulda, woulda with a few other things, but I'm happy to be where I'm at right now. Soon I'll be getting married and I can't believe that it has gone so fast.
You struggled with injuries from the beginning of your career and it just kind of got worse at one point.
I hit my head two days before my debut race and then I think the bad one that everyone saw was Hangtown. I had a couple of decent years. I spent a long time recovering from my head injuries even 3-4 years later. I started getting better and then I had a bad one at the Arlington SX last year. It was a string of injuries, but that's why I try to just enjoy it now. That's when I ride my best. When I did get hurt it wasn't very good times for me and I don't like to tell people about it.
"I was like why are you watching Disney you are like 17 years old?"
Was it the injuries that held you back from succeeding in the sport how you wanted to?
Exactly, yeah I had the injuries, but I love the sport of motocross so much. I couldn't just walk away from it and be sour. I just kept chugging along and I'm able to make a living off of it to support my fiancé and myself. I'll keep going at it as long as I can and hopefully when something does come up I'll be able to stay in the industry rather than get a normal 9-5 job to support my family.
You've been connected to this sport for so long that you've been able to do some really cool things because of it. The point of this interview is to show that you can still make a living from this sport regardless of what place you finish.
There are things in this sport that you can still do. There are some really good riders that are representatives for companies. That's cool for me to see. I've done some stuff with RacerTV announcing amateur races, which is really fun going back to the roots. That's why I am who I am. The Coombs family does a great job of that. Sure, I would love to announce for supercross and motocross one day. If that opportunity never comes then that's fine. Announcing just sounded fun and it was.
Talk about some of the other cool things you had the chance to do coming up.
People still come up to me and mention the Disney commercial and stuff like that. I did get in Sports Illustrated for Kids and ESPN the Magazine. ESPN did a feature on diversity in the sport and it was Blake Wharton, Kyle Cunningham, and myself. I feel like that is something the sport never got to see because no one really checks out ESPN the Magazine. I got to do some really cool things that I hope helped grow the sport.
The Disney commercial is something you don't really like to talk about, but it still is a pretty big deal.
It's not like I hate my Disney commercial. That was probably one of the coolest things ever. I was on my home phone one day with Wil Hahn and we had just moved to Texas. He and I would spend an hour or two on the phone everyday. They called me about it and I thought that it wasn't real and I switched over to the other line and I was like, "Wil is that you on the other line?" He had no idea and I was like I'm going to have to call you back.
This was like a month or two out from filming. When the time came to film I was able to take the day off of school. Then all these mini vans and film crew start to show up and it was real. We went out to two local tracks by my house and I had some friends out there. The worst thing about it, and this is why I hate it, is because my voice cracks so bad! Everyone has that moment when they hit puberty, but mine has to be on national television. Then the next day I got my braces off and I lost all of my friends at school because they didn't believe that I filmed a commercial the day before. Then one day the captain of the football team, the biggest, buffest guy in school, said that he saw me riding my dirt bike on Disney channel and it was cool. I was in the senior hallway and everyone is looking at me like why is he talking to Sean he's a loser. I was like why are you watching Disney you are like 17 years old? From that point on I was like the coolest guy in school, but nothing changed. They just thought I was cool because I raced dirt bikes.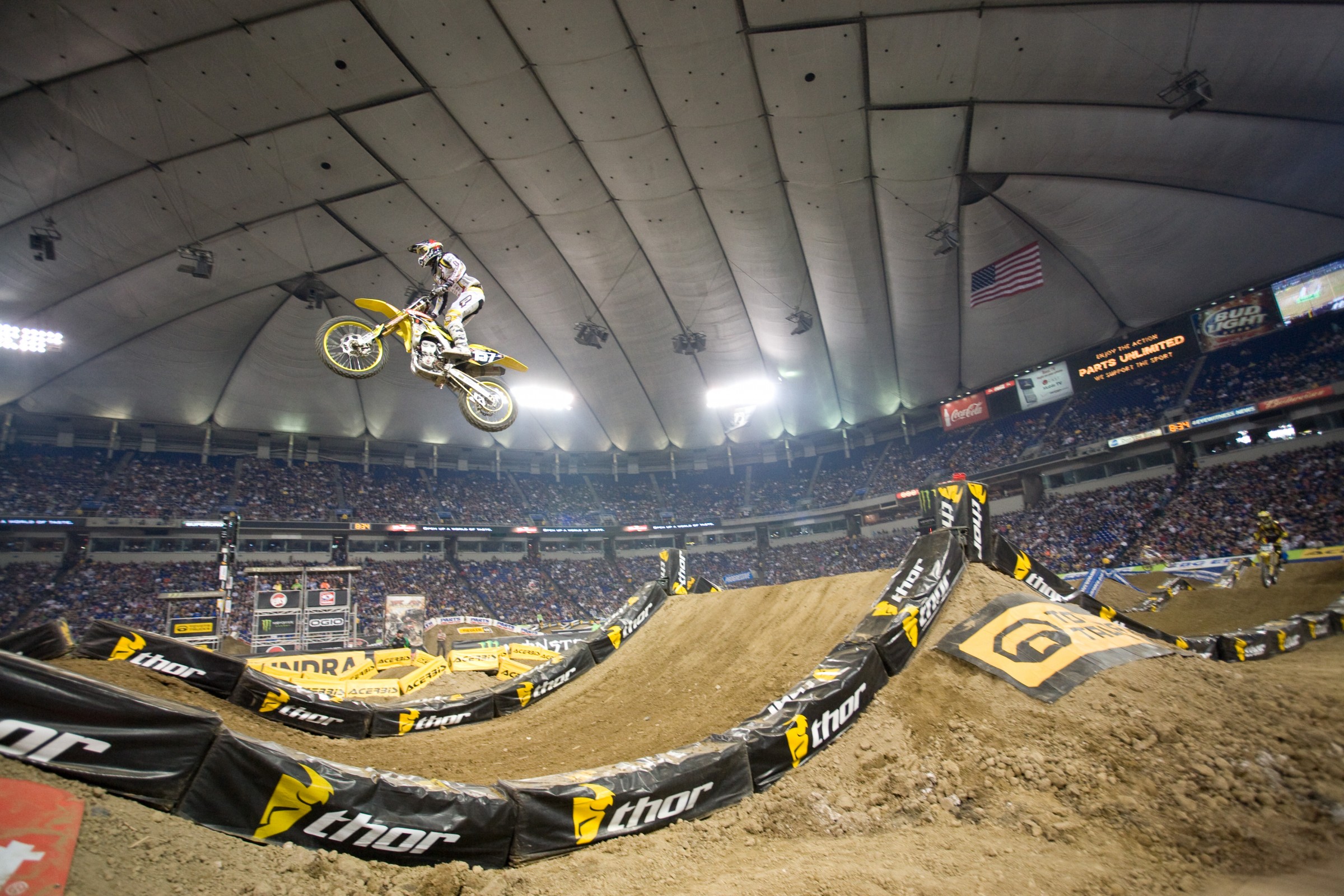 What were the most memorable races for you in your professional career?
I've had some decent results, but I had higher expectations that have not been satisfied yet. In my first supercross race I got the holeshot and someone had hit the hay bale out at the finish line. When I came around the bike hit it and I fell over. I ended up getting passed by Darcy Lange and Ben Townley. Townley ended up messing up and I got second. In my first supercross heat race I got second place and I was so upset that I didn't win [laughs]. I was crying on the way back to the pits.
How do you make a living these days?
Well, racing is my main job. I still race every weekend. I'm the guy that hunts the local pro and big money races. I'm doing just fine. I don't like to live a very lavish lifestyle. I make just enough to get by. Now that I'm getting married things need to change a little bit. With marriage comes kids and hopefully they aren't into it because it's a pretty expensive sport.
What pro races do you make sure you hit up every season?
Supercross is fun, but it hasn't treated me too well, so it's something that I don't stress out about too much anymore. I'm from Maryland, so I always try to do the nationals on the East Coast. Those are the types of tracks that I enjoy and the rougher and the ruttier the better. It's just my fiancé and I at the races. She works for MX Sports. I'm at the track working and washing my bike and then I go race. I don't expect too much. After my moto I don't get a break and I have to work on my bike. Sometimes I don't even get a snack between motos before I head out the next time.
What is it that draws you to motocross and keeps you coming back to this sport?
It's just for the love of the sport, you know? That's what I grew up in and that's what got me so close to my family. My dad is my best friend and I love my mother. I don't know where I would be without them and I thank them all of the time for raising me the way that they did. I see kids getting yelled at by their parents at the track and my parents never did that. It is what it is. I always tried my hardest and they were never mad at me. This is why I am who I am. I'm grateful that I can still ride a dirt bike.