Finally Official: Ken Roczen Signs with Honda HRC
September 21, 2016 10:20am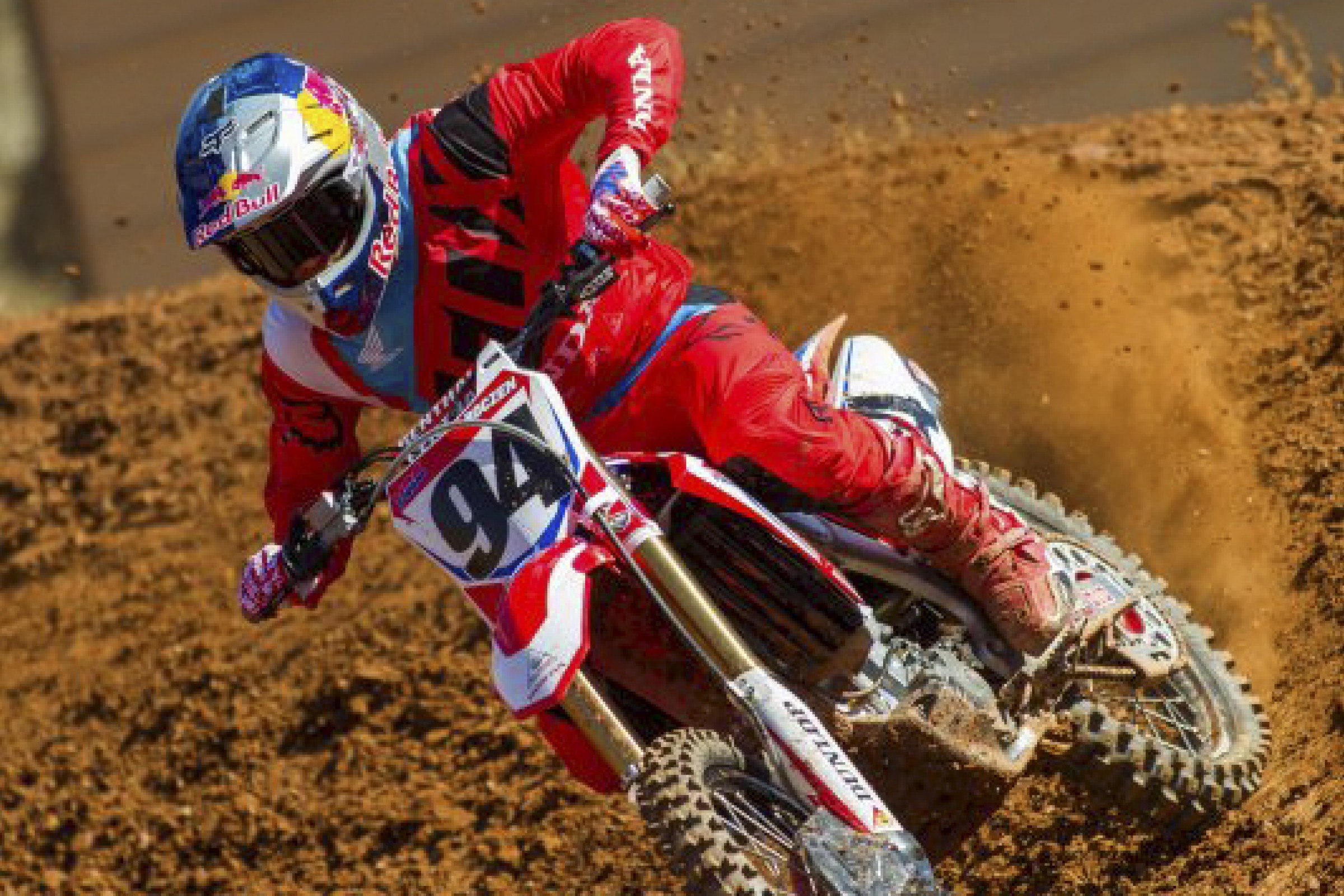 By Chase Stallo and Jason Weigandt
Motocross' worst kept secret is finally official: after two seasons and one title with RCH Suzuki, Ken Roczen is joining Honda HRC for 2017 and beyond. This is probably the biggest free-agent signing this sport has seen in quite some time. Not only is Roczen a marquee rider, but Team Honda, at one time the envy of all the other brands, is in a 450 Class title drought that stretches all the way back to the start of the 2005 season. Also, the brand is launching an all-new 2017 CRF450R. Much is riding on this new pairing.
Roczen is joining his third brand since moving to the 450 Class, starting with Red Bull KTM before moving to RCH Suzuki. Both times, he grabbed the AMA 450 National Motocross Championship in his final season with a team, and he'll carry his #1 plate into Lucas Oil Pro Motocross next year on the Honda. You'd have to imagine the Monster Energy Supercross Championship sits as the main goal for the new pairing. Roczen is still looking for his first 450SX crown, and Honda has not won the championship since 2003.
This is a three-year deal. Honda announced it today in an official press release, and also included a video which features some action shots of Ken on his new bike.
"I'm really excited to be a part of Team Honda HRC," Roczen said in a statement. "I'm always looking to improve myself, as well as my surroundings, team and equipment, which is why I decided to make a switch. I want to have the upper hand on every other rider out there, and I think I have that with Honda. Things are still new, but I'm feeling amazing and blown away by the bike and the atmosphere of the team. I think that when any rider makes a switch to a new team, he doesn't fully know what to expect, so having such a smooth transition so far has been great. Big changes like this are great opportunities to make a statement, and I think doing an awesome video to announce something so special and big is really unique, especially to our industry. I'm excited that Honda was on board with the idea. Other sports do things like this, but it's kind of a first for someone in the motocross industry. Most of the inspiration came from my buddy Ken Block, who always puts out killer videos. I talked to Honda about it and they were super stoked. Everyone worked hard to get it done, and the finished product is great."
"I'm extremely happy to have a rider of Ken's abilities and accomplishments become a part of our program, and I'm glad we can finally officially share this announcement with our fans," said team manager Dan Betley in the press release. "Ken has proven time and again that he has what it takes to consistently win races and run up front, and I'm confident in his ability to continue doing that aboard the new CRF450R. Together with his teammate Cole Seely, we have what I consider to be one of the strongest two-rider teams heading into 2017."
Since moving to the 450 Class in 2014, Roczen has captured 31 moto wins in Lucas Oil Pro Motocross, which is two more than all of Honda has won dating back to 2005. From 1982-1996, Honda won a total of 29 titles in AMA Motocross and Supercross, including nine-straight in supercross from 1988-1996. But since Ricky Carmichael delivered titles from 2002-2004, the brand hasn't won a title in either AMA Motocross or Supercross.
Roczen also brings his mechanic Oscar Wirdeman over to the team with him. Expect Roczen to debut on red at the Monster Energy Cup on October 15.