Davi Millsaps is your 2016 Rockstar Energy Drink Canadian National Champion! As weird as that is to type, I'm sure The Duke didn't think that would ever happen either. On a supercross-only deal with BTOSports.com-WPS-KTM this year, Millsaps got the call to represent KTM in Canada and ended up sweeping through the Great White North with a bunch of wins. He even withstood a ten position penalty after one win and dealt with some injuries from a practice crash on the way to taking his first-ever outdoor professional title. We caught up to Davi after a family holiday to talk to him about how it went.
Racer X Online: Congrats on the Canadian title. It went pretty well for you—a lot of wins, everything else. How would you sum up your time up there? Never mind the title, how was your time up in Canada all summer?
Davi Millsaps: Well, I was only there for the weekends, so I never got a chance to spend any time during the week. But it was fun. I had a lot of fun up there. It was very laid-back, very chill. A very, very beautiful country. It really is. Not a lot of people. Not much traffic, except for going through Montreal, which was amazing. It was definitely a lot of fun for me, that's for sure. I enjoyed it.
We were talking about this on one of my shows. It's just the Canadian National title. It's not what you want to win. You didn't grow up dreaming of that…
But some people do!
True, but we were saying it must be nice for a guy like you, no matter how many times you've raced, to win races, to be the favorite wherever the race is. That had to have been a cool feeling.
It's definitely nice. Obviously it's nice to win no matter what you're doing. For me, regardless of it being the Canadian Nationals or whatever it is, it is the first overall national race that I've won. I've won motos here but I've never won an overall. Then I go back to what you've always made fun of me for is being out of shape, and I will give you that one because I was! But now it was nice to be able to know that I could go 35 minutes up there as fast as I could and not get tired. So that was definitely nice.
Is there one race that stood out that was fun?
I liked the surroundings at Kamloops, the first round. I thought the surroundings were really cool. It had some rivers. The mountains were cool. All that green was pretty cool. Other than that, all the rest of them I flew into Toronto or Montreal. Calgary was just flying into a city. I thought Kamloops was definitely pretty cool.
How'd the fans take you? Sometimes there are guys that want the Canadians to win and sometimes they're not always pumped on the big American stars coming up there.
You're always going to have that, but I felt like they were all pumped with me. I wasn't going up there and trash talking any of the Canadians or ragging on any of them. I was just going there to do my job and race and have fun. It was definitely nice to be as welcomed as they made me feel at a lot of the rounds, pretty much all of them, it was definitely a nice feeling. There wasn't much of booing or anything like that. Nothing like that. But they do love their Canadians, that's for sure.
What was your favorite track?
My favorite tracks were what everyone else hated, which was kind of funny. I really enjoyed Riverglade. I enjoyed it just because the jumps were big. The layout was decent. It was one of the more fun tracks. The one before that at Truro was definitely probably a hard one to say yeah, that was my favorite track. But I thought it was cool because it was so different and so hard to ride, because it was seriously so slippery. I had never ridden something that slippery in my life except for pure mud. It was insane. And the track was dry. That's what made it fun. It was something different every single weekend. So for me, Truro was pretty cool just for the aspect of it being so challenging to find traction. It was a fun little race. But Riverglade was by far probably my favorite track.
I was up at Walton at the race talking to Steph and at Indiana I spoke with JSR [Jean Sebastien Roy] and Kaven Benoit for a while about you. They all said that you were incredibly cool with your teammates Cole Thompson and Benoit with helping them out. You were racing Benoit a lot, near the end especially. There was no ego, there was nothing. You were there to help out everybody and they were super stoked on that.
The thing is that's their life up there. I'm coming into their home. There's no need to have an ego in this sport. We race dirt bikes for a living. There's a life after it. I was having a lot of fun. Regardless of racing Kaven or not towards the end, obviously we're going to more his home tracks, obviously I'm going to throw that one out there for him. But let's be honest here, at Deschambault if anyone else won besides Kaven we were all probably going to get shot! But it was fun with them. They're definitely cool to hang out with, him and Cole. Us three together in the semi, we were joking, laughing, having fun, enjoying riding. If one person hated a track we'd always make fun of him because we'd say we love it even though we hated it too and vice versa.
So it just brought the fun back. You don't get that kind of stuff a lot in the States anymore. Everyone's kind of robotic and super serious. Which you have to be serious, I get it, but we're riding dirt bikes for a living. This is what we love to do. It's supposed to be fun. Families take their kids out to go ride dirt bikes for fun. You've got to find the fun again, and for me that was going to Canada.
Were you surprised at Benoit? He went 12-10 at Indiana. He was ninth until the last lap in the second moto. I thought it was a great ride by him.
For his second 450 ride in the States…it was definitely cool for him. It was definitely nice to see him do well. It would have been cool for him to get top ten. If he races next year in Canada in the 450 class and he's healthy I think he's going to give whoever is leading the championship (if it's not him) a run for their money all year.
Was there a guy who surprised you this year?
I've always known [Matt] Goerke's fast. He's won a national down here. He's done more over here outdoors than I have. Same with [Mike] Alessi. Everyone's like you're racing Alessi and Goerke. Well, they've won over here. I never have. So that's a better start than me. But Goerke obviously in the sand was fast, and we knew that going in. He had a lot of ups and downs this year. Obviously with crashing off the starts and getting bad starts and crashing during the races. But all in all, I knew he was going to be fast going in, he won the championship before. Benoit started coming around at the end. Obviously [Tyler] Medaglia came on pretty good in the end. But those tracks are so much different than over here. You can't compare the speeds that they're going up there versus what they're doing down here. The tracks are so much smaller and tighter.
I think they're easier….
I don't know what you mean by easier. Some of them things were freaking rough, man. I'm sorry, but Kamloops and Gopher were tough. Gopher was pretty rough for me. I was hurt, too, so that didn't help. But some of them get pretty gnarly for the small amount of riders that there are up there. So that definitely was the biggest surprise for me. I was hoping for a smooth track all summer, not "We're just going to beat the crap out of you all summer."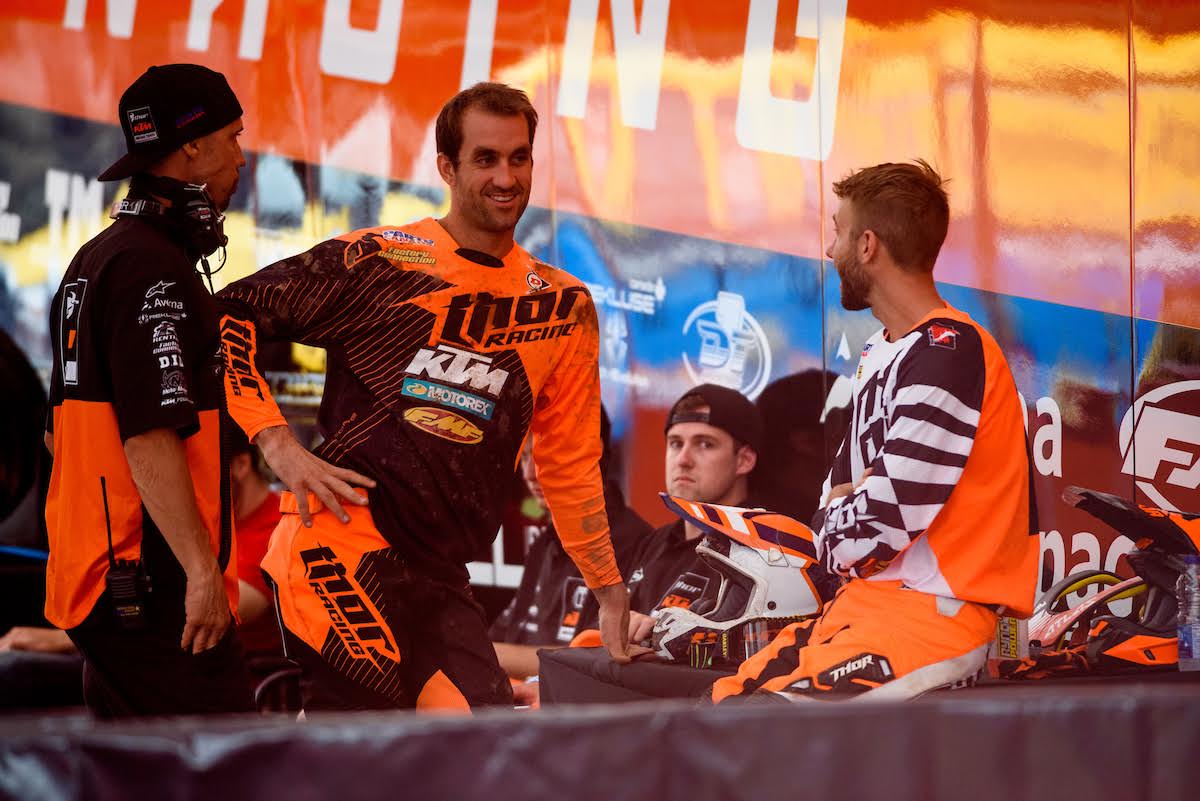 I saw that Paul Delaurier was your mechanic. He's been out of it for a long time. Worked for Alessi, worked for [Chad] Reed, worked for a ton of guys, even [Damon] Bradshaw back in the day. Probably the second-best Canadian mechanic ever behind me. How was Paul?
He's the skinniest Canadian mechanic I know, how about that? He was cool. Always upbeat, always positive. Never, ever, ever, ever complains about one single thing. If I wanted something changed he changed it. If something needed to be done he did it. It was definitely nice working with him for sure. It was nice to have someone so positive all the time no matter what the situation was. If I was kind of being negative, he would turn my negativity into a positive and it would end up turning me back to positive, which was nice.
I don't know if this is a good question because back in the Honda days you rode really well and of course in supercross on the Rockstar Suzuki, you had a great season. But overall both indoors or out, could you make a case that you might be the best you've ever been or real close, right? You've had some great success in supercross but this year until you got hurt it was going pretty well, and then now outdoors, we've never seen this kind of speed before.
Outdoors, this is by far the best I've ever felt outdoors, hands down. Before I got hurt midway through the Canadian rounds, right before that was probably the best I've ever felt. It was just fun. I was having fun on my dirt bike. I was riding with people. I don't enjoy riding in the gnarly heat and stuff like that. I do enjoy indoors more, but I was having fun with it. The heat didn't bother me. I didn't think about it. I was just doing what I had to do and going on the weekends and racing. Obviously winning made it a lot more fun. I was enjoying myself.
Any chance you'd go back next summer? Are you scheduled outdoors BTO next summer for sure in US?
Yes, I am contracted for 2017 in the US, so I will be staying in the States as far as I know.