Team Pro Circuit, today known as Monster Energy/Pro Circuit Kawasaki, has enjoyed the longest run of success of any U.S. racing team. Since its inception in 1991—which included a win in its very first race, and championships in its first two attempts—the team has won 29 titles, and there's rarely a moment when it isn't in contention for more. Even the down years for this team still generate results most teams would envy, and no other outfit can claim such consistently strong performances over the course of twenty-five straight seasons.
But there was a moment where it all nearly came to a stop. At the end of the 1992 season, a year that included a second-straight 125 Western Region Championship for Jeremy McGrath on a Peak Pro Circuit Honda, the factory Honda team decided to take its 125 program back in-house. Mitch Payton, the Pro Circuit owner, was sent looking for a partner late into the off-season, and for a while, it looked like the team was finished just two years after it began.
On the eve of the 1993 season, things looked bleak for the hop-up shop. An unlikely savior and some hard work saved it all. Since then, the team, its results, and its relationship with Kawasaki have only grown stronger.
Here's the Oral History of Jimmy Gaddis and the 1993 125SX West Region title that he won on a Pro Circuit Kawasaki.
The People Involved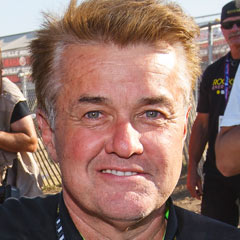 Mitch Payton
Then and now: Owner of Pro Circuit.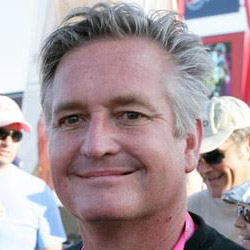 Alley Semar
Then: Mechanic for Jimmy Gaddis.
Now: Working gas fields in Louisiana.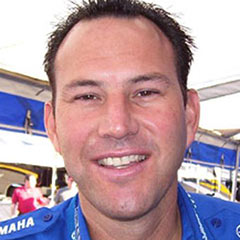 Jimmy Perry
Then: Pro Circuit shop manager.
Now: Factory Yamaha team manager.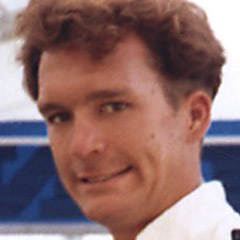 Mike Hooker
Then: Pro Circuit team manager.
Now: Toyota Racing development engineering supervisor.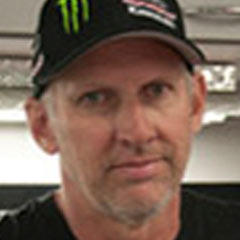 Jim "Bones" Bacon
Then and now: Pro Circuit suspension department head.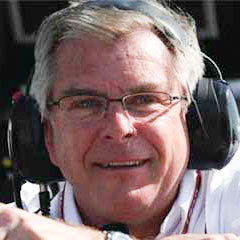 Mark Johnson
Then: Team Green race manager.
Now: Soaring Eagle/Jimmy John's RCH Suzuki advisor.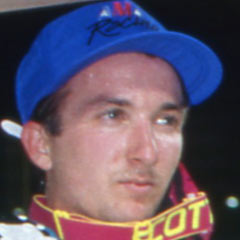 Jimmy Gaddis
Then: Pro Circuit Splitfire rider.
Now: Runs campground business.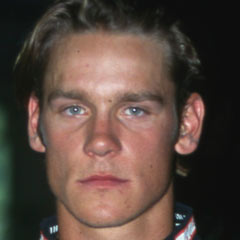 Phil Lawrence
Then: Factory Suzuki rider.
Now: Owner, Factory Phil's Lot Sweeping.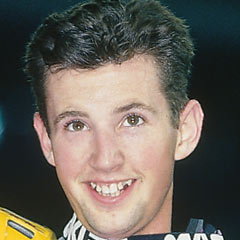 Damon Huffman
Then: Factory Suzuki rider.
Now: LAPD Officer.

A Season on the Brink
The Crushing Drop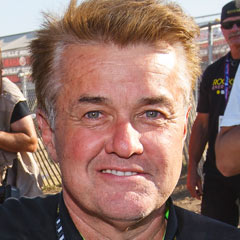 Mitch Payton
We had done a lot of work with Honda from 1989 on up. We did all their 125s and 500s for [Rick] Johnson, [Jean-Michel] Bayle and [Jeff] Stanton and all those guys. Then they give us this 125 program for 1991 and I thought we did a good job with it. We signed some great riders, won a lot of races and titles.
Our contract was up with Honda at the end of 1992 and I thought I was going to be able to renew it because we had done well. So I started talking to them and they became sort of vague. They wouldn't answer me. I think we were at Washougal and I was talking to Ryan Hughes about riding for me and he said, "Yeah, that sounds good. Dave Arnold [Honda team manager] talked to me too." I'm like, 'For me?' He said he didn't know but it was to ride a Honda. And right there I knew something was up.
I finally went down to Honda, had this meeting and I said, 'What if I took less money?' And basically the one guy there, and I'm not going to name him, told me, "It was an experiment that I decided to do and I told the Japanese that within three years you [Mitch] would have sponsorship money to do it on your own and we would just be supplying bikes and parts."
And I said, 'Well, we have a sponsor but it doesn't pay for everything. It's not easy to get sponsorships, you guys don't even have a sponsor!' But he said right there that it's over. I left there and was driving home and I started crying. I was like a little kid. I felt like somebody broke up with me. I'm like, What did I do wrong? I'm a loser. I just felt shitty. And the bad thing was I had already bought a big Kodiak trailer and got rid of the box vans. So I'm spending money like we're going racing, and come to find out we're not racing. So that wasn't such a hot moment.
We couldn't believe it.

We did everything we were supposed to.

That was a big shocker; just a slap in the face.

Jimmy Perry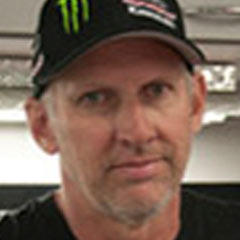 Jim Bacon
I was at the shop when Mitch told me. I remember he [Mitch] went down to Honda for a meeting, came back and told us. Mitch was devastated. We all kind of were. We thought, okay, we're on a roll here, doing good—why wouldn't you want to keep going with this program? And the reasons seemed ridiculous. Just like they didn't really have any faith in us or they didn't really care. I remember Mitch was pretty bummed.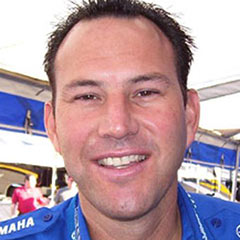 Jimmy Perry
I don't remember the exact time but maybe it was when Brian Swink was leading the outdoor championship after winning at Mount Morris. We're thinking that Honda's got to be stoked. And Mitch goes into this big old story about how Honda's not coming back. We couldn't believe it. We did everything we were supposed to. That was a big shocker; just a slap in the face.

A Season on the Brink
Going Green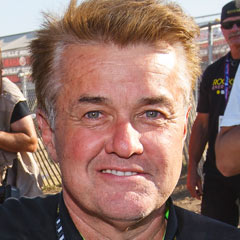 Mitch Payton
I called everybody. Yamaha had DGY. They weren't interested. Suzuki had their own factory program. I called Kawasaki and the funny thing was Roy Turner from Kawasaki had already offered me the whole program before Honda dumped me. He offered it to me and I turned him down. I told him I'm good, everything's fine. Well, it wasn't fine now! I called him back but he said it's too late. He had taken his money and signed [Robbie] Reynard and he was going to do his 125 stuff in-house.
So now I'm getting kind of desperate and I'm like, Man, this isn't going to work. I called Mark Johnson from Team Green and he's like, "Seriously, let's go to lunch." So I went to lunch with Mark and he said he'd like us to run a program as we had always been a thorn in their side.
Then to make the switch over to Kawi?

That wasn't expected

, but we had no choice. we'll make it better.

Mike Hooker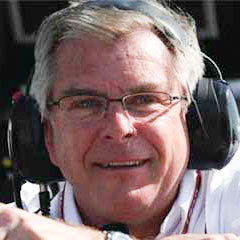 Mark Johnson
I don't remember the exact date Mitch called but I know it was late for him to be putting a program together. I want to say late September or early October. We always tried to have our Team Green program (amateur and off road) pinned down and equipment allocated by mid-September. That made it tough on any front to get him the level of equipment, parts and support he deserved. I told him I needed a day or two to see what I could put together but I was honest and told him it would be difficult.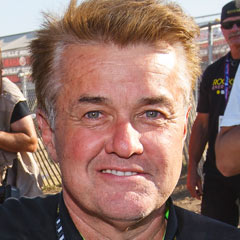 Mitch Payton
It was late October and he says, "I don't really have any budget." Team Green had worked with TUF Racing and some of these other teams, and usually those were train wrecks. By the time it was over they owed them money, they had split and everything was done. So he says, "I got 12 motorcycles and $12,000 in parts." I'm like, 'That ain't going to work.' There was no money, no nothing. He says, "If you do it I promise you that every year we'll make it better." I told him that if it doesn't work this year there ain't going to be another year!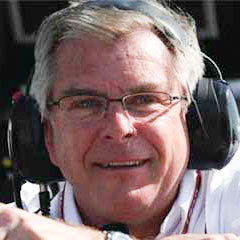 Mark Johnson
When Mitch called and explained his situation it was quite a surprise. All I could think was why would Honda let his effort go?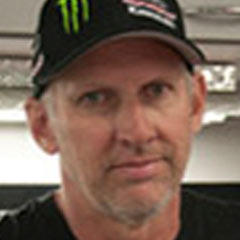 Jim Bacon
A huge part of us going back racing was Mark Johnson. I remember that. We all liked Mark. I knew Mark pretty good from Team Green and knew his work ethic was similar to Mitch's. He hates losing. He's going to do whatever it takes. He wanted to go racing. He wanted to help us. Mitch and him got along great.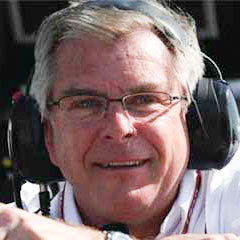 Mark Johnson
I called Mitch the next day after a late night of trying to figure out something for him and told him the best I could do was I could was loan him twelve KX125s that he could sell and pay for at a discounted rate and $12,000 in parts for the season. I also told him I knew it was far less than he deserved but it was the best I could do as late as it was. I also promised him that if he took the deal and stuck with me I would give my word the program would get better every year and I thought we could make this program something very special.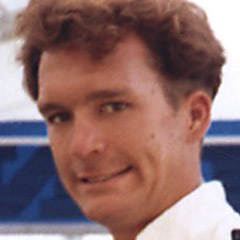 Mike Hooker
The feeling was, we had just came off of two years with Honda where we won East and West Coast SX titles in '91 and the West in '92—that's still pretty successful. Then to make the switch over to Kawi? That wasn't expected, but we had no choice.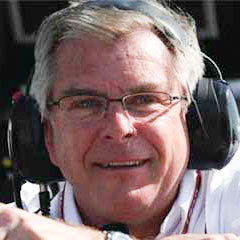 Mark Johnson
When Mitch came to the table with his Peak Honda team, times changed and rendered the way Team Green was racing obsolete. PC's credentials spoke for themselves from the beginning and who wouldn't have jumped at the opportunity to work with that team?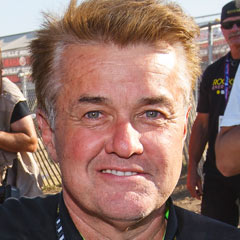 Mitch Payton
I talked to my mom about it—she did the books—and I said, 'What do you think, can we do it?' We sat down and wrote down all the money that we had to do it. She said that if I wanted to race we could do it maybe one more year without more support and if we didn't get more help in 1994, we'd have to fold it up. And I said, 'Okay, then I'm going for it.'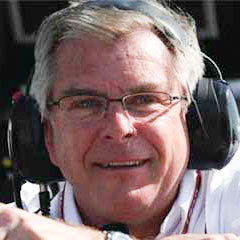 Mark Johnson
I don't imagine that Mitch was overwhelmed with what little we could give him but he called me back a few hours later, told me his mom think's he's crazy to even think about it but he was going to take the deal and was going to kick Honda's butt.

A Season on the Brink
Getting some Hot Wheels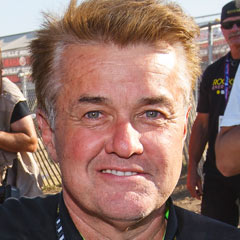 Mitch Payton
We had Peak Antifreeze (as a sponsor) and it kind of ran its course and they wanted to do something else. The Hot Wheels deal happened by mistake. They (Hot Wheels) decided that they were going to have this car racing game. And it was called Pro Circuit. And I'm like, 'Hmm…we've got to at least talk about this.' I went down to Mattel and explained that we own the trademark to the word Pro Circuit and we have the categories that kind of cover this. I don't remember the attorney's name but she was really nice. And then there was another guy who wasn't very nice at all. He said, "Well we're doing it anyway and we're calling it Pro Circuit." And I suggested we should work something out so that you pay us a royalty or if you don't want to do that, how about in exchange you sponsor my motocross team?
The guy goes, "No, we're not doing that." I said, 'Okay, then change the name of your game.' He says fine, we'll just call it Pro Racers. I said, 'I ain't got a problem with that but I find that idea hard to believe because this packaging you showed me looks like it's finished packaging.' So I left Mattel and the next day the nice attorney called me and she said, "I think we should probably talk. I think maybe there were some misleading statements made in that meeting. We need to work something out with you." I'm like, That'd be awesome! So we worked out something. It was a deal to just kind of do it and away it went. It wasn't a great amount of money but we had a title sponsor.

A Season on the Brink
Hiring the Team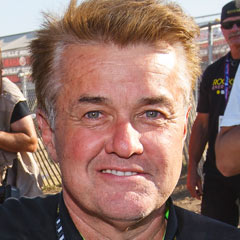 Mitch Payton
We decide we're racing. So who are we going to get for riders? It sucked because we couldn't pay them hardly anything. There was a local kid out of Perris Raceway named Mike Chamberlin, and I hired him. You'd go to local races and he was ripping. I'm thinking, well [Jeremy] McGrath was a Perris guy and won two titles so this guy might be the next McGrath! I hired Chamberlin and locally he was a rocket. He really was super fast.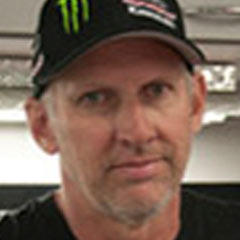 Jim Bacon
Chamberlain was the king of the Last Chance Qualifiers. He would always win the Last Chance Qualifiers. I was like, 'Man, if we can get him on one our bikes and do a little bit better for him maybe we can massage him into something.' At the practice track it was working. He was looking like a guy that should have been… I think he just didn't click because too much stuff was going on inside his head. He was stressed out.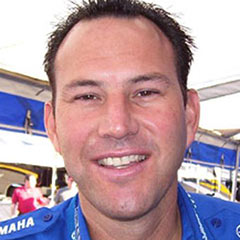 Jimmy Perry
I think that Chamberlin was faster than everybody at Perris Raceway. The only problem is we never had a real supercross at Perris Raceway.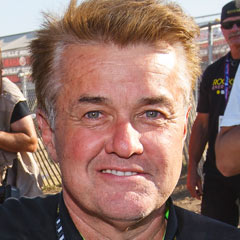 Mitch Payton
Then I hired Jamie Dobb because he didn't have a ride in Europe and wanted to come over here. I thought he'd be good outdoors. And he was fast in motocross; remember later on in '93 he won Unadilla. Unfortunately he broke his wrist immediately upon joining the team and he didn't race supercross until near the end of the series.

A Season on the Brink
Gaddis is chosen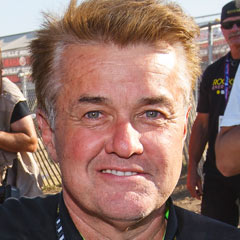 Mitch Payton
Jimmy Gaddis was a really good mini bike kid, a little factory Suzuki protégé kid. But he crashed a lot. Suzuki dropped him and we knew we could get him cheap.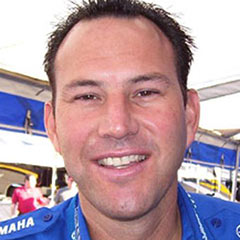 Jimmy Perry
There were a couple of other guys that wanted to get a ride, but they said, "I don't know if you guys can do it on a Kawi, so we're going to go someplace else."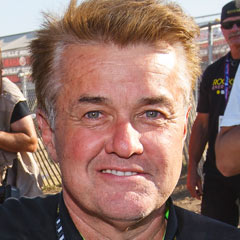 Mitch Payton
I called Mark at Kawasaki and told him we're going to do three guys, West Coast supercross only and I got my last guy. I got Jimmy Gaddis. And he's like, Jimmy Gaddis? How did you pick him? I said, 'Well he's light and he gets good starts.' And he goes, "But he crashes!" And I'm like, 'Sometimes'.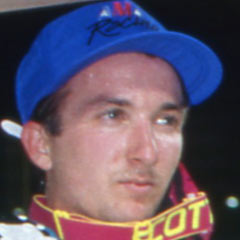 Jimmy Gaddis
I rode for Suzuki factory in 1989 and 1990 and then was a support rider in 1992 and 1993 for them. For '93 I was talking to Suzuki and they were like wanting to cut me back even more and I was already kind of on a tough budget. I'd talked to Mitch and I was pretty excited about getting a chance to ride for him. But I was so loyal to Suzuki that I even went back to Suzuki and said, 'If you just match what he's doing, I'll stay with you.' I gave them a chance. I'm like, 'If you just match.' And they were like nope.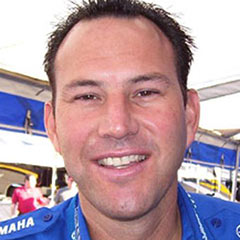 Jimmy Perry
Gaddis was never disrespectful, always appreciated what everybody could do. He tried to keep it funny. He was all about shooting hoops and playing horse too. The shortest guy that we knew, and he liked to play basketball.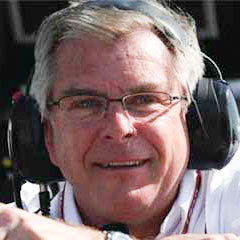 Mark Johnson
Coming off his injuries I think everyone thought hiring Jimmy was a big gamble.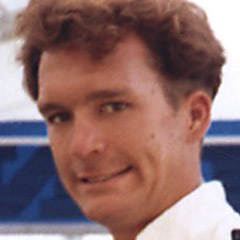 Mike Hooker
Gaddis, from day one, was a nice guy. Very polite, very humble. Didn't talk smack. He would actually hang out while we were doing stuff. We probably played 100 games of horse on this little nerf basketball hoop on the back of the door between the production facility and the race shop. I'd be back there making a new pipe and Jimmy would come in, "Let's play horse." 'No, Jimmy, I got to get this done.' "No, it only takes a minute. Come on, let's play." I'd waste hours playing horse with him. It gave us a really good bond. Everybody appreciated everybody's workload and all the work that everybody did. Everybody got to be good friends.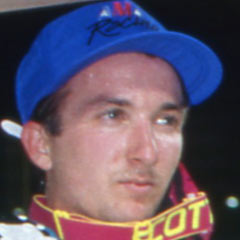 Jimmy Gaddis
I really don't even remember what my salary was. It wasn't much at all. I'm thinking 30 grand or something. It wasn't much, but it was a chance for me to not be totally on my own. I was just a privateer with Suzuki so it was like, they're [Pro Circuit] going to handle everything. I'm going to get to the races again. Because I was paying for everything else on my own, so I had to go for it.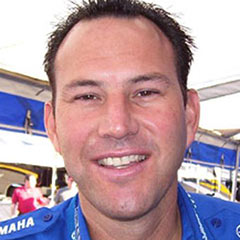 Jimmy Perry
Everybody had a list. What about this guy? And what about this guy? It starts out long and then it gets shorter and shorter. Jimmy was kind of our guy. In typical fashion, he might not have been the best guy, but that's the guy that we have so we've got to get behind him and do what it takes to try and get some results. He lived in the Las Vegas area. He would come to California and ride for a few days. I just kind of moved into my own place and had extra bedrooms, so he could stay there for a couple days. That's how I got to know him. He was a great guy.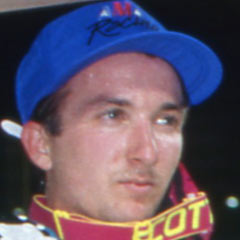 Jimmy Gaddis
Jimmy was great. He let me kind of stay with him. It was basically the house to myself pretty much. I'd just come and go. Had my breakfast, take off, go training. It couldn't have been a better year.
How did I get put with Jimmy? Well, Mitch just said

you're working with Jimmy Gaddis

. I'd met Jimmy before but didn't really know him.

Alley Semar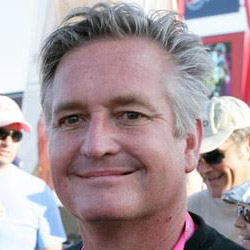 Alley Semar
I worked for Grayson Goodman the year before and Pro Circuit was still with Hondas when I got there. I was actually the last mechanic hired for '93. Joey [Mauer] was working there and I decided I wanted to go out to California and called Mitch for a job. I was the last man on the totem pole. Got paid the least amount of money also but I was happy to be on the team.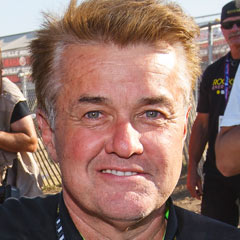 Mitch Payton
Alley used to race and use my stuff so I knew him. We were trying to find mechanics. I had to be honest with him. I said, 'Dude, I can't pay you hardly anything.' He said that was fine, he wanted to do it. So I had him and Joey Mauer and then Andrew Reynolds from Australia.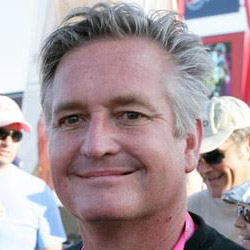 Alley Semar
How did I get put with Jimmy? Well, Mitch just said you're working with Jimmy Gaddis. I'd met Jimmy before but didn't really know him. He was a really, really good kid. He did everything from the heart.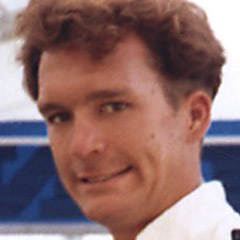 Mike Hooker
Alley was really good for Jimmy since he had the experience of riding the nationals himself. Jimmy had a ton of experience before that stuff but I think everything just kind of clicked. The expectation wasn't high for Jimmy, but Alley was motivated to get up there and do well.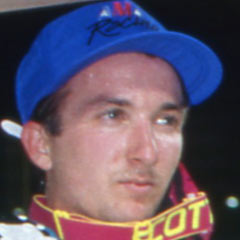 Jimmy Gaddis
Alley was great. He was a good guy, always positive. There was nothing bad to say about Alley. Always had the bike ready. I have all good things to say about him. I never had to worry about the bike. He always had it ready. He was always positive, so it was good.

A Season on the Brink
Getting the Bikes Ready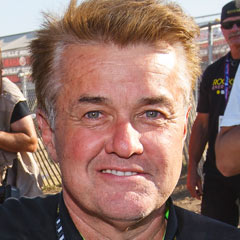 Mitch Payton
Early on we're comparing the Kawi against our Peak Honda. Hooker's there at the shop. At one point he says, "Dude, just call Honda back and tell them we'll stay." I'm like, 'They fired me. They don't want me! It's not me; I didn't want to leave!'
As far as parts go there was no windfall going Mitch's way. I can promise you this.

He used more than $12,000 in cylinders alone!

Mark Johnson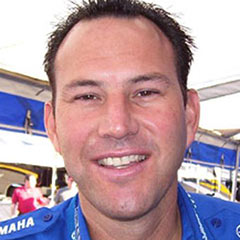 Jimmy Perry
I guess with the Kawasakis back then, it started with quality control. The way the Nikasil was in the cylinders wasn't consistent. The port heights and the exhaust port shapes weren't all the same—it was just bad. You weren't starting with ten that were the same. Just because they came out of the same part number box that didn't mean that they were the same ten cylinders. So we went through a lot of parts just trying to find good ones to start with. Before you know it we were out of parts. We were in a big hole.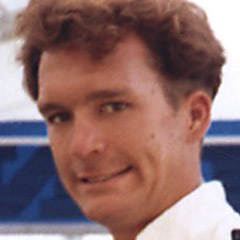 Mike Hooker
I think before we actually went to the first race we had used our parts budget up.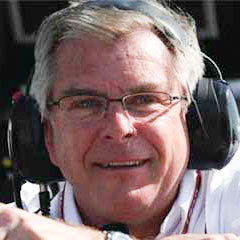 Mark Johnson
As far as parts go there was no windfall going Mitch's way. I can promise you this. He used more than $12,000 in cylinders alone! I was at his shop one day when the bikes had first arrived and I was watching the guys tear them apart. All of a sudden a light bulb went on when I saw all these parts coming off the bikes that wouldn't be used. Pipes, silencers, chains, rims, spokes etc. I told Mitch, 'Hey don't scratch that stuff up. I can return all those parts back to the Kawasaki warehouse for a credit to your parts allowance.' We were literally returning carburetor needles for any credit we could get. I am still surprised to this day I never heard anything about it but Kawasaki had to have ended up with more inventory on some of those parts than they started with. It wasn't much but we were looking for whatever we could get.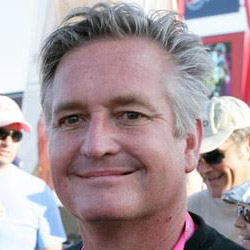 Alley Semar
I don't want to rat on the Kawi but they were pretty, pretty bad. For instance, on a Honda you had a grade 10 bolt, on a Kawi you had a grade 4.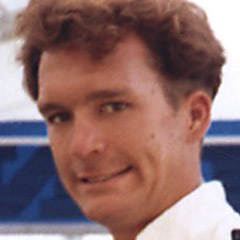 Mike Hooker
I remember we were struggling with the crank weights and some cylinders, the bore wasn't cylindrical around and just putting all those pieces together. Many, many late nights I'd be driving back and forth from school and then be at the shop in Corona until 2:00 or 3:00 in the morning. Mitch would get down and I'd be on the upside and then I'd get down and he'd be on the upside. We'd just keep feeding off of each other. Kept at it on the dyno.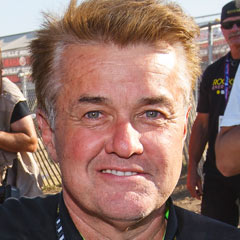 Mitch Payton
The bike was not really good. So we were burning midnight oil. There at 2:00 in the morning, at the shop, dynoing and stuff like that. You could maybe get one to start running good and then it would blow up. The end of the crankshaft would break or the flywheel weights would shoot off. It was horrible.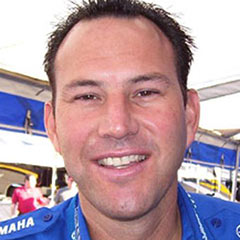 Jimmy Perry
I remember you would try to move the flywheel, put a degree wheel on it, and the crank stub would break off. It would just spin inside the main bearing. That was a nightmare. Back then they would have weights on cranks and those would always break. When a crank weight would break, that would ruin a lot of things. And of course it always broke on the very best cylinder that you had.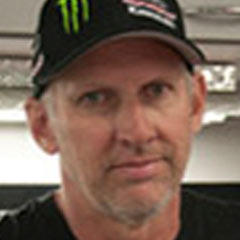 Jim Bacon
We were two separate buildings back then, but we'd go out to the race shop and I swear that dyno never stopped. Every time I called out there you can hear the dyno running. Mitch would just grind so many cylinders. They'd burn through so much stuff.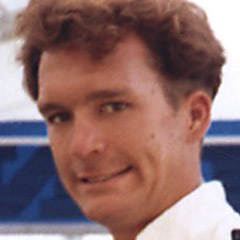 Mike Hooker
It was a big learning curve because we were relying on the torque meter to tell us what was good and what was bad. But at the same time so many factors influence the intake air temperature and the temperature of the absorber and therefore, the dyno working properly. We probably had as many inconsistencies with the dyno as we did with what we were actually building on it. It was always funny, about 1:00 or 2:00 in the morning when the air temp was cool up on the roof of the race shop, the engine started running good. Usually late at night we were making some good power. That was all a good experience.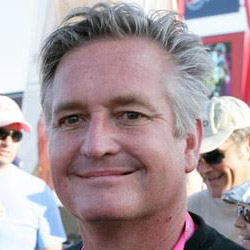 Alley Semar
This was when the customer shop was in Anaheim and the race shop was by Troy Lee's place. So it was me, Joey, Andrew and Mike Hooker. We would dyno stuff and then when Mitch would get off from the Anaheim shop he'd come down. Mitch is hands-on so he'd want to dyno and all that stuff. We would work until midnight just about every night. Of course there was some beer drinking going on also.
The Hondas were great bikes.

They had a good power valve system. They were solid. They had very sharp power and were really good for supercross.

The Kawasakis, well, we tried.

Jimmy Perry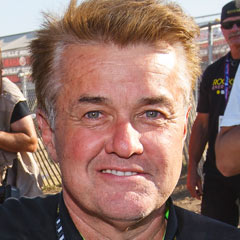 Mitch Payton
We would get cylinders and have to clean the paint out, acetone everything out, rough it all up. Then Belzona everything and let that dry. And then in-between Jimmy [Perry] and I, we would do customer stuff and then we'd go back and grind four KX125 cylinders. And then all four of those would come out and get dynoed. Some of them were dogs. Because of all the stuff you were doing to them, sometimes they just didn't run good. So we'd save those for practice bikes, maybe see if we could clean them up and do something else different.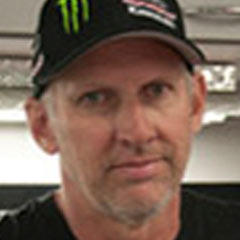 Jim Bacon
The suspension wasn't much better. Back then we used the stock suspension and basically set up like we would do for customers if they sent their suspension in. But it was challenge to take that production suspension, which isn't made to do what these guys were doing with it, and make it stiff enough and do all the changes inside that we needed to do to make it ready for supercross. But we did the best we could. We got a lot of help from Kawasaki. But the bikes, especially compared to the Hondas, were a lot of work that first year.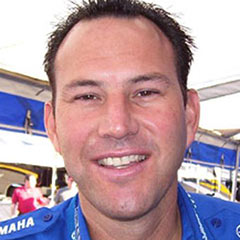 Jimmy Perry
The Hondas were great bikes. They had a good power valve system. They were solid. They had very sharp power and were really good for supercross. The Kawasakis, well, we tried.

A Season on the Brink
Pre-Season Testing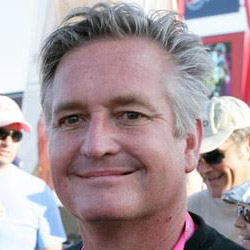 Alley Semar
I remember thinking it was going to be pretty tough for us [Gaddis and Semar] to win because Chamberlain was amazing. If you'd ever seen the guy at a test track, he couldn't be beat. He'd pump up in a race and he couldn't do anything, but he was the fastest guy out of everybody during the week.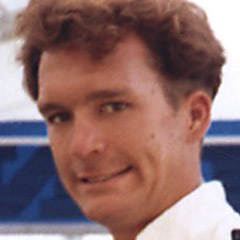 Mike Hooker
Before the season started, Mike [Chamberlain] was seconds faster than Jimmy on the supercross track.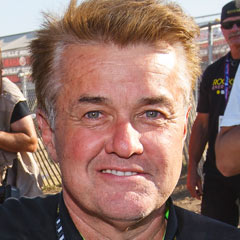 Mitch Payton
Chamberlin was really good. Jimmy was okay, but he would say "I'm not a good practicer. I'm a good racer but I can't practice good." I'm like, 'We need to change that.'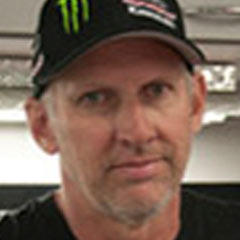 Jim Bacon
I can remember Kawasaki's Rick Asch coming up to me at the practice track one day and asking me how it's going. Rick's always been cool to me. He goes, "Dude, I got to ask you a question. Why did you guys hire Gaddis? I can see Chamberlin, he's fast. But Gaddis?" I go, 'I know. We've seen him go fast before when he was on a Suzuki and this and that.' There wasn't a lot of choices back then either, but we did what we did and it worked out.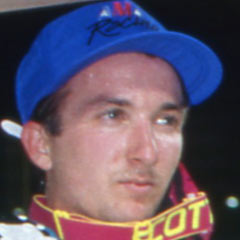 Jimmy Gaddis
Mike spanked me. I was never good in practice. I could never practice fast. I remember Mitch was on me the whole time. I think Chamberlin was beating me by a second a lap or so. Every time we had practice I remember Mitch getting on me, and I told him, 'Mitch, that's just the way I am. Come race time I'll step it up. I'm telling you, I can't practice fast. I don't want to get hurt. I want to make it to the race.' I'd been hurt so many times that I could never go fast in practice. Even in practice in the race I wouldn't have a very fast time. I remember Mitch was always on me. He actually helped me a little bit though that because I started to push a little bit harder for practice.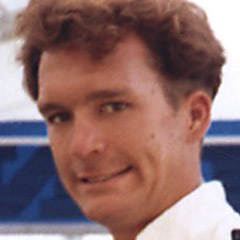 Mike Hooker
Gaddis was a shorter rider compared to what we were used to. I remember building the foot pegs up a little bit for him, getting the levers right, getting the chassis all set up for him.
He was an odd kid. He'd go out, try sections and kind of put pieces together. Something we weren't used to. I'd only seen [Jean-Michel] Bayle do that. Bayle would ride and he would just do sections of the track and maybe do one hot lap and say, "I don't care, everything's good." And you're like, really? Gaddis was kind of the same thing. He'd work on stuff and there'd be a big jump or something and he would go do it. We're like, "Okay, he did it, but it didn't seem like he was very consistent with the practices." Then when the gate dropped he was all business. He was real methodical about getting his bike setup. You just really didn't know what to expect.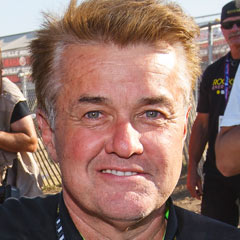 Mitch Payton
The whole pre-season we started weeding through these cylinders and picking a couple good ones out. If they were good, we didn't put them on anything but a race bike. We had to save them. So we got ready to go and I think we had two cylinders for each guy and went to the race. I want to say at the end of '92 I think a Peak Honda with a really good curve was 35.6 horsepower. When we went to Houston with the Kawasakis, we had 33.8.

A Season on the Brink
It All Begins in Houston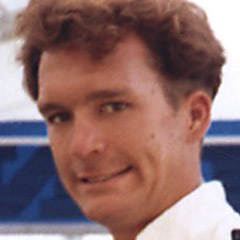 Mike Hooker
Mitch had also got the new truck that year. It was like a sprint car trailer that he had gotten from one of his car buddies. So we were getting that ready too, putting the stickers on it, doing the race bikes. It was last minute to head to Houston. And we had to take on Doug Henry on his new factory Honda because the West Coast opener was an East/West Shootout.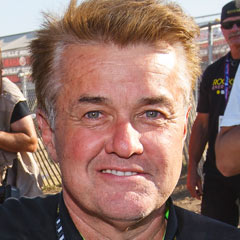 Mitch Payton
I remember we were there and we're kind of excited. I remember this one guy's dad, Ted Edwards saying, "Why'd you leave Honda? You ain't never going to win again." Other people were saying that also, there was a ton of shit talking. It was horrible.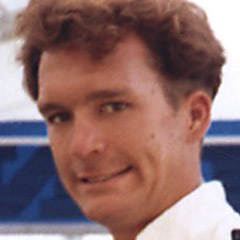 Mike Hooker
Everybody had in the back of their mind that, oh my God, they're gone from Honda. In the eyes of the public, when you hear people say it enough, you start to believe it even though you're in it and you're working on it and you know what it is; you hear it enough maybe you start to believe it.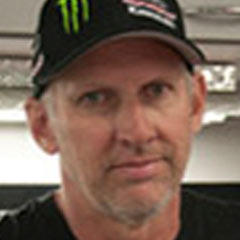 Jim Bacon
Everything was new: the bike, the truck, everything. We were just scrambling to get to the first race and then okay, we're here. Take a breath and now we've got to go race. It was like two different series. The first race was getting to the actual race and now we can actually start racing.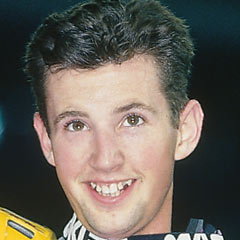 Damon Huffman
Coming up in '92 I was only 16. I think I had two top fives. But that '92 year I holeshot Anaheim and led until Jeremy [McGrath] and [Buddy] Antunez passed me. I ran third until my Suzuki blew up as I approached the face of the triple. So my bike broke, I had a DNF. I was still really young. Then in San Jose I again got the start and coming down the straightaway into a tight hairpin I hit a big braking bump and went over the bars. But I think I had a couple signs of potential and that's why Suzuki picked me up. I was a full factory rider in 1993.

Cycle News archives from Houston: "Going into the main, heat race winners Doug Henry and Phil Lawrence looked to be the favorites. After a terrible showing in the heat, Jimmy Gaddis had to transfer to the main via the LCQ."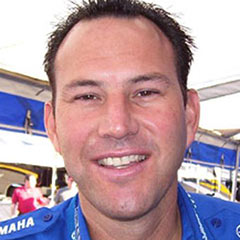 Jimmy Perry
Back then we didn't have text messaging, we didn't have anything. So by 7:30 or so in California I want to say that he didn't qualify in the heat race. I think he had to go to the LCQ. And I got that message. They called and said, "It's not going good, it's actually pretty bad."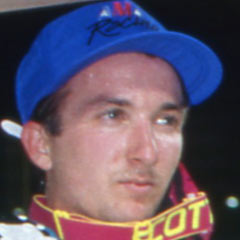 Jimmy Gaddis
I remember when I had to go to the LCQ, everybody was…I could just see their faces. It was like, "Oh no, we messed up."
That win for me was like

we won the lottery!

Mitch Payton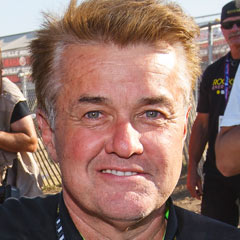 Mitch Payton
Somewhere in the shop now is a picture of the first turn of the main of our first race on a Kawi. They went in the first turn one and two. Chamberlin was in the lead, I believe. Jimmy got by and then was leading. Where I was watching in the Astrodome was in the hallway with one of those doors open. The 250 guys are on the line and I remember Jeremy and Skip [Norfolk] there and Skip looked back and gave me a thumbs up. I'm like, dude, I don't know. This is still sketchy.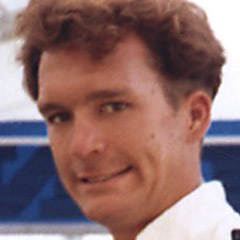 Mike Hooker
Chamberlin kind of dropped back a little bit. I think he ultimately crashed. We were locked in on Jimmy. I think Henry—I can't remember exactly—but he might have started around third or fourth or something. He got into second and we were like, "Uh oh." He was making up half a second here, quarter second there. Then Gaddis fell right in front of us, right past the start by the cross of the start. He just washed out in the corner. Jimmy got up, took off. Henry was now just a second off of him and Jimmy just pulled away from him.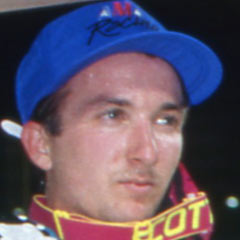 Jimmy Gaddis
I pulled away really good and then I wrecked. I was like, 'Don't do this again, Gaddis!' I was so mad at myself. I got back up and I was just thinking, 'Oh no.' I'd been working so hard. I was praying the whole time going, 'Oh man, don't lose it, don't lose it.'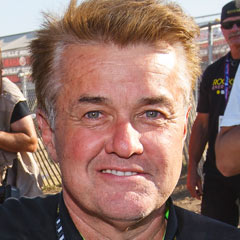 Mitch Payton
That win for me was like we won the lottery!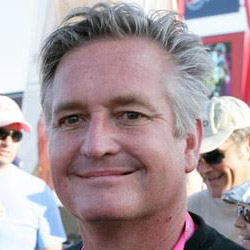 Alley Semar
It was not expected, for sure. It was out of the blue. He just went out there and rode his heart out.

Cycle News: "When I fell I thought it was over," said Gaddis. "But I was able to settle back into my pace. It's a feeling that I can't describe."
"I started to lose my head when I saw Jimmy fall," said Suzuki's Phil Lawrence. "When I realized I could win, I started making a lot of mistakes."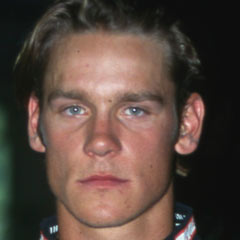 Phil Lawrence
I was factory Suzuki in '93 and was ready to win. I remember the first one was East/West and Gaddis won. I got second and Doug Henry got third. The West Coast killed those East dudes. It was awesome.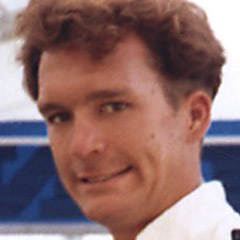 Mike Hooker
I know Mitch was thinking, You know what, we can do it. We're thinking, we just won a race from working our ass off all night every night to get ready for this thing. It was absolutely one of the most rewarding single wins I can ever think of.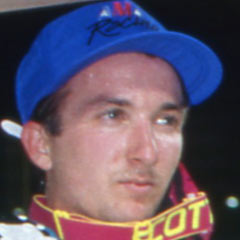 Jimmy Gaddis
I always trained hard, or always tried to train hard. I don't think I changed anything different in 1993 except, like I said, Mitch was trying to get me to practice faster. But I don't really think I changed anything. We did a whole bunch of testing that year. I had to do a lot of traveling to California to do all the testing. But I was really in top shape coming in to there. I remember trying to be in the best shape I could be in, and it paid off.
Results: Houston
(125 East/West)
Point Standings after one round

A Season on the Brink
Round 2: Anaheim

Cycle News: "Gaddis led the main for two laps before Huffman passed him in an S-turn section. 'I wasn't riding well and my arms pumped up,' said Gaddis. 'I was nervous and holding on too tight. I wasn't relaxed like last week.'"
'I got out front and felt pretty good,' said Huffman afterwards. 'I made one mistake but took a couple of deep breaths over the triples to settle down.'"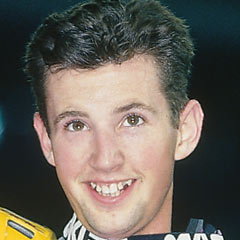 Damon Huffman
I thought he [Gaddis] was on the podium every race but I didn't know he won there [in Houston]. I do know that the next week we went to Anaheim and I won my first race. Jeremy won on the 250 and that was his first race win in that class. Really, I remember I dominated—it was easy.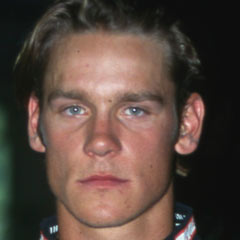 Phil Lawrence
With Huffman and myself, our team was exciting. Anaheim was the next weekend and I got second again. In my mind I'm thinking, Are you kidding me? Because I've got so many second places to Jeremy [McGrath]. I'm thinking, Am I ever going to win one of these or am I just going to be second all the time?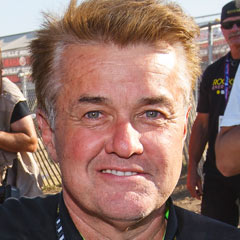 Mitch Payton
Huffman was a great 125 rider. If you go back and watch videos of him, he had that really smooth style and he would land front end down, downside everything. I really thought he was going to be a really good 250 supercross guy.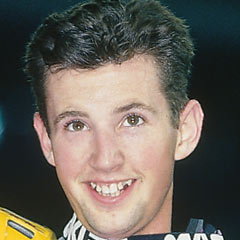 Damon Huffman
That was pretty huge to win there. Actually I won the next two years in a row, too. I was always pretty pumped up for Anaheim. It was cool. It was the old Anaheim stadium when they held like 72,000 people. So I went to school Monday morning like no big deal, just walking into school. I kind of became a little bit of an infant celebrity because there were a lot of kids and even teachers that were there. I think people knew that I raced but they didn't really know at what level. So they were like, "Whoa!" They were kind of blown away. That was kind of cool.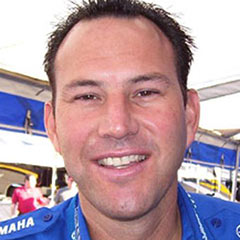 Jimmy Perry
I think early on, Mike Hooker, who was kind of in charge of the whole racing program as the team manager, did a lot of the testing and R&D. He was the one that said, "Look, all he has to do is finish on the podium. It doesn't matter who wins." He had it figured out. All he was about was good starts and podiums.
I think that at times all Mitch would say is, "Horsepower, horsepower, horsepower!" Well, that was like beating a dead horse. So Hooker would be, "It's got to be rideable. He's got to get good starts. If we can get good starts, he can be on the podium." That was kind of the game plan. It was be there and if a win is there, get it. But you can't be off the podium.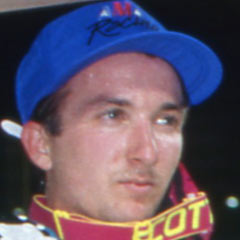 Jimmy Gaddis
I always wanted to win so bad or pass someone right back. But I was trying to keep focus. The guys were telling me that I can get third and win the title. But it takes a little bit. You have to think about it. I had to focus.
Results: Anaheim
Point Standings after two rounds

A Season on the Brink
Round 3: Seattle

Cycle News: "At the drop of the gate it was Lance Smail nailing the holeshot followed by Gaddis who quickly moved past Smail on the inside. Lawrence shadowed the two from his third place position.
Gaddis held the lead for two laps before Lawrence swooped past in the whoops. The Californian would never be headed again as he cruised to an easy victory, the first of his career.
Mike Chamberlain crashed with Damon Huffman at the end of a triple section and ended up in a pile. Huffman would crash again later on and end up 19th."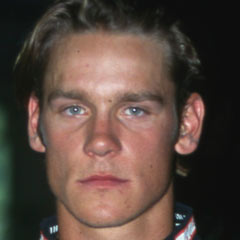 Phil Lawrence
In Seattle I passed Mickael Pichon in the last corner of the heat race to win. I got a decent start in the main, went by whoever was in front of me and checked out for my first career win. It was a good race for me. I remember my bikes were so fast. They were good, the best 125 that I'd ridden up to that point. But I was big. I was 6'3" probably 185 pounds. But I didn't know I was too big. I was still out there trying.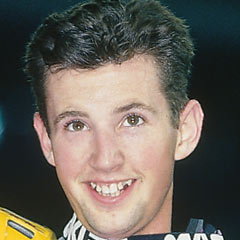 Damon Huffman
When I won Anaheim, I was still a senior in high school. I went to regular high school. Then I had a couple rough races. I had this girl I was trying to impress. She didn't go to my school but I was kind of set up (with her) and at this point of my life I did not have a girlfriend ever. Too busy racing. So I had this girl and I thought, okay, if I win races she's really going to be impressed. Had to get her that way because my skills off the bike were pretty mediocre I must say! [Laughs]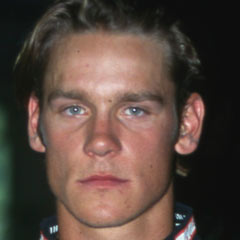 Phil Lawrence
After Seattle, I think I was third in the points and I won. So I was like, 'Oh, okay I got this.' Getting cocky. I'm all, 'It was the easiest thing.' What an idiot.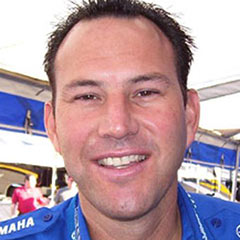 Jimmy Perry
Phil was probably the rider we knew the best out of the bunch. He grew up riding Kawi Team Green and we helped a lot of guys at that time. He was fast but I want to say he might have been a little over-confident and thought that he could do certain things. He would crash. I want to say he might not have finished an early round. He was fast but he wasn't very mentally strong, I would have to say, looking back at it now.

"I got a fairly decent start and just started passing guys," Lawrence told Cycle News. "I stayed out front and rode smooth. It's my first win but it won't be my last—I hope."
"I got one wheel in a rut and one out," explained Gaddis about his crash while in second. "It was a bad deal, I just blew it. There's no excuse, there are a lot more races left but I've definitely got to get on the gas."
Results: Seattle
Point Standings after three rounds

A Season on the Brink
Round 4: San Diego

Cycle News: "Just as they had done the previous week in Seattle, Lawrence and Gaddis won the two heat races and Gaddis felt comfortable going into the main.
"I came here to kick ass and chew bubblegum and I'm all out of bubblegum," said the Las Vegas resident.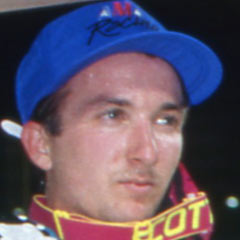 Jimmy Gaddis
I remember saying that! I always liked to have fun. I wasn't much of a bragger but it just happened. I'd heard that in a movie one time. That guy comes around with that mic and I was like… I don't know, it just came out of me! Usually I wasn't like that other than friends playing around. But I was like, I need to loosen up. So I said that and then I was like, Oh boy. I guess I had some more bubble gum! I don't think I ever said anything like that again.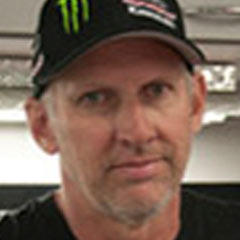 Jim Bacon
Jimmy was funny. The only day I can ever remember being pissed at Jimmy we went to go outdoor testing at Railroad Canyon and I pulled up and he'd already been riding a little bit. He thought it'd be funny to ride up next to my truck and just hold the front brake and just roost the crap out of the side of my box van. I, however, didn't see the humor in that so I just turned around and left. He's like, "Wait, I'm sorry, I'm sorry!" And I wasn't really worried about how sorry he was at that point.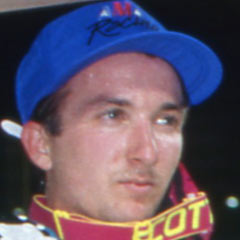 Jimmy Gaddis
Bones was so mad! I couldn't believe it. I just really was in shock. He just drove right off. And I'm just sitting there. I don't know why I even did it. It was kind of stupid I think, but I was just playing around. I was like, Oh crap, I just roosted his van. I don't even know if I meant to quite do it. I think I was trying to hit him and it got his van. All of a sudden you could just see him. He was just furious and he just took off. Talked to him later on and told him I was sorry. I said, 'I'm sorry, man, I had no idea you were going to be that mad.' I couldn't believe it. I was like, he really left. I thought we were going to do testing. That was a shocker.

Cycle News: "Pulling the holeshot in the main was Frenchman Pichon with Gaddis, Lance Smail, Lawrence and Huffman close behind him. On lap two, Pichon's American rivals went on a crashing spree. Huffman was the first to go down and he remounted dead last. Lawrence went down later that same lap and dropped back to 15th. Gaddis was next to go down, swapping out in the long whoops section and overshooting the following berm."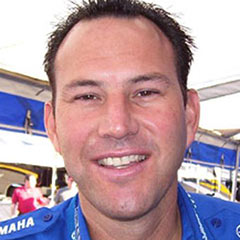 Jimmy Perry
Pichon, who came to the U.S. for the first time that year, won at San Diego. Him and his dad lived with me the entire time that he was here. I really got to know him good. That's a whole other story. But when he won in San Diego we were happy, but wait—that took some points away from Gaddis! And although his win opened the door for the future at PC, it was three points taken from Jimmy, you know?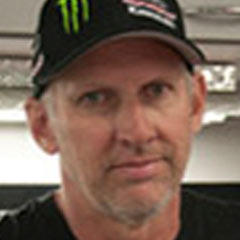 Jim Bacon
Pichon and his dad would battle. His dad got pissed off a couple times and walked out of the house, down the street to the freeway and got lost, or something like that.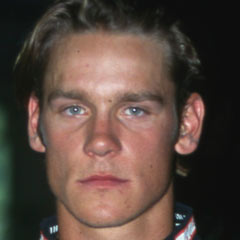 Phil Lawrence
I got along good with Huffman. We were kind of friends but in San Diego we were coming up through the pack. From the outside I ended up knocking him down which was a bummer for him. And of course I didn't mean to knock him down but his dad after the race came up screaming and yelling, telling me I'm the lowest thing ever. And I'm a punk back then so that went over really well with me I'm sure. But I got along with Damon really well. I always have.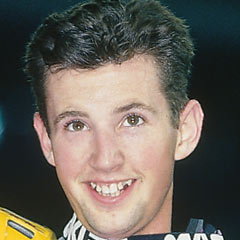 Damon Huffman
Phil was nice. One year, I think it was '94, he took me snowboarding and I think he was probably hoping I was going to get hurt up there on the mountain. I remember we stopped off on the way home and he bought a brand new Chevy four-door, long bed dually, which was pretty funny. He was kind of like, "I'm going to buy a truck right now."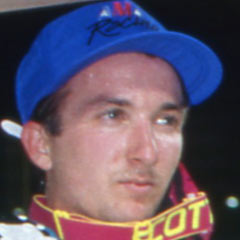 Jimmy Gaddis
I didn't know Damon as much as I knew Phil. Phil, when we were growing up, he was always racing. I wouldn't say we were best of friends but we were friends, just from knowing him. But he was always a good guy, funny.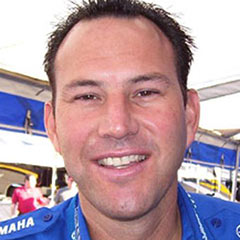 Jimmy Perry
If you're Suzuki you think you've got the two fastest guys, and probably both were fighting to be the top guy there, and they were going to crash into each other to keep the other guy from doing good. In the end it cost them this championship.

"I guess I still had a piece of bubblegum left," said Gaddis after the main event. "I fell down and I'm not happy, I wanted to win."
"I've just got to go and pick myself up and win the next one," said Lawrence. "Pichon's a good rider but I wish it was me who won."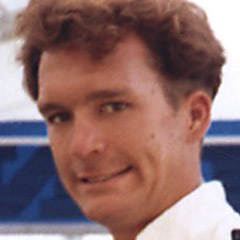 Mike Hooker
That was the thing with the series. We knew going in if we were going to win we just had to be consistent and be there every week. You have one bad race and you're done. Damon, he was for sure fast. He was super smooth. He was tall. He was kind of Mike Bell-ish from the old days. And we knew their bikes ran good.
Alley seemed nervous when we were working on stuff, at the races working on the bike and doing things like that but when he was up there on the line, he was just next to Jimmy telling him the positive things, the things he needs to do. He was a good fit for Jimmy. They were both nice guys. They complimented each other.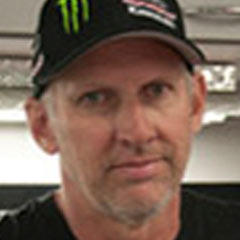 Jim Bacon
Alley was a good fit. As anyone who knows him knows he can get along with anybody, good personality. Those two clicked real well. They had fun together and that's what it's all about, especially when you're a mechanic. You click with your riders good and obviously the rest of the team gelled around him. He liked to have fun. So did we, but those were the days where if you're not winning you're not having fun and you've got to buckle down and do the work.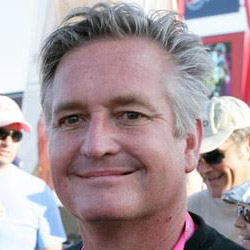 Alley Semar
Jimmy was pretty easy to work for. Back then we didn't really have that much choice anyway when it came to testing. Here's what we got, run it.
Results: San Diego

Point Standings after three rounds

A Season on the Brink
Round 5: Dallas
(125 East/West)

According to Cycle News, Gaddis pulled the holeshot in the main event and had about a three second lead over Honda's Doug Henry. Then Henry got busy. By lap six he made a nice pass by Gaddis and took off for the win although a lapper prevented Gaddis from passing him back.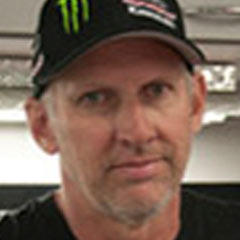 Jim Bacon
Jimmy was going for the lead and he came up behind a lapper and the lapper blocked him for just a second. He had the pass made. Doug Henry went around the lapper. The guy just got in his way just enough to hold Jimmy up.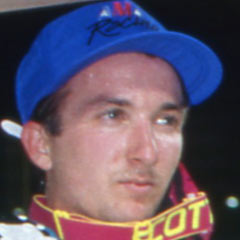 Jimmy Gaddis
I was really feeling good. I was actually coming back. Henry had passed me and I just pushed it, pushed it, and kept going. I thought I was going to get him back and a lapper split us and that was it. But I was really feeling good at that one too.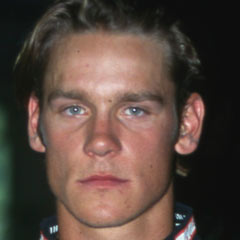 Phil Lawrence
I had a couple bad races. At Dallas Supercross, my really good friend that I used to party with, Grayson Goodman, knocked me down on the first lap of the main event.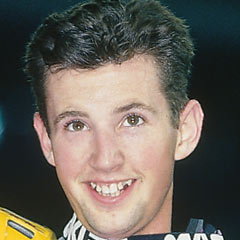 Damon Huffman
After winning Anaheim I really wanted to win a lot more. I think being a little immature I threw away a couple races.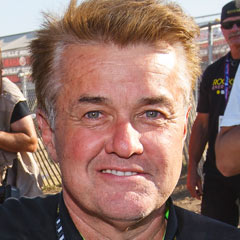 Mitch Payton
Jimmy was the nicest guy in the world. Just way mellow. Not too nice, a little devious. A little devious in the standpoint that because he's so nice and so kind you think he ain't going to hurt nobody. But then he would blast somebody on the track. And then after he'd blast them, if they came up to him after the race, he's like, "Hey man, I'm sorry about that." He was not afraid. He could throw down. He'd get into it with somebody and he was not going to be pushed around. He was awesome about that.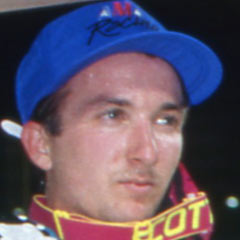 Jimmy Gaddis
I didn't really like to take anyone out. I remember one time they said I was like the ninth dirtiest rider or something. Media guys were asking what do you think about that? I made a joke, 'I'm kind of bummed out I ain't first on there.' But it was just a joke! I loved racing and I loved a good race. I loved banging bars. If I took someone out I felt kind of bad. That ain't right. I had to apologize after the race. Hey, man, I'm sorry. I really didn't mean to do that. Once the gate drops you just have tunnel vision and want to pass someone so much.

"I tried my best," Gaddis told Cycle News after the race. "I'm kind of mad at myself for making a bunch of mistakes. I had to pick my pace up to not let Doug get away but he had some better lines than me."
Results: Dallas
Point Standings after five rounds

A Season on the Brink
Round 6: Pasadena

According to Cycle News, Gaddis grabbed the lead from teammate Jamie Dobb (making his first appearance of the series) and then got into a spirited battle with Huffman. Huffman would make the pass stick on lap six. From there Damon would ride off with the win, his second of the series. Lawrence passed Gaddis over the triple and ended up second, some six seconds back of Huffman.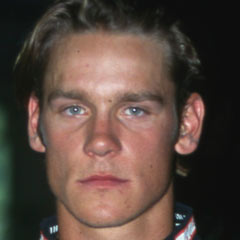 Phil Lawrence
I wasn't really drinking or anything like that but I was partying. I was going to clubs in L.A. with Chicken [Jeff Matiasevich] and staying up late and not doing the training I should have been doing. I just wasn't focused. I'd be riding around in Chicken's Porsche and going to parties with Swinkster [Brian Swink]. I wasn't drinking but I was up late and not training like I should, probably focused on girls. Not probably, that's what I was focused on! While Gaddis, he was straight edge. He was ready to rock and roll.

"I feel really good and really confident," Huffman told Cycle News. "All I have to prove is to win the last two races."
"If I come back and win the next two, I'll have a shot," Lawrence told CN. "At least I beat Gaddis."
"I'm not happy," said Gaddis after the race. "There are two races left and I've gotta win this series. I just have to do what it takes in the last two. I made a couple of bobbles but no excuses. I should have ridden better. I think it's (the deficit) is down to five points."
Race Results: Pasadena
Point standings after six rounds

A Season on the Brink
Round 7: San Jose

Cycle News: "Team Suzuki's Damon Huffman made it look easy in route to a wire to wire win in the main event. After winning his heat earlier, Huffman nailed the holeshot ahead of Kawasaki's Ray Crumb and from that point on, never looked back.
Gaddis got by Crumb on lap two but was unable to make a dent on Huffman's lead throughout the main event."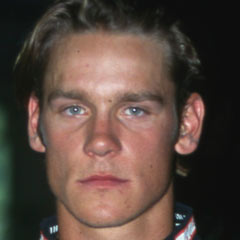 Phil Lawrence
In San Jose the first lap in the main event, I think Ray Crumb jumped a double to the inside of me, knocked me down and broke my clutch lever off. So that was two bad races for me in the series. I was done after that.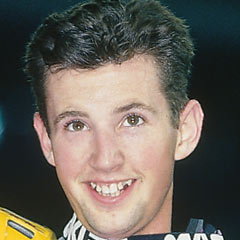 Damon Huffman
For me, it was a combination of having a couple bad races, knowing I was probably the fastest guy, and I had a pretty good bike. I did have kind of a sketchy mechanic at the time also. So I pulled it together at the end but I had a little extra motivation from that girl. I think a lot of times that a girl kind of ruins a guy but it was motivation for me to go out and perform and let my results kind of do the bragging for me. That's what happened.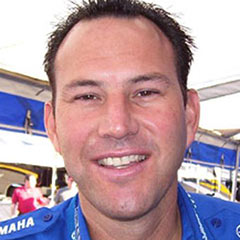 Jimmy Perry
Jimmy was funny. When you would be someplace, he would say, "I don't smoke." I remember some official saying, "Hey, you can't walk on the track." And he goes "I don't smoke." And he'd just keep going. Or somebody would say, "Pull up to the gate," and he'd say, "I don't smoke." He was a funny guy.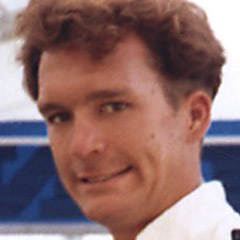 Mike Hooker
I don't remember anything during the actual supercross season. Everything I can think of was before. The story for us was the buildup to the event. Once the gate dropped in Houston it was just week after week keeping things rolling. We really didn't change much between then. The Kawis did handle really good. Bones got those things dialed in so good that chassis wasn't ever a concern.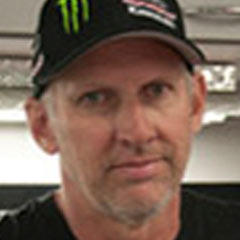 Jim Bacon
Most of the time if you did your homework at the beginning of the year then you didn't have to mess with too much stuff. You come in prepared, maybe a click here, a click there. Maybe change a couple little things. With the Peak Honda days, we got a lot of help from Showa back then, but on the Kawis we were KYB and for whatever reason they weren't willing to help us as much as Showa did, but they did help us a bit. I remember Kawasaki helping us with some settings back then. But for the most part we just kind of got a setting at the beginning of the year and left it.

"I knew that getting a good start would be key tonight," said Huffman after the race. "The rain made the track kind of one lined so I knew I had to get away quickly. I felt slow at first but I figured things out and found some good lines."
"I'm happy," said Gaddis. "My arms pumped up early in the race and there wasn't anything I could do. I'll tell you what though, they definitely won't get pumped up next week."
Results: San Jose
Point standings after seven rounds

A Season on the Brink
Round 8: Las Vegas
(Finale)

Cycle News: "It bugs me a little bit that Gaddis is going to win the championship because I'm the better rider. I know I am." Phil Lawrence in Las Vegas after winning his heat race.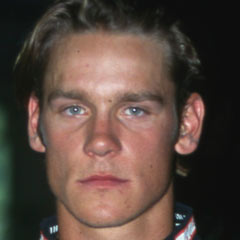 Phil Lawrence
Vegas was his home race and after I won my heat race, that night for the title I told the crowd that, "I can't believe Jimmy's going to win because I'm a better rider." What an idiot. And the crowd just went crazy on me!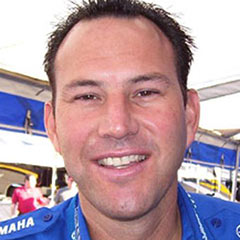 Jimmy Perry
Phil, I think, he was talking smack on the podium. Not that anybody is a good loser, but he was pretty bad.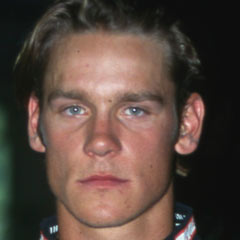 Phil Lawrence
I look back now, I'm almost thankful that Jimmy beat me because what a punk. And he was a good, mellow kid.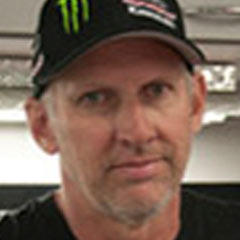 Jim Bacon
I remember that I was pretty nervous about making any changes and even adjusting the compression one click had me wondering what I had done! It was a case of us just trying to overthink everything.
Gaddis was mentally confident

and none of that stuff was going to bother him, and we knew that. So we weren't worried about all that.

Jim Bacon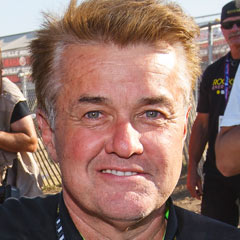 Mitch Payton
I wasn't even there! I was in Ohio at a car race so I told my partner, I got to be in Vegas. We're going for a championship. I said, I'll drive to the first yellow and then I'm bringing the car in and I'm getting out. I pull the car in, immediately went to the rental, changed clothes at the car and rushed to the airport. I was late so I just parked the car outside the terminal and told the rental guys, 'Here's the keys, it's right outside!'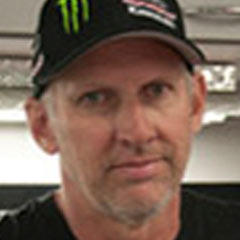 Jim Bacon
Gaddis was mentally confident and none of that stuff was going to bother him, and we knew that. So we weren't worried about all that. We went around to some of the other Team Green riders—I remember I did personally and just said, hey, don't do anything special. Don't do anything different. Just go out there and race. Please don't take him out. If he comes up behind you just race him clean and stick to your lines. As you well know, sometimes stuff goes wrong because you're trying to get out of the way or you're trying to do something. So we just wanted to make sure that they, especially the Team Green riders, weren't panicking saying, "Oh, here comes Gaddis, I've got to get out of his way." Everything will be fine if we just race like we've been racing.

Cycle News: "Despite the fact that it was a championship decider, the main event was a bit of a yawner. Huffman snared the lead early with Gaddis holding down second. At one point Gaddis passed Huffman on lap one for the lead but Huffman got him back and Gaddis dropped back a bit.
'I didn't get that good of a start and then Jimmy (Gaddis) started coming over on me,' said Lawrence. 'That's racing though. I looked up and saw where Huffman and Gaddis were and knew it would take a miracle (for me to win).'"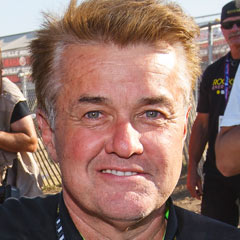 Mitch Payton
I go to the plane gate and the door was shut. I pleaded with them and I've never seen them do this—they opened it back up. So I'm all sweating and stuff and they throw my bag up above and away we go to Vegas.
I got to Vegas but I missed the 125 main event. I'm just rolling up to the pits and the first person I saw was Tommy Clowers. And I said, who won? I think he said Huffman. I'm like, how did Gaddis do? He goes, I think second or third. So I'm like, Yes! I turned the corner and I saw our truck and they were going off. It was a blast. And then we went back to town and I think we were staying at the old Riviera at the very end of town before they knocked it down. We were all hanging out down there and my buddy calls me and tells me we won the car race! So it was an awesome weekend. It was killer.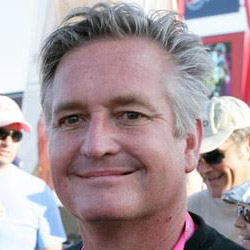 Alley Semar
Those guys, you hear stuff in the pits. Somebody's going to take somebody out, and blah, blah, blah. But none of that happened. Jimmy just knew he had the championship. I think it was fourth or better. He just went out and rode a smart race.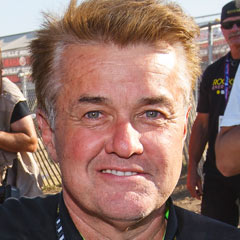 Mitch Payton
I remember that when I got there Hooker said that Phil all day was trying to talk smack and walk by the truck. Phil told me one time that he was trying to psyche him out. I tried to get Phil to ride for me and he turned me down because we were going to ride a Kawi.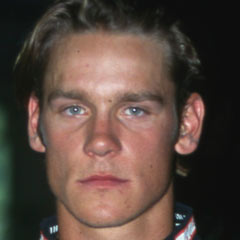 Phil Lawrence
You should watch the interview from Vegas. I remember because I took my shirt off, I was always good at that. The guys from AMA told me, put it back on. And I told them 'I'm not putting it on!' What a punk I was, I can't even believe it. Jimmy was awesome. I got along with him great. I was a punk, cocky kid. I look back now and I'm glad he won. Not glad, but my life wouldn't be any different if I won or not.

"At the beginning of the season I didn't think we very prepared," said Huffman who won four races to Gaddis' one. "It was my first year as a factory rider and I was coming back from so many points down but I'm happy with the way the end of the season went."
"I said some things earlier in the night but I didn't mean them," Lawrence told Cycle News. "I was just trying to throw Jimmy off but it didn't work out. Those guys rode good and they deserve it."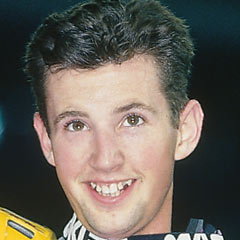 Damon Huffman
I won Pasadena and San Jose. Then Vegas I won. Three in a row but I think Gaddis was top three every time. Then he threw out a quote, which at this point in my life I never heard, and I didn't like it. He said, "Huffman won the battle but I won the war." I think it was a quote in Cycle News. It was just something that I always remembered. That's exactly what happened. I won more battles but overall he was more consistent and won the overall. I don't even know how many points I lost by.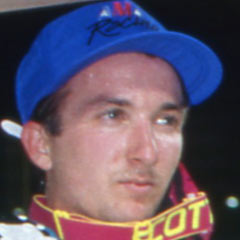 Jimmy Gaddis
I made a move on Huffman. I think I went back at him and tried to stuff him a little bit to get back around him or block him or something. I remember banging with him a little bit. And then I was like, Oh man, don't throw it away. And then I think Alley was telling me, "Hey, you got this. Stay there. You don't have to worry about it." He was helping me out. So when I saw that I just relaxed and took the third and I knew I had the championship. It was great.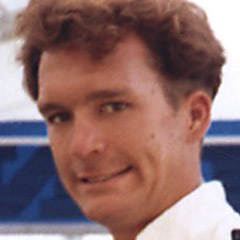 Mike Hooker
Once we got to Vegas we knew that if we took care of business that we were going to be champions again. It felt good for Jimmy to be able to finally get a title there in his hometown and all that stuff. I think that was the bigger thing we were excited about was Jimmy was in his hometown at that time. I would say we had a little bit of confidence going in there.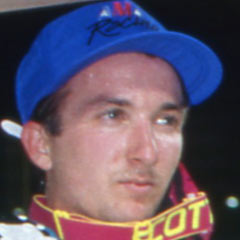 Jimmy Gaddis
I remember them guys were so pumped, too. They were as pumped as I was, or more. Everything was just a big celebration that night. It was like they brought out all the shirts. I remember they had to make two sets of shirts up in case we didn't win. There was a lot of stress going into that last race. It was like, 'Come on, you can do it, Gaddis.'

"It would've been a shame to blow it at the last race," said Gaddis afterwards. "I just kept telling myself to stay up and I would be champ."
Results: Las Vegas

Point standings after eight (of eight) rounds

A Season on the Brink
Fade to Green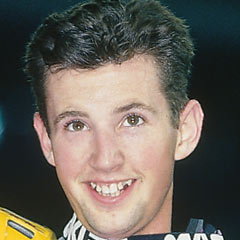 Damon Huffman
Jimmy was always one of the top guys. He was a solid mini bike racer, very talented—a great rider. At that time I thought he had good equipment and a good bike. He was super consistent, kept it on two wheels. He definitely wasn't the fastest but he won that championship hands down. He just put in the results week-in and week-out.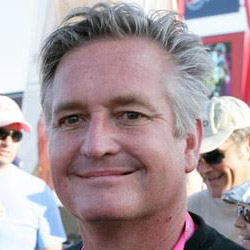 Alley Semar
They put Jimmy and I together because were both kind of the last ones there and there was no choice for me. But it was really awesome. We went down to Kawasaki at the end and got presented with plaques and stuff like that. Poor Jimmy, they didn't have a championship bonus back then because everything was so late, so he didn't even get a Jet Ski for winning the championship!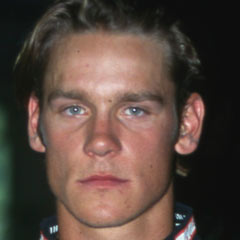 Phil Lawrence
So one of the reasons I was a punk, cocky kid is because I had no direction, no foundation. I was just fast and thought I was the best thing ever because I was fast. To win a championship it takes more than that. Mitch was tight. He knew how to run a program. He knows what it takes to win. Back then the teams didn't know, they'd just throw good bikes under you and say go for it. Gaddis had Mitch and the Pro Circuit team; I had Swink and Chicken!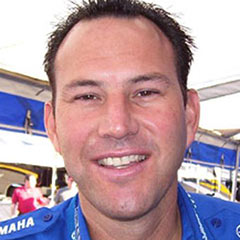 Jimmy Perry
I think when you look back at those early years there was definitely some exciting times. I still think that the first win with [Brian] Swink in '91 Orlando was a very big deal. I think McGrath's back-to-back championships were big. But the Kawasaki Jimmy Gaddis thing, that was big for a lot of different reasons. It was exciting. It was definitely a different feel, but it was a big deal.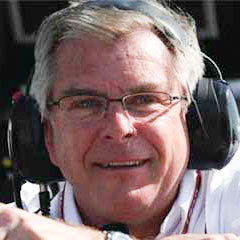 Mark Johnson
When I was going into this with Mitch, I had a few people tell me not to do the deal as he and I would never get along as we were too much alike and it would just be one big constant fight. I can honestly say that in all the time we worked together we never had a cross word between us and that deal formed a lifelong friendship with Mitch and his entire staff as well. I am just grateful I was able to contribute to what has to be considered the greatest SX/MX effort in motorcycle history but more so to see all the success Mitch and his group have achieved.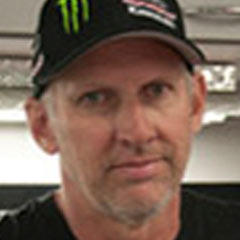 Jim Bacon
Four titles that stand out as unexpected was [Shae] Bentley's in '99 because he DNF'd the first race with an injured wrist. Then Nathan Ramsey won one where his chain broke at the first race, we thought we were done but he came back to win. Ben Townley blew a motor and still won a series and of course Jimmy's because we had everything stacked against us.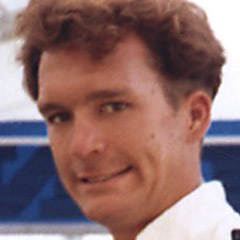 Mike Hooker
We will always remember that specific race and ultimately the title. It seemed normal for us at that time because we came from '91 with four kids. I was a kid and Mitch was a kid still. Jimmy and Bones and everybody, we were just knuckleheads that liked racing. To go out there and just dominate the way that we did, we thought that was normal. We expected to win even going into '93, even though the cards were dealt against us.
We felt like if we worked hard we were going to win. It seems like in moto it's a lot of the rider and good equipment and solid equipment stuff. We always felt that we could make a big enough difference with the equipment to offset what a rider couldn't achieve. So given that confidence and given that machinery that we could win. I'm glad that after all this time even for Mitch and for Bones and Jimmy and those guys it's still remembered.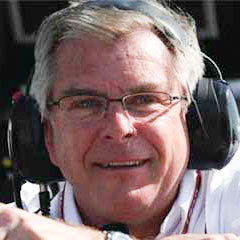 Mark Johnson
Winning that championship certainly helped validate the effort and made things much easier as the years went forward. I think in the end Mitch was taking a lot bigger chance on us than we were taking on him at that point. He had no idea if I could deliver on what I said I would do either—in that first season or as we moved forward. But like I said, after all the championships we were able to string together, the single most important thing that came from it all was a life long friendship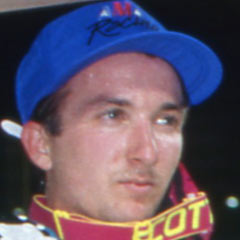 Jimmy Gaddis
I wanted to show Suzuki for one, not really to just rub it in, but I'd been with them so long and then you couldn't match Mitch's offer? One of those things. Of course I had my ups and downs but I was like, I still got it. I can still do this. But they didn't think so. So that made me drive a little harder. I know I can do this. And Mitch, just switching from Hondas to Kawasakis, I knew he wanted it bad because a good win would lock him in, too. Everybody knew it. It worked out really well. It was great for me and for my brother Donnie who just passed away and loved motocross so much. He liked it maybe more than me actually! He was a huge part of my success throughout my career.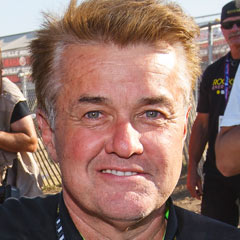 Mitch Payton
What I was afraid of was everybody talking smack and saying they're never going to win again. They shouldn't have left Honda. They're not going to win. No matter what, they ain't going to win. So we get a win at the opener and the season goes along and we've got a shot at the champion. What was cool about that weekend, for me, was I don't think Team Green had had a championship in a long time, so Mark Johnson and Sharon Richards they were excited and had this stuff planned for us. It was a great year and Jimmy was amazing for us. It was a lot of work for everyone and a bit of a tipping point for us as a race team.