2016 Motocross of Nations Entry List Released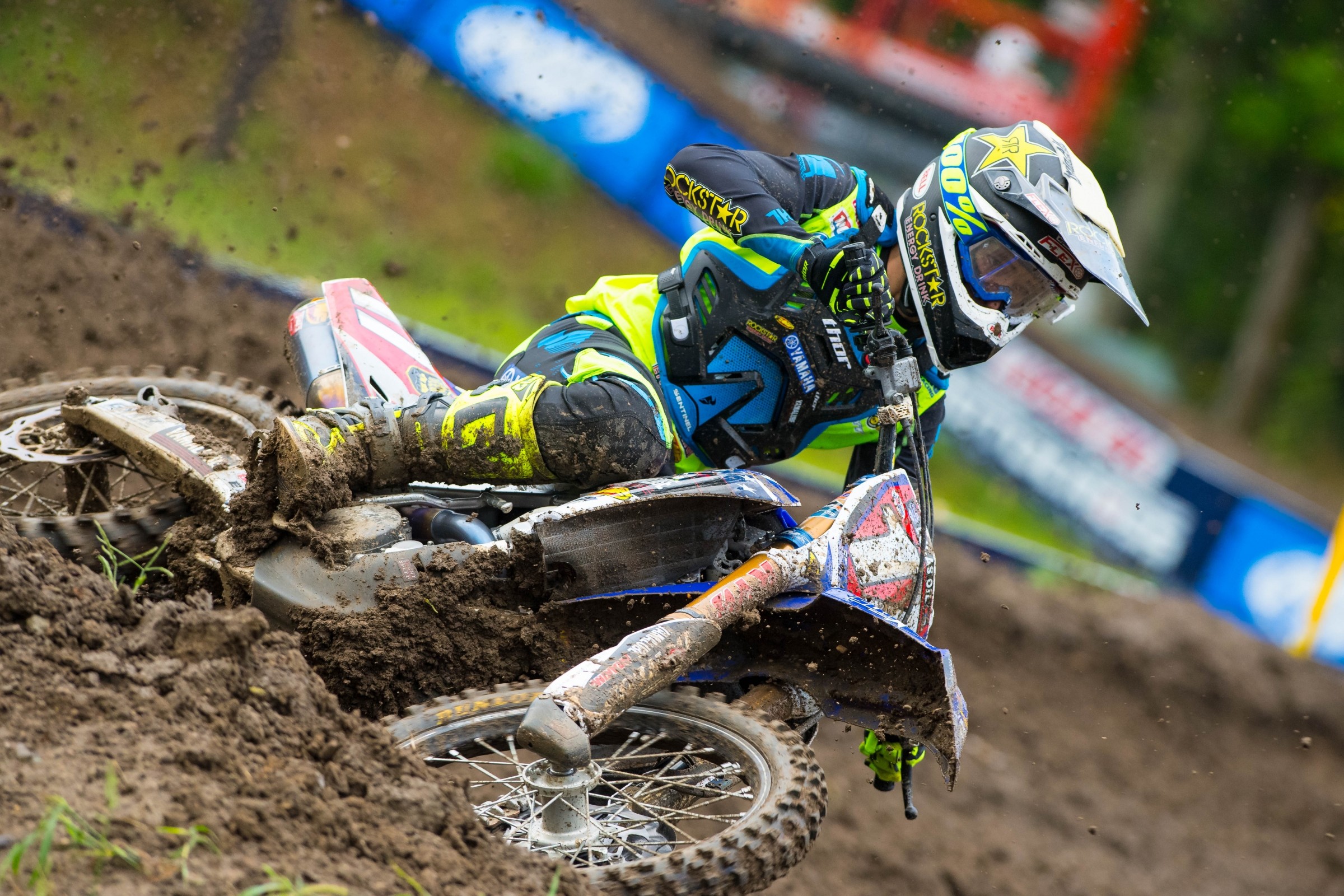 Maggiora, Italy
Motocross of Nations
Motocross of Nations
Youthstream and the FIM have released the official pre-entry list for the 2016 Motocross of Nations set to take place in Maggiora, Italy, on September 24 and 25.
Defending champion France will send a team of Romain Febvre, Benoit Paturel and Gauiter Paulin in hopes of capturing a third straight victory.
The United States will be represented by Cooper Webb, Alex Martin and Jason Anderson.
Below are the official rosters for the thirty-eight countries scheduled to compete in the event.
| | | | | | | | |
| --- | --- | --- | --- | --- | --- | --- | --- |
| | COUNTRY | Nr | RIDER | CLASS | FMN | BIKE | TEAM MANAGER |
| 1 | FRANCE | 1 | FEBVRE Romain | MXGP | FFM | YAMAHA | FINOT Pascal |
| | | 2 | PATUREL Benoit | MX2 | FFM | YAMAHA | |
| | | 3 | PAULIN Gautier | OPEN | FFM | HONDA | |
| 2 | UNITED STATES | 4 | WEBB Cooper | MXGP | AMA | YAMAHA | DE COSTER Roger |
| | | 5 | MARTIN Alex | MX2 | AMA | YAMAHA | |
| | | 6 | ANDERSON Jason | OPEN | AMA | HUSQVARNA | |
| 3 | BELGIUM | 7 | STRIJBOS Kevin | MXGP | FMB | SUZUKI | SMETS Joel |
| | | 8 | VAN HOREBEEK Jeremy | MX2 | FMB | YAMAHA | |
| | | 9 | DESALLE Clement | OPEN | FMB | KAWASAKI | |
| 4 | ESTONIA | 10 | RÄTSEP Priit | MXGP | EMF | HONDA | ROOSIORG Lauri |
| | | 11 | KULLAS Harri | MX2 | EMF | KTM | |
| | | 12 | LEOK Tanel | OPEN | EMF | KTM | |
| 5 | SWITZERLAND | 13 | GUILLOD Valentin | MXGP | FMS | YAMAHA | CLEMENT Diego |
| | | 14 | SEEWER Jeremy | MX2 | FMS | SUZUKI | |
| | | 15 | TONUS Arnaud | OPEN | AMA | KAWASAKI | |
| 6 | NETHERLANDS | 16 | COLDENHOFF Glenn | MXGP | KNMV | KTM | HARTMAN Marcel |
| | | 17 | BOGERS Brian | MX2 | KNMV | KTM | |
| | | 18 | HERLINGS Jeffrey | OPEN | KNMV | KTM | |
| 7 | AUSTRALIA | 19 | GIBBS Kirk | MXGP | MA | KTM | BENN Garry |
| | | 20 | BEATON Jed | MX2 | MA | YAMAHA | |
| | | 21 | FERRIS Dean | OPEN | MA | YAMAHA | |
| 8 | NEW ZEALAND | 22 | COOPER Cody | MXGP | MNZ | HONDA | WEAL Bevan |
| | | 23 | NATZKE Josiah | MX2 | FMB | KTM | |
| | | 24 | HARWOOD Hamish | OPEN | MNZ | KTM | |
| 9 | GERMANY | 25 | NAGL Maximilian | MXGP | DMSB | HUSQVARNA | THOMAS Wolfgang |
| | | 26 | JACOBI Henry | MX2 | DMSB | HONDA | |
| | | 27 | ULLRICH Dennis | OPEN | DMSB | KTM | |
| 10 | AUSTRIA | 28 | NEURAUTER Lukas | MXGP | OeAMTC-OSK | KTM | RESCHENEDER Michael |
| | | 29 | SANDNER Michael | MX2 | OeAMTC-OSK | KTM | |
| | | 30 | RAUCHENECKER Pascal | OPEN | OeAMTC-OSK | HUSQVARNA | |
| 11 | SPAIN | 31 | BUTRON Jose Antonio | MXGP | RFME | KTM | ALONSO Josep |
| | | 32 | LARRAÑAGA Iker | MX2 | RFME | KTM | |
| | | 33 | ZARAGOZA Jorge | OPEN | RFME | HONDA | |
| 12 | RUSSIA | 34 | TONKOV Aleksandr | MXGP | MFR | YAMAHA | TONKOV Vitaly |
| | | 35 | BRYLYAKOV Vsevolod | MX2 | MFR | KAWASAKI | |
| | | 36 | BOBRYSHEV Evgeny | OPEN | MFR | HONDA | |
| 13 | SWEDEN | 37 | JÖNSSON Jesper | MXGP | SVEMO | HUSQVARNA | ENGDAHL Jonte |
| | | 38 | ÖSTLUND Alvin | MX2 | SVEMO | YAMAHA | |
| | | 39 | NOREN Fredrik | OPEN | SVEMO | HONDA | |
| 14 | ITALY | 40 | CAIROLI Antonio | MXGP | FMI | KTM | TRAVERSINI Thomas |
| | | 41 | BERNARDINI Samuele | MX2 | FMI | TM | |
| | | 42 | CERVELLIN Michele | OPEN | FMI | HONDA | |
| 15 | DENMARK | 43 | LARSEN Nikolaj | MXGP | DMU | KTM | CAPRANI Mikkel |
| | | 44 | OLSEN Thomas | MX2 | DMU | HUSQVARNA | |
| | | 45 | MEIER Glen | OPEN | DMU | KTM | |
| 16 | PORTUGAL | 46 | GONÇALVES Rui | MXGP | FMP | HUSQVARNA | ROSS Riley |
| | | 47 | BASAULA Hugo | MX2 | FMP | KAWASAKI | |
| | | 48 | ALBERTO Paulo | OPEN | FMP | HONDA | |
| 17 | IRELAND | 49 | IRWIN Graeme | MXGP | MCUI | HONDA | McCULLOUGH Philip |
| | | 50 | BARR Martin | MX2 | MCUI | HONDA | |
| | | 51 | EDMONDS Stuart | OPEN | MCUI | TM | |
| 18 | GREAT BRITAIN | 52 | SEARLE Tommy | MXGP | ACU | KAWASAKI | PRINCE Neil |
| | | 53 | ANSTIE Max | MX2 | ACU | HUSQVARNA | |
| | | 54 | SIMPSON Shaun | OPEN | ACU | KTM | |
| 19 | LATVIA | 55 | IVANOV Davis | MXGP | LaMSF | YAMAHA | LAZDOVSKIS Martins |
| | | 56 | SABULIS Karlis | MX2 | LaMSF | YAMAHA | |
| | | 57 | JUSTS Roberts | OPEN | LaMSF | KTM | |
| 20 | JAPAN | 58 | NARITA Akira | MXGP | MFJ | HONDA | SERIZAWA Masaki |
| | | 59 | NOTSUKA Chihiro | MX2 | MFJ | HONDA | |
| | | 60 | YAMAMOTO Kei | OPEN | MFJ | HONDA | |
| 21 | SLOVENIA | 61 | GAJSER Tim | MXGP | AMZS | HONDA | GAJSER Bogomir |
| | | 62 | PANCAR Jan | MX2 | AMZS | YAMAHA | |
| | | 63 | IRT Jernej | OPEN | AMZS | YAMAHA | |
| 22 | CZECH REPUBLIC | 64 | ROMANCIK Jaromir | MXGP | ACCR | SUZUKI | CEPELAK Jiri |
| | | 65 | NEUGEBAUER Filip | MX2 | DMSB | KAWASAKI | |
| | | 66 | SMITKA Petr | OPEN | ACCR | KTM | |
| 23 | POLAND | 70 | WYSOCKI Tomasz | MXGP | PZM | KTM | STYPA Dariusz |
| | | 71 | STASZKIEWICZ Szymon | MX2 | PZM | KTM | |
| | | 72 | CHETNICKI Gabriel | OPEN | PZM | KTM | |
| 24 | LITHUANIA | 73 | BUCAS Vytautas | MXGP | LMSF | YAMAHA | BENEDIKTAVICIUS Robertas |
| | | 74 | KARKA Dovydas | MX2 | LMSF | KTM | |
| | | 75 | JASIKONIS Arminas | OPEN | LMSF | SUZUKI | |
| 25 | SLOVAKIA | 76 | ŠIMKO Tomáš | MXGP | SMF | HONDA | PREDANOCY Dušan |
| | | 77 | ŠIKYŇA Richard | MX2 | SMF | KTM | |
| | | 78 | KOHÚT Tomáš | OPEN | SMF | KTM | |
| 26 | BRAZIL | 79 | DOS SANTOS Fabio Aparecido | MXGP | CBM | YAMAHA | HERMANO Manuel Carlos |
| | | 80 | ALVES Ramyller | MX2 | CBM | YAMAHA | |
| | | 81 | RAMOS Jean Carlo | OPEN | CBM | YAMAHA | |
| 27 | FINLAND | 82 | MALIN Valtteri | MXGP | SML | KTM | VEHVILÄINEN Jussi |
| | | 83 | SIHVONEN Miro | MX2 | SML | KTM | |
| | | 84 | SAVASTE Kim | OPEN | SML | KAWASAKI | |
| 28 | CROATIA | 88 | KARAS Hrvoje | MXGP | HMS | YAMAHA | BOZIC Danijel |
| | | 89 | CRNKOVIC Luka | MX2 | HMS | YAMAHA | |
| | | 90 | KELAVA Matija | OPEN | HMS | KTM | |
| 29 | GREECE | 94 | KONTOLETAS Dimitrios | MXGP | AMOTOE | YAMAHA | KOUZIS Dimitrios |
| | | 95 | KRITIKOS Emmanouil | MX2 | AMOTOE | YAMAHA | |
| | | 96 | KOUZIS Panagiotis | OPEN | AMOTOE | HONDA | |
| 30 | PUERTO RICO | 97 | ASTUDILLO Jason | MXGP | FMPR | | CATALA Gabriel |
| | | 98 | APONTE Gino | MX2 | FMPR | | |
| | | 99 | McCONAHY Noah | OPEN | FMPR | | |
| 31 | LUXEMBOURG | 100 | TABOURAING Eric | MXGP | MUL | KAWASAKI | TURK Michel |
| | | 101 | FRANK Yves | MX2 | MUL | HONDA | |
| | | 102 | FRANK Björn | OPEN | MUL | HONDA | |
| 32 | ISRAEL | 106 | KARMI Ziv | MXGP | MEMSI | | HEYMANN Raz |
| | | 107 | MAYA Dan | MX2 | MEMSI | | |
| | | 108 | HASSON Oren | OPEN | MEMSI | | |
| 33 | SOUTH AFRICA | 109 | FITZ-GERALD Kerim | MXGP | MSA | KTM | DEN Geoff |
| | | 110 | ADAMS Nicholas | MX2 | MSA | HONDA | |
| | | 111 | DOCHERTY Michael | OPEN | MSA | KAWASAKI | |
| 34 | CANADA | 112 | BENOIT Kaven | MXGP | CMA | KTM | Lloyd KOURTNEY |
| | | 113 | MAFFENBEIER Shawn | MX2 | CMA | KTM | |
| | | 114 | MEDAGLIA Tyler | OPEN | CMA | KTM | |
| 35 | HUNGARY | 115 | HUGYECZ Erik | MXGP | MAMS | KTM | Robert NAGY |
| | | 116 | SZVOBODA Bence | MX2 | MAMS | KTM | |
| | | 117 | SZOKE Márk | OPEN | MAMS | SUZUKI | |
| 36 | ICELAND | 118 | BIRGISSON Ingvi Bjorn | MXGP | MSI | KTM | GUNNLAUGSSON Karl |
| | | 119 | TEYNISSON Eythor | MX2 | MSI | KAWASAKI | |
| | | 120 | GUDMUNDSSON Andri | OPEN | NMF | KTM | |
| 37 | THAILAND | 121 | ROMPHAN Chaiyan | MXGP | FMSCT | YAMAHA | POSTEMA Jan |
| | | 122 | BOONTAENG Traiphop | MX2 | FMSCT | KTM | |
| | | 123 | POTATON Krisada | OPEN | FMSCT | KAWASAKI | |
| 38 | SAN MARINO | 124 | MARINI Thomas | MXGP | FSM | HUSQVARNA | Danilo MARASCA |
| | | 125 | GORINI Andrea | MX2 | FSM | SUZUKI | |
| | | 126 | TOCCACELI Bryan | OPEN | FSM | YAMAHA | |