Ferris, Beaton Clinch Australian MX Championships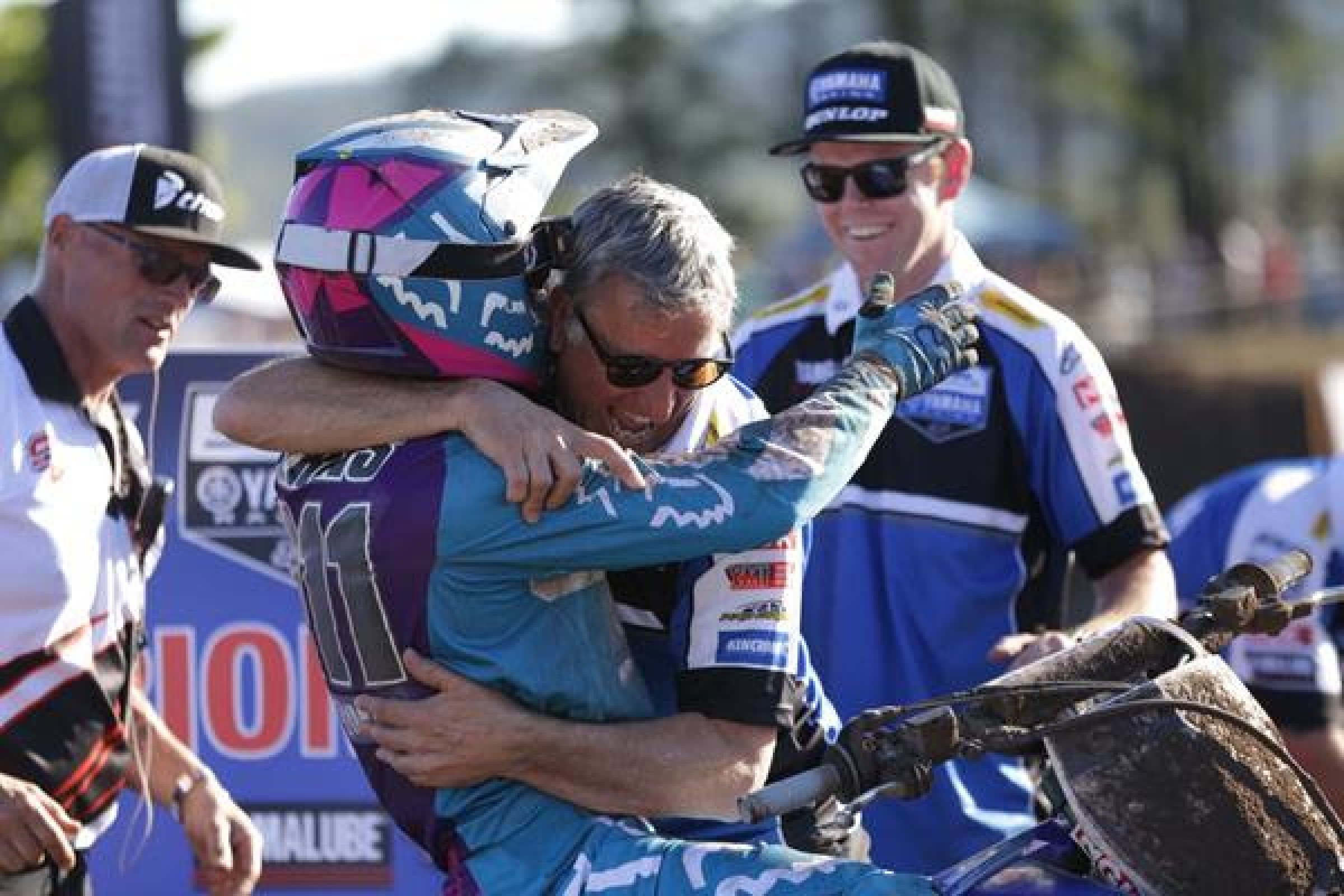 Report provided by MX Nationals Media
This year's 2016 Thor MX1 Champion was crowned this afternoon, with CDR Yamaha's Dean Ferris managing to fight off his competitors to clinch the title at Round 10 of the Motul MX Nationals at Coolum.
Thousands of spectators flooded the Coolum Pines MX Track on the Sunshine Coast today, with fans treated to some of the highest quality racing that Australia has delivered in years.
From the second bikes hit the dirt at Coolum this morning, this year's championship contenders seeked to take advantage of the track time in warm up ahead of GoPro Superpole kicking off, and with additional championship points up for grabs, Ferris, KTM's Kirk Gibbs, Todd Waters, Kade Mosig and Dylan Long were determined to lay everything on the line for one more lightening fast lap of the year.
After qualifying fastest yesterday, Ferris opted to hit the track first for Superpole and when he'd put down his flying lap, a 1:45.287 was enough to secure the three crucial championship points, and take the the GoPro Superpole victory.
Waters was the second quickest this morning (1:45.511), followed by Mosig (1:47.194). Unfortunately for Gibbs, Superpole was a lap he'd rather forget – after finishing in fourth, the red plate holder missed out on any additional points, seeing his championship lead over Ferris dwindle to only three points. Long concluded Superpole without putting down a time after suffering a bike issue.
When the Thor MX1 class headed to the line for race one, thousands of spectators dotted the fence line ready to watch the ultimate championship battle unfold, and with Ferris and Gibbs both within striking distance of the 2016 title, the action on track did not disappoint.
When gates dropped, it was KTM Motocross Racing Team's Kirk Gibbs who took the first MXStore holeshot, but after only one lap, CDR Yamaha's Ferris had demanded control of race one.
After two laps, Waters had found his way in to second position, whilst red plate holder Gibbs had slipped back to third. National Pump Monster Energy Kawasaki duo Kyle Peters and Mosig were back in fourth and fifth places followed by DPH Motorsport's Jacob Wright.
But it was heading in to lap three that spectators were treated to a battle for the race lead, with Suzuki's Waters making the move on CDR Yamaha's Ferris, relegating the title hopeful to second position.
And the fight for positions did not stop there. Gibbs also began to come under fire from National Pump Monster Energy Kawasaki's Peters for third place, the two going head to head for the final podium position. And by the time riders headed in to lap seven, Peters had got the job done.
In what was a huge shock to onlookers, Ferris received a ten second penalty at the five lap mark after riding inside a marker during lap one, but it didn't seem to phase the Yamaha rider, because only a few turns later, Ferris had reclaimed the race lead.
Despite being out in front, by the time rider's reached the halfway mark, Waters was effectively in the lead due to the penalty applied to Ferris, American import Peters was in third, followed by defending champ Gibbs who continued in fourth position. Mosig, Hamish Harwood and Crankt Protein Honda Racing Team's Jay Wilson all occupied positions fifth through to seventh.
But with less than ten minutes remaining, Ferris checked out, leaving Waters, Peters and Gibbs well and truly behind him – putting himself in the box seat to wrap up moto one as the new championship leader.
And when the chequered flag flew, Ferris got the job done, taking the opening moto win ahead of Waters who crossed the line in second. American Peters wrapped up the opening race in third, followed by Gibbs whose title hopes were hurt during race one after finishing in fourth.
Mosig, Hamish Harwood, Wilson, Long, Craig Bolton and Daniel Banks all wrapped up moto one inside the top ten.
With a 2016 Thor MX1 title up for grabs, and Ferris entering the final race with a four-point lead over Gibbs, fans were treated when bikes lined up for the last moto this afternoon -with both riders putting in one last fight for this year's championship.
When gates dropped, Gibbs once again got the jump off the start and secured the final MXStore holeshot, however Waters was right on his rear wheel, followed by Ferris, setting up the final race as one of the best of the season!
After two laps, the running order saw Gibbs out in front with a marginal gap over Waters, while points leader Ferris continued to lurk in the background in third position, followed by Kawasaki duo Mosig and Peters.
Despite Gibbs being out in front, Ferris made the pass on Waters during lap three, putting the CDR Yamaha rider in second place, and in the perfect position to take the title - making for nail biting racing for the final moto of the day.
With more than half the race remaining, Gibbs began to feel the pressure of both Ferris and Waters who had both closed in on the KTM rider over the past two laps, treating spectators to the fight they'd been waiting for.
Another rider who was capturing the attention of the crowd, was Crankt Protein Honda Racing Team's Long, who had passed Mosig and Peters and Wilson to slot up to an outstanding fourth position.
But with Gibbs, Ferris, and Waters all within striking distance of each other out in front, by the time riders headed in to lap nine, the action on track really heated up. Waters found incredible energy and within only a few turns had passed both Gibbs and Ferris, shocking thousands of spectators who were watching the final moto unfold.
And the fight for positions did not stop there. With Waters increasing his lead to five seconds, Ferris closed in on defending champion Gibbs, and with four minutes remaining, Ferris made the pass for second position.
By the time the Thor MX1 class received the last lap board this afternoon, Ferris was in the box seat to clinch the 2016 title after ten gruelling rounds.
And despite Waters taking the final race victory of the day, it was Ferris who had reason to celebrate - the CDR Yamaha crossing the line in second position in the final moto and securing the 2016 Thor MX1 Championship honours. Third place in race two was taken by Gibbs followed by Mosig in fourth.
With 2,1 results Wilson Coolair Motul Factory Suzuki's Waters secured the round victory from Ferris and Gibbs, but the man of the moment was CDR Yamaha rider Ferris, who despite being the only rider to register a DNF this year, collected the Thor MX1 Championship at Coolum today.
Dean Ferris – CDR Yamaha – 2016 Thor MX1 Championship Winner
"I'm so stoked to have gotten this championship. After Round 5 this year I knew it was going to be tough, but the whole team believed in me, and I believed in myself," Ferris shared.
"I've had a lot of speed on the track this year and I just needed to work out how to be consistent like Kirk Gibbs, and that's what I did. I wasn't outside the top two after Wanneroo."
"This is actually the first championship I've ever won. I'm 26, and honestly I thought I was going to do this eight years ago, but I didn't. I've had some really good results over the years but this is the first title so I'm absolutely ecstatic."
Thor MX1 round ten results
1) Todd Waters – 67 points
2) Dean Ferris – 67 points
3) Kirk Gibbs – 58 points
4) Kade Mosig – 54 points
5) Dylan Long – 49 points
6) Jay Wilson – 49 points
7) Hamish Harwood – 49 points
8) Luke Wilson – 42 points
9) James Alen – 39 points
10) Daniel Banks – 39 points
Thor MX1 Championship
1) Dean Ferris – 666 points
2) Kirk Gibbs – 660 points
3) Todd Waters – 647 points
4) Kade Mosig – 541 points
5) Dylan Long – 460 points
6) Jay Wilson – 417 points
7) Jacob Wright – 403 points
8) Matt Moss – 381 points
9) Michael Menchi– 376 points
10) Daniel Banks – 374 points
MX2
DPH Motorsport's Jed Beaton impressed thousands of spectators at Coolum, racing to a career first Motul MX2 Championship at Round 10 of the Motul MX Nationals on the Sunshine Coast.
The action on track did not disappoint today, with the Motul MX2 competitors taking part in two huge final races of the year before the 2016 champion was crowned.
With the Motul MX2 Championship still wide open heading in to this weekend's racing, when bikes headed to the line for moto one this morning, the tensions were high, and when gates dropped it was Davey Motorsport's Jayden Rykers who secured the first MXStore holeshot, but after only a few turns DPH Motorsport's Beaton had made his way in to the lead position.
With one lap in the books Beaton was out in front but only by the smallest margin. Hot on his tail was Serco Yamaha's Wilson Todd, followed by Rykers, and Beaton's closest competitor Caleb Ward. But it was Ward who was determined to get to the front, and by the time riders headed in to lap two, the KTM rider had made the pass on Rykers for third position where he began to eye off Todd's rear wheel.
With Beaton, Todd and Ward all going at it for the top spot, after four laps it was anyone's guess as to who would be able to persevere for the 30 minutes, and with a championship up for grabs, Beaton and Ward were determined to leave nothing on the track.
By the time riders reached lap seven, there had been little change to positions, with Beaton continuing to hold off Serco Yamaha's Todd, followed by Ward in third. Rykers looked comfortable in fourth place followed by privateer Geran Stapleton in fifth who only made his come back to racing after injury this weekend.
Unfortunately for Todd, his charge forward was cut short after going down on lap eight, allowing Ward to inherit second position, while Todd re-joined the race in fourth.
In the closing stages of moto one, Serco Yamaha's Wade Hunter suffered his second big crash in as many weeks, taking a huge tumble down the start straight, seeing him lose his impressive fifth place position and registering a DNF.
With only a single lap remaining, Ward made one final attempt at passing Beaton for the lead, but the KTM rider ran out of time, and when the chequered flag flew, Beaton crossed the line with the race one victory and the Motul MX2 Championship lead. Ward wrapped up race one in second position, followed by Rykers in third. Serco Yamaha's Todd held on to finish in fourth, followed by CRF Honda Racing's Kyle Webster in fifth.
Hamish Harwood, Stapleton, Dylan Wills, Dean Porter and Ricky Latimer all wrapped up race one inside the top ten.
With only one race left for the 2016 motocross season, the Motul MX2 class headed to the line after lunch to put on one final performance of the year, and when bikes launched off the line, KTM's Ward and Serco Yamaha's Todd were neck and neck as they exited the first turn, however it was Ward who took on the early race lead, leaving Todd and Beaton to fight for second position behind him.
But it was heading in to lap two that things got really exciting. Beaton made the pass on Todd for second position then broke away, and within only a few turns, Beaton had also made the pass on Ward for the race lead, proving that the DPH Motorsports rider was not prepared to play it safe in race two.
And Beaton's charge to the front paid off only one lap later, with Ward making a mistake and losing two positions, allowing the Yamaha rider some much needed breathing space out in front.
After four laps on track, the running order saw Beaton continue to maintain a healthy lead, followed by Todd in second and Ward in third. Rykers once again found himself in fourth position, ahead of Webster, Harwood and Wightman.
As the final race of the day reached its closing stages, there had been no change to the race order, placing DPH Motorsport's Beaton in the perfect position to wrap up the 2016 Motul MX2 Championship undefeated at Coolum.
But with only one lap remaining, spectators were treated to excitement on track, with Todd making the move past Beaton to snatch up the race lead with one lap remaining, proving once again that it's not over until it's over.
And when the chequered flag flew for the final time today, it was Todd who collected the final race win at Coolum, followed by Beaton who finished in second, while Ward held off a hard charging Rykers to finish in third.
However, the fairy tale ending was taken by DPH Motorsport's Beaton, who's 1,2 results well and truly awarded him with not only the round win but the 2016 Motul MX2 Championship.
Second on the round podium was taken by Todd, while Ward wrapped up the final round of the championship at Coolum in third.
With Beaton taking the Motul MX2 title, second place in the championship was awarded to Ward, while despite not appearing at round ten, Husqvarna's Nathan Crawford wrapped up the year in an impressive third position on the podium.
Jed Beaton – DPH Motorsports Yamaha – 2016 Motul MX2 Championship Winner
"I so happy to get this title. I knew that I had put in the hard work during the off season, I kept getting better and better at every round, and then half way through the championship I improved my results a lot," he said.
"It's a shame that Nathan (Crawford) was out because I would have loved to battle with him here at Coolum, but he deserves all the credit that he gets, and it's been a good year going at it for the title.
"The DPH Motorsports Yamaha team have put in 100 per cent this year, and it really is like a little family. They're a bunch of good people, and we all work really hard so we definitely deserve this championship."
Motul MX2 round ten results
1) Jed Beaton – 67 points
2) Wilson Todd - 63 points
3) Caleb Ward – 62 points
4) Jayden Rykers – 58 points
5) Kyle Webster – 52 points
6) Hamish Harwood – 50 points
7) Geran Stapleton – 46 points
8) Joel Wightman – 43 points
9) Richie Evans – 43 points
10) Dean Porter – 42 points
Motul MX2 Championship
1) Jed Beaton – 630 points
2) Caleb Ward – 617 points
3) Nathan Crawford – 574 points
4) Jayden Rykers – 537 points
5) Wilson Todd – 507 points
6) Dylan Wills – 470 points
7) Hamish Harwood – 448 points
8) Joel Wightman – 426 points
9) Kyle Webster – 376 points
10) Dean Porter – 365 points