Hurricane Mills, TN
Rocky Mountain ATV/MC AMA Amateur National Motocross Championship (Loretta Lynn's)
Amateur National Motocross Championship
Family is defined as "a basic social unit consisting of parents and their children, considered as a group, whether dwelling together or not." When we think about the sport of motocross, we usually think about the track, bikes, sponsors, gear, etc. However, behind almost every racer you will find an essential piece of the puzzle far greater than anything else: his or her family.
We all know the significance of the Rocky Mountain ATV/MC AMA Amateur Nationals at Loretta Lynn's Ranch. If you want to have a career in racing, gain sponsorships, maybe even a factory team ride, Loretta Lynn's is the proving grounds. Every serious racer strives to don the coveted Loretta Lynn's bib. This is the race where today's youth can be previewed before they become tomorrow's stars. But how does the biggest race of the year weigh on the family of a racer?
Meet the Robertsons
At first glance the Robertsons of Bakersfield, California, appear as your typical American family unit. Lyle and Stacy have two children: Shay, their 17-year-old daughter, and Stilez, their 14-year-old son. Lyle and Stacy both work for schools in the Bakersfield area; Shay is a cheerleader and powder-puff football quarterback. Stilez, however, is not your typical teenage kid. He is one of motocross' top-tier amateur racers, with one of the most sought-after rides. Stilez races Supermini for Team Green Kawasaki, and he's covered in sponsorship logos from his helmet to his boots. As you watch him ride up to staging you may see him as "privileged" or "one of those factory kids." However, what you don't see is the family dynamic that goes along with it.
This family dynamic is not typical. For the past two years, Stilez has spent most of his time in Oklahoma and Florida training, while his mom, dad, and sister are back in California. When Stilez is training with Robbie Reynard or Ricky Carmichael, his family is in Bakersfield, working and living their lives all while missing their son and brother.
"It's harder on him," admits Stacy, speaking of her husband. "He was always the one with Stilez at the track, while sometimes I would miss some races and go a week or whatever without seeing him."
Undoubtedly this sport creates a bond, often between father and son, but also usually between the entire family unit. After spending time with the Robertsons it became quite apparent that, despite distance that separates them at times, there is a closeness, even among brother and sister. Shay and Stilez are three years apart, and, for the most part, get along exactly how teenagers would. However, when you speak to Shay about her brother, a smile graces her face and her eyes light up.
While the sacrifices and the struggles of spending money, dealing with injuries, contract obligations, schooling, etc., weigh heavily on each family members' shoulders, there is also a great deal of pride felt as well. Says Lyle, "Whenever he rides well, he doesn't even have to win. Whenever he rides the best that he can, that's when it's all okay."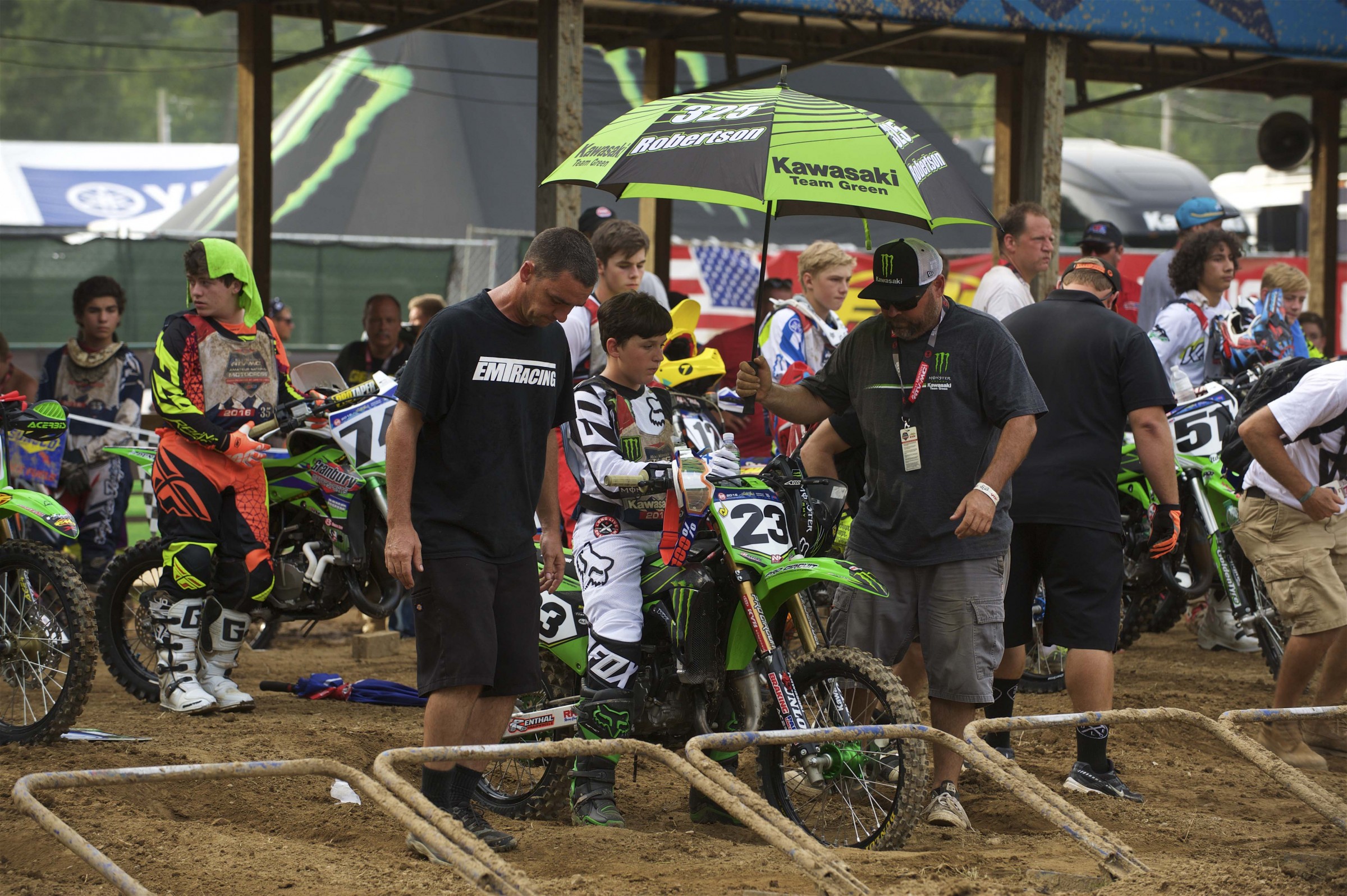 One Purpose
Whenever you roll into Loretta Lynn's Ranch, you'll see golf cart after golf cart full of kids being goofy and having fun. For a rider such as Stilez Robertson, who is trying to grow into a professional, these sorts of shenanigans are not really in the realm of things he's able to do. He's at the Ranch for a purpose: to perform on the track the best he can. While others are in the creek, he's on his road bicycle. While others are out late and eating ice cream, he's hanging out in his camper resting. He has a job to do here. To become an elite athlete you must give up the luxuries of "goofing off" as other kids may do. Not only does Robertson have to perform on the track, but he has a responsibility to represent his team and his sponsors off of the track as well.
"I'm a huge worry-wart," laughs Stilez. "I stress out super easy, and don't want to get in any trouble."
How does the Robertson family spend their down time? Turns out that for a factory kid and a factory family, there really is no down time. That said, they do enjoy a competitive game of poker on occasion, and eating is always on the list of things to do.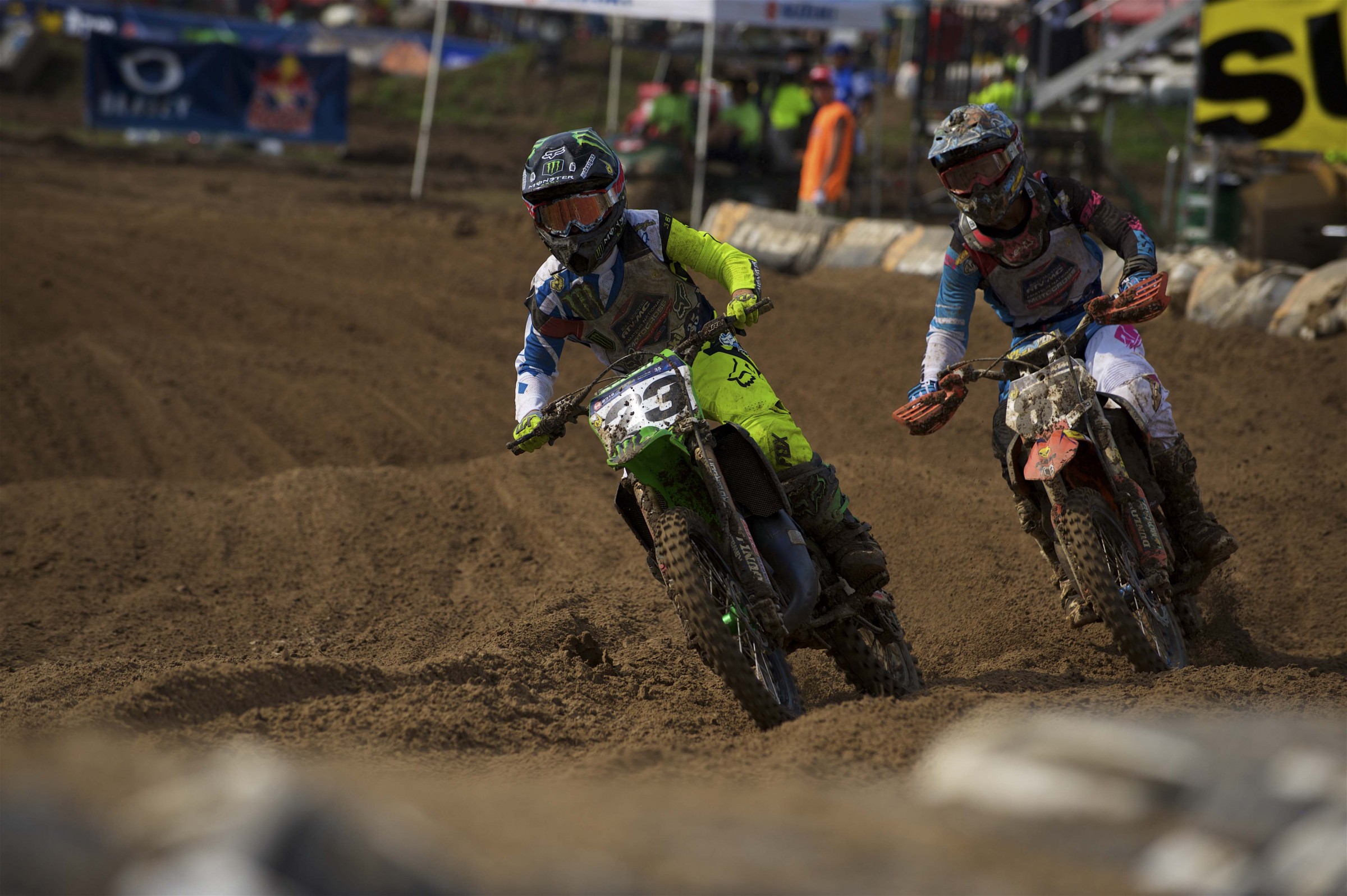 Sacrifice
Sacrifice is a common theme in this sport. Be it a family sacrificing the ability to see their child while he is off training to reach his dream, or a sister making sacrifices so that she may see her brother succeed, it all comes with the territory. What about dividends? There has to be a payout, an end-result that makes families put themselves through the ringer to attend all of the big amateur events—but what is it?
"To be good at something," answers Lyle. "I truly believe that everyone is good at something, you just have to find that one thing and hold on to it. To make a living doing what you love? That's damn cool!"
Stilez's echoes a similar statement: "To not have to work a day job. To be able to wake up and do what I love!"
And Stacy adds that she simply wants to see that Stilez feels happy and that he's successful.
The Racing
After beginning the season injured with a broke humorous, Stilez arrived at Loretta's fresh from a month of training at Ricky Carmichael's GOAT Farm. The week started off on a high note for the young Team Green rider, as he put down fast practice laps and was confident going into the motos. Unfortunately, Stilez would suffer a bike issue in Supermini Moto 1, which would prove to be detrimental to the rest of his week. Be it mental, or mechanical, after suffering a DNF early in the week, he was never the same rider. Robertson would log DNF-4-9 results in Supermini 1 and 4-DNF-7 results in Supermini 2 for thirteenth overall in both classes.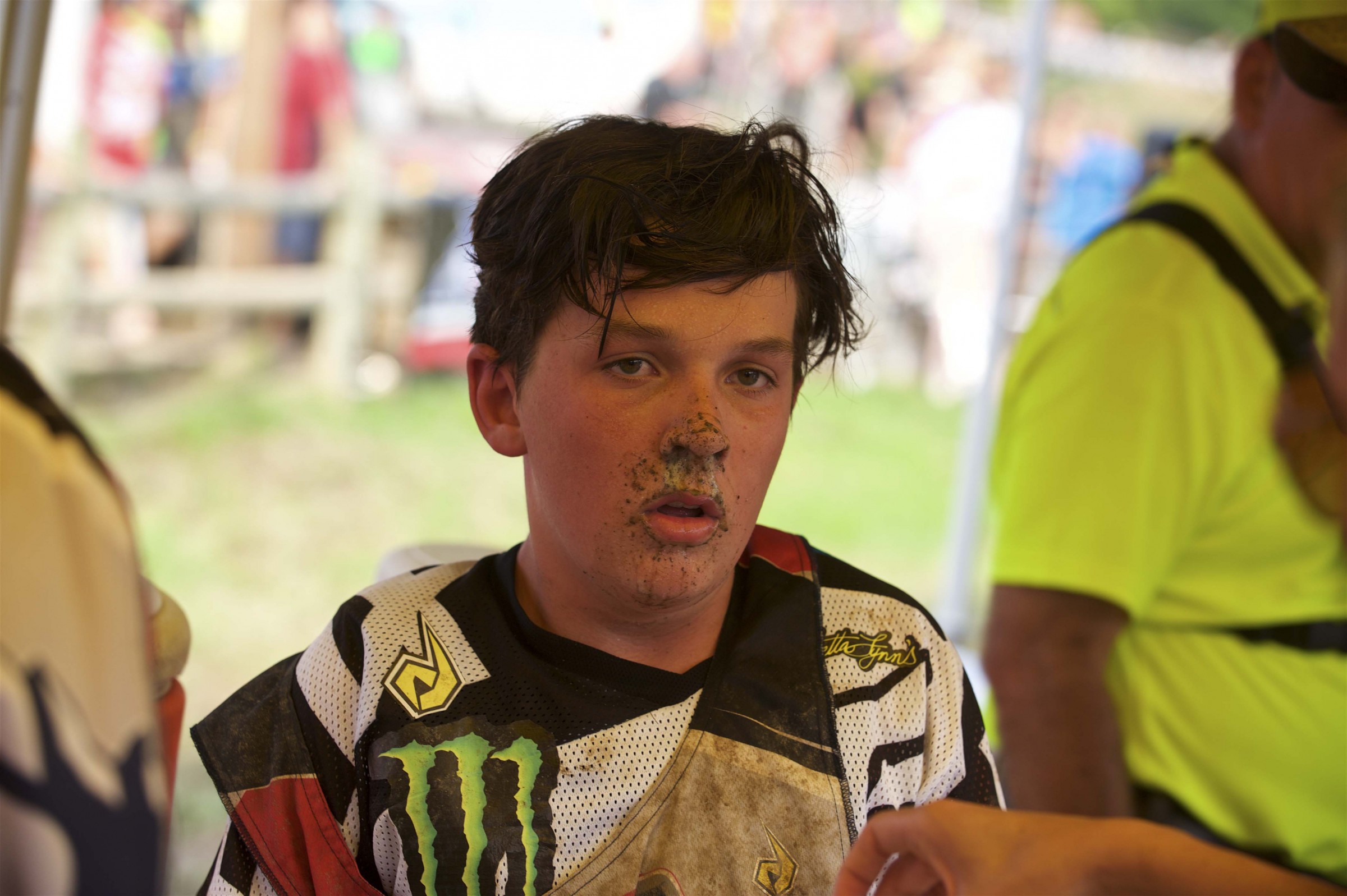 Stilez is no stranger to winning championships at Loretta Lynn's, so that just adds to the frustrations felt by his family after a second-straight years of struggling at the Ranch. Last year was full of crashes, and this year he was plagued with two mechanical DNFs. For some, finishing thirteenth overall at Loretta's is an amazing accomplishment; for a rider of Robertson's caliber these results are not acceptable. Not performing per set standards at Loretta's means more stress and harder work in the future, but champions don't roll over, nor will they let two years of bad luck deter them from winning again.
This tale of a motocross family is unique in its own right, but also one that is shared throughout our sport as a whole. Each and every rider on the gate has a story. Each rider on the gate has a family that has put in its fair share of sacrifice, effort and support to get the rider where they hope to be. The Robertson family may have earned a factory support ride, but they're also down-to-earth people just trying to make the most out of life. So even after a week that didn't deliver the results they'd hoped, this family still ended the week loving and supporting each other. It was key to see that what happened on the track didn't ruin things off of it.