New Berlin, NY
Unadilla
Lucas Oil AMA Pro Motocross Championship
Christophe Pourcel's Lucas Oil Pro Motocross season is eerily similar to his 450SX run in Monster Energy Supercross this year. Just as his results started improving, crashes in both seasons resulted in neck fractures, putting the French rider on the sidelines. The most recent crash, which you can see at the 1:25 mark in the video clip below, was a scary one, taking place while battling Eli Tomac during the first moto at Washougal. We spoke with Pourcel this week to learn more about the end of his season, and more.
Racer X: Talk about the neck injury. What happened and how serious is the fracture in your neck?
Christophe Pourcel: Unfortunately, it's serous this time. The one from supercross looked serious from the X-ray, but this one really is. When I crashed at Washougal, the force of me hitting the ground and how fast I rolled fractured my C6 vertebrae in the articular facet. This protects the artery near your spine, and it's fractured almost all the way through. If I were to have crashed racing the second moto or fractured it any further, I would have been at risk for stroke or bleeding out.
Is this fracture related to the one you suffered during supercross?
No, this is a completely separate injury. The one from supercross was on my C3 and on the front from like a forward whiplash. This crash was not a big one like at Washougal but when we go so fast, the impact is hard.
You always do pretty well at Unadilla. Are you especially bummed to miss that race this year?
Yeah, I'm super bummed about it all. It's my favorite race and I cannot do it. The track is so good, it really fits my style and I enjoy racing there. But right now my health is the most important and I have to rest so the fracture will heal, so we will have to sit this one out.
Your results were starting to get better and better before getting injured, in motocross and supercross. Was that you improving as a rider, or getting better with setup?
Yeah, that's what bums me out the most about it all—better and better for sure, both times. I think I got my first top ten at Daytona, then that week during practice I crashed. We got the bike figured out, me improving on the bike and my starts—my starts were terrible. To be competitive and learn the speed of being in the front you need to get a good start and be up there every weekend. My fitness was at its best and the bike was amazing, unfortunately I crashed. I really don't crash that often, so to see an injury each time is pretty depressing.
What's it like to get hurt when you're seeing your results improve every week?
It is very frustrating, and it is not the first time. Every day we work hard to get better and in one second we crash and it stops. You're hurt and can't do anything for weeks. It's probably more mentally tough than physically—we are all pretty fit and heal quickly—but going from a wide-open schedule to not much is tough to do.
You've had to work your way back from some particularly nasty injuries.
Injury is one of the worst things in our sport. It is just so hard to get back to the top after big injuries like this. It takes months—like you can see with my results getting better even though I was still hurting from my C3. People don't realize how tough it is, especially when you don't have the time to let the injury heal properly and you ride through it, but you're not at your best. So many riders have had big injuries in this sport, it's unfortunate.
Was there ever a point where the injuries made you consider getting out of racing?
For sure. When I was paralyzed in 2007, I didn't even think about racing anymore. The most important thing in life is health. Being able to use the restroom or have children is more important than thinking about when you will ride your dirt bike again. Being in the hospital and getting surgery gets old, especially big injuries where you have to stay weeks at the hospital, like with my spleen in 2012. It's tough. It's tough on everybody—you and your family. It makes your life and perspective different, that's for sure.
After sustaining so many serious injuries it seems like it's something that would always be on someone's mind. Do you think about it out on the track or is it something you block out?
In any sport there is risk. You have to take as much risk as you want, which is the athlete's decision. I believe in my case, I can ride fast and be safe, but I am more concerned about other riders jumping on me than me crashing by myself. I crash very little. This year I crashed twice and I got hurt each time. I think the timed qualifying is my thing because you are by yourself, but in the race there are more factors than just throwing down fast laps.
We know you're fast, especially in qualifying, but there's a perception out there in some circles that you don't push as hard as you could once the gate drops. Is that an unfair way of thinking or is there any truth to it?
People like to talk about me but never come up and ask me questions. So you can believe their opinion, but it's not an educated one. Timed practice and racing are different. My style is not good for people to judge because even in practice I look slow but my time is good. I think racing well is a combination of factors like luck, starting in front, having a good first lap, putting yourself in a good position, and good bike setup. It's tough to push and pass a lot of guys when you're not in that good position, especially in the 450 Class—there are lots of good guys! I don't think I want to win any less than any other guy out there, we are just all very good and there are a lot of factors that go into making a good race.
You left the American racing scene for a few years. Why?
I had some issues with contracts for 2011, and the bike I had outdoors was not suiting my style and the level of competitiveness where I knew I was. My shock was getting hot and stuck every moto, but then when it was cold it was fine. It was too much risk and not good for racing up front. There were no other opportunities in the U.S., but one in Europe. I wanted to keep racing, but not like that. I took the decision to not take the money and just end the deal where it was. I had just stopped working with my agent, so the communication there wasn't good. But I had a lot of good changes in my life in 2011 even though it seemed bad in the press. It's when I met my wife, and she moved with me to Europe and we did the GPs in 2011 and 2012. It was a good experience. I won some races and had some good battles with Tony Cairoli. It was fun, but tough. The GPs are definitely a different series.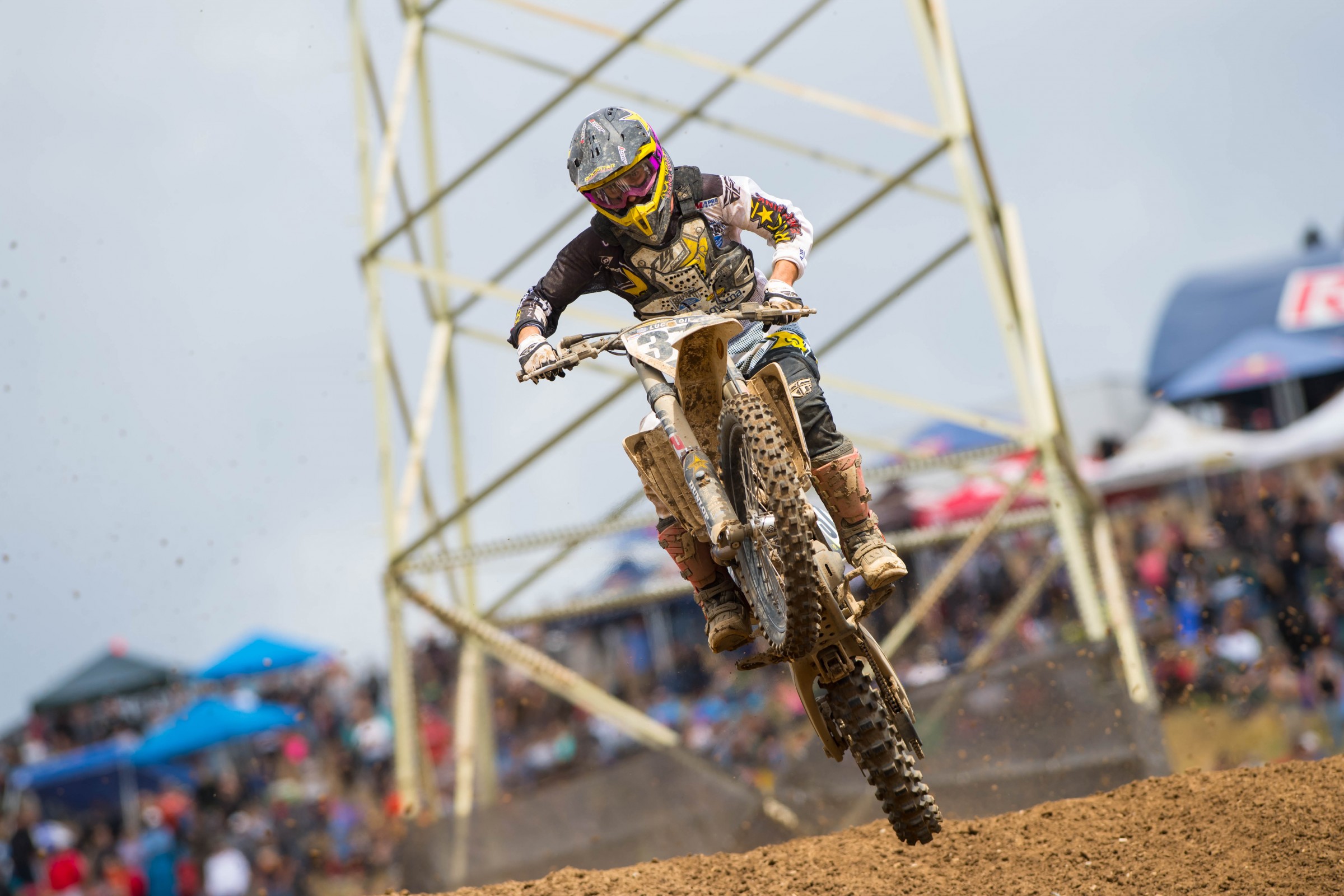 What brought you back to racing in the States? Was it something you were always planning on doing, or did a random opportunity pop up?
After the 2012 season, we were doing the winter supercross races in Europe—Bercy, Genoa, etc. Then I had my bikes stolen from my house one night. We woke up in the middle of the night with the power cut off to our house and realized my motorcycles and mountain bike were gone. We looked at each other and said, 'Okay, it's time to go home to Florida.' I still had my house, and it's a much safer life here. After that we did the two races and planned to fly home right away to Florida. Then I lacerated my spleen at Bercy and had to stay in France for one more month until I could fly. It also put off my return to racing in the U.S. until 2014. We spent that month at my parents' house in France and could not sleep through the night—that's not a good life. So moving back here was a life decision, not just for my career.
What was it like coming back to an industry you'd made somewhat of a departure from?
It was tough the first year. Some people don't know how to take me. I think because I am a private person. When I show up to the race I am very focused and here to do my job. Since signing with Rockstar Energy Husqvarna Factory Racing, the transition has been very good. Bobby Hewitt and the whole team have helped me a lot. It's completely different and I really enjoy my job and we all work together. I have good people behind me and it helps, especially in times like these.