New Berlin, NY
Unadilla
Lucas Oil AMA Pro Motocross Championship
Like Jason Weigandt and Phil Nicoletti going to a Goodwill store, "Fast" Freddie Noren and factory Honda go together well. For the third time in as many seasons, the Swede finds himself as a fill-in rider on Big Red (for Cole Seely). The only question I have is: what took so long?
Noren's having a nice season on the Rocky Mountain ATV/VMC team but we'll see if he can get back to his old "factory Fred" status starting this weekend in Unadilla. We caught up with him earlier this week to talk about his return to factory Honda.
Racer X: Big news for you this week. For the third time you are filling in at factory Honda again. They've got some injuries and you're going to be under the factory tent. Were you surprised it took this long?
Fredrik Noren: I'm super pumped to be back on their bike and their program. It's going to be a lot of fun. Like you said, I've been there a couple of times before now, so I kind of learned a little bit. But I'm super pumped on that. A little surprised maybe but I'm happy to get to do three for sure.
How'd Rocky Mountain team take it? Are they are okay with that?
Yeah, that's how I've done the deal, to where if I need to go do a fill-in ride it shouldn't be a problem.
How's your season going? Some motos probably aren't as good as you'd like them to be, but overall how do you think your outdoor season is going?
Overall I wouldn't say I'm super pumped on the season, but last race at Washougal was pretty good with that last moto finally getting in the top ten. But you always want to do better.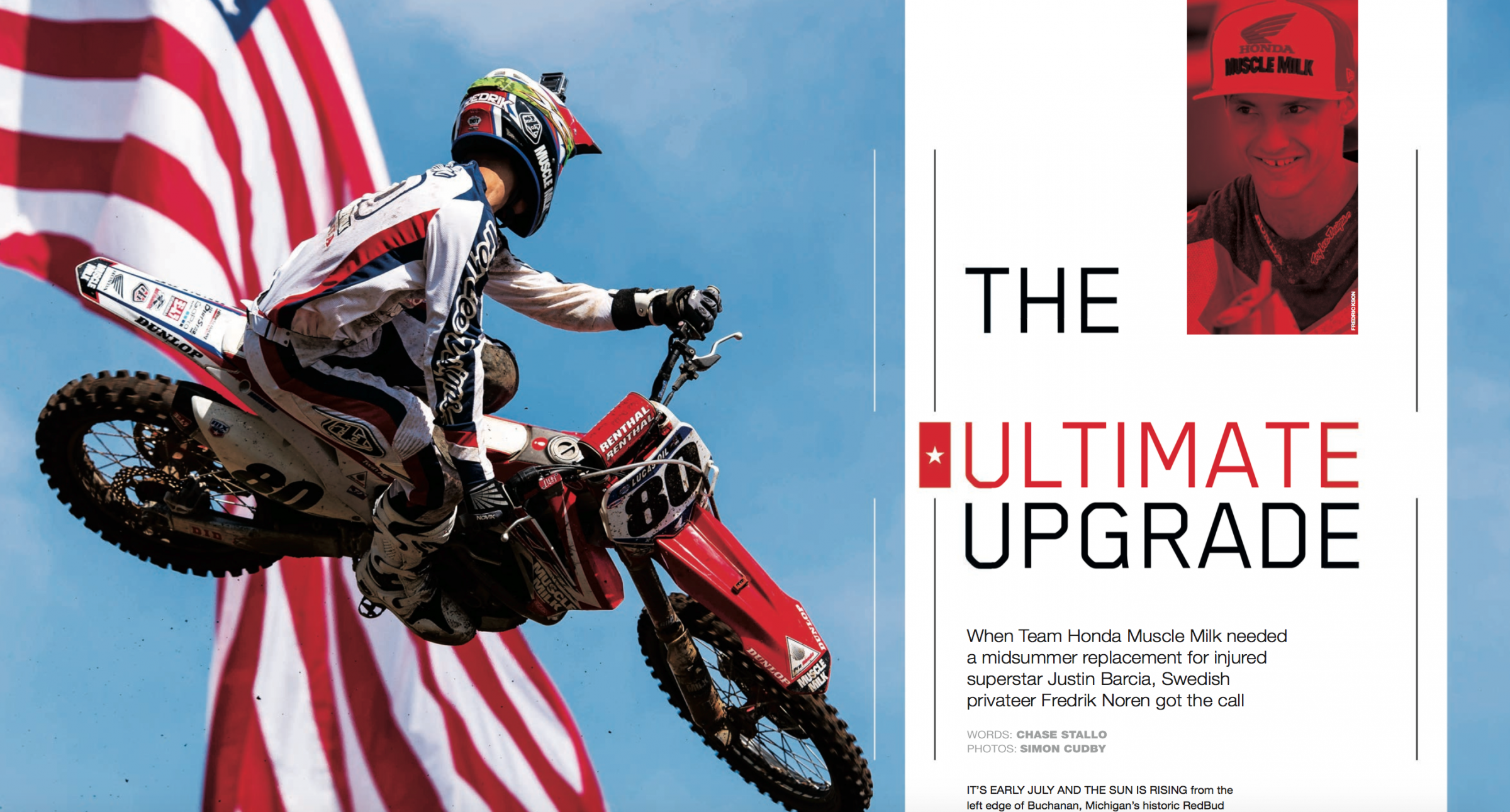 Obviously some guys might feel pressure or they might be stressed out about riding for a big factory team like Honda, but you know those guys well. You test for them. It's probably easy for you, right?
No, it's not bad. Obviously you get on the factory bike and everyone's going to expect more from you, and you want to do better and kind of expect some more from yourself as well. But I'm actually really comfortable with all the guys over at the Honda team. They're super cool people. I would say it's mainly just me putting pressure on myself. I'm pretty good at not putting too much pressure on myself. I can only do as good as I can, so I'm just going to do my best.
How much better will the bike be? Obviously Honda helps you out with some stuff on the side, but how much different is the bike? How do you explain it?
It's the same brand and everything, so the main character of the bike is similar. But it's a pretty big difference I would say. I still get to have the same suspension and clamps and stuff. Kind of just their bike is perfect, or close to perfect. Everything's been tested for a long time and it's a great bike, where not saying that my bike is not a great bike but it's very different.
I work with the guys quite a bit doing other testing stuff, so it should be good. I was on their bike a lot for this pre-season too, so I'm pretty comfortable with it and familiar with their bike. Also, I'm getting some time in on it now as well.
Are you starting to become a really good test rider? Are you starting to realize what the bike is doing underneath you and what it needs?
Yeah. I don't really know if I'm good or bad, but I've learned a lot from doing all the testing and kind of seeing what different things do to the bike. It's been really cool doing a lot of testing. I've learned a lot. I'd like to say I'm a decent test rider. I hope that I'm a great test rider, but I don't know!
Is there anything you can tell us about the 2017 Honda 450?
No, sorry, I can't say much about that one. You guys are just going to have to wait!
The Motocross des Nations is coming up. I understand it's not for sure yet but it looks like you could be going for Sweden?
Yeah, it looks like a pretty big chance that I'll be racing in Italy. I'm super pumped about it. Hopefully everything can work out good. It would be a lot of fun for sure.
What are your plans for next year? Is it way too early to discuss that?
I'd like to do supercross and motocross full seasons but as of right now I'm trying to figure everything out with that. Hopefully everything can come together as soon as possible, but as of right now I don't really have anything. I've got my ears open.