Herlings, Jonass Out for MXGP Belgium; Prado In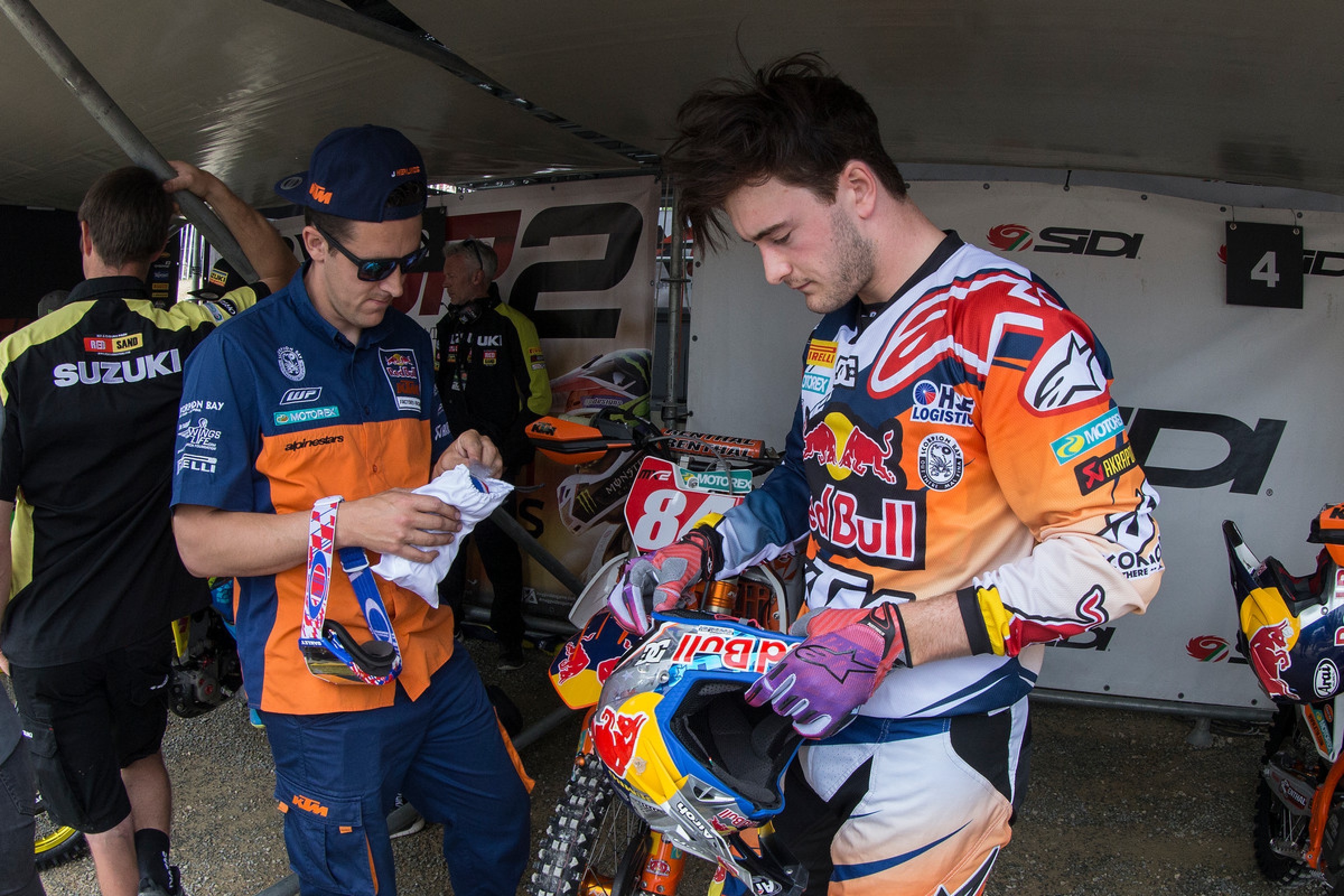 Red Bull KTM's Jeffrey Herlings has been ruled out for a second straight Grand Prix as he continues to recover from a broken collarbone sustained at the Dutch Masters on July 10. The current MX2 points leader will miss the fourteenth round of the championship this weekend at the MXGP of Belgium at Lommel. The announcement was made via the team's official Twitter account this morning.
Despite missing last week's Grand Prix of Czech Republic, Herlings still holds a 127-point lead over second place Jeremy Seewer. Prior to last weekend, Herlings had won 23 of 24 motos, and every overall.
His status for the Grand Prix of Switzerland on August 7 is uncertain.
Herlings' MX2 teammate Pauls Jonass has also been ruled out for the weekend after sustaining a concussion and a couple small fractures in his nose in a violent crash last weekend. Jonass wrote on his Instagram page that he visited the doctor yesterday but was not cleared for this weekend. He is currently third in MX2 points.
With Herlings and Jonass both ruled out for the weekend, the team has decided to move Spanish sensation Jorge Prado up from the EMX250 Championship to make his MX2 debut this weekend. Prado has lived in Belgium for the past four years and said this would be the best place to start his career.
"I love racing in the sand and I am good at it, which is why it's good to start in Lommel, but in MX2 it will be tough to get through two long races at the pace of the best riders," he said. "My advantage is that I usually get good starts and that I am good in the sand because I have spent four years training here. The secret of sand is just practicing a lot to gain strength and experience."
A past 65cc World Champion and 125cc European Champion, Prado has been linked to a ride in the United States with Troy Lee Designs/Red Bull KTM. A timeline on a move to the U.S. has not been established.
"The European championship has been a good experience, with very tough races,
much older riders and very uncomfortable schedules, but I am happy with my performance which was another step towards the MX2 class," Prado said. "My whole career has been focused towards racing the World and AMA championships, and next weekend I will fulfill part of my dream. It motivates me further to race against the best and to be able to measure myself against them. I am really eager because I feel I could do a decent job and it really makes sense for it to start in Lommel."