Washougal, WA
Washougal
Lucas Oil AMA Pro Motocross Championship
Another weekend means another day of Lucas Oil Pro Motocross, this time taking place at the Peterson Cat Washougal National in the stunning setting of the Pacific Northwest. With only four more rounds left, including today, it was critical for guys like Alex and Jeremy Martin, Joey Savatgy, and Eli Tomac to make up ground on class leaders Cooper Webb and Ken Roczen. But did they? Check out the Race Day Feed to find out. If it's just the action from the motos that interests you, start directly below. If you want a rundown of the entire day, including practice reports, start at the bottom of this page and work your way up.
250 Moto One
What a moto! Alex Martin kicked it off with a holeshot with his teammate, Mitchell Harrison, close behind. Harrison surrendered the spot to a charging Joey Savatgy pretty quickly though, and Savatgy immediately went after Martin. The two went at it all moto, putting a huge gap on the field, with Savatgy giving Martin all he could handle, even jumping past him once over a single. Martin scrubbed though and took the lead back and continued to respond every time Savatgy tried to get close enough to make a move. It was like a mirror image of several battles when Savatgy had done the same exact thing to Martin! In the end Martin wound up leading every single lap to get the moto win. Nice rebound after crashing in each moto last week at Spring Creek.
Behind them Cooper Webb had gotten a poor start and was running roughly twelfth. He did a good job of getting through the pack quickly, but by the time he was able to pass Jeremy Martin for third the race was half over and A. Martin and Savatgy were over fifteen seconds ahead. Rounding out the top five at the end were J. Martin and Zach Osborne, although Osborne nearly nipped Martin late in the race. Elsewhere Austin Forkner got an absolutely terrible start, but was able to work his way up to tenth, which would be important later in the day.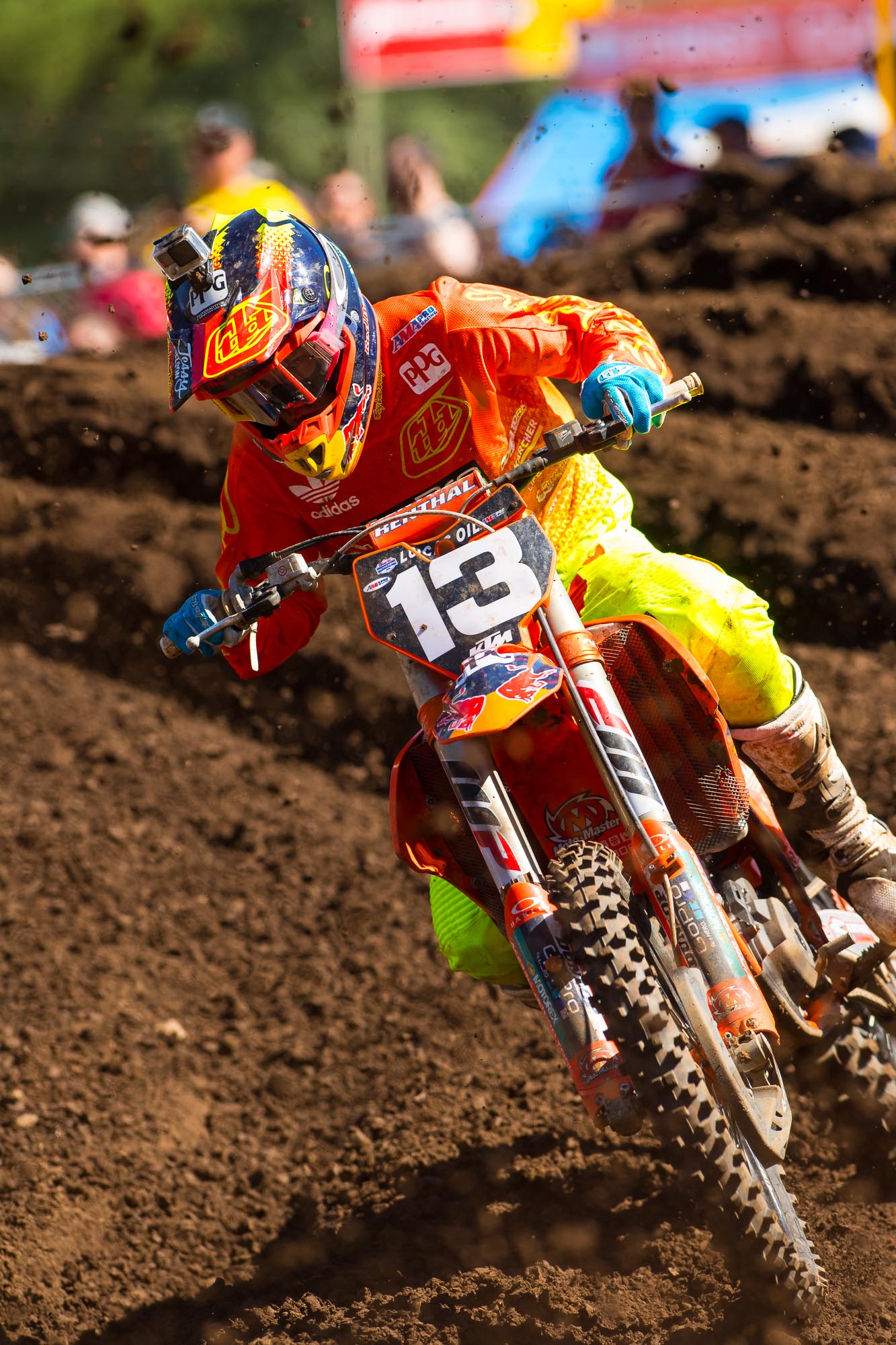 250 Moto Two
Wow! Can the 250 Class get any more interesting? Things got crazy right from the beginning when Cooper Webb ripped a holeshot with Joey Savatgy right behind him. Savatgy proceeded to put a block pass on Webb, but when Webb tried to return the favor both of them ended up going down, which caused a bottleneck in a turn and collected several other riders, including Jeremy Martin, who remounted in dead last. Austin Forkner was the benefactor, and he seized the opportunity by taking off with the lead and riding unchallenged to his first career moto win. Amazingly, his 10-1 scores earned him second overall. Webb was able to rebound to sixth, which handed him third overall, and after the race he and Savatgy had words with each other. We don't know what was said, but they both ended up in the AMA truck because of it.
Alex Martin, meanwhile, was running fourth behind Forkner, Martin Davalos, and Jessy Nelson. Martin charged hard, eventually getting Nelson, and he inherited second when Davalos crashed hard, high-siding badly and launching his body into the crowd. Davalos looked injured at first, but he was eventually able to get up and walk away under his own power. Davalos' teammate, Zach Osborne, had some bad luck too. He was running fifth and inching up on A. Martin when his bike started bogging halfway up Horsepower Hill. He barely made it to the top, and when he did it quit and he pulled over. Initial reports point to some kind of electrical issue. Overall results are below.
450 Moto One
Ken Roczen got the 450 action going by taking the early lead, and at that point the race for the win was over. Just like he's been doing all summer, Roczen checked out and won by a huge margin. Behind him things were slightly more interesting. Christophe Pourcel was running second and was absolutely ripping, holding off Eli Tomac for most of the race. After Tomac finally got by him Pourcel made a mistake over a big single, came off the bike like superman, and smashed into the dirt hard, hitting his bike on the way down. He got up, but his race was done. The other Frenchman, Marvin Musquin, had a good race going too and might have had something for Tomac, but a small crash limited him to third.
One of the best battles on the track was between Andrew Short, Phil Nicoletti, and Benny Bloss for fifth, which became fourth when Pourcel went down. Short held the position for a long time, but eventually slid back to sixth, with Nicoletti taking fourth. James Stewart rode well, spending most of the race around seventh, but it looked like he got a little tired and gave up several spots, finishing ninth. Justin Barcia got a terrible start and was only able to salvage tenth.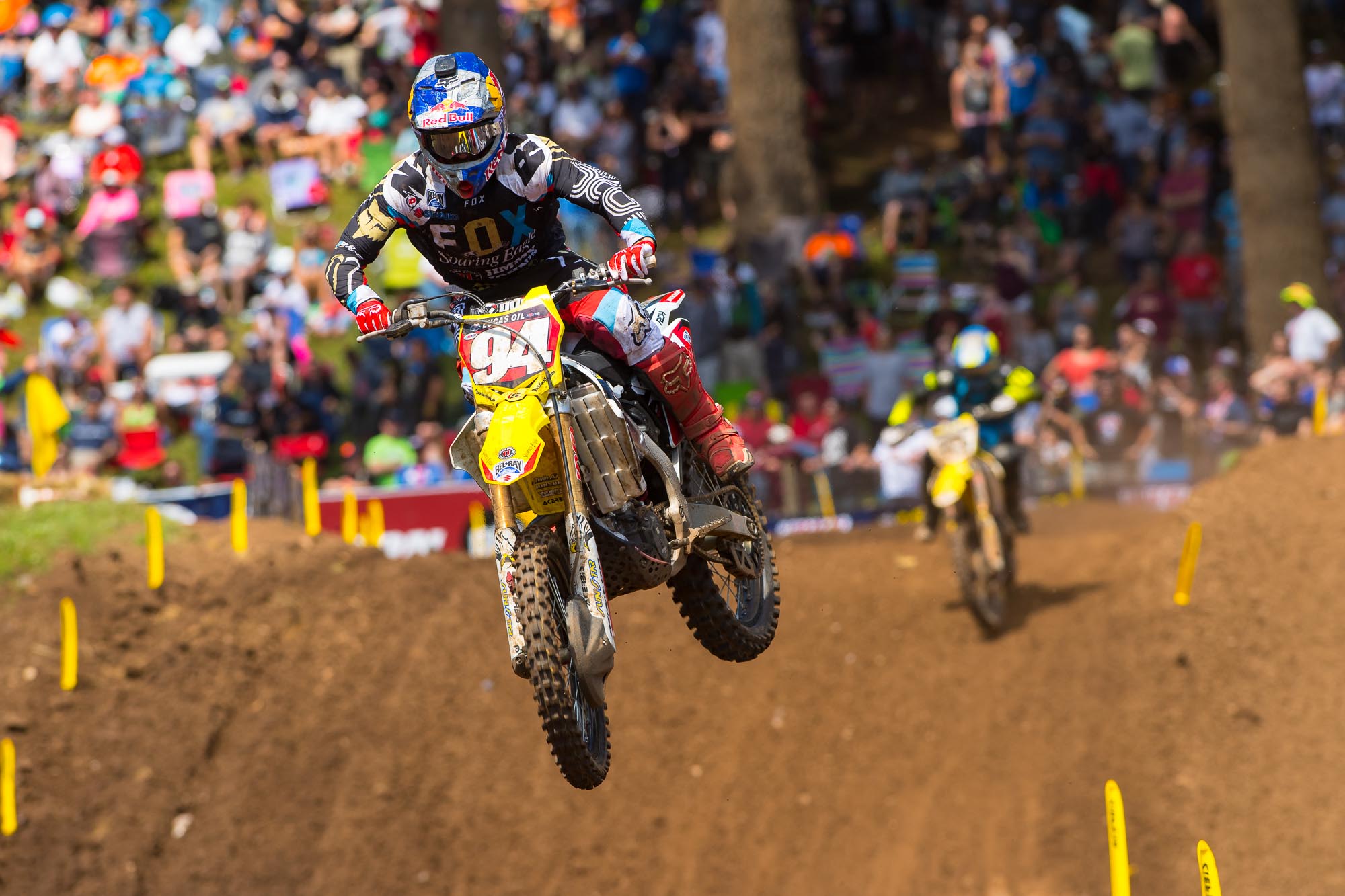 450 Moto Two
Marvin Musquin nailed the holeshot to get this one going, with Ken Roczen quickly took over second, then nearly immediately into first. Behind him Musquin held down second over Eli Tomac and Dean Wilson, but not for long. Tomac pulled an incredible slingshot around the outside of Musquin and rocketed up Horsepower Hill in chase of Roczen. Then Tomac actually caught and passed Roczen, who has looked almost invincible for most of this season. Roczen didn't have much for him either, as Tomac started gapping him almost right away. Roczen wasn't ever able to fire back, and Tomac won the moto by a Roczen-sized margin. The win also handed Tomac his second overall win of the season.
Behind them a fantastic battle was unfolding between Dean Wilson and Justin Barcia for fourth. Barcia was all over Wilson, and they were even side by side several times, but Barcia just couldn't make anything stick until the two went through the whoops just before the finish line. Wilson jumped through them and Barcia skimmed, handing Barcia the spot. Several laps later Weston Peick made his way around Wilson, and eventually Barcia, but Barcia got him back before the checkers came out.
James Stewart pulled out of this one roughly through the second moto, presumably with blisters again. Bad luck for Justin Brayton in this one. He had passed Dean Wilson but made a mistake in the whoops and went over the bars hard and DNF'd. And Speaking of bad luck, Christophe Pourcel overcame his big crash in the first moto and came back strong in the second, battling with Andrew Short and ending up sixth.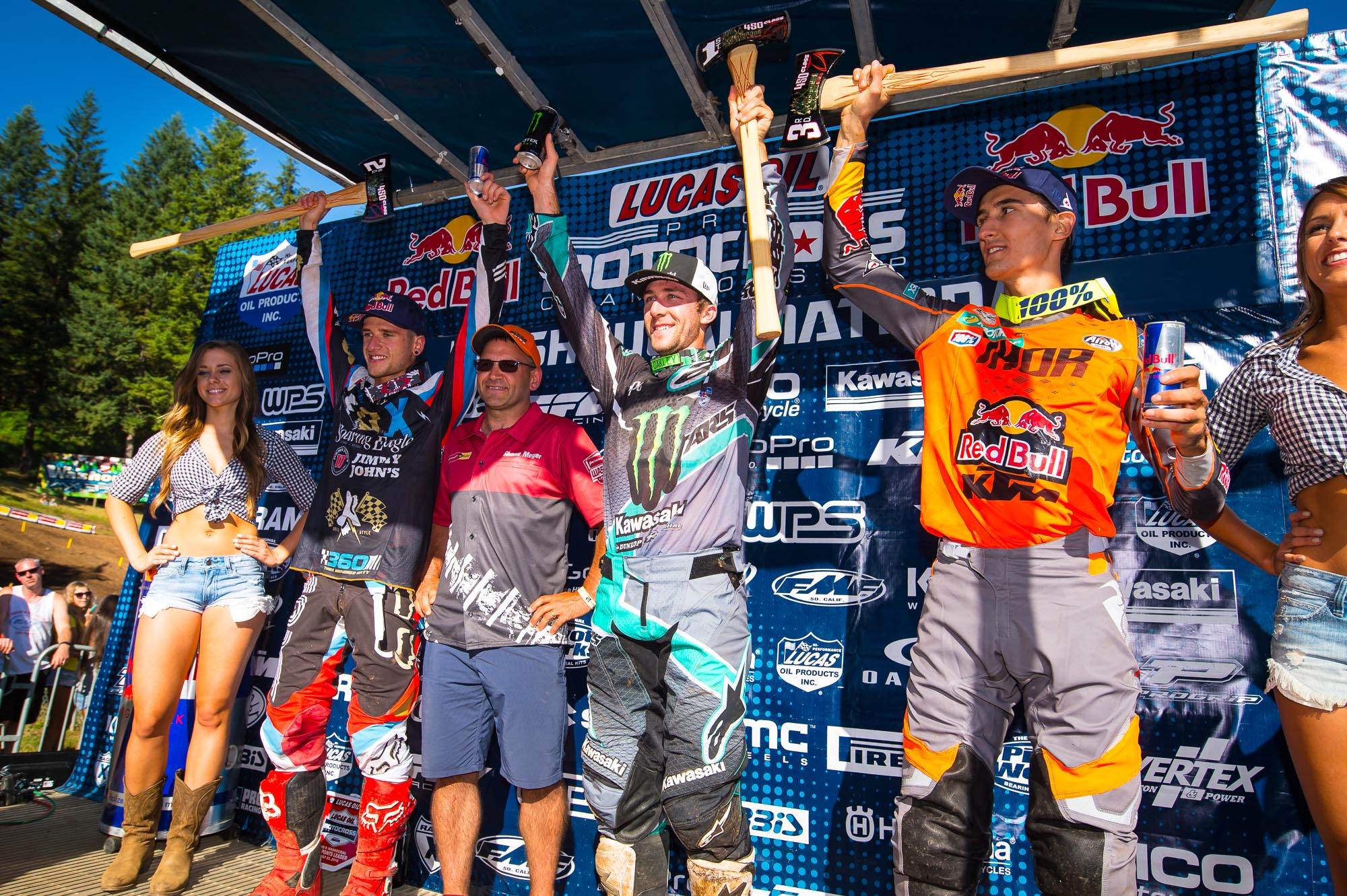 Practice Report
Qualifying has ended here at the Washougal National and not surprisingly, it's the usual suspects up front. In the first session Ken Roczen set a fast lap right away, but a few laps later Eli Tomac busted out a heater of his own, besting Roczen's time by about half a tenth. Nobody really had a chance to beat it after that, as a rider went down hard just after the finish line, prompting yellow flags and a red cross flag in that section for the rest of the qualifier. It wouldn't matter though, as Tomac was fastest again in the final session of the day, uncorking a 2:08.650 to be the day's fastest qualifier. Roczen, who was smoother than a jazz station DJ, was about half a second behind. It's going to be interesting to see whose style works best on today's slick racing surface. Roczen's never won at Washougal (that includes his time aboard a 250 too), and you know that's a streak he'd like to end today.
Third fastest was Marvin Musquin, but that's not surprising—the Frenchman is always fast here! Christophe Pourcel, was close in fourth, with James Stewart rounding out the top five with a 2:10.479.
In the 250 ranks it was Cooper Webb up front in the first session, and when we say up front, we mean way up front. Webb was almost a second-and-a-half faster than Jeremy Martin in second place! The time was so fast that even Webb himself couldn't beat it in the second qualifier. Joey Savatgy was ninth-fastest with a 2:12.009, which couldn't have been encouraging, but he picked it up in the second session to qualify third overall. Nice jobs from Justin Hill (ninth overall), and Jessy Nelson (eleventh overall), who are both coming back today after getting injured early in the season.
Gates will start dropping soon, so check back here frequently for updates on today's racing.
Morning Report
The weather is always a threat here in Washington, and while it's expected to be nice today with a high of 73 degrees, the racers will still be dealing with the effects of rain, as plenty of it came down yesterday, making an already traditionally greasy track soft and ultra-slick. But even so, things should turn out nicely today. All the Friday amateur races were cancelled due to weather, which was a bummer for the amateurs, but the right decision for today's action. The track will still develop plenty of ruts, but it won't get as beat up. Throttle control is going to be key, and we'll see if Roczen can finesse his way to another beat down, or if Tomac's aggressive approach works better for him this week than last.
Elsewhere the Honda Rig is completely empty today. Cole Seely is dealing with a broken pinky, Trey Canard is out with a concussion suffered during the week, and Justin Bogle, who rides for GEICO Honda but pits out of the factory semi, is still out after crashing hard at Southwick. Jordon Smith is also out, but will probably return after the break. For a complete list of who's in and who's out for today, check out our Injury Report. The bikes are rolling out for practice now, so check back soon for a report on qualifying.