Live Streaming Schedule for Loretta Lynn's Announced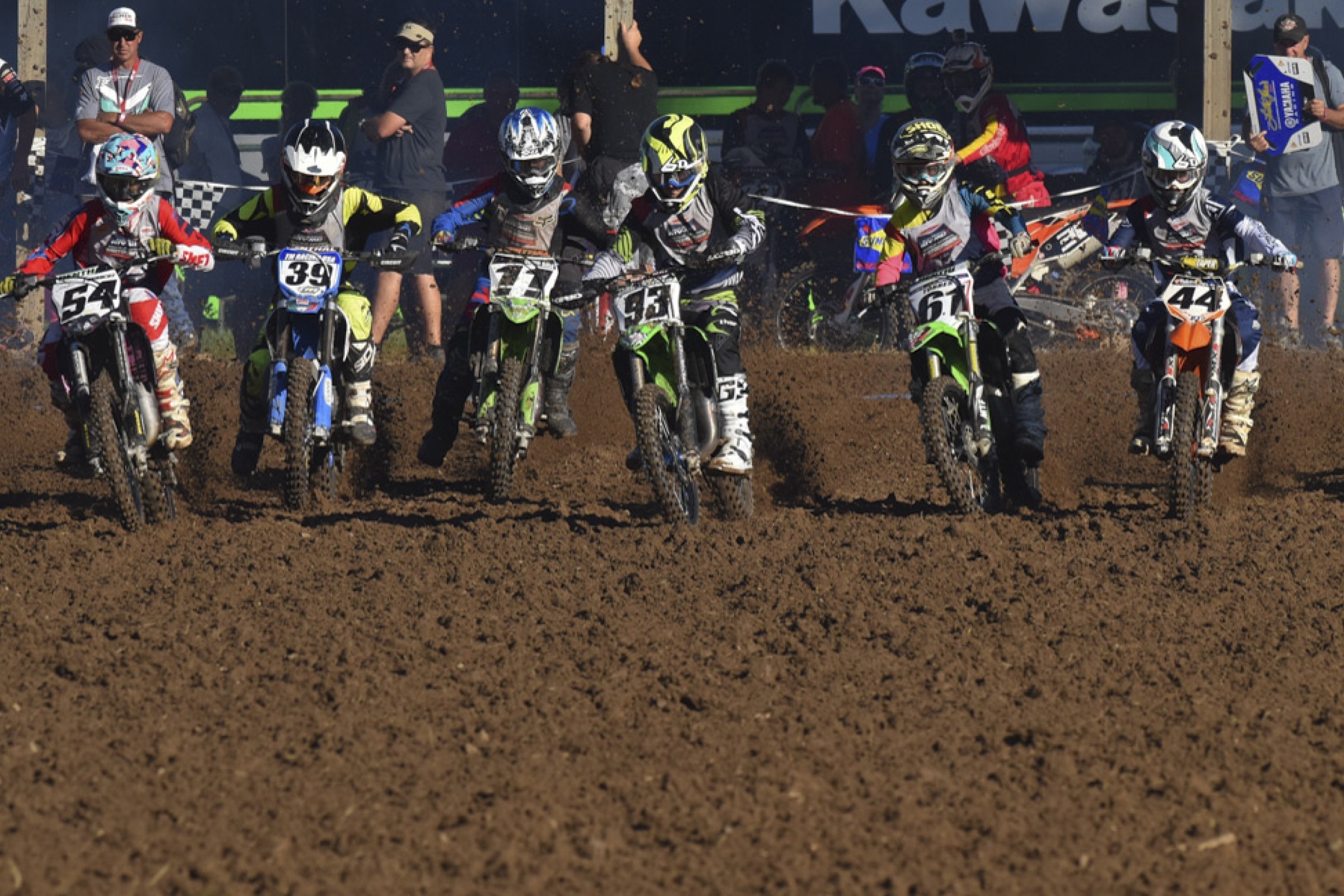 Hurricane Mills, TN
Rocky Mountain ATV/MC AMA Amateur National Motocross Championship (Loretta Lynn's)
Amateur National Motocross Championship
MORGANTOWN, W.Va.- MX Sports is pleased to announce the extensive Racer TV live streaming action returning for the 35th Annual AMA Amateur National Motocross Championship presented by AMSOIL. With over 40 hours of live racing coverage straight from the coveted Loretta Lynn Ranch in Hurricane Mills, Tennessee, race fans and family members can watch their favorite amateur motocross racers compete in at least one moto between Tuesday, August 2, and Saturday, August 6.
The 85 (9-11) Limited class kicks off the week's live racing coverage on Tuesday at 9 a.m. CST/10 a.m. EST, followed by the 250 C Jr. (12-16), 250 B and then the Open Pro Sport class, which features some of the biggest names of the sport like Sean Cantrell, Bradley Taft, Michael Byrne, Ryan Surratt and Sean Lipanovich. Tuesday's schedule boasts a total of eight hours of live coverage on RacerTV.com, including moto one of the Senior (45+), Schoolboy 1 (12-16), 65 (10-11) Limited, 65 (7-9) Limited, 450 C, Super Mini 1 (12-15), 450 B Limited, Women's All-Star (16+) and Women's (14+), 125 (12-16) B/C, 250 A and Masters (50+).
On Wednesday, the Senior (40+) begins the day at 9:00 a.m. CST/10:00 a.m. EST, followed by 250 C Limited, Schoolboy 2 (12-16) and 450 B. Racer TV will also follow the youngest athletes in the sport, with riders as young as four years old. All four 51cc classes will be shown live on Wednesday following the Super Mini 2 (13-16) division. Coverage will pick back up after the intermission with 250 C, College (16-24), Junior 25+ and Mini Sr. 2 (12-14). Be sure to tune-in to the ultra-competitive 250 B division which will showcase some intense racing between Mitchell Falk, Maxwell Markolf, Jake Masterpool and Garrett Marchbanks.
Thursday brings eight hours of additional live racing action, including even more coverage of the youth classes, as well as 450 B Limited, 250 A and Open Pro Sport. For the first time ever Racer TV will be live streaming the Yamaha/Moto Tees Talent Show where a different level of talent will be unveiled for viewers.
Friday's schedule of live programming will begin the third and final set of motos, beginning with the Junior 25+ division. Following the Junior 25+ class will be Mini Sr. 2 (12-14), 85 (9-11) Limited, 250 C Jr. (12-16) Limited, 250 A and all four 51cc groups. The day concludes with the Women (16+) All-Star and Women (14+) divisions which includes top Women's Professional Motocross (WMX) talent such as Kylie Fasnacht, Marissa Markelon, Kaitlyn Morrow, Shelby Rolen and class rookie Hannah Hodges.
Saturday picks up with the remainder of the final set of National Championship-clinching motos, and kicks off with 125 (12-16) B/C, Masters 50+, 85 (9-12), followed by 250 B Limited, Vet 30+, Girls Sr. (12-16) and Girls Jr. (9-13), Mini Sr. 1 (12-13) 250 All-Star A/B (14+) and concludes with the final moto of the 2016 Amateur National - moto three of the 250 C class.
Once the racing action subsides, Racer TV will keep the cameras rolling with the Rocky Mountain ATV/MC Awards Ceremony where viewers will be able to watch the crowning of the 37 National Champions.
In addition to the live racing coverage, Racer TV will feature a behind-the-scenes look at some of the National Championship contenders and their racing programs, as well as exclusive content that can only be seen through the lens of Racer TV. Two cable television highlight shows featuring the event will air on NBC Sports Network on Sunday, October 9, at 4:30 p.m. and Sunday, October 16, at 5:30 p.m. EST.
The 2016 Rocky Mountain ATV/MC AMA Amateur National Motocross Championship presented by AMSOIL will take place August 1-6 at the Loretta Lynn Ranch in Hurricane Mills, Tennessee.
For additional information, visit the official website at www.mxsports.com or call (304) 284-0101. Also follow the official Facebook, Twitter and Instagram accounts for exclusive content and to catch the latest news.
See below to view the full Racer TV live broadcast schedule.
Tuesday, August 2
| | |
| --- | --- |
| 85 (9-11) Limited | 9:00 a.m. |
| 250 C Jr. (12-16) Limited | 9:30 a.m. |
| 250 B | 10:00 a.m. |
| Open Pro Sport | 10:30 a.m. |
| Senior 45+ | 11:00 a.m. |
| Schoolboy 1 (12-16) B/C | 11:30 a.m. |
| 65 (10-11) Limited | 12:00 p.m. |
| 65 (7-9) Limited | 12:30 p.m. |
| Intermission | |
| 450 C | 1:30 p.m. |
| Super Mini 1 (12-15) | 2:00 p.m. |
| 450 B Limited | 2:30 p.m. |
| Women (16+) All-Star & Women (14+) | 3:00 p.m. |
| 125 (12-16) B/C | 3:30 p.m. |
| 250 A | 4:00 p.m. |
| Masters 50+ | 4:30 p.m. |
Wednesday, August 3
| | |
| --- | --- |
| Senior (40+) | 9:00 a.m. |
| 250 C Limited | 9:30 a.m. |
| Schoolboy 2 (12-16) | 10:00 a.m. |
| 450 B | 10:30 a.m. |
| Super Mini 2 (13-16) | 11:00 a.m. |
| 51 (7-8) Limited | 11:30 a.m. |
| 51 (4-6) Limited | 12:00 p.m. |
| 51 (4-6) Special Limited & 51 (4-6) Shaft Drive Limited | 12:30 p.m. |
| Intermission | |
| 250 C | 1:30 p.m. |
| College (16-24) | 2:00 p.m. |
| Junior 25+ | 2:30 p.m. |
| Mini Sr. 2 (12-14) | 3:00 p.m. |
| 85 (9-11) Limited | 3:30 p.m. |
| 250 B | 4:00 p.m. |
| 250 C Jr. (12-16) Limited | 4:30 p.m. |
Thursday, August 4
| | |
| --- | --- |
| 450 B Limited | 9:00 a.m. |
| Women (16+) All-Star and Women (14+) | 9:30 a.m. |
| 125 (12-16) B/C | 10:00 a.m. |
| 250 A | 10:30 a.m. |
| 51 (7-8) Limited | 11:00 a.m. |
| 51 (4-6) Limited | 11:30 a.m. |
| 51 (4-6) Special Limited & 51 (4-6) Shaft Drive Limited | 12:00 p.m. |
| Intermission | |
| Masters 50+ | 1:00 p.m. |
| 85 (9-12) | 1:30 p.m. |
| 250 B Limited | 2:00 p.m. |
| Vet 30+ | 2:30 p.m. |
| Girls Sr. (12-16) & Girls Jr. (9-13) | 3:00 p.m. |
| Mini Sr. 1 (12-13) | 3:30 p.m. |
| Open Pro Sport | 4:00 p.m. |
| 65 (7-11) | 4:30 p.m. |
Friday, August 5
| | |
| --- | --- |
| Junior 25+ | 9:00 a.m. |
| Mini Sr. 2 (12-14) | 9:30 a.m. |
| 85 (9-11) Limited | 10:00 a.m. |
| 250 C Jr. (12-16) Limited | 10:30 a.m. |
| 250 A | 11:00 a.m. |
| 51 (7-8) Limited | 11:30 a.m. |
| 51 (4-6) Limited | 12:00 p.m. |
| 51 (4-6) Special Limited & 51 (4-6) Shaft Drive Limited | 12:30 p.m. |
| Intermission | |
| Senior 45+ | 1:30 p.m. |
| Schoolboy 1 (12-16) B/C | 2:00 p.m. |
| 65 (10-11) Limited | 2:30 p.m. |
| 65 (7-9) Limited | 3:00 p.m. |
| 250 B | 3:30 p.m. |
| Open Pro Sport | 4:00 p.m. |
| 450 C | 4:30 p.m. |
| Super Mini 1 (12-15) | 5:00 p.m. |
| 450 B Limited | 5:30 p.m. |
| Women (16+) All-Star and Women (14+) | 6:00 p.m. |
Saturday, August 6
| | |
| --- | --- |
| 125 (12-16) B/C | 7:30 a.m. |
| Masters 50+ | 8:00 a.m. |
| 85 (9-12) | 8:30 a.m. |
| 250 B Limited | 9:00 a.m. |
| Vet 30+ | 9:30 a.m. |
| Girls Sr. (12-16) & Girls Jr. (9-13) | 10:00 a.m. |
| Mini Sr. 1 (12-13) | 10:30 a.m. |
| 250 All-Star A/B (14+) | 11:00 a.m. |
| 65 (7-11) | 11:30 a.m. |
| Senior 40+ | 12:00 p.m. |
| 250 C Limited | 12:30 p.m. |
| Schoolboy 2 (13-16) B/C | 1:30 p.m. |
| 450 B | 2:00 p.m. |
| Super Mini 2 (13-16) | 2:30 p.m. |
| 250 C | 3:00 p.m. |