Washougal, WA
Washougal
Lucas Oil AMA Pro Motocross Championship
Behind every successful athlete is a solid foundation of support. Whether it was his mother, father, brother, or his wife, Britney, this has been the key to Kyle Chisholm's career.
Recently, Kyle and his wife welcomed a new addition to their family with their daughter, Haven. With his new daughter on board Kyle has a new outlook on life and he's cherishing the moment a lot more these days.
When you're looking through the results this summer and you're seeing Chisholm finishing outside of the top twenty, you've got to realize there is more to the story. He injured his shoulder terribly in supercross and has been trying to rebuild ever since. Instead of sitting out of the Lucas Oil Pro Motocross Championship until the later rounds, Chisholm decided to race his way into shape. He had a goal of being close to the top ten around the halfway point, and he accomplished that at Southwick and Spring Creek.
With this in mind we decided to call Chiz up on Monday to get an update on his newfound dad-life and how his racing is coming along. We ended the conversation realizing that time goes by too quickly and that you have to cherish the moment while you have it.
Racer X: What's new, Chiz?
Kyle Chisholm: Oh, nothing much. I'm just doing some things around the house. This is my day off this week, so I'm getting stuff done that I wouldn't normally get done. I'm going to do that race up near Portland on Thursday before Washougal. It's the one that I did last year, so normally I take Wednesday off. I have a short week now.
Oh, yeah that's a big money race. Before we talk about racing I've got to ask you an important question, how's dad life?
It's good! She's doing well and she's been sleeping pretty well. Of course I want to go racing, but I get bummed every weekend when I have to leave. I miss them, but it's all good. She came to the first few races, but the nationals are just so hot. It's just hard with her being so little still. Next year when she's a little older it will be a little easier. She travels well and she's always happy.
It seems like your time off in supercross was almost meant to be, since you had a little one on the way.
It was maybe a little bit of a blessing in disguise, but honestly in a perfect world I would choose not to be hurt. It was hard because I was home more obviously, but at the same time I wasn't. I've mentioned this to you before, but people don't have a view of what it's like to be hurt. I would wake up in the morning and go for a bike ride or do a workout, and then I would drive 45 minutes to therapy, be there for two hours, come home, and then hit up the gym again for two hours. After that I would come home, eat dinner, and then do it all over again the next day. I'm gone all day, so its not like I'm sitting at home all day. It was also tough because I couldn't hold the baby how I wanted to! I was only five weeks off of surgery when she was born, so it wasn't that easy to hold her. That part of it was kind of a bummer.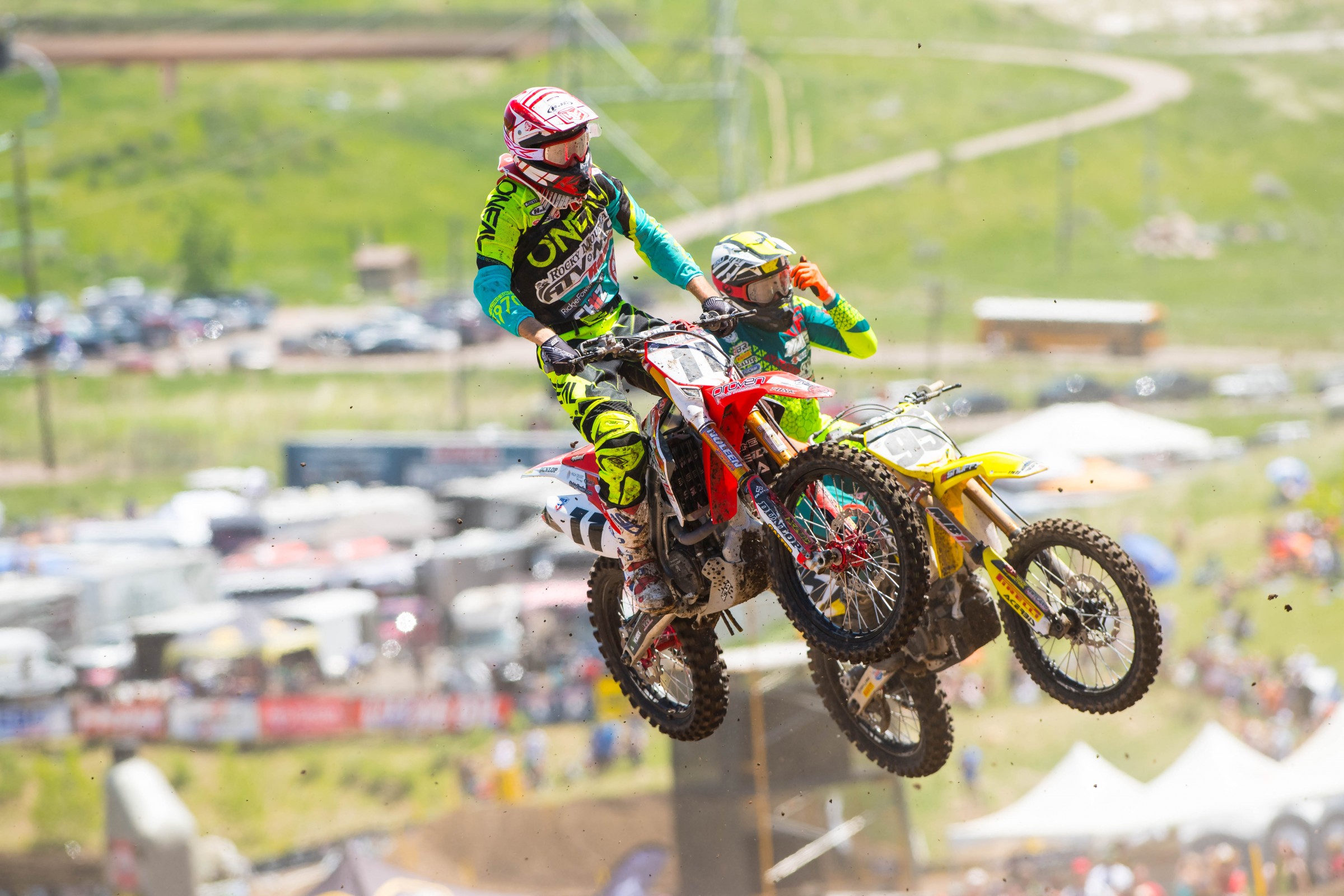 That had to be tough for you, but I'm glad you can hold her now! These past two weekends you've been getting back to where you belong though.
Yeah, it's a little better, not totally where I want to be, but it's getting better. I've been saying it since the beginning, I'm sure I've told you this, but by the halfway point was where I was going to be closer to normal. Southwick was the start of the second half and I got a thirteenth there and a fourteenth this past weekend. I do want to get a little closer to the top ten and do a bit better. Honestly, even if I don't finish better I know that I can ride a bit better than I have been the past couple of weeks. I'm riding better during the week. It's just about getting my confidence back and bringing it when it matters. I'll just keep working at it. Hopefully I can get another good finish at Washougal this weekend. We have three weeks until the next race and I'm hoping for a top ten in the final three races.
You did tell me the plan about racing into shape this season. It's better to have you out there rather than come back later and not getting the seat time.
It was hard. At the beginning of the outdoor season I was like, do I race? I think I rode a total of five times before Hangtown from when I got released. At the time I was only four months removed from my surgery. I did a pretty good number on my shoulder, so it wasn't like I just broke something minor. I did a little bit of everything to it. I shattered my humorous, then did the rotator cuff, and tore my bicep tendon. I just messed a bunch of stuff up and I needed time to get better. Even when I got released the doctors told me that it would take up to six months to be 100 percent. I'm still doing therapy today to get my range of motion and strength back.
It was tough to be out there racing with guys I wouldn't normally be battling with and those who I didn't even know who they were. I don't mean any disrespect to them but I wasn't finishing where I normally would. There were definitely weekends where I felt that I shouldn't even be out there. I toughed it out and did what I could. I built it slowly. Now I'm back to where I should be and I'm building towards the top ten where I should be.
On the flip side of that I'm good friends with Dean Wilson. If I remember right he got hurt a week after I did in supercross. He started riding a week after I started riding. We essentially had the same amount of downtime and his first race was this past week and my first was at Hangtown. That just shows you the two ways you could go about it.
So, how was racing it into shape?
It was literally just my shoulder holding me back. Everything else physically and mentally is fine. I've been training and riding hard and I feel great. I felt like I wanted to go finish where I believe I can, but my shoulder was too weak. I think most guys wouldn't have done what I did. In this sport no one cares if you're hurt or what your reason is. People can look at it and be like, "Kyle is sucking this year," but in reality I'm choosing to be out there. In the long run it will all pay off and it's going all to plan.
"I'd like to do this at least five more years. When you're 22 years old you don't appreciate it as much and you kind of take it for granted."
It just always seems like you can never get a simple injury when it happens. It always has to be a major rebuild.
I was joking with Britney when I got hurt: It's not that you want to get hurt ever, but it feels like every injury I have is a huge process. It's not like, 'I broke my hand and I'll be out for four weeks.' For me I have to rebuild and I'll be off of the bike for five months. It's hard. I definitely have had some good ones that have taken me a while to come back. I'm just trying to do it right so I'm healthier in the long run and I can actually heal. I'm still a little weak and not totally where I want to be.
So, this is a pretty big money race on Thursday isn't it?
Yeah, it's good. I won the heat race and the main event last year and I think I made a little over three grand for it. I made more money there than I did at Washougal and I think I got tenth or eleventh overall. I'll just use this as more practice and to try to keep building a little better each day. If I can make a little extra money then that's always a bonus.
I know you always stay busy and I know everybody for the most part is, but you seriously don't sit still, ever.
I'm pretty laid back for the most part, but sometimes it's to a fault. Britney is always like why can't we sit down and relax? It's not that I don't do that, but on my day off I'm like I want to do this, this, and this? I like to golf a lot and normally I would do that once a week even during the season. I haven't been able to do that obviously because of this injury with my shoulder. I like to be busy. I think that is especially important when you're hurt too. I literally lived in the gym everyday because I wanted to get better. I tried to replace the time that I would be riding with a different type of work. That way when I can ride it's an easy transition.
With that being said, have you been doing anything new lately to stay busy?
Not really. Now any free time I have is spent with my daughter and Britney obviously. She is awesome and it gives you a whole new perspective on life. Your priorities change. It's been fun sitting down to play with some of her toys with her and read her a book. She's only four and a half months, but she's recognizing things and laughing. We haven't gotten a momma or dada or anything like that out of her, but she is doing baby talk. When I'm not riding, traveling, or training I'm spending time with her.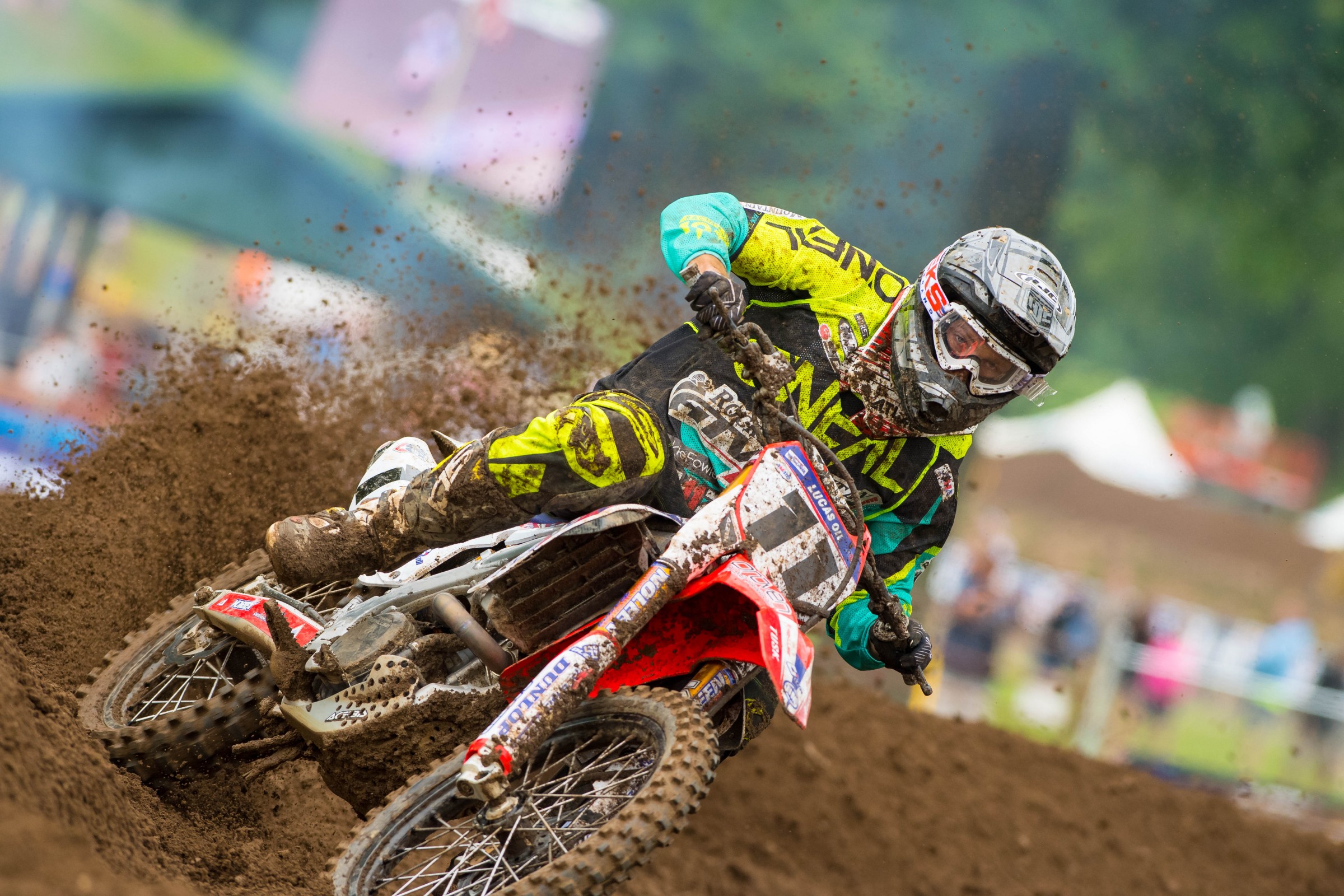 Well, pretty soon she will say momma and dada, and then before you know it she will be going away to college.
I know it! Life goes too fast. I normally do all of my training at Chad Reed's house in Florida. Obviously this is his first year that he's not doing outdoors. He's been in Europe and now he's in Australia for about a month. I haven't been riding there a whole lot. Michael Byrne is doing Loretta's this year so I've been riding with him a little bit. I've actually been riding with Kenny Roczen, Adam Cianciarulo, and RJ Hampshire over at their track during the week. It's funny because when I ride with Chad I've always been the younger guy and I'm 28 years old now. Then I go ride with Kenny and those other guys and I'm the old guy.
I was talking with RJ telling him how it just seems like yesterday that I was turning pro. I've been a professional for almost twelve years now. I've just been trying to enjoy it because it does go by quick.
You just made me all depressed with that spiel.
[Laughs] I'd like to do this at least five more years. When you're 22 years old you don't appreciate it as much and you kind of take it for granted. Being hurt makes you think a lot and unfortunately I've had a little too much of that in my career. I want to try to enjoy it a little bit more now. Having a daughter mixed in with it helps too. It puts things into perspective a bit more. It's a new chapter of life.
It's always a pleasure to catch up with you, Chiz. Thanks for taking the time to talk to me today.
No problem, Troy. I'll talk to you soon!