The Wick 338
Southwick

,

MA
Southwick
Lucas Oil AMA Pro Motocross Championship
Ken Roczen | Soaring Eagle/Jimmy John's/RCH Suzuki | 2-2 for second overall in 450MX
Racer X: Congratulations on your day. Obviously you wanted to keep that win streak going. Mentally the 450 B's went out there, had that smooth track. A lot of those guys were in the mix. Did that affect you at all maybe having a guy who may not be as experienced as you lining up very close to you?
Ken Roczen: No, it didn't. Until I came to the line I saw a bunch of people that were better in our pack then they line up in like 11th, like Marvin for example. And I'm like, what the hell? But I was in third and it was Eli [Tomac] and [Justin] Barcia. I was lined up for third so that's where I was in my practice too, but I think actually behind me there was somebody from B practice. The track obviously is smooth for those guys and then it's a smart thing for them to do. Got to go out there quick and get your fast lap time.
Twenty-four seconds I think that Eli finished ahead in the first one. The second one it came down to the last lap. You drew up ever so close and then you sort of tapered off there at the end. Talk us through that.
I struggled today pretty bad. I left my setting [didn't change his settings from the other races], obviously, and it wasn't ideal. It works on the tracks we have been at, and it works pretty good, but it actually got more sandy here and the base is just so hard. Obviously I'm on air forks so that's a little bit of a different story. But, no excuses there. I struggled really bad in the first moto and we went back and made some changes. It was better for the second one, but it wasn't ideal. I kind of felt a little uncomfortable all day out there, but it's trying to minimize the mistakes and just do the best I can even though it's not ideal. So second moto we had a good battle going on. We were kind of yo-yoing there for a while. He had certain spots he was faster in. I was closing in on other spots. But we weren't ever really close enough to where I could have maybe gone up the inside, besides when he passed me we were close for a couple laps. But it was a tough one out there. You can't really compare those with the European tracks. We have some pretty tight turns and a very hard base, which makes it kind of tough, and on top of that I thought the track was pretty high speed in certain parts. Obviously you get bumps and they're not really long rollers and they get a little choppy. So it's definitely a unique track.
A couple weeks ago you were talking about you were thinking more and more about that problem with the fork at Glen Helen and it was kind of screwing up the perfect season. Does it kind of take the pressure off now?
Yeah, obviously mentally if you keep winning then that's a thing out there, and obviously I'm going to go out there and [try to] win, but that's a hard thing to do with how deep the field is, even though there's a couple of guys hurt, to really put together a perfect season. Today it wasn't enough by any means. I'm going to come back next week with the same mentality—coming in and getting two motos and I think that's what we have to do to be able to just keep enough distance in-between first and second.
Can you talk a bit about the lappers today? To me it just looked like there was maybe more of them and they were sooner.
There's certain parts of the track that are pretty tight. Most of them got out of the way okay. There were a couple of them it was a little bit tough, but other than that it was actually fine. Also actually between the first and second moto I actually switched to a legit paddle tire. Because it has such a hard base, it's kind of like a self-cut one so it definitely has more forward pull coming out of the deeper stuff. But I went with a legit paddle tire, which actually helped me out on the start a little bit, and exiting the turns it helped me a lot too.
Can you take me through that last part of the second moto? Eli went down and then you came around him briefly and then he got back around you. Can you just go through the process of that?
Yeah, he had a quick little tip-over and I had to go around him. It's funny because you see him down in the turn, you kind of had to tip-toe around it because it is so slick and stuff. He got up and had a straight shot so he was really close on me and could just kind of hold it on a little longer coming into the turn and he got me right back.
Can you elaborate a little bit on the changes between motos? I think on the podium down there you mentioned the forks or something was going on?
Yeah, we stiffened up my forks a little bit. All day I just didn't have the comfort that I wanted. It was batter, and also in a combination with the tire [change] too. It helped me a lot off the start. Some of the berms, sometimes they blew out, but it was actually sandy enough to ride on a pretty aggressive tire I think. –Chase Stallo
Justin Barcia | AutoTrader.com/Monster Energy/JGR Yamaha | 6-3 for third overall in 450MX
Racer X: Tell us what happened at the start of moto one? I saw some replays but didn't see exactly what happened or how you got tied into it.
Justin Barcia: Yeah, unfortunately on the start of the first one I just got pinched off a little and then a couple guys came over and I lost my front end when they came over. So I had my work cut out for me for sure. It was challenging. Fighting through that pack was tough. There were a lot of guys [down]. This track isn't like it used to be where there are two lines everywhere. It's a little bit more one-lined. So it was pretty hard to pass but I think I did a pretty good job coming from outside the top 20 to sixth. And I closed in on other guys, I just ran out of time. Unfortunately I had to use a lot of energy that first moto and the second moto left me a little dry.
Looking at the season so far, coming on strong last weekend was good for you, this weekend was good for you with the third overall. Are you starting to hit that stride that we saw last year in 2015 where in the second half of the season you sort of lite it up and pulled holeshots and had great finishes?
I sure hope so. That's definitely ideal. I'd like to come on strong right now, but I've felt like I've been riding pretty decently here, just been searching for the right setup. Me and the team have been working super hard to get really comfortable with me and the bike. I just feel like I was a little soft on suspension for a while. That was more me and a comfort issue. I just kind of needed to get over that a little bit. We needed to find the right setting. I feel like today showed that we had a good bike. I felt good. I turned some really fast lap times the first moto and in practice I was the fastest. I haven't been like that for a while, so I think this weekend's kind of like a turning point a little bit. I hope to bring that to Millville next week. I like that track and I think it's similar dirt to this place a little bit. It gets more ruts. It should be good.
Does this track just suit your style or is it past experience here that's helping?
I think the track suits my style well. It's a lot different than it used to be. I don't even consider it really like the same track anymore because it's so much different. Back in the day I could just remember it being super moved out. And I'm sure all the guys here have seen that before when they were coming here five years ago. It was pretty brutal. And it was brutal today but in a different way. It's got a firm base and it gets a lot of square-edge, choppy bumps, high speed. But I did enjoy it a lot. I really love this place and I love the area up here. I had a good time. It's nice to have that fake cushion because I do like to hammer the throttle pretty hard.
After you guys made a change to the front end a race or so ago, how much difference did that make for you?
Yeah, it's been a few races now where we changed the forks a little bit. It's been so foreign to us because we haven't run that fork in a while. So we've just been kind of building up to a stiffer setting. I like the super soft setting. It was super comfortable but for racing it just wasn't the right setting. So I think we've been making a lot of progress on the bike. Unfortunately it's taken a while to do. I would have obviously liked to find the right setting and ran away, but we've been working on it. It hasn't been an easy season, that's for sure.
First podium I believe of the season for the JGR guys. What was the team atmosphere like when you got back to the trailer?
Everyone's definitely happy. We keep it pretty level. Motocross can be like a roller coaster, so we were definitely happy. Third place isn't really what we want. It's way better than what we've been struggling with. Obviously the top step is what we want and I think the team and me are capable of that. It's just taking a while to get there. I feel like today if I wouldn't have went down on the start maybe things would have been a little different. Who knows? But all in all everyone's very happy. We were happy with the bike. We feel we made a lot of progress. I felt pretty good today. I just wish I could have saved a little energy for the second moto. I just went super deep the first moto. And I had no choice; I had to. But the second moto I was just kind of a little flat. But all in all I think if I would have gotten better starts today maybe I would have been better off. But it's all good.
Do you feel like you've got a big weight lifted off your shoulders now finally getting the first one of the season?
I really haven't felt that crazy of pressure on my shoulders because I feel like my speed's been really good. We've just been off like that much. It's just the littlest things. It definitely feels great to be on the podium. I wasn't like crying or nothing, like "Oh, yeah, this is amazing!" but I was super happy to be up there. I wish I could be up there every single weekend. Hopefully one day it will be like that, and it has in the past but just right now it's been a little challenging. So yeah, I'm super happy to be up here and very fortunate for what I'm given.
How was the prep this week for the sand track? Did you guys go up to Club MX?
I did a school up here this week at this place called Winchester I grew up racing at. I didn't ride too much, I just kind of chilled out and talked. There was like 31 kids there I was teaching for two days. It was very new to me. I've never really taught that many kids. I've worked with pros before at my house and stuff but I think maybe telling these kids what to do maybe put some ideas back in my head a little bit. Maybe that's why I rode a little better this weekend.
Could this be the spark you needed, kind of similar to Budds Creek last year?
I should hope this could be the little spark. I was very, very happy to qualify first. I felt super good. I laid some good laps. I was like, all right, I know I've got the speed now, just need to put a few things together. I feel like my bike's starting to come around. I feel pretty good. I've been working super hard so hopefully we can stay up on this podium more and more.
It seems like the last, I would say even back to Muddy Creek, it's slowly coming around. Is it just the fork change? What's been the big difference for you?
The forks have been the biggest change for sure. It took us a while to find that right setting and then I did a little bit of gearing change about two weekends ago to smooth it out a little bit, and a little stuff with the engine. But we haven't done anything super crazy and our bike's really not that much different than last year's setting. So I've kind of been scratching my head a little bit, and I'm sure everyone has. But luckily it's better late than never I guess. Hopefully we can get a few wins by the end of the year. That'd be great.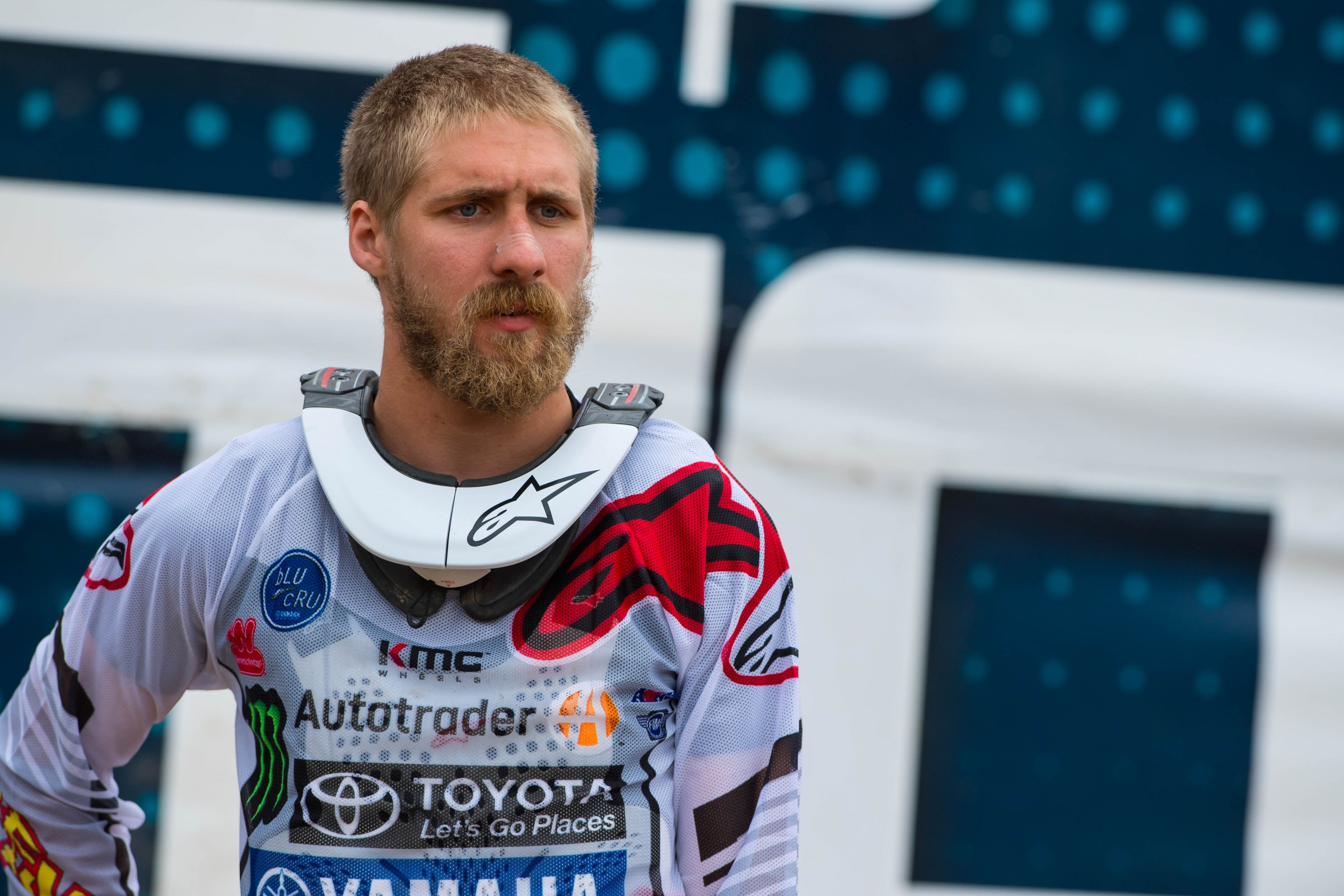 Can you take me through the pass on Musquin in the second moto?
Actually [video shooter] Matt Wozney just showed me. I haven't seen it. It's a tough situation. I feel like it was for the most part a pretty good pass. I made a lot of passes there today because you had to go outside and square that slick stuff up and Marvin went outside and I brake checked him up a little bit. He did check up a little. I'm not sure, maybe he could have checked up more and not went down, but unfortunately he did go down. It sucks. It's a racing incident. I felt like I had to make that pass and go. I was behind him eating roost for a while and I was ready to do it. I feel like it was a super aggressive pass but unfortunately he went down. I like Marvin and Roger [DeCoster] and all the guys over there. I get along with them well, so hopefully no hard feelings.
And did you race up here much as a kid, as an amateur?
Yeah, I used to race up here a little bit. I grew up with Ziggy from Factory Connection so he used to take me from a few races up to his house and we'd ride a ton of backyard local tracks up here. We got to ride Southwick every once in a while. I think for me I just always enjoyed the sand, hanging off the back and just busting berms. That's kind of my thing, I guess.
That's your style, right? That's what fits you the best?
Yeah, I think so. And I've always enjoyed racing here. It's unfortunate that we don't have any more sand tracks because I do enjoy kind of hanging off the back a little. On a 250 I could do that on our tracks, but on the 450 you have to respect that bike a little bit because it's fast.