Buchanan, MI
RedBud
Lucas Oil AMA Pro Motocross Championship
For the first time in his career, Cooper Webb will take the red plate into a round of Lucas Oil Pro Motocross. The two-time 250SX West Region Champion is starting to heat up after a wrist injury slowed him early in the season. A first career 1-1, and a crash in the second moto from former points leader Joey Savatgy, have given Webb a eleven point lead heading into Southwick next weekend. He spoke with the media at the post-race press conference.
Racer X: Take us through your day.
Cooper Webb: The start of the day went well. I was able to qualify [well], I think I was fifth. So that was a good starting base. And then the first moto I got a really good start and had a really good battle with Austin Forkner the first couple of corners and got in the lead, which I haven't done in a long time, was lead by the first lap. So the first moto was good. I rode a little tight after like I said not leading like that but it was good to kind of get that monkey off my back. I haven't won a first moto in a long time so that was nice and it gave me a lot of confidence for the second moto. Made some bike changes and I think they definitely helped a little bit more towards that second moto. The second moto was just an all-out dog fight between the Martin brothers [Alex and Jeremy] and Zach [Osborne], and Joey [Savatgy] was up there before he fell. It turned into a really good race. It's unfortunate Jeremy went down, and so did Joey. I just put my head down and really battled for the win. I knew if I could win the points would be close. I didn't see him go down the second time but the first time I saw him go down. So I just put my head down and never gave up and it ended up working out.
I've never looked at you and said that you lacked confidence in any way. You've always had confidence. Last week the overall, did that add anything to you or was it just something you needed personally to get off your chest here in 2016?
It was a monkey off the back for sure. Usually I'm not one that lacks confidence, and I don't lack confidence but I think it's different when you're up there every weekend and you win here and there but it's not like you're winning consistently. You don't feel like you can win but until you really do it and kind of make a statement you don't feel like you belong. So it was nice to get that one off the back last weekend and actually be the fastest guy. I was yet to do that early on in the season. Sure, I would get decent starts or, I think I won a moto, or I was on the podium but I was never the fastest guy. Now I feel like I'm to that standard.
You lined up all the way on the inside. You had that hard patch right out in front of it but you also had a pretty good chance of getting pinched out. Was that kind of a risky spot or a good spot?
I would say it was definitely risky. It added that pressure of having to pull the start, which I did both times. The second moto Joey kind of pinched us off but it was still a good start for me. If I'm in the top five I'm happy. It was definitely I would say a risky move but it was either going to work or not.
You've obviously had the red plate a lot during supercross season, but to have it now, how does that change up the looks of the rest of the season for you?
It's awesome. I've never had the red plate in outdoors. For me I'd rather have the red plate than not. It's a little more easing and you kind of control your own destiny and how you want to race and how you can't race and whatnot. So I'd much rather have it than not. It's a good feeling. It took a long time to get it. It's the halfway point and it works out that I just feel like I'm getting going. So keep it going and finish the season really strong.
Should we talk about Twitter?
I'm not allowed to say anything.
I think this is your first career 1-1. With the way your season started with your wrist, did you see yourself in this position to one, be in the points lead, but two, even be able to go 1-1?
It was the goal. I'm a wishful thinker so I would like to have thought that. I knew I was going to get better and better. To be honest, I started the season a lot better than I anticipated so that helped. But I always felt like if everything went to plan and I was smart and put myself in the right situation then I could be the points leader and hopefully win the championship. By halfway I didn't think so, but I honestly figured if I could go in the break with a different, further away from now, close to the points lead, those last three is where it's really decided. So I'm stoked. It's a dream come true. Really there was about two people that agreed with me that I should line up. That was just the reality. They all wanted me to line up but it wasn't the smartest idea. I just told them, whatever, I'm racing. I don't care. I care about my future but I want to race. I'm not going to sit on the couch. I think now they're looking back and they obviously don't know. I guess you were right. But it was definitely a sore subject and a difficult decision because it's an injury that could come back to bite you.
Did you get clearance from a doctor to race or was it just your own decision?
I wouldn't say "clearance." He told me it'd be good enough to not break again.
Did you know Joey was out of that moto?
Actually I had no idea. Like I said, I saw him tip over and then I saw he was about I think behind Shane [McElrath], so like fifth. So I knew there was a chance to make up points, but I had no idea that he until I got to the podium and they told me.
The second moto you battled the Martin brothers. Being teammates are you able to see things that they do and ways to kind of attack them, or does it even matter?
I've raced with Jeremy a lot so I know what he's going to bring, and he just gives 100 percent the whole time. There's no slacking, and Alex is the same way. They're just bulldogs. They'll hit any line and make it fast. It's tough racing against those guys. I knew that I had it in me. I was kind of putting myself in a great situation. I think the good thing about this track is with all the up and downs and the bumps you can really gauge the people in front of you, whether you can see a line that they're doing that is either worse or better and you can kind of pick and choose. When you're out front it's a little tough because you're hitting your same line and the lines kind of get caved in, and then you're at the end of the line but you don't want to change it because you're out front and leading. So it's a good racetrack in that sense. It makes it interesting. I think that's why there was a lot of really good battles today.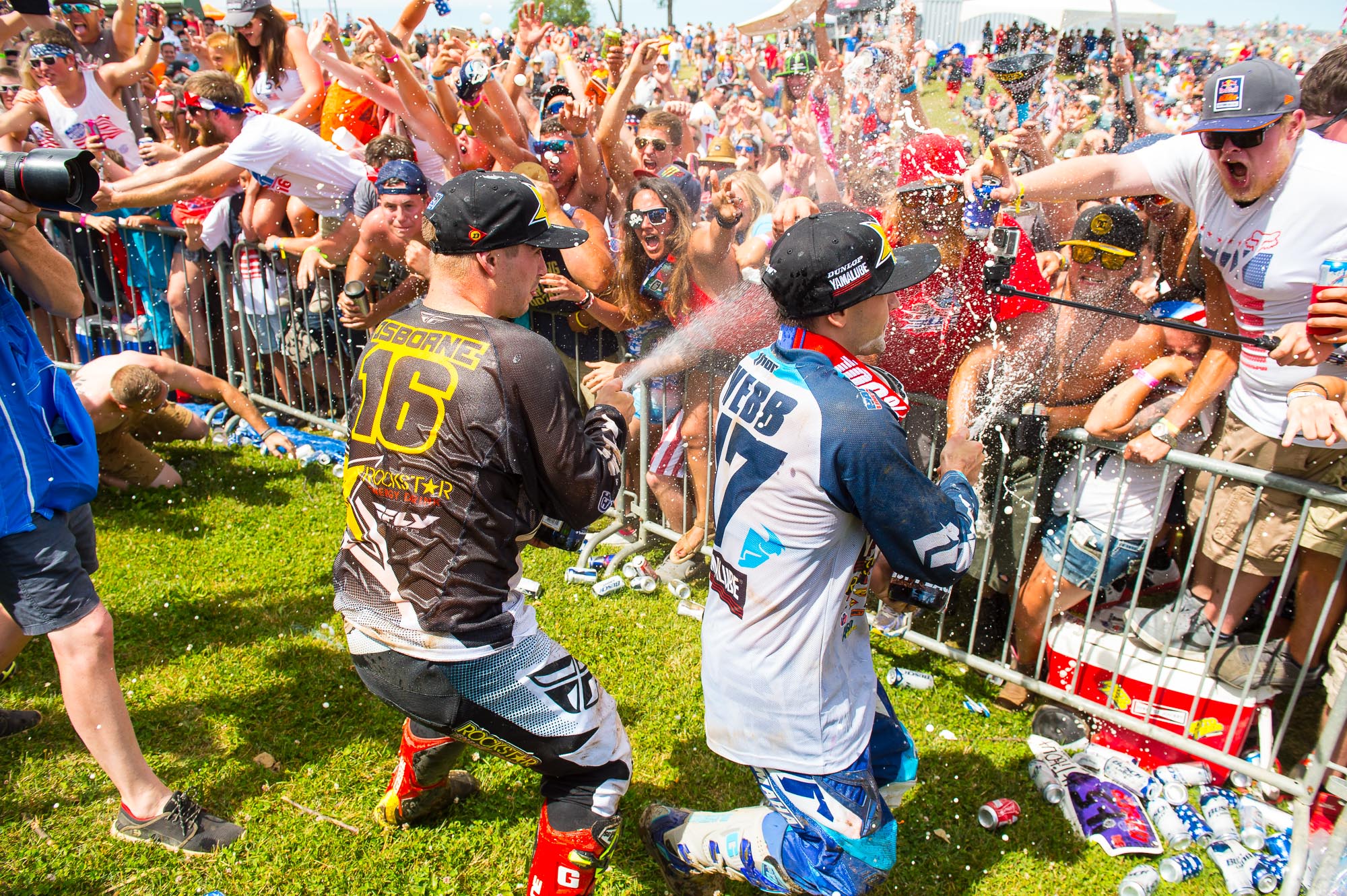 Are you able to feed off this crowd? Does it compare to anything like last weekend?
Absolutely. I think it helps this year not really but last year we had some international riders, so when you're the American, they want to see it happen more so than a European win. This crowd is one a kind. They're committed to the weekend. It's always a great one. I think the Fourth of July really brings out that American vibe.
Is it extra special to win here?
It's a little bit. I think this is one that if anybody looks back and says one you want to win it's definitely this one just because of really how badass this event is.
How about Southwick next weekend?
I really like Southwick. I grew up in the sand. Same way, you have the ruthless Boston crowd. They don't really care. They're going to be wild.