Blountville, TN
Tennessee (Muddy Creek)
Lucas Oil AMA Pro Motocross Championship
This past weekend at the High Point National a somewhat new face stood out of the crowd and he goes by the name of Jeremy Smith. The New Jersey native took his #309 Honda CRF450 and qualified fifteenth in just his seventh national as a professional. That's impressive enough considering that his bike is virtually stock against a stacked 450 class full of factory and factory-supported riders.
Smith caught our attention on Saturday by hanging tough in the motos as well. His 22-28 scores were good enough for 25th overall on the day. All of this information is great, but we really wanted to get to know who this kid is as a person. How can a virtually unknown rider sign up for the 450 class, qualify in fifteenth, and then put in consistent motos on top of that?
We called Smith up on Tuesday afternoon to get his story, find out the answers to our questions, and get his plans for the rest of the summer.
Racer X: You caught our attention this past weekend and we wanted to learn more about you. Tell us a little history about yourself and talk about your amateur career a bit.
Jeremy Smith: I'm 18 years old and I'm from New Jersey. My entire life I raced BMX and I was an eight-time national champion in that sport. I decided that I was bored with it around the age of twelve and decided to give motocross a shot. I would ride when I was little, but only did a few races in my life. In my second year of racing motocross I qualified for Loretta Lynn's and finished twelfth in the Supermini class. After a few years of injuries I decided to move up to the A class and get my pro card. Last year I qualified for six of the pro nationals. My results weren't the best, but I qualified for every single one I tried. I just graduated from high school last Wednesday and I packed up and went straight to High Point. I don't think anyone else in the pro ranks is in high school or is even in school right now. That's one of the things I always did. I would do my schoolwork and then go racing.
How different are the amateur ranks in the BMX world in comparison to motocross?
They are similar, actually. In BMX the races are only about 40 seconds, but there are heats and things like that. You've got to put in the results and there is definitely a lot of pressure on you. I'd say that really helped me with the gate drops. If you don't get a good start then your race is over. I'd say it will help me out in supercross as well because it's very technical. You have to be very smooth. I try to convert that onto a dirt bike and ride the same way.
With you winning those eight titles could you have had a promising career in BMX, or was it still up in the air at that point? How does that work?
Yeah, I had a team that supported me and I'd be traveling every weekend. In the pro ranks of BMX there aren't that many people making a good living. You don't get too much money for winning a pro race, so I didn't see a future in that. I also wasn't having that much fun. Riding dirt bikes was a challenge for me and I wanted to try that and see where it took me.
There is another famous Jeremy who started by racing BMX and won a few races as a supercross racer. You may have heard of him? It seems like the skills you learn in BMX really translate well in MX. You've picked it up fast!
A lot of people tell me that I'm a smooth rider. I get that from BMX because you can't mess up and if you do it's seconds on a mistake. I try to ride smooth and off of the limiter to keep my momentum going.
How did you get so fast in such a short period of time?
I don't know. I ride and do all of my training by myself. I've never been to a training facility. I just have a local track and I only ride about once or twice a week. If I could step that up I'd be that much better.
It's rare that a rider your age can jump right into the 450 class and put in some great results, especially on your own equipment.
I chose the 450 because I can't get a good 250 motor. Right now I'm running a stock motor with just a pipe and suspension. The bike has eighty hours on it and I'm just hoping that it lasts through the season.
High Point went really well for you and you finished 22nd in a moto. How was it from your perspective?
Yeah, I really surprised myself by qualifying fifteenth. I knew I could put a fast lap time in, but I didn't think I would be that high up. In the motos I feel like I can ride way better than that. I just froze up and I need to keep that up through the moto. If I don't make any mistakes I feel like I can a top twenty rider.
It's definitely not what I expected to do, but I'll just keep it going. A lot of people go to college, but I'm going to take a few years to see where this sport takes me.
Qualifying in fifteenth had to give you a lot more confidence, right?
It definitely showed me that I've got good speed. I always work on my corners and staying low over jumps. I just need to put the entire race together and I can be with those guys. Some of those guys I was in front of have factory bikes and I'm on a stock Honda. It gets me pumped up.
Do you know many industry people in the sport?
Not really because no one around my area is on my level. I just try to do my own thing. I know people locally that try to ride with me.
You got your feet wet last year and now you're jumping into it this year more prepared. Are you going to be at the other East Coast races this summer?
I'm going to do six more I believe. I won't be doing Washougal or Millville, but I should be at the rest of them. I'm going to try and finish it out strong to get a national number. I'm going for the top twenty each weekend.
Was last year actually your first time racing the national tracks? Had you ridden any as an amateur?
No, the only track I had ever ridden was Budds Creek. Every other track was new to me. You pretty much have to learn the track in two laps and put in your fast time. I watch videos to see where the lines are and just go for it.
You said the goal was to get a national number this summer, but what are your long-term goals in this sport?
Next year I'm definitely going to do supercross. I'll be doing the East Coast series for sure. I feel like I'm more of a supercross guy because of BMX. I did arenacross this year and qualified first in the Lites class at one round. I feel like with the technical stuff that I can be good.
Do you have any sponsors right now?
I don't have anything big. It's just my family and I at this point. We just go for it. We've got a little motorhome. We pack it with two bikes and we're good to go.
I saw your picture on Instagram where you are lined up next to Tomac. Do you get star struck at all?
It's definitely a crazy feeling because you look up to these guys your whole life. I'm just pumped to be sitting next to them in the actual race. I don't even care about the start at first. [Laughs] You can't let it get to you.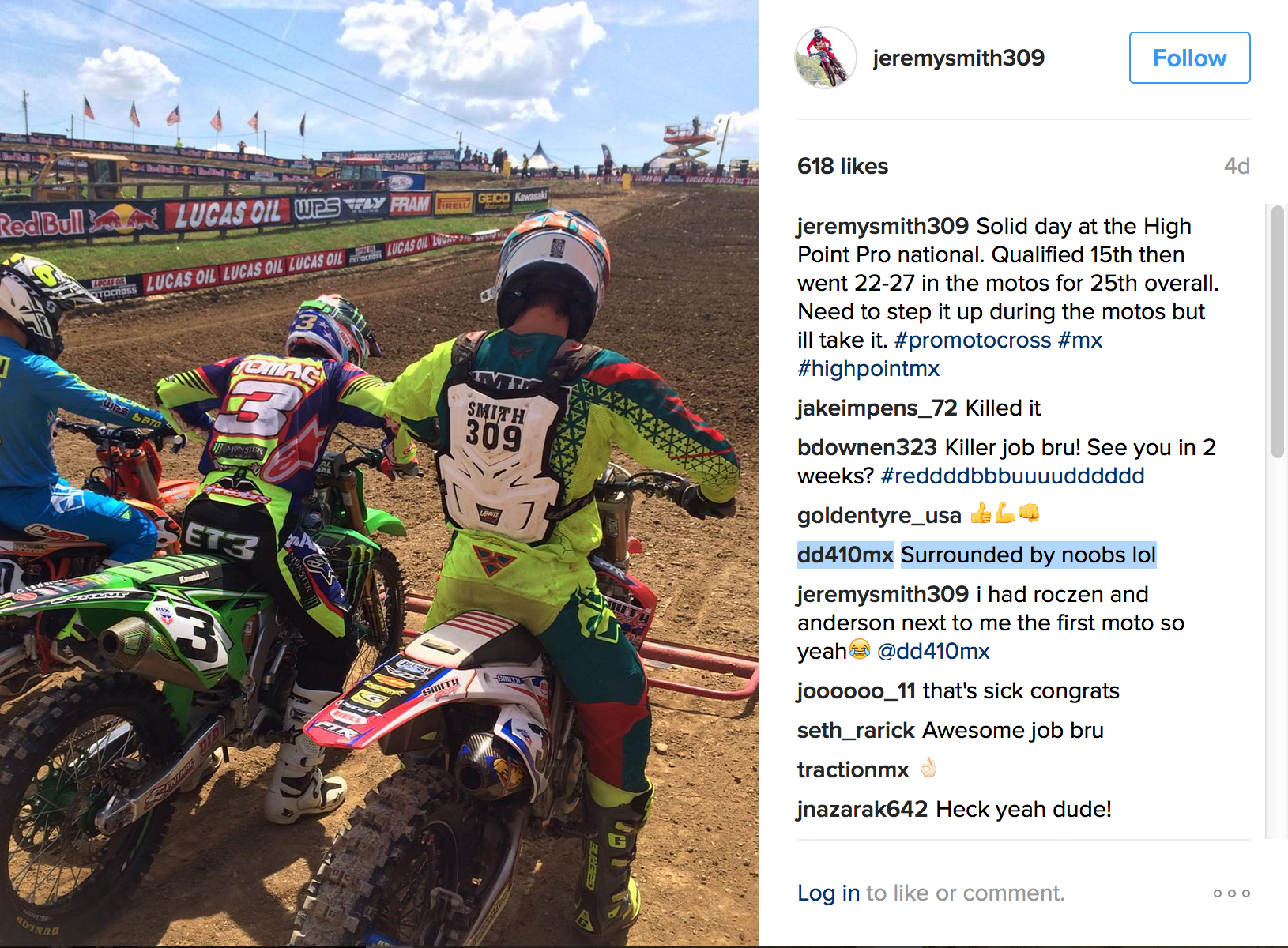 What keeps you motivated when you're training alone? A lot of guys can't do that.
I just feel like I have good speed and I can only improve. What I have right now I feel like my program isn't that good. My results are doing pretty well, so that motivates me right there!
What do you like to do in your spare time?
I treat this sport like a job, but I also like to have fun, too. If I like something I feel like I get pretty good at it. Once I set my mind to it I feel like I can almost do anything. I still ride BMX for fun and as cross training. It's a good way to have fun and get a good workout. I don't really do much. I was concentrating on school and racing. I like to snowboard and jet ski as well.
The cool thing about this interview is that you aren't begging for a better bike. You're just content to ride what you have and you're proving yourself on a virtually stock 450.
Yeah, I let my results do the talking. I try to talk to a few people here and there, but I know that's the only way to get a ride. Not many people know me right now.
Thanks for doing this interview, Jeremy. Who would you like to thank for helping you out?
I'd like to thank Bel-Ray, Evo Industries, Golden Tyre, FTR Graphics, Bell, and Scott Goggles for helping me out this season.