High Point Raceway
Mt. Morris

,

PA
High Point
Lucas Oil AMA Pro Motocross Championship
Professional motocross and supercross racing can be a wicked little world. As much as we all like to conjure up the "you're only as good as your last race" cliché, the stone cold truth of the matter is that a top shelf rider is only as good as his last race. Or his last season, or his last championship, or his last injury. It's a natural selection sort of deal in which only the strong survive, and if a rider is struggling, or not at full speed, or shows the slightest bit of weakness, well, tough shit. There is a rabid pack of riders/rivals fighting for the very same thing, and like something out of a Jack London short story, if you can't beat them back, you're done.
As glamorous and cool as it can seem from the outside, in the inner sanctum and boiling cauldron that is pro racing, it's a dog eat dog existence where a rider lives and dies by where his number shows up on the timing and scoring monitors. On the eve of the 2013 Lucas Oil Pro Motocross Championship, Adam Cianciarulo was the "next big thing in American motocross." He's not anymore. Injuries and bad timing saw to that. Abbreviated, incomplete seasons have left the Monster Energy/Pro Circuit/Kawasaki, literally and figuratively, battered and bruised, to where now, both he and the U.S. racing community are wondering if it all is going to work out.
On Sunday afternoon, Racer X spoke at length with Cianciarulo. One of the most sincere, articulate racers we've ever known, Adam talked about the first three rounds of the Lucas Oil Pro Motocross Championship and what it will take to get him in the fray, and in the dog fight that is the 250MX classification.
Racer X: Adam, what are you up to on this rare off weekend?
Adam Cianciarulo: Well, coming off the first three rounds, we have an early break here, which I think is good for me. I flew back home to Florida after Colorado, and I've had a little extra time to get acclimated to the heat and get some more motos under my belt. Coming into the series, I wasn't quite sure if I was going to race the first couple rounds just because I was coming back off my wrist injury and didn't have a whole lot of time on the bike. However, all of us decided it would be best to get back to the races and just take it slow and kind of use it as practice. Obviously, when you're out there and you're racing with the guys, your level of improvement is going to increase dramatically. I've tried to have that patient mindset. The goal was to start the building process and with that comes learning, and we accomplished our goal in that aspect. In a way, it kind of sucks because I've been pro since 2013, but I still have to be patient enough and smart enough to know that after everything that I've been through, it's not going to come easy and right away. To be disciplined like that is very difficult. In these first rounds there were definitely some things I didn't like about my riding and a few mistakes that were made, but all in all, I think we're on the right path. I think this weekend off came at a really good time for me to get in some extra work leading into this six round swing we have coming up. I feel confident with where we are at.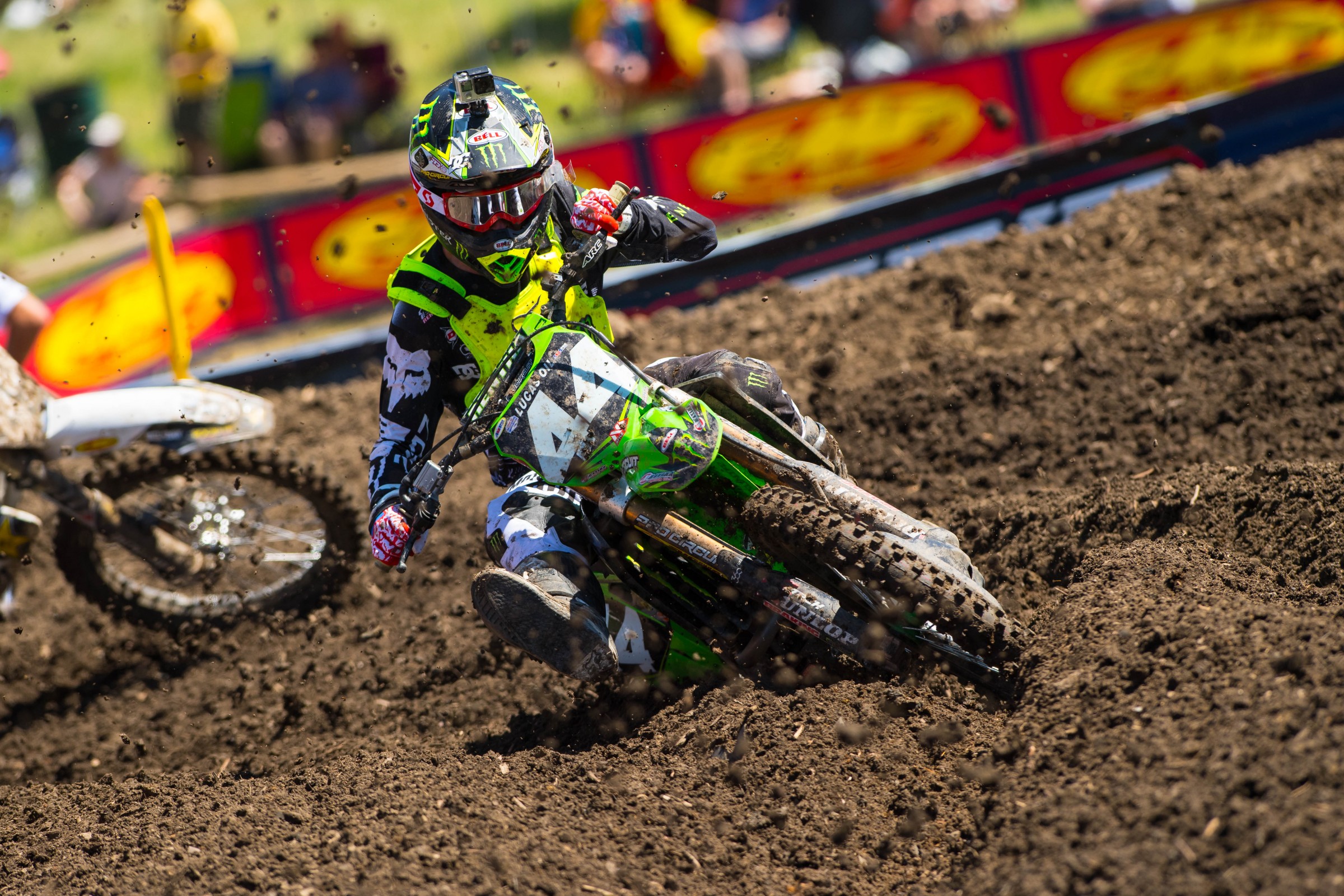 Racing yourself into shape, huh?
Absolutely. I had five weeks on the motorcycle before the first round at Hangtown. And overall, too, with the challenges I've faced the last couple years, bike time is something I'm definitely lacking. But even with coming in not necessarily at 100 percent, I love being out there racing and appreciate it more than ever. When I come back to the trailer after a sub-par result, I still have that satisfying feeling like okay, today didn't go my way. I would like it to go better. But I tried as hard as I could and did the best that I could and now I have the opportunity to go back during the week and get better. That's the aspect I like and have come to appreciate. I've learned, especially over the last couple of years, that this stuff doesn't come easy and I feel like I've learned where I'm at in regards to the challenges that I've been faced with and have been able to overcome. Do I want to be the best? More than anything, but I have a deeper appreciation for what I do—win or lose—than I did a few years ago. I think I kind of take that mindset into racing, as well. If you have a bad weekend, to me, the challenge of overcoming that bad weekend, or dealing with some speed that I am lacking or bad starts or something, that doesn't compare to anything that I've been through. It's pale in comparison. That mindset is something you can only learn from experience, and I know that will certainly help me in the future.
I know how competitive you are, and I know you want the results, and everyone around you wants the results, but then you don't want to ride over your head and maybe even get hurt again. Perhaps you want to string together an entire series and maybe go from there?
The goal is to race twelve rounds, for sure. I'm not going to lie, sometimes it is a little hard for me to go out there and say, "Okay, you just need to be patient and let it come to you." I want to go out there and throw it down and kill it, that's where my heart is, but my body isn't ready to do that yet, so I have to work up to that. I'm confident, I know like I know the sun will rise tomorrow, that I can be the best. With that being said, in order to get to that level I have to be patient and not let my pride get in the way of my progress.
Your results in the first six motos of the season haven't set the world on fire, but there have certainly been flashes of brilliance where you are on-form and flying. Would you agree?
I think there have been a few flashes, a few times where I've said, "Oh, there's me again!" When I was coming into the series, I wasn't thinking, I need to go out here and win. It was nothing like that. It was just going out there and doing my best. The first two rounds were okay in that regard. Last weekend at Colorado is where I started to feel like myself again, though. In the first moto I got a terrible start again, which is completely my fault and is something that I've been working on, but I was able to come through and continue to charge throughout the moto, and that's something that I'm not accustomed to. I'm not accustomed to making moves in the last part of the moto. I was really happy with that. Unfortunately, we had a little get off in the second moto. I wasn't able to finish the moto, but overall with the weekend, I was very encouraged with what I felt for myself. It wasn't necessarily the results, it was just the feeling that I had and it certainly gave me a lot of confidence going forward.
You know the pace, you know all the racers you're up against, how does it all look to you?
Man, it's awesome. I think there are five or six guys that can consistently win motos. With that comes more intensity and better racing. As a racer, that's what you live for, for great racing like that. And from a fans perspective, it obviously makes it really exciting. But for me right now, it's all about not getting caught up in all that intensity. Those guys are in a different spot than I am. That's where I'm striving to be, and for now it's all about learning as much as possible from them.
As you get ready to head toward Mount Morris, Pennsylvania and the High Point National this Saturday, how do you feel about it? What do you want to do out there?
The goal is to continue the building process, and not worry too much about the results. Focusing on myself and improving. Like I said earlier, Colorado gave me a lot of confidence in regards to my body and my fitness. I feel like it's all starting to come around and the results will come as I continue to get more races and time under my belt. I'm just taking it one Moto at a time and enjoying being at the races.
What do you want to get out of the Nationals? Ultimately, what do you want the Nationals to be for Adam Cianciarulo? What's your master plan with these races?
I think in the past I have looked ahead and have thought to myself, "Oh, in a few races I want to be where I can win." Of course that's always in the back of my head, I always want to win, but right now, it's about taking it moto by moto and week by week and just doing the best I can every day. One lap at a time, one moto at a time, one weekend at a time. I'm the type of guy that's never going to lose confidence in myself. I'm as confident in myself as any one of those guys on the line, no matter what I've been through, no matter where I am, how fast I was in practice, what place I got the race before. I'm confident enough to know I might have to get my ass kicked now to benefit me later. As long as I continue making forward progress I'll be happy.