San Bernardino, CA
Glen Helen
Lucas Oil AMA Pro Motocross Championship
Yeah Glen Helen! Round two of the Lucas Oil Pro Motocross Championship took place at the famed Southern California track and this being a sort of home base for many of the riders and teams, there were some things that I thought were going to be truths that maybe didn't turn out to be. And then some other things that we nailed correctly. Let's get into this Observations column right off the bat with some thoughts on the track.
This just in: no one really liked it. The hills at Helen are epic and a great thing, the loose sand in the bottom of the track gets very rough and the harder pack sections up the hills and around the first turn get choppy and so gnarly. Glen Helen is a man's track, period. No one had a problem with the natural elements that are at Glen Helen.
Where myself and every rider that I spoke to after the race or texted with after press day thought the designers went a little silly was with a massive triple step-up in the back and a supercross rhythm section that got way hairy on the opening laps.
Here's a sample of rider quotes from my interviews after the day:
"I would just say that they needed to get rid of that big triple jump in the back. You're going so fast, we were all getting head shake going down the straightaway and then up the face."- Jeremy Martin
"I couldn't believe how rough it was. It was mentally tiring. You just come around and you're like, another lap? Come on, give me the two lap card. It was tough. It was really, really taxing out there. I'm happy to get out of it healthy."- Cole Seely
"The track scared me all day, honestly. But I'm probably not the one to ask about that. I think it's good because it's progressive. I think the fans like it. It was a great crowd today. I wish they would rip it a little deeper to slow down the speeds, but if they're going to build those massive jumps like the triple upstep, you've got to make a wider landing. A little bit of angle on the takeoff makes a big difference when you're going 100+ feet. So I think they need to be a little more safety-minded if they're going to build stuff that big. But it's cool to watch. Scary for me."- Andrew Short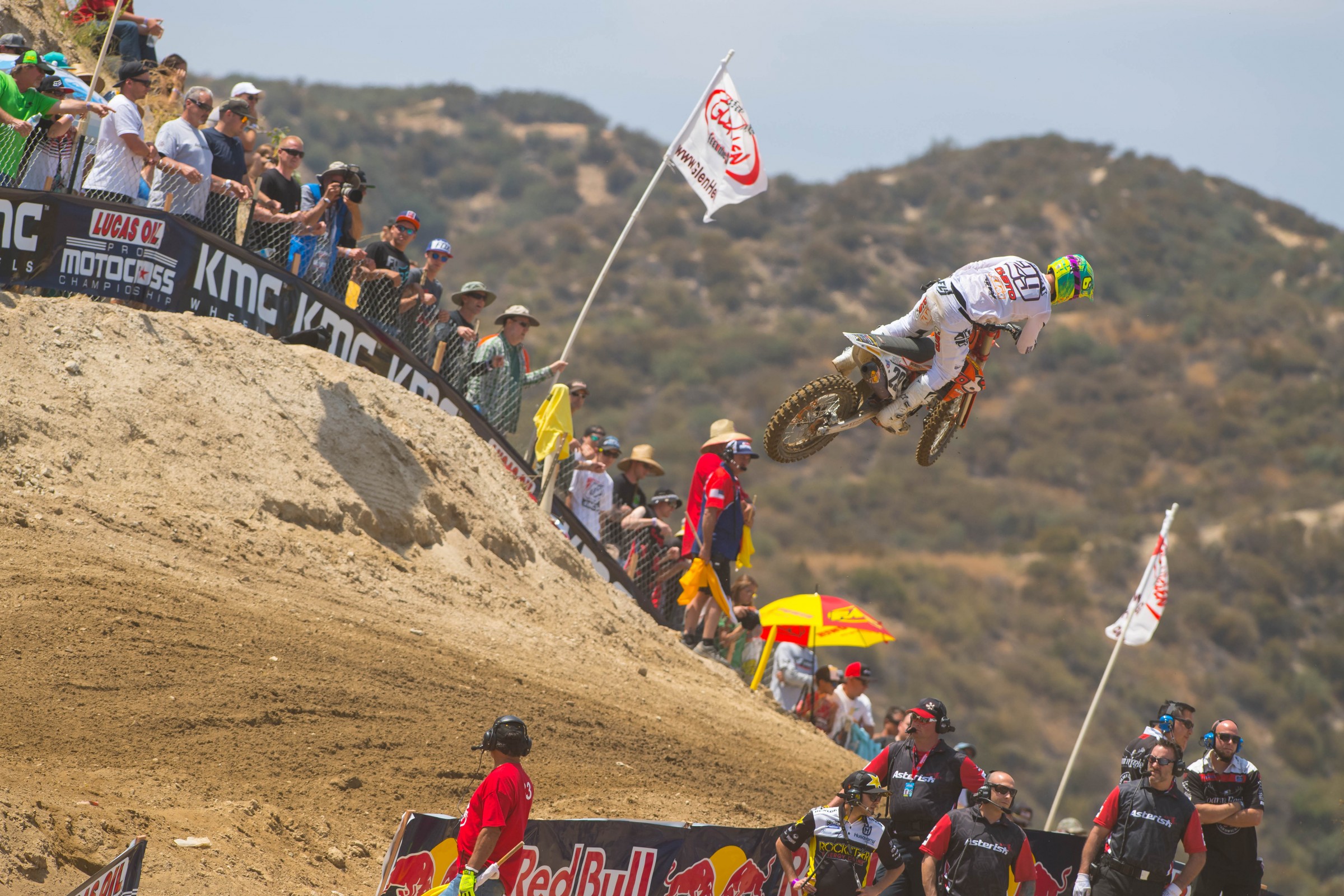 "Glen Helen's always tough. With the dirt and the soil here, big jumps aren't really a good combo for I would say a national, just because it gets so rutted out and edgy that it's kind of sketchy. Just seeing that video of that guy crashing just makes me melt, dude. That thing's unnecessary to me. But hopefully the next couple races they mellow some of the jumps out and don't get too crazy."- Broc Tickle
"What if a chain breaks or whatever? Anything can happen. It can be mechanical error or rider error, who knows? But it is what it is. Just to get out of here safe. In practice I wanted to ghost ride my bike off one of the catapult jumps they built out there. It was like a quarter of the track was an arenacross track."- Phil Nicoletti
"I'm just being honest here. You could probably pay me to come here and practice and I won't go. And usually actually for the races they rip it super deep, not today. It was super hard and sketchy and rough and really weird. Usually at least for the races that's always my go-to where I'm like, "Okay, it'll be all right because they rip it really deep." And they didn't really rip it too deep."- Ken Roczen
"Some goofy sections" said Ryan Dungey at the press conference followed up with "I think we can chill out on some of the jumps."
And this isn't sour grapes people, outside of Short all the other riders had good days and were in the top ten! The Kawasaki guys told me the data showed them that the riders were going 74 mph coming up to the triple-step-up and then they had to back it down from there to land just right. What if a chain comes off? What if the hand comes off late in the moto? A bike blows up? I know, I know, what if's is a dangerous game to play (not as dangerous as that jump) and I didn't hear of anyone on race day crashing hard there so perhaps this is overreacting but I just heard it from so many guys over and over again.
The track's gnarly enough with the natural obstacles and some decent prep, maybe let's calm down on the Excitebike jumps in 2017 yes?
Also, when the Motocross des Nations comes here next year I'd love to see the Euro riders faces if these obstacles are allowed to be left in. That would be worth the price of admission.
Okay, so Ken Roczen left super-trainer Aldon Baker last season early in supercross and hasn't won a title since. Granted he got injured after winning two out of the first three supercrosses in 2015, then a back injury flared up before the 2015 outdoors that held him back and this year in supercross he appeared to be lacking speed early on, not fitness. But this trainer thing lingered over Kenny as in, why would he leave a program that had worked so well for him previously?
We're four motos into this 450MX season and Roczen should be perfect. I've never been as adamant as others that the 94 made a bad decision leaving Baker (much like I think bike set-up gets WAY over emphasized, the "gotta get a trainer" thing is also a bit much in my opinion) but I did have an eyebrow raised at Kenny's move to run away (get it?) from that program.
Buuut, okay, here goes: I think I'm officially stamping that Roczen's move away from Baker has not been a reason why he hasn't won a title since. I know it wasn't hot as balls at Glen Helen but Kenny was, once again, fabulous. The first moto he rode behind the MOTOCROSS CHAMPION WINNING MACHINE Ryan Dungey for twenty minutes before he decided he had enough of it, passed Ryan and took off for the win.
Well, wait he didn't actually win. With about three laps left a sensor the team puts in the KYB forks to determine air pressure and temperature (I've written about this a bunch. Pressure changes during the race within the air forks is a huge issue and big reason why riders are running away from there. The pressure change changes the feel by the end of a race) broke and the air went bye-bye in the 94's forks. He salvaged a fourth, which was about the best-case scenario for the team. Air forks offer an improved feel on big jumps, they offer up a weight advantage but the one thing that sucks about them is when they go bad, it's an un-rideable dirt bike.
But the point is, when the forks had air in them, he rode awesome. He seemed to be able to make up time on Dungey whenever he wanted and his fitness was great. Second moto a very angry German grabbed the lead on the first lap and checked out for another great ride. He looks so good out there and I'm way impressed. Who would've thought this?
Ryan Dungey went 1-2 for the overall win and he knew that he got a gift but he'll take it. So far through four motos he's been beaten pretty good (don't tell me the amount of seconds back of 94 and say he's close. I've been watching the motos and he's been the second best guy). But again, it's so early to write him off. He's Ryan Dungey! It's going to get hotter, he's going to get better (when has Dungey ever really dominated the California races?) and he'll give the 94 a run. This is shaping up to be a great summer between these two.
Jeremy Alex Martin won the overall at Glen Helen with 2-2 rides and now has the red plate signifying the points lead. For a guy that once went through THIS /2015/11/24/eleven-10ths he's come a long way to this spot now. Alex told me that after leading the first twelve laps of moto one, he got "a bit lazy" out there and Cooper Webb zapped him with two laps to go and grab the win. Second moto he knew he needed to get Jessy Nelson for a chance at the overall and made it happen.
Martin's ascension to points leader and national winner started last year when he got on the CycleTrader.com/Rock RiverYamaha team and started knocking on the door of podiums in SX and MX. And he got on the box twice in outdoors and won a muddy Budds Creek moto. The kid has always worked hard but he never had great bikes or a great team. When he got onto the Cycle Trader team he didn't have to worry about his bike being down on power (the backwards motor Yamaha YZ250 is really fast as we saw this weekend at Glen Helen up the hills) or the team showing up or anything like that.
His brother coming up and winning titles also helped a ton as maybe that actually led Alex into believing he could win. His contract is up this year (one year deal with Yamalube/Star Yamaha guys) and with Colt Nichols, Aaron Plessinger, Dylan Ferrandis and Mitchell Harrison already in, there might not be enough money there to keep Alex. That should be interesting to see.
A question I've been getting a lot lately is…can Alex Martin win this title? Which is insane to think about but I say why not? The bike is fast, he's in shape, he's been racing a long time and is not prone to crashing or doing dumb stuff. Wouldn't that be wild if Alex stopped his brother Jeremy's hunt for a third-straight title?
Let's take a look at the results shall we?
250MX
1 26 Alex Martin Millville, MN Yamaha YZ 250F 2 2- Alex is now heading east and going to be shacking up with Jeremy out by Millville for the rest of the summer. Are they the fastest practice group to ever hit Minnesota or what?
2 1 Jeremy Martin Millville, MN Yamaha YZ 250F 4 1- I got a text couple weeks ago that Jeremy and trainer Johnny O'Mara broke up and I was a bit surprised but in this industry, that stuff happens all the time so whatever. I'm surprised that on TV, in the pits and with other media outlets it's that big of a deal. I mean, these riders and trainers jump around like its Studio 54 in the late 70's. I somehow think J Mart and O'Show will be just fine.
3 17 Cooper Webb Newport, NC Yamaha YZ 250F 1 4- Webb hasn't been riding during the week from his wrist injury (he rode press day and logged a few laps at a ride day Racer X put together at Chaney Ranch, but he cut that short). He's hoping to start practicing after the week off as long as long as he's not doing any more damage to his wrist. So all that considered, brilliant start to the year for Webb. In the second moto he started to get blisters bad from the lack of seat time and couldn't hold on that well.
4 214 Austin Forkner Richards, MO Kawasaki KX 250F 3 5- Okay, I'm all in on Austin now. I was a doubter but I'd like to get my fork and dig in deep on some Forkner stock. This kid's the real deal.
5 23 Aaron Plessinger Hamilton, OH Yamaha YZ 250F 5 6- Aaron's been juuuusttt under the radar the first four motos of the year and could be getting ready to heat up here shortly.
6 13 Jessy Nelson Paso Robles, CA KTM 250 SX-F FE 13 3- Nelson's always good at this track and probably would've gotten a fifth or so had he not fallen in moto one. Or at least I think he fell. Second moto was stupendous.
7 37 Joseph Savatgy Thomasville, GA Kawasaki KX 250F 9 7- One week after dominating Hangtown, Joe-Dog got to experience what life is like for most other riders with crappy starts, passing 15 dudes in both motos and eating enough sand to poop out a sand castle Saturday night. I still liked his rides at The Helen but I'm sure he didn't.
8 16 Zachary Osborne Abingdon, VA Husqvarna FC250 8 8- Wacko is riding well but his starts through the first four motos are killing him. Last week in the second moto he caught fire to get a good finish but you can't bank on that happening every week. I saw on social media that Zacho had a tea party with his daughter after practice and I would make a snarky comment about this but my wife would kill me because she thought it was the most adorable thing ever.
9 31 RJ Hampshire Hudson, FL Honda CRF250R 6 11- We had Hampshire on the PulpMX Show and he said that he told GEICO Honda Team Manager Mike Larocco that he didn't have the speed needed out there. He wasn't comfortable hanging it out like the leaders were. I bet The Rock admired the honesty.
10 49 Martin Davalos Ecuador Husqvarna FC250 14 9- Good job for Marty to put it into the top ten overall. #MartyNation
11 44 Adam Cianciarulo Port Orange, FL Kawasaki KX 250F 11 14- See above for Osborne and that's what we have here. AC starts have been poor in three out of the four motos and this weekend he fell while in sixth. He brought Nick Wey out to help him this weekend as a riding coach/mentor/suspension adjustment expert and it'll be curious to see if they keep working together.
12 66 Arnaud Tonus Switzerland Kawasaki KX 250F 10 15- Tonus is trying to ride out a shoulder injury that would probably sideline some other riders so that's to be commended but on the other hand it's also probably hurting his chances of doing better.
13 289 Mitchell Harrison Brighton, MI Yamaha YZ 250F 18 10- Harrison worked his way up to these finishes which was impressive. He was up to 15th in the first moto before dropping back. There weren't too many riders in the history of the sport more sketchy than Harrison in SX (Chris Alldredge might disagree though) so to see Mitchell somewhat hold it together for two 30's at The Helen is pretty good.
14 30 Shane McElrath Canton, NC KTM 250 SX-F FE 12 16- Sugar Shane went backwards in the first moto and that was weird to see. Not sure what happened but that's unlike him.
15 403 Tristan Charboneau Tenino, WA Honda CRF250R 7 30- This kid had another impressive moto before breaking his collarbone in moto two. With Craig out with a broken leg and now Charboneau, does the GEICO Honda team call Mookie up and see what he's doing? What about ex-GEICO rider Matt Bisceglia who quit the MAD Suzuki team last week?
16 69 Colt Nichols Muskogee, OK Yamaha YZ 250F 19 13
17 128 Alex Frye Huntingtown, MD KTM 250 SX-F FE 15 17- This was more in line with what I thought Frye could/should do. But hey, last week's tenth was solid.
18 42 Mitchell Oldenburg Alvord, TX KTM 250 SX-F FE 37 12- Oldenburg's on a four race deal for TLD KTM (like he was last year) or he's on the team all year or he's fired after Lakewood…it all depends on who you talk to. I suppose I could dig a bit deeper and find the real answer out but I'm too busy watching the Stanley Cup Finals.
19 45 Kyle Cunningham Aledo, TX Yamaha YZ 250F 16 19- Cunningham's bike broke last week so he didn't make the motos but this week he got it in. The bad news is he was 19th OA, the good news is he was top Suzuki!
20 36 Justin Hill Yoncalla, OR KTM 250 SX-F FE 17 36- Hill's off to a rough start. On a track he podiumed on last year he started poorly/crashed in the first moto and then couldn't start the second because of a back injury.
450MX Results
1 1 Ryan Dungey Waconia, MN KTM 450 SX-F FE 1 2- Someone that's worked with Dungey before told me that if he keeps getting beaten by Roczen the throwing-the-kitchen-sink-at-the-bike moves that Dungey used to do will start up again. Ryan's always been a guy that can and has tested himself to a standstill.
2 94 Ken Roczen Germany Suzuki RMZ 450 4 1- Speaking of Aldon and all that, Kenny made sure to drop the fact he ate steak and mac and cheese (or Kraft dinner if you're Canadian) for dinner on Friday and that my friends, is not a coincidence.
3 3 Eli Tomac Cortez, CO Kawasaki KX 450F 3 3- Great second moto for the #3 when he ripped through the pack to get a clear third. Unfortunately the top two dudes were gone and in the first moto he again got caught and passed late in the moto. Truly a WTF moment for a lot of us. Has there ever been a more depressed and angry third place rider at a national that Eli at the first two rounds?
4 21 Jason Anderson Rio Rancho, NM Husqvarna FC450 2 5- Anderson's been very good to start the year and he's exciting to watch as he and his jersey hang it out every lap. I think he would've gotten third in the second moto but just as he got by Canard he got sideways, almost ate poop, saved it but then started dropping back after that. Anyone who's raced knows that when you save something like that, your energy just goes away.
5 41 Trey Canard Edmond, OK Honda CRF450R 7 4- Trey got the holeshot in the first moto so that makes two out of four holies for the Honda guys out of four motos which shows you that all of us that thought the KTMs and Yamahas would dominate the starts this summer were a bit off.
6 33 Joshua Grant Riverside, CA Kawasaki KX 450F 6 6- You'd think that with it being Glen Helen and Grant loving it so much that you would've seen more flash. There were legitimate discussions about him getting on the box or maybe (GASP) winning a moto. He's that good here. Well it didn't go that well but he didn't get great starts and there's nothing wrong with these finishes. 8-8-6-6 to start the year for JG33 and he's got another good track for him coming up this weekend.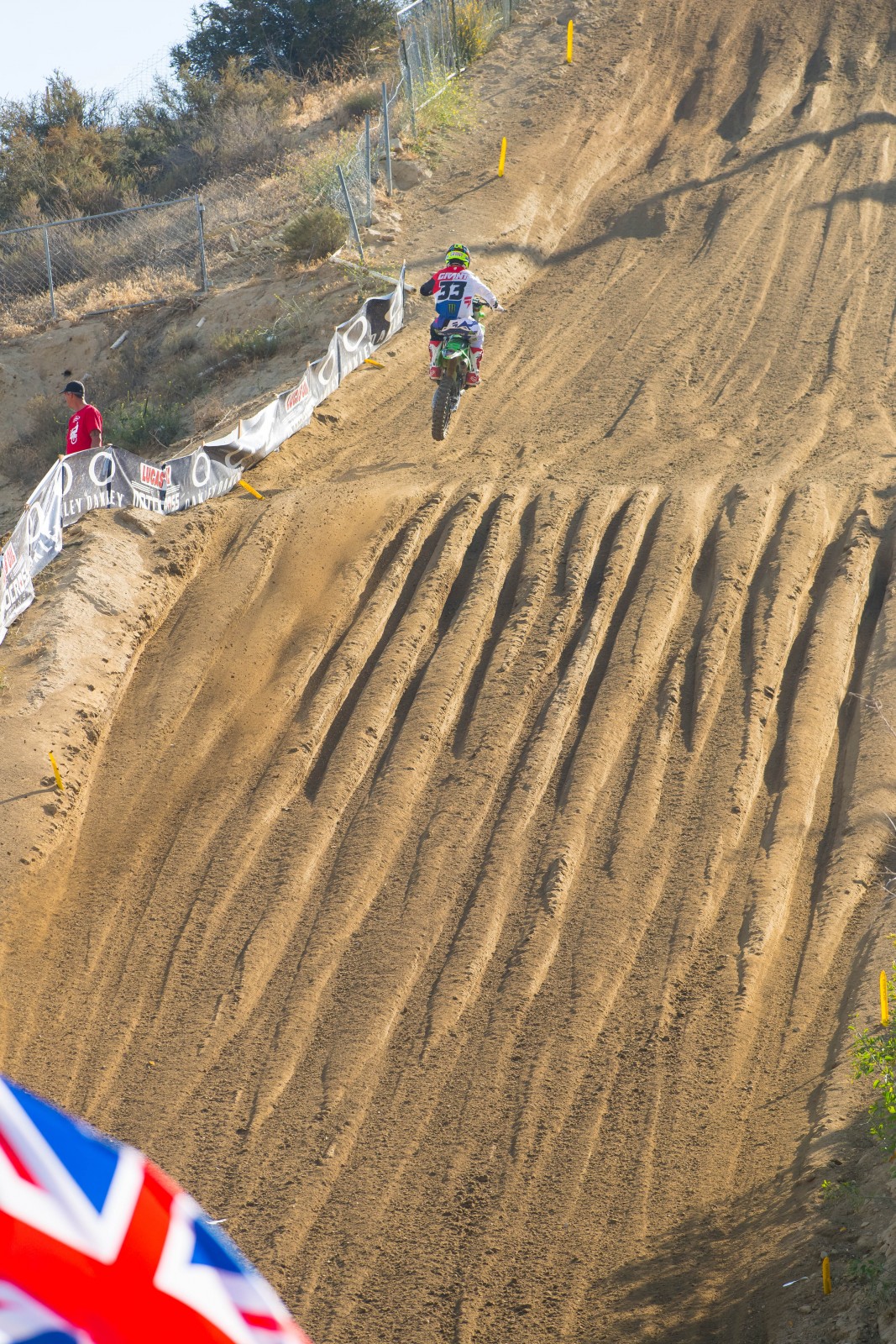 7 14 Cole Seely Newbury Park, CA Honda CRF450R 5 10- Look at the results and Seely's had two good motos and two so-so motos, but his so-so motos have been pretty solid as he's come from the back to move up. He admitted after the race that he's still not at his peak yet from the supercross injuries and he'll get better.
8 34 Phillip Nicoletti Cohocton, NY Yamaha YZ 450F 10 9- Well look at this! Top JGR rider through two rounds is Filthy Phil! He's solid moto in and moto out. He even admitted to me (the media!) that he got tired in second moto. It wasn't bike set up or he didn't get "tight"…he just got tired.
9 25 Marvin Musquin France KTM 450 SX-F FE 9 11- Moving Marv's first moto wasn't good as he ran third for a bit and then just sort of dropped back. Second moto he couldn't get it going at all.
10 20 Broc Tickle Holly, MI Suzuki RMZ 450 8 13- After a poor Hangtown where he made no excuses, Tickle comes out GH and I think, anyways, redeems himself. He's just one of 49 dudes riding for a contract next year.
11 10 Justin Brayton Fort Dodge, IA KTM 450 SX-F FE 11 12- A great result for JB10 because A). he's never that good at the California tracks and B). he's never that good early on in the nats. To me Justin should be right inside the top ten most weeks and maybe higher here or there and that's a good season for him.
12 43 Fredrik Noren Sweden Honda CRF450R 12 14- This is just Fast Freddie being Fast Freddie bro. He's solid.
13 377 Christophe Pourcel Dade City, FL Husqvarna FC450 29 7- I think I've figured out CP's deal. When he gets bad starts and does poorly the team PR says he's dealing with an injury but when he gets a good start and actually, you know, tries and stuff he says that he's working on things and wants to get better.
14 51 Justin Barcia Madison, FL Yamaha YZ 450F 37 8- Barcia crashed in the first moto, couldn't start his bike and pushed it off. Then the team said the bike fired up back in the pits which sucks for Justin and the team because everyone sees a Yamaha getting pushed off. Second moto he started fourth, slipped back behind Filthy Phil into tenth, realized that he had slipped behind Filthy Phil and into tenth and got on it to zap the 34 back.
15 29 Andrew Short Colorado Springs, CO KTM 450 SX-F FE 14 15- Short told me afterwards that he didn't have any issues with his bike at GH for the first time in, like, forever and that he needed to get his balls back from his wife for this track. Got to love this guy right?
16 167 Benny Bloss Oak Grove, MO KTM 450 SX-F FE 13 16
17 19 Justin Bogle Cushing, OK Honda CRF450R 15 36- Bogle had to get some stitches in his hand after an accident while cutting open an avocado and no, I'm not making this up. Bummer for him as it affected him out there (having a tight grip on the bike is rule #1 for Glen Helen) and he was forced to DNF the second moto. This is why I stay clear of fruits and vegetables, people.
18 718 Toshiki Tomita Japan Honda CRF450R 20 17
19 4 Blake Baggett Grand Terrace, CA Suzuki RMZ 450 16 39- Admirable for Baggett to try and race just five days after getting his collarbone plated but a little strange at the same time. Clearly the one thing he couldn't do was fall but that's exactly what happened in moto one. Moto two he didn't start.
20 63 Jesse Wentland Elk River, MN Honda CRF450R 17 30- Wentland was a real surprise last summer in the 450MX class before getting injured. He got a late start to this summer's prep due to injury in SX but he'll get better. Good to see the privateer in the top 20.
Thanks for reading bros, email me at matthes@racerxonline.com if you want to chat about this or anything else.