Fasnacht Sweeps Hangtown Motocross Classic WMX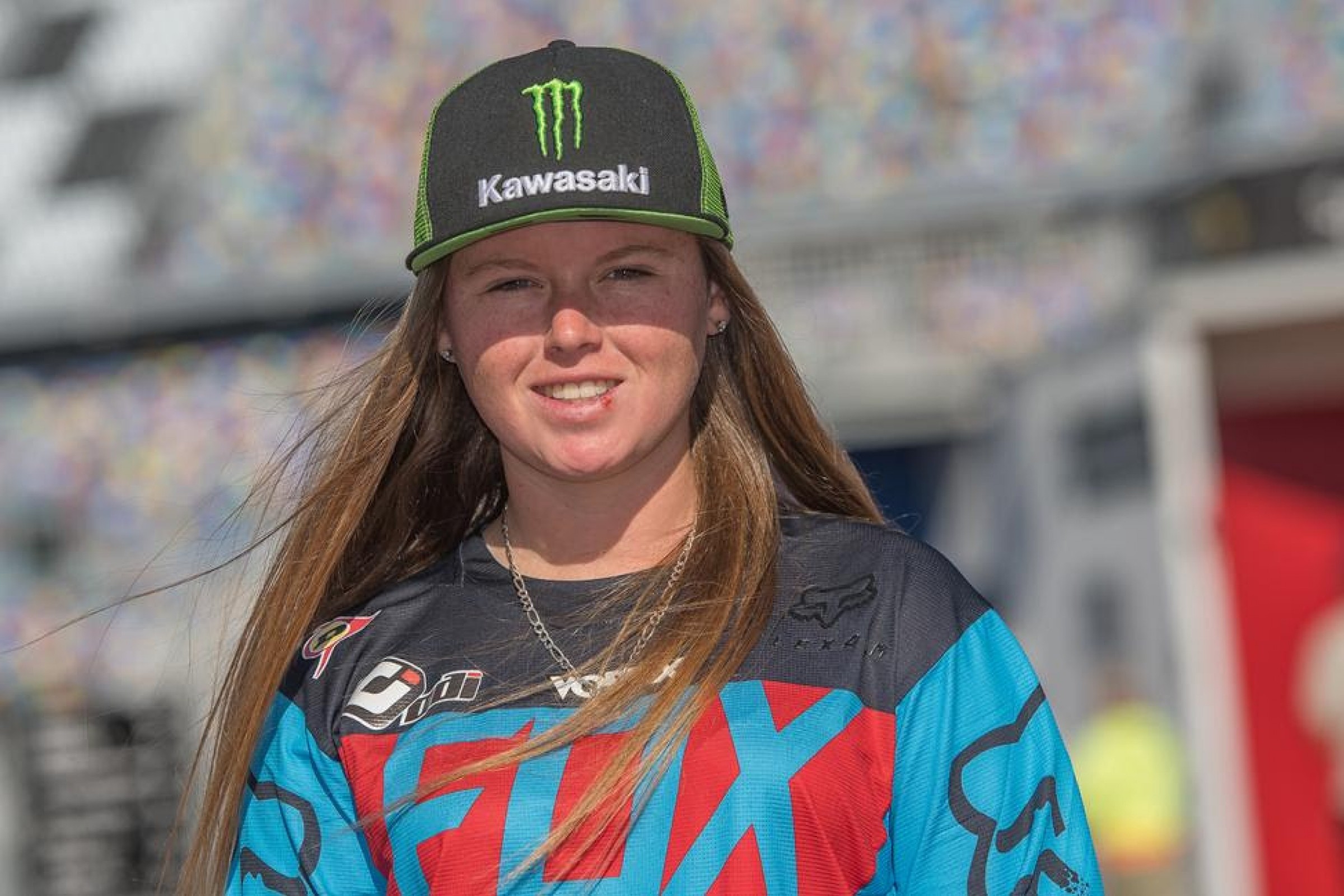 RANCHO CORDOVA, Calif. - Round four of the Women's Motocross Championship (WMX), took place on May 19 and 20, in conjunction with the Hangtown Motocross Classic in Rancho Cordova, California. At the conclusion of the second moto, Team Green's Kylie Fasnacht took home the overall after sweeping both moto wins.
Once the first gate drop fell, Fasnacht found herself in a favorable position where she grabbed the holeshot and continue to lead every lap until the finish.
"I sprinted my first four laps to get as big a lead as possible, but then I started making mistakes, so I backed it down a little," said Fasnacht.
After Fasnacht slowed her pace to ensure the win, this allowed CycleTrader.com/ Rock River Yamaha's Marissa Markelon to reel Fasnacht into her sights. However, by the time the checkered flag was thrown Markelon had to settle for second, while Obermeyer Suzuki's Mackenzie Tricker followed in third.
The second moto saw much of the same view when Fasnacht fought through the field of riders to come out of the first turn in second, behind Tricker who claimed the holeshot.
"I spun a little bit out of the gate and I was probably going to come out in around sixth, but I held it on a little bit longer in the first turn and came out in second behind Tricker," said Fasnacht. "I stayed behind MacKenzie for two laps and then I was able to get the lead, and I just worked on building a lead."
In the meantime, Markelon and Stone/Fly/Scott/Cycle Shack North Yamaha rider Kaitlyn Morrow found themselves in their own battle for third right behind Fasnacht and Tricker. Both riders would end up going down in separate incidents, allowing Fasnacht to pull away and eventually make the pass on Tricker for the lead. Once she had a safe gap over the field, Fasnacht rode a safe and smart race to the finish.
"The track was pretty rough, but I've been training in rough conditions, so I think that played into my favor," said Fasnacht. "I just had a lot of fun out there. I feel really good about where I'm at right now, I just wanted to stay consistent and build a good lead before the last two rounds."
Tricker would end up going 3-2 for second overall, while Markelon would recover from her wreck in the second moto to take the last step of the podium with her 2-3 moto tally. Eve Brodeur followed in fourth (5-4) and Amanda Brown (7-5) rounded out the top five overall.
The 10-round circuit travels across the United States to Mount Morris, Pennsylvania, for round five at High Point Raceway on Sunday, June 19.
For more information on the series, please visit the official website at www.racewmx.com or call (304) 284-0101. Join the conversation on the series Facebook page, follow us on Twitter and Instagram, and be sure to always hashtag #RaceWMX.
Event Results:
Kylie Fasnacht (KAW) 1-1
Mackenzie Tricker (SUZ) 3-2
Marissa Markelon (YAM) 2-3
Eve Brodeur (KTM) 5-4
Amanda Brown (KAW) 7-5
Mica Diaz (SUZ) 6-8
Brittany Gagne (YAM) 9-6
Lauren Woods (HON) 8-7
Jaden Carlson (HON) 8-7
Nicole Gaudern (KAW) 11-10
Series Points Standings:
Kylie Fasnacht (186)
Marissa Markelon (162)
Mackenzie Tricker (159)
Kaitlyn Morrow (130)
Eve Brodeur (112)
Amanda Brown (107)
Brittany Gagne (98)
Nicole Gaudern (71)
Lauren Woods (71)
Jade Carlson (60)
2016 Women's MX Championship Schedule:
Round 5: June 19, High Point National, Mt. Morris, PA
Round 6: August 28, Ironman National, Crawfordsville, IN
Round 7: September 3, Baja Brawl, Millington, MI
Round 8: October 2, Kawasaki Race Of Champions, Englishtown, NJ
Round 9: October 9, Budds Creek, Mechanicsville, MD
Round 10: November 26, Winter Olympics, Alachua, FL