Rancho Cordova, CA
Hangtown
Lucas Oil AMA Pro Motocross Championship
Ryan Dungey has never won the Hangtown Classic. That is surprising for most when hearing it for the first time. He has won in the 450 class at every other round of the series, but never Hangtown. Why is that? What makes Hangtown unique? Let's take a look at a couple of reasons why it has never clicked in NorCal for the Dunge.
First, while Dungey hasn't sealed the deal on an overall at this track, that's not to say he hasn't been good there. Looking back over his seven 450 class starts, his results are much more impressive than the subject matter would lead you to believe. His only real struggle was in the 2010 season and as I remember, there was a weekend off after the first round and he was a completely different rider when the series picked back up in Texas. Every other year at Hangtown, he was right in the mix.
He traded moto wins with Chad Reed in 2011, losing the second moto and therefore the overall. Two thousand and twelve saw him chase James Stewart around for a full 70 minutes, never able to make a move on Stewart and his brand new Suzuki. In every year since 2013, including this past Saturday, Ryan has faced the same dynamic at Hangtown. He has been just a touch off the winner's pace in both moto's.
Two thousand and thirteen was Ryan Villopoto at his finest; 2014 was Ken Roczen's turn to sweep the Hangtown Classic; 2015 was all about Eli Tomac and we all remember his dominating performance of a year ago; and then this year, just like in 2014, Roczen took the fight to Dungey again on Saturday. Each and every year was the same scenario. Ryan was very good. Good enough to beat 38 other guys, just not quite good enough to win.
Here are his moto results from 2010-2016 at the Hangtown round.
| | |
| --- | --- |
| Year | Results |
| 2010 | 10-6 |
| 2011 | 1-2 |
| 2012 | 3-2 |
| 2013 | 2-2 |
| 2014 | 2-2 |
| 2015 | 2-2 |
| 2016 | 2-2 |
Nine straight runner-up finishes in the motos! I don't think this trend is anything new, though. If we go back and look at supercross, there is a similar pattern. Just like Hangtown is often times the opening round for the Lucas Oil Pro Motocross Championship, Anaheim 1 is the Monster Energy Supercross opener. Ryan has also never won Anaheim 1, which is a bit too coincidental to discard. Based on that, I believe that Ryan may be a bit of a slow starter when it comes to a series. Whether it's the craziness of an opening round, not wanting to make a mistake at the first race, or simply the fact that he hasn't sorted out his race legs yet, the results are hard to overlook. He just doesn't come out firing on all cylinders at the opener. Now I know that he hates the nickname "The Diesel," but this is further evidence that he takes a minute to warm up his glow plugs.
Personally, I think it takes longer for Ryan to find his 100 percent after transitioning from seven months of supercross. I suffered the same struggle (of course on a lower level) in that I was still in supercross mode all the way up until Las Vegas ended. The ten days or so before Hangtown wasn't enough time for me to fully find my pace and my results at the opening rounds would suffer. As I spent more time on the bike and got more testing done, that comfort level would increase as would my pace. I think this same scenario might be true for Ryan. It was certainly true in 2010 as he was a completely different person from Round 1 to Round 2.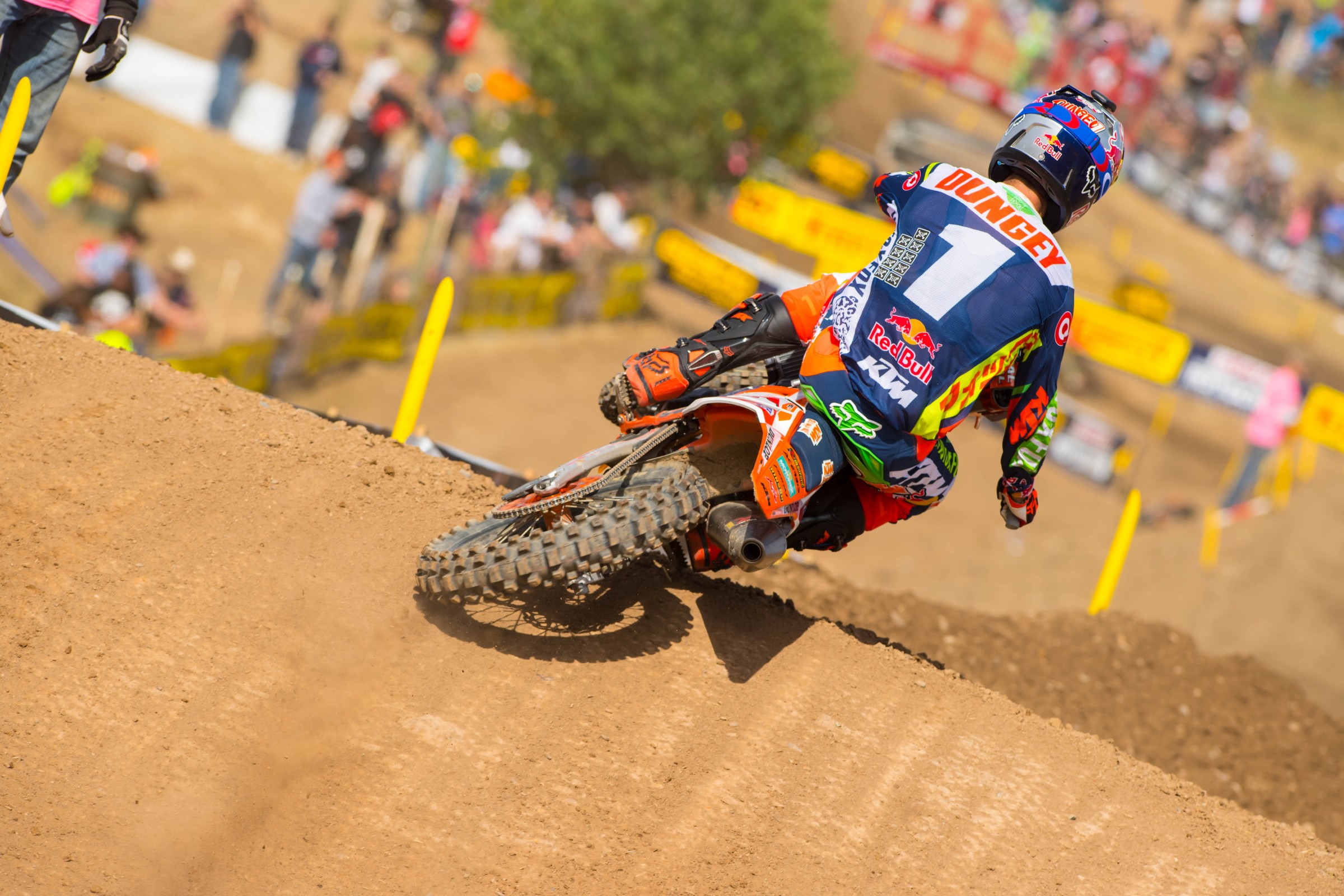 His first qualifying session on Saturday seemed to back up that theory as he only managed a tenth place time on the ultra-smooth and fast Hangtown opening practice. When the track slowed a bit in the second session, he was better but that tenth place time was the one that counted. When was the last time you can remember Ryan Dungey qualifying tenth at a national? Oh that's right, IT DOESN'T HAPPEN.
Next week he will be better. The Diesel will continue to warm and everyone else better be ready. Ken Roczen is riding a mountain of confidence after an incredible day. Eli Tomac surely wasn't happy with 4-4 finishes. Those three will once again collide this Saturday in Southern California. Will Dungey be ready to bounce back in his typical Round 2 fashion? History says yes but I have a feeling Ken Roczen isn't interested in history books.