Hangtown Motocross Classic
Rancho Cordova

,

CA
Hangtown
Lucas Oil AMA Pro Motocross Championship
The gate dropped on the 2016 Lucas Oil Pro Motocross Championship today, giving us a bit of insight to the questions we've been asking for the last few months. Instead of wondering whether or not Eli Tomac can repeat his crushing performances from last year, or if Ryan Dungey can finally win at Hangtown, we can now definitively say no to both questions. But what else happened? Check out the Race Day Feed to find out. If you want to read in chronological order start at the bottom with the practice report. Otherwise the moto summaries are directly below.
250 Moto One
The skies may be grey here at the GoPro Hangtown Motocross Classic, but the front of the pack was green in the first 250 moto. Joey Savatgy holeshot the first moto of the season and took off. He dealt with pressure early on from GEICO Honda's Jordon Smith, but he inched his way out and eventually took off, holding about a six second lead for most of the race. He had to do it in varying conditions too, as the rain started coming down fairly hard a few laps into the moto. It continued to fall for about ten minutes, and while it wasn't enough to create any standing water, things did start getting slick.
Smith held second, but nearly surrendered it late in the moto to the charging duo of Jeremy Martin and Cooper Webb, who had their own battle going for quite a while. Webb held third for about the first half of the race, but Martin was able to get by and start building a gap. But a few laps later Webb came right back, only to have Martin inch back out. Then, with only two laps left Webb made one final charge. He was all over Martin, but Martin held on, nearly getting Smith in the process.
Adam Cianciarulo's result a twelfth, isn't great on paper but he earned it after going down very early and remounting in what looked like outside the top twenty. He finished one spot ahead of his teammate, and rookie, Austin Forkner. And speaking of rookies, Tristan Charboneau had an outstanding debut, finishing sixth. As he was pulling off the track his smile was so big his helmet could barely contain it and several team members came over to hug and congratulate him.
250 Moto Two
Jessy Nelson found himself in the lead when the second 250 moto got underway, but it lasted less than a lap when a red flag came out after Stone Edler crashed about three turns in. But justice was served on the restart when Nelson ripped the holeshot and took off with Joey Savatgy, who didn't start well in the first gate drop, close behind him. Savatgy looked poised to make a move but just couldn't get close enough. Finally, late in the race, Savatgy was able to get it done. At that point Nelson started fading, giving up additional spots to Alex Martin, Aaron Plessinger, Zach Osborne, and Cooper Webb. Up front Savatgy was getting pressure from Alex Martin, who was having a great race. He wasn't able to get quite close enough to Savatgy though and finished second, 1.420 seconds back. Plessinger and Osborne flashed across the line almost immediately behind Martin.
What about the other Martin? Jeremy was battling behind his brother for quite some time but went down when Austin Forkner bumped him in a turn. He lost a lot of time and ended up taking ninth. Jordon Smith was putting together another great moto, running third, but he went down in the same place Martin did, also the victim of some bumping. There were plenty of other crashes elsewhere too. RJ Hampshire had a great start but went down and found himself under his bike. Forkner, who ran as high as third, also had a problem somewhere out of view and lost a bunch of spots, eventually finishing in seventh.
450 Moto One
After rain came down during the 250 moto, the clouds parted and the sun came out for the start of the first 450 moto. When the gate dropped Cole Seely took the holeshot by inches over his teammate Trey Canard. About half a lap after that Ken Roczen took over the lead and started checking out, while Canard took over second. But then Canard went down and lost a ton of spots, getting underway in about fifteenth. He was on the move though and was able to charge back up to seventh. Up front Roczen continued to disappear, but Ryan Dungey took over second and slowly started eating into Roczen's lead. But Roczen responded and maintained roughly a five-second gap over Dungey the whole time, leading wire to wire. Dungey took second by about thirty-five seconds over third.
Elsewhere Eli Tomac had a horrible start and was faced with ripping through the pack, which he started doing right away. At roughly the halfway point he was already up to fourth, and late in the race he caught Cole Seely for third. At this point Roczen and Dungey were already gone, so third seemed to be a foregone conclusion for Tomac. But then Blake Baggett, who Tomac had passed earlier, started flying, even setting his fastest lap of the moto near the very end. He got back by Tomac and gapped him for the final podium spot. El Chupacabra's back people!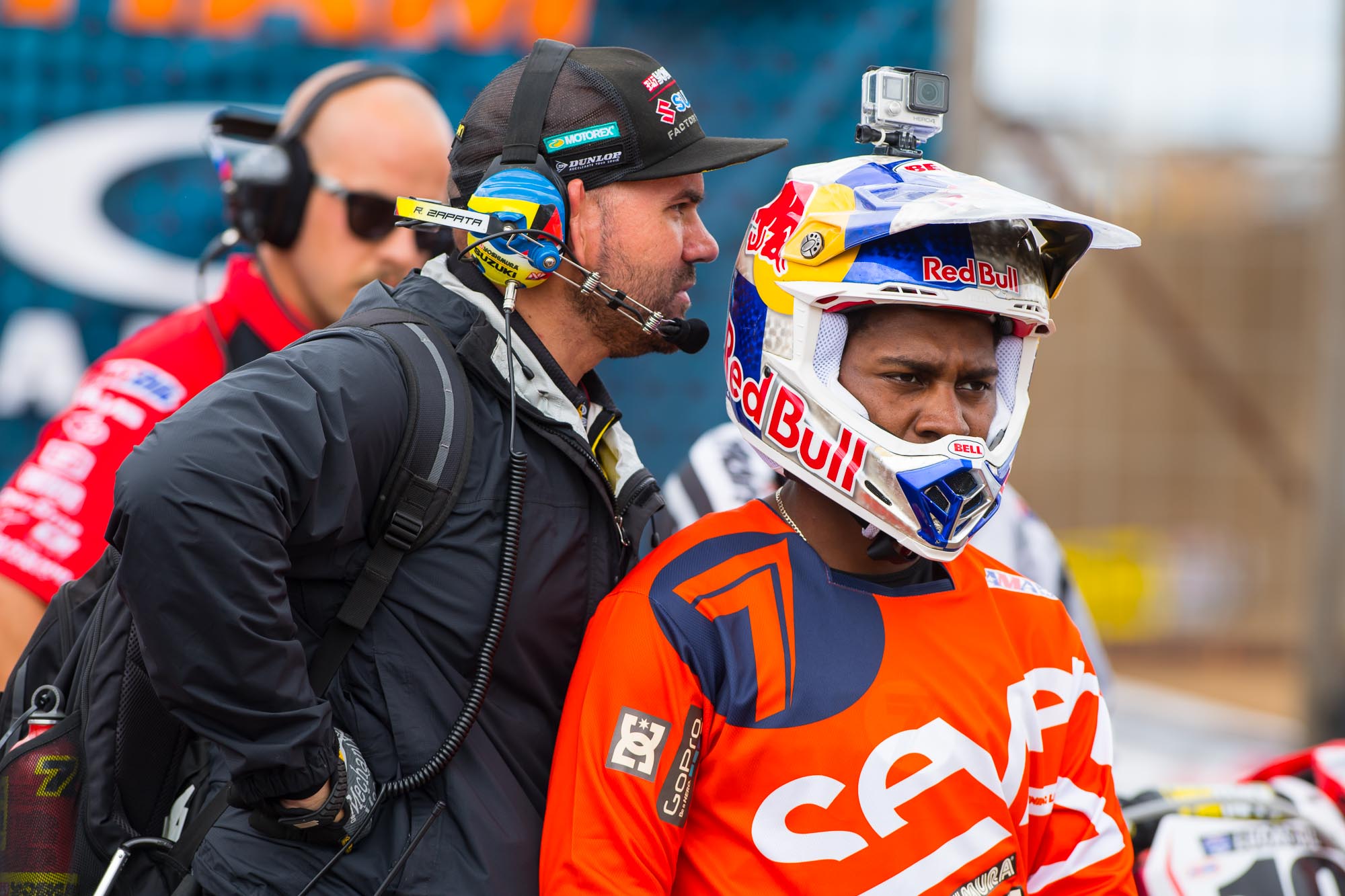 Jason Anderson had a pretty good race. He got a terrible start but managed to work up to sixth. On the flip side, Marvin Musquin got a good start but ended up fading a bit, ending up ninth after running fourth.
Bad news for James Stewart. The Yoshimura Suzuki rider went down while running around twelfth and had to go to the Asterisk Medical Rig. He emerged later with his arm in a sling, and initial reports are that he suffered his shoulder popped out.
450 Moto Two
If you're a Ken Roczen fan the second 450 moto couldn't have gone any better. Roczen took the lead away from Ryan Dungey about half a lap into it and that was it. Roczen hammered down and just disappeared, beating Dungey by a large margin. In third early was Justin Barcia but Jason Anderson caught and passed him, and after that Barcia started sliding backward in a hurry.
Eli Tomac didn't start as poorly as he did in the first moto, but didn't have near the speed needed to run down the leaders. He made a few passes, but by the time he got into fourth Anderson was long gone and everyone was pretty spread out. Tomac went 4-4 but ended up third overall. Blake Baggett was making his way forward but ended up getting spit off his bike and going down hard. He wasn't the same rider after that and just seemed to circulate around the track instead of charging. Afterward we learned he broke his collarbone in the crash.
Practice Report
The first practice sessions of the season are in the books here in Northern California, and it's already pretty clear the riders are going to be battling an extremely rough track today. How rough? Times were roughly two to three seconds slower in the second practice sessions. If the track got that gnarly after just a few practice sessions it's going to get ridiculously chewed up during today's motos.
In 250 action most everyone you would expect to look fast looked fast, and plenty of guys were cranking out fast laps, including rookie Austin Forkner, who held the fastest lap at times, eventually ending the first session fourth fastest. Cooper Webb looked good too, and if his wrist is still bothering him you'd never know it. He was ripping out there and ended up third fastest right behind his old amateur rival Adam Cianciarulo. Joey Savatgy ended up fastest in the first session, and thanks to a slower, rougher track in the second practice, his time would hold up, making him the fastest overall 250 qualifier. Jeremy Martin was king of the second qualifier though, logging a 1:57.799, with Forkner not too far off with a 1:58.109. Forkner even found himself a few bike lengths behind Martin for a lap and was able to stay with him. We'll see if he can keep that kind of pace for thirty plus two.
In the 450 ranks the headliner was Eli Tomac. The Monster Energy Kawasaki rider didn't post a time that was wildly faster than everyone, Trey Canard was less than half a second back in the first session, but any indications of top-shelf speed from Tomac have to be alarming for the competition. Of course, the overall times don't tell the whole story here. Ryan Dungey was a few seconds off in the first session, but he killed it in the second, topping Canard by a little over half a second. But since the rougher track was slower for the second session his overall time doesn't look as good on paper as it actually is. No matter what happens, we're in for some good racing today.
Today's track is pretty similar to the traditional Hangtown layout, complete with all the up and downhill sections that always get extremely rough and nasty. What is different today is the weather. It's chilly and reports are indicating about a 20% chance of rain this afternoon. The area received some rain last night too, but nothing major and right now the track is in good shape.