After an unprecedented run of dominance from Jeremy McGrath, Jeff Emig stepped up to win his lone AMA Supercross Championship in 1997. Emig shares his stories of that year in the July 2016 issue of Racer X Illustrated. This is the story behind the story.
The issue has been shipped to subscribers and will be available for purchase on our Current Issue page when print copies arrive. Want your copy now? Subscribe to get instant desktop and mobile access and a Malcolm Stewart cover shirt. You can also subscribe via Apple Newsstand or Google Play for mobile-only access.
Friday, June 17, 1994 was the day I met Jeff Emig. I remember the entire encounter as if it were yesterday. I was working on the American Suzuki account at the ad agency Lord Dentsu & Partners in Los Angeles when my desk phone rang.
"Hey EJ, it's Davey," said the caller. "I'm out in Riverside with Jeff Emig. You should come out here and hang out with us."
This was two decades ago, and up to that point, I really didn't know any big motocross stars of the day. What changed all that was a fast friendship I had formed with Davey Coombs. Davey and I had hit it off basically from word one and he always went out of his way to introduce me to the riders of the era, riders he was downright close friends with. This is probably a good time to mention that if I had never met DC, I never would have found a way into this sport and been fortunate enough to make a career out of it.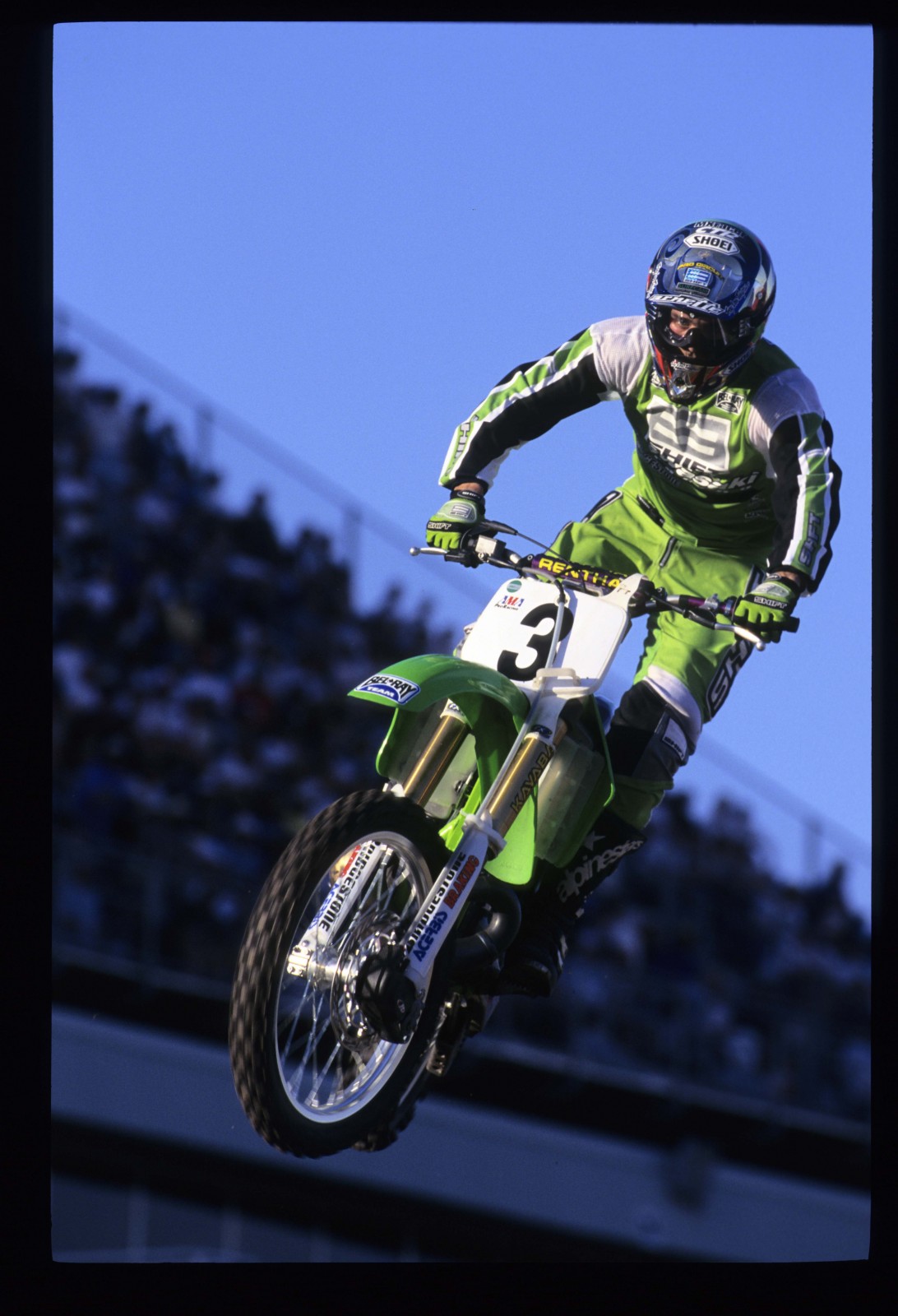 I had snapped my leg in half a few months prior to DC's call that afternoon, so it took me a while to crutch it out to my car and begin the trek toward the 91 freeway. Once I got going, I motored down Artesia Boulevard in Redondo Beach and was about to pin it up the on-ramp when I saw an echelon of helicopters and more wailing and screaming Los Angeles police cars than in the Blues Brothers movie. Out in front it all and leading the charge was a white Ford Bronco.
"What the hell?" I said to myself out loud.
I zapped through a litany of radio stations to find out was up. When I did, I just laughed. Hard. It was the Juice making a run for it! With his man Al Cowlings handling the driving duties, they were truly living the High Speed Los Angeles Car Chase Blues. Now remember, this was the stone age and back before cell phones were common, so there was no way I could get a hold of DC, so I just kept driving. It took me about two hours to get to Riverside, entertained by the O.J. Simpson cliffhanger the entire way. Just as I rolled into the driveway of Fro's home, O.J. was getting out of the Bronco in Brentwood with his hands in the air.
I could see and hear three guys in the garage before me, one of them yelling, "Shoot! Shoot!" I crutched it up to the garage and there was Davey, a dude named Billy Felts and Emig. They were sitting in lawn chairs drinking beer, eating peanuts and watching the O.J. showdown on a big screen.
"How about this shit?!" exclaimed Emig as he reached out to shake my hand.
That's how I met Jeff Emig.
Jeff sat with me for over three hours as we leafed through one race at a time. As I expected, Jeff's memory was razor sharp and he basically could recount everything in lucid detail.
I think he'd agree with me when I said Jeff and I became friends immediately. Yes, I was star struck by the guy and a downright fan, but he was super-genuine and really easy to talk with and we had quite a bit in common. He was cocky, but also funny, and quite often, a smart ass. In other words, and as far as this moto journalism deal goes, he was a dream to work with.
We'd hang out at the races, we'd hang out after the races, we'd hang out during the week. I was, to a large extent, around the man his entire career. Yes, there were ups-and-downs and all-arounds, but that made me like him even more.
A couple of months ago I was talking with Davey and we were contemplating story ideas for the approaching issue. I knew the Las Vegas Supercross was approaching and had it in my mind to do a historically-themed feature that would drop right about the time the race went off at Sam Boyd Stadium.
"You know what I'd love to write about?" I told DC. "What?" he replied back. "I'd really like to do a story on Jeff Emig's 1997 supercross season. He won the championship that year and took down McGrath and proved he was the best rider in the world that year. I'd be stoked to get Jeff in here and talk about each of the fifteen rounds that year and how the whole thing came down to the end in Vegas. I think readers might enjoy it and I think Jeff would be amped to do it."
"Get on it," said DC.
And I did. Quickly. I phoned up Emig, told him what I wanted to do, and a few days later, we met in my office in Corona, California. Before his day of arrival, I did my homework. For an entire day, I poured through the Cycle News archives and printed out the race coverage from each of the fifteen races from the 1997 season. Furthermore, I dug out old magazines and photos and Racer X newspapers and anything else I could find that might pique Jeff's memory during the conversation we would have.
And it worked. Jeff sat with me for over three hours as we leafed through one race at a time. As I expected, Jeff's memory was razor sharp and he basically could recount everything in lucid detail. I was at quite a few of the races that season, so we were able to speak and collaborate about the entire series at great length. In the end, the DC-edited story would come in around 3,000 words, but in all, my first draft of the article came in at over 12,000 words. We had to make the story fit the issue it was going in, but it goes to show you a lot of material had to be left out. Nobody's fault there. It is what it is.
After the running of the recent Las Vegas Supercross, I was standing back in the pit area by myself waiting for Simon Cudby when a white pickup rolled up before me. The driver rolled down the window and yelled my name. It was Jeff Emig.
"Hey, when does that story come out?" he asked me. "I think any day," I said.
"Hey, remember after the race here in '97 when we all went to your championship party?"
"Oh yeah, I do!" laughed Jeff.
Some things you just never forget.