Wheels Up: The End of Supercross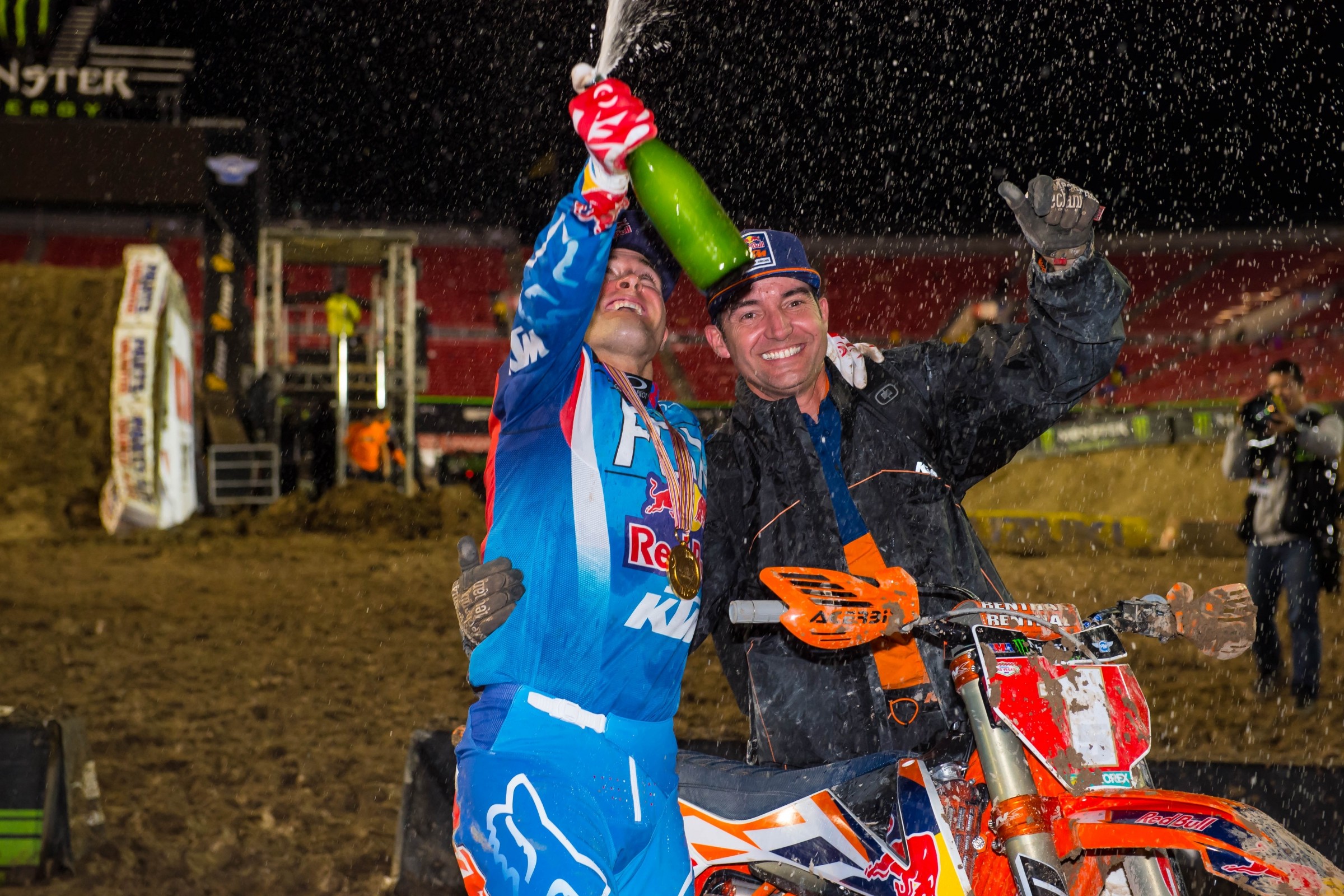 By Jason "Wheels" Todd
Introducing a new monthly feature where our man in the middle of America, Jason "Wheels" Todd, gives you his take on all of the happenings in Monster Energy AMA Supercross.
As the late baseball announcer Harry Caray would say, "HO-LY COW!" Another season of Monster Energy AMA Supercross is over, and being that I'm from Illinois and the Chicago Cubs are doing quite well at the moment, I felt as if this is the perfect way to express the 2016 SX season coming to an end. Now, the 2016 Lucas Oil Pro Motocross Championship is quickly approaching. We are barely a week away from dropping the gates at Hangtown! Without further adieu, here is Wheels Up: The End of Supercross.
Mud: "Wet, soft earth or earthy matter, as on the ground after rain, at the bottom of a pond, or along the banks of a river; mire" IE: Las Vegas Supercross. While watching last Saturday night's race from the dry warm comforts of home, after a warm sunny day of fishing with friends, one thought kept replaying in my mind: 'If I'd only wagered money that we would have a mud race in Vegas, how rich would I be right now?' The answer is probably not very, but still, had anyone predicted that we would see those types of conditions in the desert they would have raised more than a few eyebrows and seen numerous sets of eyes roll. Amidst the muck and mire that was Las Vegas the re-crowned Ryan Dungey emerged victorious, but not without a contest. Soaring Eagle/Jimmy Johns/RCH Racing Suzuki's Ken Roczen has given RD quite the run the last few weeks, and had he not gone down in the main things could have been pretty fun to watch. But you can't make mistakes like that when you're racing against the ever-steady Dungey.
Dungey's resume of achievements has become quite impressive, though his podium streak came to an end in New Jersey. While it was amazing to see RD earn podium after podium finishes, we all had some sort of idea that it would come to an end eventually, right? I've referenced this before, but it truly is incredible to witness the caliber of rider that Dungey has become. Congrats champ, you earned it!
As mentioned previously, Roczen has proven that he can run Dungey's pace, and at times that he is capable of beating the champ. Roczen has been on a hot streak lately, which leads me to wonder how things may have been had his starts and bike set up been on par early on in the season. In my mind 2017 is the time for Roczen to prove that he can BE the champ. And K-Roc has sat on the championship throne of the Pro Motocross Nationals before, so I look for it to be a very interesting summer too.
When speaking about supercross championship contenders, it is my belief that Jason Anderson's name now belongs on the list of prospects to win future 450 championships. This Rockstar Racing Husqvarna rider is a badass, no question about it. Is he aggressive? Absolutely! Is he maybe a bit overly aggressive on occasion? Sure. Every rider out there has made some sort of questionable move during his career. Anderson is exactly the rider that the fan inside myself wants to see. He will ruffle feathers, but he does so while moving toward the front of the pack, not riding defensively and slipping back. He isn't out there being a bonehead and in the way like we've seen from other riders. If you dislike this kid, fan or riders alike, that's unfortunate because El Hombre is here to stay.
If you follow @RacerXOnline on Instagram you may have noticed the frequent use of the hash tag #PrivateerLife on a number of our posts. Whether you're a racer yourself or just an avid follower of the sport, odds are pretty high that you're familiar with the term "privateer." The question that I pose to you: are you familiar with the meaning behind the term?
The word privateer is defined as, "an armed ship that is privately owned and manned, commissioned by a government to fight or harass enemy ships." If you convert the written definition over to the realm of motocross, there could not be more parity between the two. Privately owned ships (dirt bikes) fighting or harassing (racing) enemy ships (factory supported dirt bikes). It's the forever battle between Davids and Goliaths.
In between Indianapolis and St Louis races I was fortunate enough to spend a day with Theodore "Bubba" Pauli and Tyler Enticknap, as they put in some midweek training at Pauli's private practice track. In addition to witnessing their midweek practice session, I was curious to learn what being a privateer means to them, and how the lifestyle correlates into their lives off of the motorcycle.
"I think being a privateer scares some people, because you have to do a lot of work on your own," said Tyler Enticknap. "For me, I invite the privateer life in. I'm doing whatever it takes to keep riding my dirt bike and to keep moving forward. Being a privateer is a lifestyle, and a step in the right direction to becoming something more in the motorcycle industry."
"To me being a privateer means a lot," added Pauli. "It takes a ton of responsibility, effort, and self-discipline. In 2016 I have personally driven to every round; some of them on my own, and the others with certain family, friends, or sponsors. As a privateer funds are limited, often spending our last dollar to get to the next race then drive all night to be at work on Monday. At the end of the day it's a very rewarding feeling to know that you, and a few close people around you, put in all of the hard work, time, and money to go race your motorcycle on a world stage. To me that's priceless!"
Being a privateer dirt bike racer in the sport of professional MX/SX is not for the weak, nor faint of heart. However, as mentioned above, the task does pay dividends far beyond monetary value. I'd like to say thank you to the Pauli family for having us out to their property, as well as to each rider who is doing whatever it takes just to race their dirt bike.
Since the last time you read my words, we have been treated to a double dose of action in the 250 class. Cooper Webb successfully defended the 250 SX West Region title belt. However, Joey Savatgy put up an incredible fight all season long, and left Vegas with a whole lot of confidence, having won the final race of the season. Congratulations to Cooper on his championship, it will be interesting to see how he does in the 450 class next season. As for Savatgy, undoubtedly losing the championship by one point is a bitter drink to taste, but this kid should be proud of himself and confident that he is a title favorite in 2017, and maybe even this summer.
In the 250 SX East Region, fourteen points separated Aaron Plessinger from Malcolm Stewart going into the finale. When the rains began to fall and the track was becoming a mess, one would have to think that Plessinger was feeling pretty excited. He's proven that he is really good in gnarly conditions, thanks in part to his experience in GNCC Racing growing up. However, as we all witnessed, Malcolm would put in a solid third-place ride and earn the first championship of his professional career. Actually, any career—Mookie never won a title at Loretta Lynn's as a kid growing up! Now the Stewart who used to spend more time fishing than riding his dirt bike is the 250 SX East Region champ. If his brother James was once known as the fastest man on the planet, does this currently make Malcolm the fastest fisherman on the planet?
In addition to all of the fun and excitement that takes place ON the track, this season more than ever, I've really taken notice of all of the fans that are associated with this awesome sport. During my time here at Racer X Online I've had the opportunity to interact with fans in the pits, and in the stands, on more than one occasion. It really is an awesome feeling when you make a kid's day by throwing their photo up on Instagram, or conversing with them about the races.
A while back I wrote an article showcasing what supercross was like for those who aren't fortunate enough to have jobs in this incredible industry. It was easy for me to pen that piece, because for many years, I was that person. It is for that humble reason I find that some of the most enjoyable of the 2016 Monster Energy Supercross season have occurred on the concourses of stadiums, rather than on the floor.
For instance, I'll never forget the young family whose photo I took for them while waiting in line for a pretzel in Indianapolis, nor the two young men in Atlanta holding posters who were completely stoked to have their picture put on our Instagram page. This sport is amazing, and not just because of the racing!
Before I wrap this up, I'd like to quickly reference an experience that I had this season. One of the perks of this blessed career is that we are fortunate to be able to travel and see new, and often unfamiliar, places. During my travels I stayed at an unnamed hotel. No, this is nothing out of the usual, but what I want to note is how rare it is to come across people who will unknowingly make you feel as if you are at home, even when on the road. At this hotel was a desk worker who was clearly disgruntled and dealing with an enormous amount of work. From checking guests in to dealing with unruly children wanting change for the vending machine, to answering phone calls, this lady was doing it all and absolutely on edge. However, despite the hustle and bustle, she still found the professionalism to assist me kindly and even upgraded my room to a suite to make up for my room being booked incorrectly on their end. I understand that this has very little relevance to supercross, but I complimented this worker's efforts and promised her that I'd give her a public 'Thank You' in my writing. So here it is, to the unnamed worker at such-n-such hotel in the middle of America, thank you. Your efforts were and are appreciated.
While writing this installment of Wheels Up, I found myself unsure how to end this. As I thought of a conclusion, I found myself hitting the backspace button a number of times and starting over. I suppose this is relevant because while SX is in fact finished, the beginning of the Pro Motocross season is a chance for each rider, mechanic, media member, staff worker, etc., to start over. One series may not have gone the way so-and-so planned, but Hangtown is the start of a whole new series, and it will bring a sense of redemption and a clean slate for all of us.
As always I'd like to thank each and every one of you who read my words on a monthly basis. It's been an honor and a surreal privilege to be granted a platform to share my thoughts and words about our sport. To everyone who has stopped me at races, sent me encouraging messages, and who support this column, thank you. To everyone at Racer X Online who allows me to ramble on about dirt bikes, I cannot thank you all enough. It's been an incredible season, and I have enjoyed every moment of every late night that has ensued while putting together these articles. I will be back to chat about the Lucas Oil Pro Motocross Championship next month. In the meantime, follow @racerxonline @promotocross @lorettalynnmx @highpointmx and on and on it goes…
Again, thanks for reading!
- Wheels