Gavin Faith Captures First Career Amsoil Arenacross Championship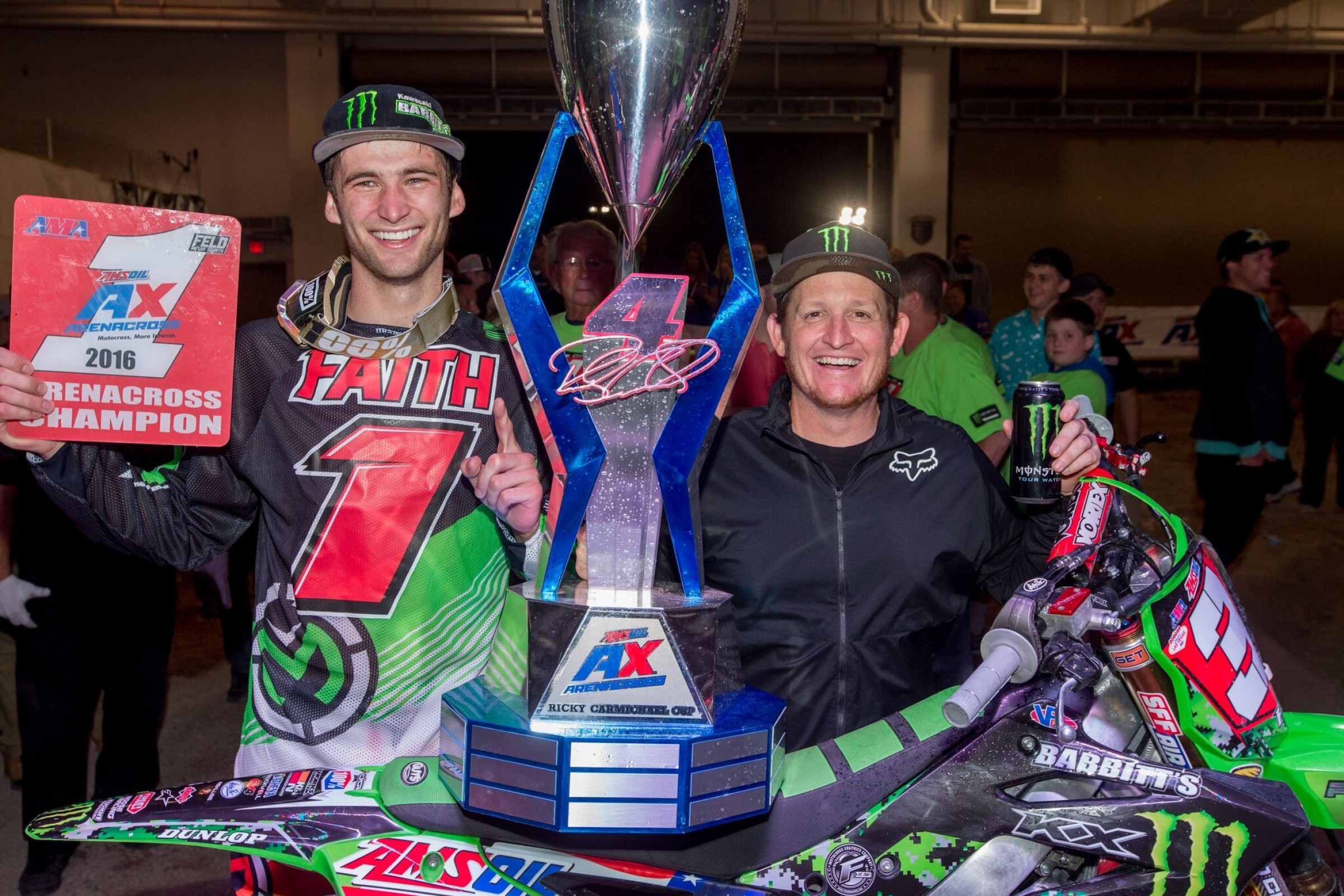 LAS VEGAS – The Race to the Championship came to a dramatic conclusion on Friday night inside Orleans Arena as the three-rider Team Babbitt's/Monster Energy/AMSOIL Kawasaki lineup of Gavin Faith, Chris Blose and Jacob Hayes battled to be the first recipient of the Ricky Carmichael Cup. The AMSOIL Arenacross Finals featured a packed house, with the crowd cheering on as Blose went on to sweep both of the Arenacross Class Main Events. However, his flawless performance wasn't enough to overcome the eight-point deficit to Faith, who followed his teammate across the line in second in each Main Event to clinch his first career title. In the Arenacross Lites Class East/West Shootout, Strikt/Triple-Effect/Us Racing Yamaha's Ryan Breece took the win as TZR/Woodstock KTM's Cody VanBuskirk walked away with the Western Regional Arenacross Lites Class Championship.
Blose began his path to victory in Las Vegas by emerging victorious in the RMATV/MC Head 2 Head Challenge, which awarded him an additional championship bonus point and a seven-point deficit entering the Main Events.
He kept the ball rolling into the first Arenacross Class Main Event by grabbing the holeshot ahead of Hayes and TiLUBE/TUF Racing Honda's Jace Owen. TZR/Woodstock KTM's Travis Sewell was fourth, with Faith in fifth. Faith was able to quickly position himself into fourth and then seized an opportunity to jump into second by blitzing alongside Hayes and Owen in the whoops as they battled for position. That put Faith into an ideal position to follow his teammate out front, while Owen secured third over Hayes.
Blose and Faith settled into their spots out front, setting consistent laps and establishing a comfortable margin over the field. After several laps of pressure Hayes was able to make the pass on Owen for third on Lap 9. He attempted to make a push to catch his teammates, but couldn't get close enough to mount a challenge.
Blose went wire-to-wire and took the checkered flag a couple of seconds ahead of Faith, with Hayes following in third. Sewell made a late pass on Owen to secure fourth, with Owen rounding out the top five.
Following his runner-up effort in the first Main Event, Faith needed to finish seventh or better in the final Main Event of the 2016 season in order to secure the title.
Defending AMSOIL Arenacross Champion Kyle Regal put his Rockstar Energy Drink Husqvarna Factory Racing, presented by FMC and OTSFF machine into the lead to start the second Main Event, with Blose right on his rear fender. Sewell was third, with Faith slotting into fourth. Blose wasted little time in passing Regal and took control of the race on the opening lap. Shortly thereafter Sewell and Regal made contact with one another while battling for second, which allowed Faith to move into third as Regal slipped away to maintain control of second. Faith patiently waited for his opportunity to make a clean pass on Regal and made the pass for second on Lap 4. A couple laps later Regal slowed and lost several positions, handing third to Sewell.
With Blose and Faith out front, the second Main Event became a mirror image of the first as the pair logged consistent laps and navigated through lapped riders. After starting seventh, Hayes was on a torrid charge to the front and progressively picked off riders, ultimately positioning himself in fourth right behind Sewell. On Lap 9 Hayes was able to make the pass for the final spot on the podium in the whoops and once again did all he could to close the gap to his teammates in the closing laps.
Faith closed in on Blose on the final lap, but didn't need to force the issue knowing the championship would be his with another runner-up finish. Blose capped off a near-perfect night by taking the checkered flag just over a second ahead of Faith, with Hayes right behind them in third. Sewell was fourth with Owen in fifth for an identical top five from the first Main Event.
Blose (1-1) led every lap of both Arenacross Class Main Events and took the Head 2 Head Challenge win to maximize his point total for the evening, but Faith's consistency (2-2) was too much to overcome. In the end Hayes' 3-3 finishes behind his teammates meant the Team Babbitt's/Monster Energy/AMSOIL Kawasaki trio swept the overall podium for the fourth time this season and secured a 1-2-3 finish in the final championship standings by doing so. Sewell was fourth overall (4-4), with Owen completing the top five (5-5).
"I came out and did everything I could tonight to win the overall," said Blose. "I'm pretty bummed to get second in the championship, but we made a lot of progression from last year and we have to be proud of that. I had two bad Main Events [in the Race to the Championship] with two crashes and that ultimately cost me the championship. But you live and learn from your mistakes and it makes you a better person."
The championship is the first of Faith's career, one season after finishing third in the final standings. He ended the season just five points ahead of Blose and became the first rider to hoist the Ricky Carmichael Cup.
"I don't know if I've even been so nervous coming into a weekend," expressed Faith. "Chris [Blose] has been riding great all year and I knew he was going to bring it tonight. It just feels so good [to win the title]. I'm a little speechless right now. It feels incredible to win the [Ricky Carmichael Cup]. I've been working with Ricky and we're bringing it back home to the [Carmichael] Farm. It's awesome. It's been a long season and we've worked really hard for this, so to finally make it happen feels incredible."
JMC Motorsports/K1 Speed Husqvarna's Chris Howell grabbed the holeshot to start the Arenacross Lites Class East/West Shootout but crashed out of the race in the first rhythm section, resulting in a red flag and a restart. When the field roared out of the gate for the restart it was Blue Buffalo/Slater Skins Yamaha's Josh Cartwright who captured the holeshot ahead of Breece and Rockstar Energy Drink Husqvarna Factory Racing's Kyle Bitterman. VanBuskirk slotted into fourth, just ahead of Scott Sports/Knor Motorsports Husqvarna's Dave Ginolfi.
Breece was able to take over the lead from Cartwright and proceeded to establish an early gap. Cartwright settled into second with Bitterman in tow. A hard-charging Daniel Herrlein, the 2016 Eastern Regional Arenacross Lites Class Champion, began to move his way forward aboard his A&Y Racing Honda, moving past Ginolfi and then VanBuskirk to take over fourth. VanBuskirk would lose a couple more positions before making a climb back to the front.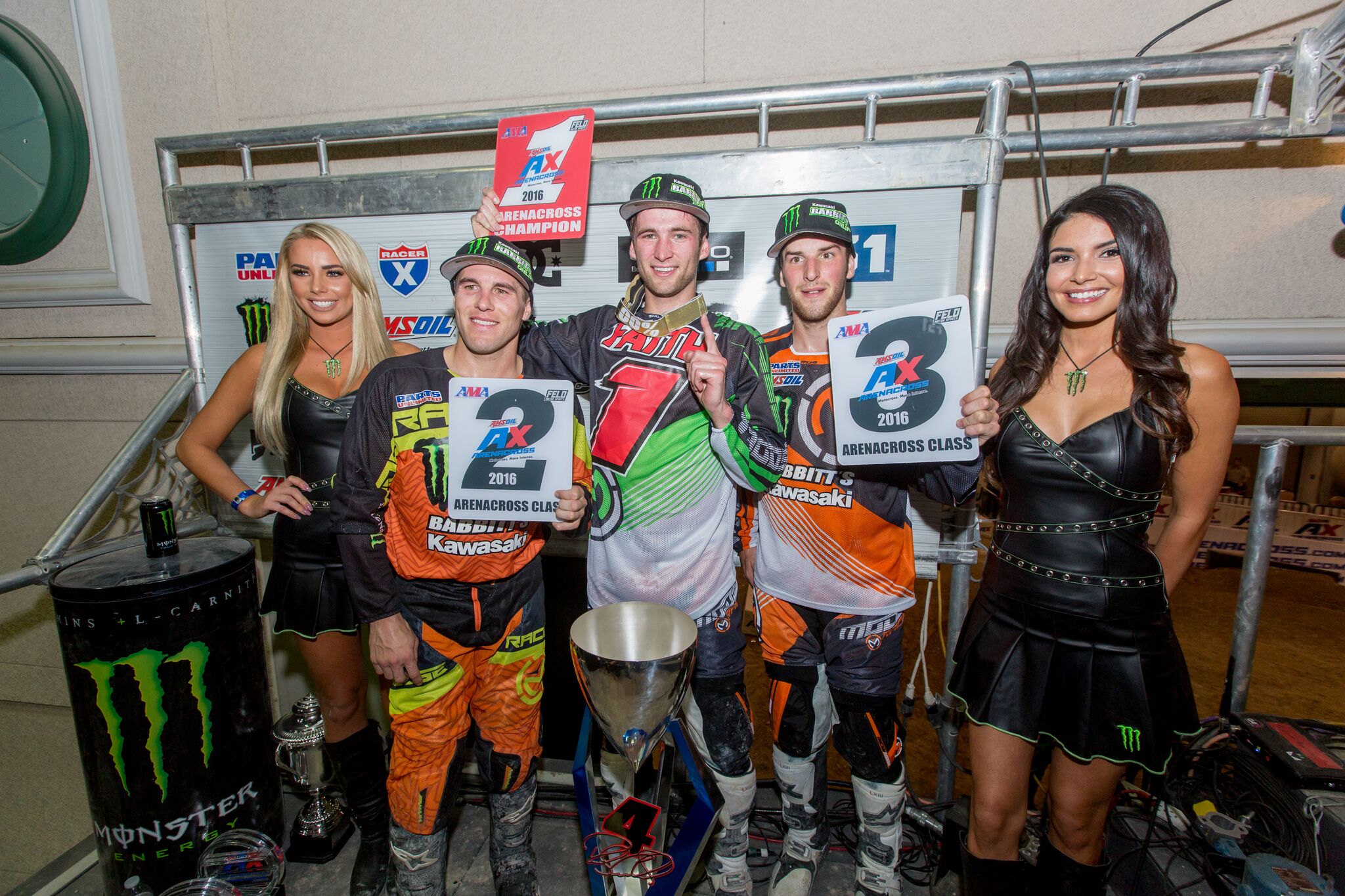 While Breece continued to extend his lead out front, Herrlein continued to improve positions, passing Bitterman for third and then Cartwright for second on Lap 10. Bitterman would then fall into the clutches of Cartwright and lose control of third. Breece earned his second consecutive Arenacross Lites Class East/West Shootout victory, crossing the line 12 seconds ahead of Herrlein, with Cartwright in third. Bitterman followed in fourth, while VanBuskirk battled back to finish fifth.
VanBuskirk entered Las Vegas with an eight-point advantage of Team DirtBike Mike/KTM Sports Center of Little Rock KTM's Ben Nelko, but after Nelko failed to make the Main Event VanBuskirk clinched the title as soon as the gate dropped. It is the first career title for the Illinois rider.
"It feels good [to win the championship]. It was a long season and I just tried to stay consistent and put it on the [podium] each weekend," said VanBuskirk. "It was a tough night but we came away with the title. The track was tough and I didn't get off to the best start, but I was able to work my way into fifth. I would have loved to be on the podium, but we got the championship and that's what we came here to do."
VanBuskirk completed the Western Regional Arenacross Lites Class Championship with a 20-point lead over Nelko. MX Athletics/Racetech KTM's Carlen Gardner rounded out the final standings in third.
Arenacross Class Results - Main Event 1
Chris Blose, Phoenix, Kawasaki
Gavin Faith, Fort Dodge, Iowa, Kawasaki
Jacob Hayes, Liberty, N.C., Kawasaki
Travis Sewell, Westville, Ind., KTM
Jace Owen, Matoon, Ill., Honda
Gared Steinke, Woodland, Calif., Husqvarna
Ben Lamay, Forney, Texas, Honda
Kyle Regal, Lake Elsinore, Calif., Husqvarna
Ryan Breece, Athol, Idaho, Yamaha
Steven Mages, Sardinia, Ohio, Kawasaki
Arenacross Class Results - Main Event 2
Chris Blose, Phoenix, Kawasaki
Gavin Faith, Fort Dodge, Iowa, Kawasaki
Jacob Hayes, Liberty, N.C., Kawasaki
Travis Sewell, Westville, Ind., KTM
Jace Owen, Matoon, Ill., Honda
Ben Lamay, Forney, Texas, Honda
Gared Steinke, Woodland, Calif., Husqvarna
Ryan Breece, Athol, Idaho, Yamaha
Kyle Regal, Lake Elsinore, Calif., Husqvarna
Joey Crown, Metamora, Mich., Kawasaki

Arenacross Class Overall Results (Main Event Results)
Chris Blose, Phoenix, Kawasaki (1-1)
Gavin Faith, Fort Dodge, Iowa, Kawasaki (2-2)
Jacob Hayes, Liberty, N.C., Kawasaki (3-3)
Travis Sewell, Westville, Ind., KTM (4-4)
Jace Owen, Matoon, Ill., Honda (5-5)
Gared Steinke, Woodland, Calif., Husqvarna (6-7)
Ben Lamay, Forney, Texas, Honda (9-6)
Kyle Regal, Lake Elsinore, Calif., Husqvarna (7-9)
Ryan Breece, Athol, Idaho, Yamaha (10-8)
Steven Mages, Sardinia, Ohio, Kawasaki (8-14)
RMATV/MC Head 2 Head Challenge Results (Bonus Points)
Chris Blose, Phoenix, Kawasaki (2 points)
Jace Owen, Matoon, Ill., Honda (1 point)
Gavin Faith, Fort Dodge, Iowa, Kawasaki (1 point)
Jacob Hayes, Liberty, N.C., Kawasaki (1 point)
Travis Sewell, Westville, Ind., KTM (1 point)
Gared Steinke, Woodland, Calif., Husqvarna (1 point)
Joey Crown, Metamora, Mich., Kawasaki (1 point)
Chris Howell, Spokane Valley, Wash., Husqvarna (1 point)
Arenacross Lites Class East/West Shootout Results
Ryan Breece, Athol, Idaho, Yamaha
Daniel Herrlein, Bethesda, Ohio, Honda
Josh Cartwright, Tallahassee, Fla., Yamaha
Kyle Bitterman, West Pelzer, S.C., Husqvarna
Cody VanBuskirk, Harvard, Ill., KTM
Robbie Wageman, Newhall, Calif., Yamaha
Jared Lesher, Ball Ground, Ga., KTM
Dave Ginolfi, Midvale, Utah, Husqvarna
Devin Harriman, Brush Prairie, Wash., Suzuki
Dylan Rouse, Florence, Ky., KTM
Race to the Championship Final Standings
Gavin Faith, Fort Dodge, Iowa, Kawasaki - 220 (9 Main Event Wins)
Chris Blose, Phoenix, Kawasaki - 215 (6 Main Event Wins)
Jacob Hayes, Liberty, N.C., Kawasaki - 192 (10 Main Event Wins)
Travis Sewell, Westville, Ind., KTM - 176 (6 Main Event Wins)
Jace Owen, Matoon, Ill., Honda - 172 (1 Main Event Win)
Ben Lamay, Forney, Texas, Honda - 169 (3 Main Event Wins)
Kyle Regal, Lake Elsinore, Calif., Husqvarna - 143
Gared Steinke, Woodland, Calif., Husqvarna - 126
Cody VanBuskirk, Harvard, Ill., KTM - 58
Daniel Herrlein, Bethesda, Ohio, Honda - 1
Western Regional Arenacross Lites Class Final Standings
Cody VanBuskirk, Harvard, Ill., KTM - 149 (1 Main Event Win)
Ben Nelko, Aliquippa, Pa., KTM - 129 (2 Main Event Wins)
Jared Lesher, Ball Ground, Ga., KTM – 109 (1 Main Event Win)
Carlen Gardner, Paso Robles, Calif., KTM - 107 (1 Main Event Win)
Cheyenne Harmon, Colleyville, Texas, KTM - 89 (1 Main Event Win)
Dave Ginolfi, Midvale, Utah, Husqvarna - 86
Dylan Rouse, Florence, Ky., KTM - 86
Scott Zont, Algonquin, Ill., KTM - 77
Dillon Cloyed, Papillion, Neb., Honda - 55
Brandon Marley, McEwen, Tenn., KTM - 49
Eastern Regional Arenacross Lites Class Final Standings
Daniel Herrlein, Bethesda, Ohio, Honda - 120 (2 Main Event Wins)
Dylan Walker, Lancaster, Ohio, Honda - 63
Jacob Williamson, Swartz Creek, Mich., Kawasaki - 49 (1 Main Event Win)
Sean Cantrell, Murrieta, Calif., KTM - 46 (2 Main Event Wins)
Steve Roman, Apollo, Pa., Suzuki - 43
Justin Cooper, Cold Spring Harbor, N.Y., Yamaha - 42
Lane Staley, Chillicothe, Ohio, KTM - 39
DJ MacFarlane, Pinellas Park, Fla., Yamaha - 38
Tyler McSwain, Shelby, N.C., Yamaha - 35
Henry Miller, Rochester, Minn., Honda - 34