John Slater created Slater Skins with one goal in mind—increase advertising space on a dirt bike. These panels, created in 1995, haven't always been an easy sell. Manufactures have resisted taking away from the "stock look" of the bike, while customers have been hesitant to try the new look and style. It's why John and his partner Tyler King started a team themselves. With a title sponsor in BLUE Buffalo and some help from Yamaha, the team started in 2015, but failed to make any mains in Monster Energy Supercross. They upped their program this year, bringing in veteran Michael Leib. The East Coast program has been a set of moving chairs, due to the departure of Benny Bloss and injury to Andrew Silverstein, but they've formed a good relationship with full-time FSU student and racer Josh Cartwright.
We talked with Tyler King, the team's director of marketing, who also finished tenth overall in 125 Class at the 1996 Denver Supercross, about the new team and those skins!
Racer X: Can you explain your role with the team?
Tyler King: I'm the director of marketing. John Slater [Slater Skins] is a partner with the team. We've been working together for the last four years now on putting together a team like this from scratch. We went to every other major team out there and nobody wanted anything to do with the skins and shields. So we said, "Well, it sounds like we're going to need to do this ourselves." We wanted to work with the privateers, also. Guys that were accessible and fast. Yamaha kind of came out of nowhere. We just weren't expecting it.
As far as the day to day, I call on different sponsors. We're talking with multiple different companies about getting involved for 2017, and even for outdoors this year. There's going to be a new team sponsor entity for outdoors that we're really excited about. We kind of wear many hats at this time, but my primary role is the marketing side of it, the look and feel of the team and the different marketing opportunities with business-to-business and BLUE Buffalo.
Tell me a little bit about the process of starting a team. It takes more than money and connections; it's bringing on a title sponsor, bringing on other sponsors, getting parts, etc. Can you give me a condensed version of the last two years?
Legitimately we're only in our second year. 2015 was our first year. John Slater's been at this for about 20 years now. I think a bit of it was happenstance or whatnot, but it [Slater Skins] really needed somebody else that was crazy enough like myself to get involved and to really see a vision of this in the future. So I think the mentality of it really comes from, at least on my side, is that the FMX side was blazing a new trail and obviously bigger billboards cost more money than smaller billboards and longer commercials cost more than shorter. It just seems kind of Business 101 that the advertising space is an absolute must. It's one of the major separations between us and NASCAR. There's just no signage going on right now. So that's been our primary goal. To put this together from scratch was tough. People either love them or they absolutely hate them. That's a good thing. It's always going to be a conversational piece. Ryan Zimmer was the first guy to take the step forward and say, "You know what? I need support and I'm willing to ride with the product and help you guys test." So he was quintessential in us getting to where we are now.
You brought up a good point: there's really no middle ground with this look. Either you like it or not. Your job as a marketer is to at least bring awareness to it and maybe help turn some opinions. How do you do that? What's the reaction been two years in?
I do a lot of data testing and market testing with the forum site. They give me really good feedback on how the market's thinking at that time. You could go years deep into Vital MX and find John having the same conversation there as he is now. But there's quite a bit of turn with a lot of the members there, just almost doing a complete 180 and now saying, "You know what? I bashed on this in the past, but it's okay now." For the majority of guys, we've seen a lot of positives. There's still plenty of guys that say if more teams actually used it, they're going to sell their bikes and turn their backs on the whole industry. But there were a lot of people saying that in the past that are now huge supporters of it. I think it's going to be a controversial topic for the next five to ten years, easy. If it goes in the direction that we're intending it to, every team will be running them ten years from now. It will be standard issue, and people will be looking back going hey, "Remember when those bikes we used to run them naked?"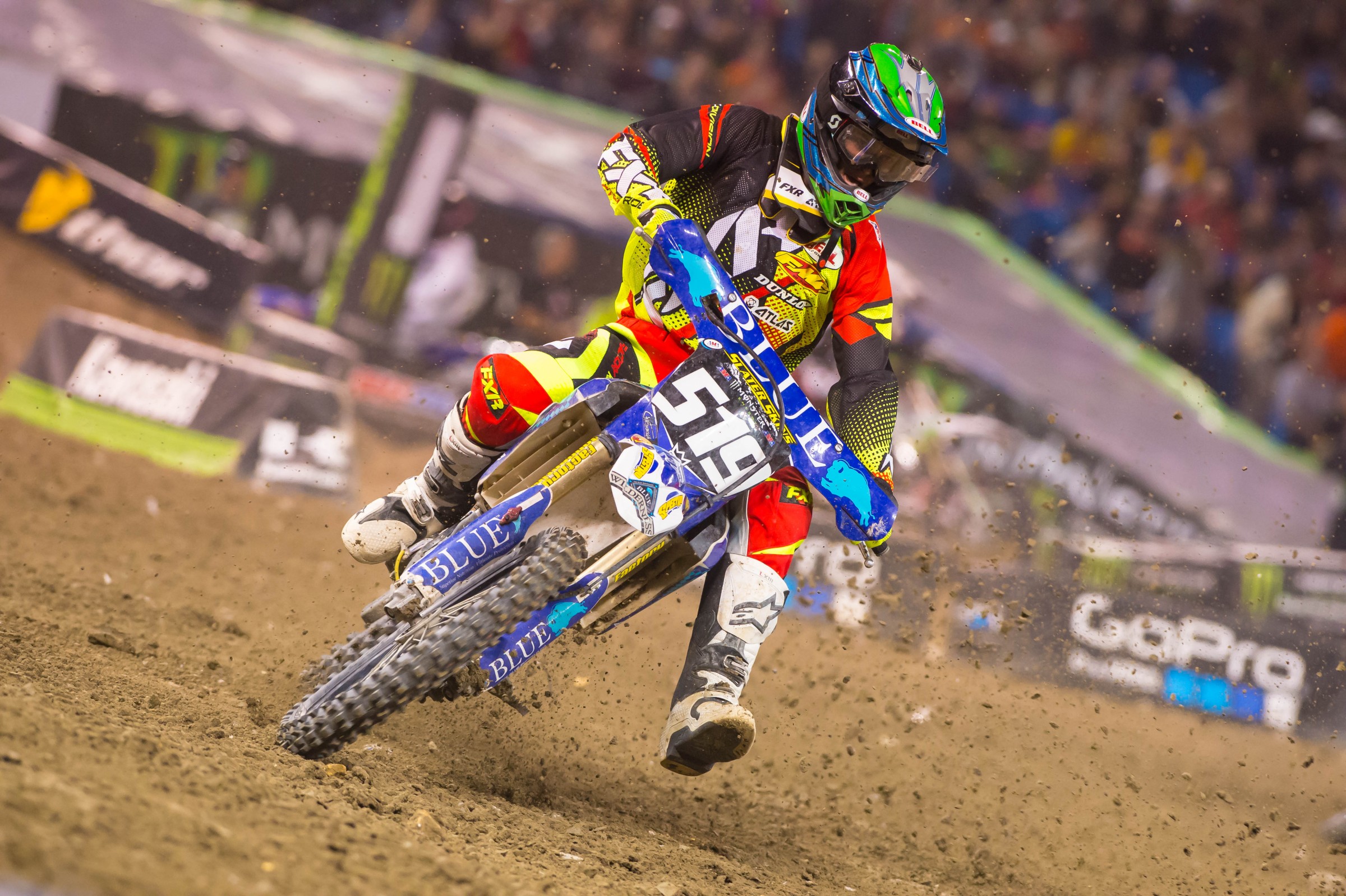 How important was it getting a team and being at the highest level of supercross and motocross and really showcasing the skins?
It meant every bit to the program. We started talking with Larry Brooks, he was expressing his interest in wanting to get back to his passion. He loved his job at Chaparral but wanted to get back to working with riders, being at the track. We had an opportunity. We had Yamaha's support, which he liked. So I think he gave a little more credibility to the program to solidify it. And then he really wanted to work with Michael Leib, and he became available when his previous team fell apart at the last minute. So we really benefitted with having an experienced, solid, privateer that could help us get those main event results. We never made a single main event in 2015. So that was just a huge catapult to the program.
What is Larry's role? He also does some R&D right, not just team manager?
Right. He's doing R&D. He really wanted to stay West Coast and work with Michael Leib. So he's doing an awesome job there. He also knows how to build a great bike, meaning who to go to with development with motors. We were already working with Enzo and he was tight with Enzo. So just suspension testing,fine-tuning the bike, and really working with Leib on how to better himself on breaking the track up into different sections and putting all those pieces together by the time the main comes around for the lowest lap time possible.
You guys were also supposed to have Benny Bloss to start the year. That didn't go the way it was supposed to go. Can you fill me in on what happened there?
I think it was just differences of character, especially at this high level. I think there were some expectations on both sides. When it really came down to it, Benny just made his own decision, which he was free to do. It was really tough to see him go because we really modeled our East Coast program around him and were really looking forward to working with such a great new talent to supercross. But we wish him nothing but the best and we're still on good terms and still talk. We've had the opportunity to work with a great story like Josh Cartwright, a full time Florida State student. We're currently talking with FSU to see if there might be an opportunity for us to start working together. That's really, really exciting. I don't think we could really do that with another rider in the industry right now. So it's an opportunity for us to start branching out into the different markets.
You guys had Andrew Silverstein for a race, but he got hurt. I think you had three riders in four weeks! How hard was it to get a guy?
With BLUE Buffalo this year, we need someone in the mains. Whatever it takes we need someone in the main. Obviously to find guys that aren't already signed onto a team that could be a solid bet to get into the main was difficult. Silverstein wasn't even on the map. He was actually more local to the Temecula, Lake Elsinore area where Larry and I live. Larry had already worked with him in recent months as far as training. He thought Silverstein would be a great fit, and he was local so they could do local testing. His lap times in qualifying and everything were right there. I think he could have been probably a top fifteen, maybe even gotten close to the top ten before the end of East Coast was over. But he ended up tearing his knee up, his ACL. So we're looking forward to him healing up.
And then you go to Josh. How did that come up? I think it was like a week later.
Cartwright had just on his own out-battled [Jimmy] Albertson for that last spot at Daytona in the heat. We just watched the tape. That's basically how we do it. We go back and look at the numbers, kind of like money ball. We went more with the statistics rather than rider relationship kind of thing. We didn't really know much about Cartwright. Come to find out he trained with Carmichael at the farm, he's a a full-time college student. What a great opportunity, what a great story.
As a small team it's very important to get your brand out there. It may not necessarily be about the results in the beginning. Kind of like Hart and Huntington [now Team RCH] in the early years. They may not have had the fastest guys but they were a known brand. How have you guys gone about that?
There's a lot of cross promotion with BLUE Buffalo at the big pet food shows, some of the pet magazines. They have a tremendous outside industry reach and we had some research done that showed more than 70 percent of our industry, the off-road community, owns pets. Once we had those facts we were able to start thinking of how to generate a healthy return on investment with a minimal investment initially from BLUE Buffalo. So we try to reach out to any and all of the media on a monthly basis and hopefully a handful will report on us. And then I'm able to estimate the volume of viewers and send them back over to BLUE Buffalo. Their numbers as of last year, pretty much every time we send out a press release we can see that around their IPO time their numbers were spiking. Maybe it's coincidental but it is what it is. The numbers work in our favor. They're seeing a tremendous response. The entire company can't wait to watch supercross and support their guy. They're not by any means looking to stop at the end of '16, they're in this for the long haul and they want to win. They're very competitive. So we're going to keep progressing the program as much as possible in that direction.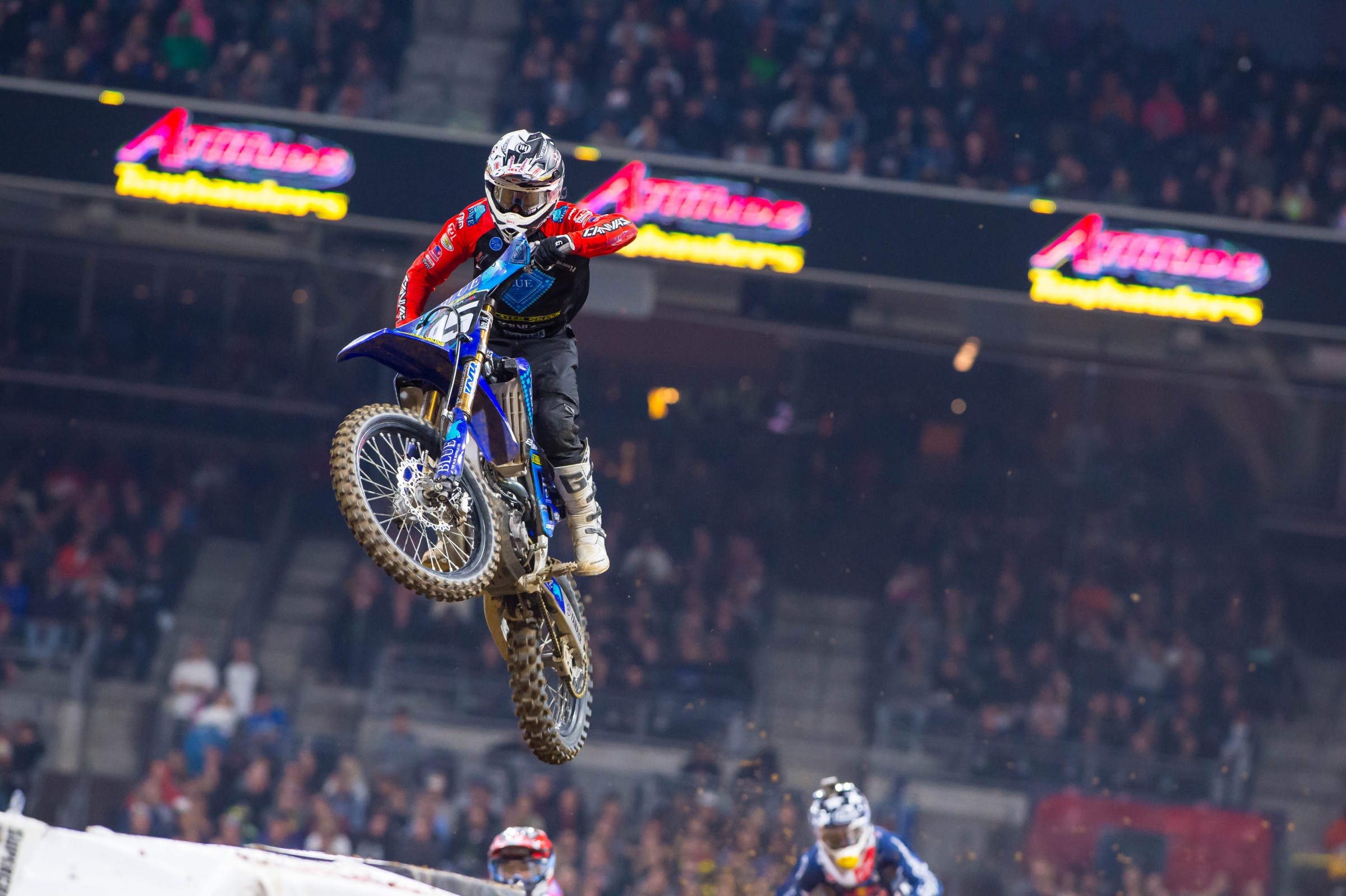 I don't know if these skins will work in the long run or not, but when you look at the TV it's very noticeable. Like you said, whether your guy's getting lapped or getting the holeshot for a couple seconds, you can tell what the logo is.
100 percent. You can watch NASCAR and you don't need to know who the driver is. You watch it for five or ten minutes, you see that car coming around a couple of times and you're going to visually see that logo and it's going to leave an impression if you're a fan. That is the whole drive with us. We're the only ones that are even willing to try it at this time. It seems like everybody's trying to make their logos smaller on the bike. We're just trying to go as big as possible and have as much signage as possible, so that again if and when the TV does hit it…and also, especially in still photos as well, you can see that logo. There's no question when you watch Cartwright holeshotting that qualifier, you know very well who sponsors him. You can't see a logo on anyone else's bike. Just imagine if four or five other teams were running it like that. Can you imagine how much more draw a corporate entity would have for watching supercross? It could be the first time they watched a race or the 100th time, but they're finally going to watch it going, wow, look at all this advertising I can see on here! Now I can justify investing some dollars in this!
Tell me a little bit how you guys got involved with BLUE Buffalo?
The higher ups there, they have previous experience with our sport. Not many people know about it but they were the heads at SOBE back in the late '90s, early 2000s. My partner, John Slater, at that time he brought the SOBE Suzuki deal together. He brought that deal to Suzuki.
Do you want to eventually grow into having podium guys and having guys that can win races?
We've learned a lot in the last year and a half. Ultimately we want a podium guy. BLUE Buffalo wants a podium guy. With multiple riders probably going to be available, ending their contracts this year, we're just looking to push hard through outdoors and have BLUE Buffalo as excited as possible about re-upping for '17. So we'll see who's available at the time and go from there. We want to be a championship team and have our title sponsor be that much more prominent. Our sport is extremely brand loyal, probably one of the most brand loyal industries of any business sector. There's been countless testimonials from sites like Vital and Pulp where guys have said, I used to buy Purina, I used to buy these other brands, but now I buy nothing but BLUE Buffalo, even though it is higher priced. So I send all that back to BLUE Buffalo and they get stoked. Or I direct people to use the contact form on BLUE Buffalo's site. So we're looking to be bigger '17.
Have you guys seen an increase in selling the skins since starting the team two years ago?
Remarkably I would say it's less than what we had expected. We've put so much focus into the team, the team, the team, to put it on this premium level with the sport that now it's there. That insurmountable hurdle has been cleared. Now we're there. How do we take this exposure now? How do we now transition this into sales with the product? We're bringing on some different social media marketing personnel and stuff. So that's going to be our big focus.