When it comes to racing, Billy Jurevich is not a name most readers would be familiar with. Once a rising talent from Northern California, chasing the dream of becoming a professional racer, Jurevich turned professional in 2001 and demonstrated enough speed to be named Arenacross Rookie of the Year. Seemingly, he was on his way.
But like many other promising racers, his journey to the top of the sport was close, but not close enough to make big money. After several injuries and comebacks, Jurevich realized that racing dirt bikes as a profession was perhaps not the best career choice. So in 2005 he earned a job with the local sheriffs department and started working his way up the ranks in law enforcement.
But that didn't mean the end of his time racing. Jurevich is still fast, and he recently turned his attention to the Fire and Police World Championships, where he has won more than five titles.
Racer X: You are the Fire and Police world champion. Tell me a little bit about that series. I'm not sure everyone knows what it is.
Billy Jurevich: So last year I had a change in my schedule at work and I told my wife that I'd like to try to compete in all the Fire and Police races. Ed Wilson is the promoter and the guy behind the series. Basically, it's a series dedicated to anyone who works in the world of fire and police duty. So I did all of his races last year and I was able to win them. I think it's called the Grand National Championship. But the main thing we wanted to do was win at the World Fire and Police Olympics, which runs every two years at Glen Helen. It was a two-day event and I won my class there. Then we traveled to Budds Creek in Maryland and raced there. That event was really cool because you get a lot of guys from all the different countries—Spain, Mongolia, Australia, New Zealand—they came in from all over the world to race. It was really neat to race against riders from all over the world.
Wow, I had no idea it was that big! I thought it was just a California series. How many riders were at the Budds Creek race?
Easily several hundred! I don't know the exact number, but I know that it was hundreds of riders and it just seemed like a normal big race, except that everyone was either a cop or a fireman.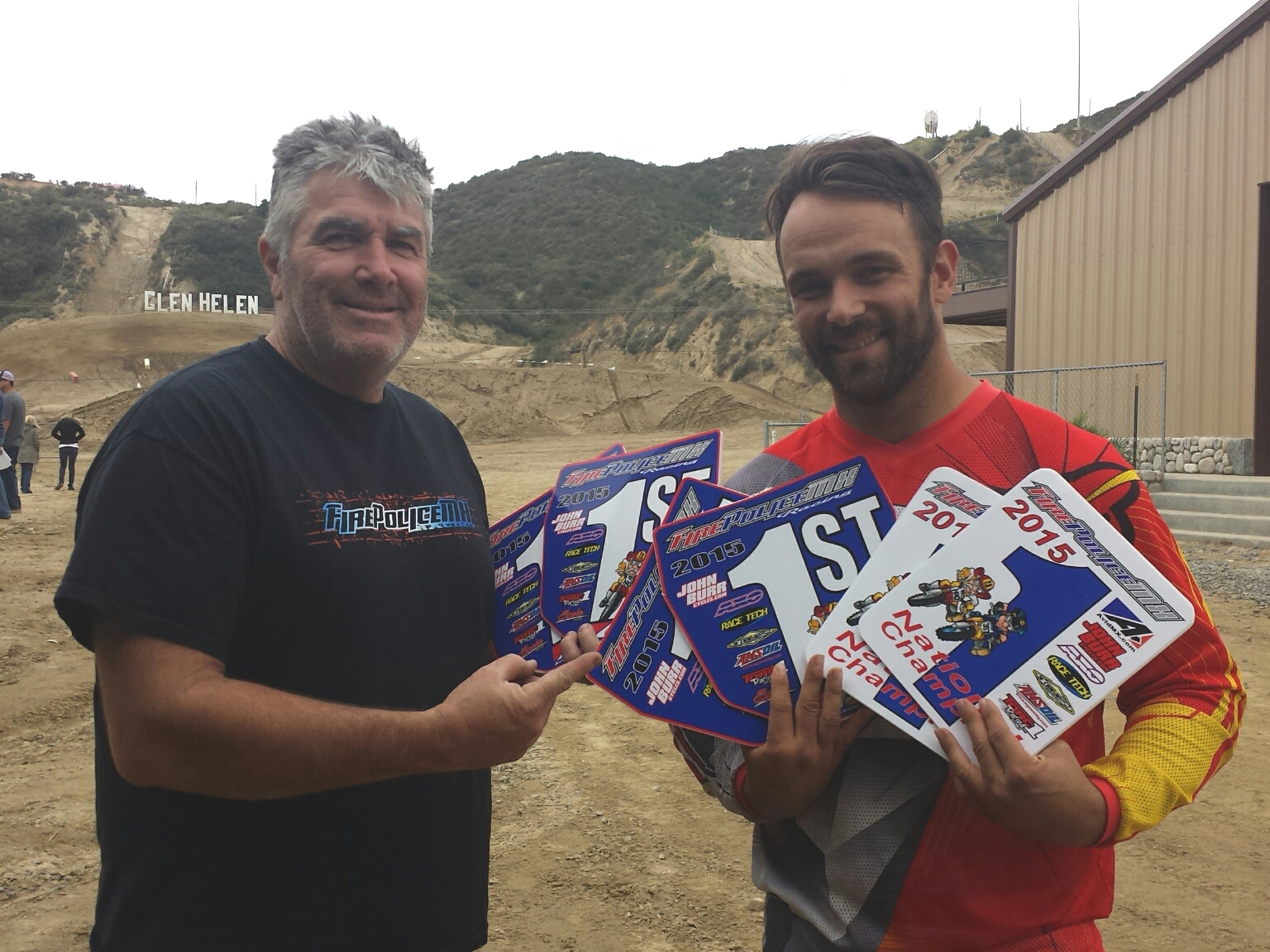 How many fire and police races are there? How often does the series race?
Here in California, Ed puts on his own series. They have also raced in Arizona, as well maybe Utah or Idaho, but now it's more centralized in California. Then they also have some fire-only races, and maybe even the Fire Olympics that don't have police in that. That event will be held locally here 408MX in San Jose. I think the format is a day of motocross and a day of GP racing. But we will be racing again at Glen Helen and at Pala, and just a few weeks ago I did one at LACR. Ed's events are mostly down south, but he is looking to expand it as well. For me, I don't mind going down there. It's cool. They get a decent turnout and the events are really fun.
There are some fast guys that sometimes show up, including Daman Huffman. How big are the average local Fire and Police race, not including the world championship events?
It depends. It dropped off a few years back, as most of the local racing did, but Ed's really trying to build it back up. The last one had a really good turnout. It was close to a full gate in several classes. Our last event we had Travis Baker, I think he was recently on the Troy Lee Designs Honda team but retired from professional racing. There is another guy named Tyler Granger who goes fast. You also have Damon Huffman, as well, and we all know he is a former factor rider and has won a ton of stuff at the highest level.
But it's changing now. Previously, it used to be like the fire and police guys were guys that were working full-time and then got into motocross. Now you're getting a lot of guys like Travis Baker who are saying, "Okay, now it's time to get a career, what am I going to do? I'm going to be a police officer or be a fireman." So for guys like me, the program allows me to keep racing and have some fun, and get a little bit of the adrenaline rush sometimes. So there has been somewhat of an influx former professional racers, with guys like Damon Huffman, Travis Baker, Tyler Granger, Dennis Ewing and myself. We are all still young enough to ride fast, but we still need to show up for work on Monday.
I spoke with Damon Huffman last summer and he said the same thing. He said the training and commitment it takes to be a racer is the same as it takes to become a police officer, and the ability to stay cool in stressful situations really helps. So I can see why it is an attractive career choice for former racers.
For sure. Once we're done with motocross it's kind of like, what do we do now? For me, I really love motocross and I didn't want to give it up. Even though it's not winning a supercross, you can still go out and win some titles and get some good recognition as far as when sponsors and people look at you, like hey, I won the World Fire and Police Olympics or the United States Fire and Police Olympics. There are no other jobs that put together their own Olympics of motocross to go compete it. So it's kind of a cool thing to get into. For me, it's more like an outlet to where I don't have to go line up on the line with 16, 17 year olds who are doing the Road to Supercross and that are going to give it everything they got. They're going to make it or break it. So it takes a little bit of the stress out but you're still able to compete with guys who know how to compete at a top level or still go fast on a dirt bike, but in a safe manner at least.
Tell me little bit about your own riding and your own racing over the years?
I started racing when I was 10 or 11 years old. I started racing the 80 beginner class. I was playing football at the time and I got hurt. I was sitting on the sidelines because I broke my foot racing. My dad said I had to make a choice: do you want to play football or do you want to race dirt bikes? And of course I wanted to race dirt bikes! So I moved up through the ranks racing local stuff. I raced the AMP/GFI races and the CMA local races around Northern California. I raced beginner and novice. Pretty soon I turned intermediate. Then on my 16th birthday I was like, I'm just going to jump into the pro class.
So you didn't do all the big amateur races then?
My family, we're farmers here in California, so we weren't loaded with money. So me going and hitting all those events wasn't financially possible for us. So I was like, I'm going to just jump into the pro class and if I make a hundred bucks on a weekend or a couple hundred bucks on a weekend, then that's money towards parts or whatever. So on my 16th birthday or right around there I started racing the pro class. It was kind of rough at first. I did a lot of arenacross riding because in my front yard, we had a couple acres and my dad built me an arenacross style track. And locally, we had the Top Gun and Bounty Hunter series, which basically were fairground type races. So I was a little better at the tighter tracks than I was at the fast outdoor tracks. So I made my focus arenacross.
In 2001 I went to the Sacramento Arenacross. It was my very first arenacross. I made the 250 main event, which is the equivalent of the AX main event now. I was really excited because it was my first one, I made it in and I remember I was in 12th place. I was riding around the track and all of a sudden Rusty Holland and Tiger Lacey, they all jumped on top of one another and it was like a ten bike pileup on the catapult jump in the middle of the track. And of course I was so far behind them that I rolled over the catapult, and then I was in third place in the main event! We were racing the regional arenacross series as well, which back then was a separate series. I was a pretty consistent top five guy in those events. But because of my 2001 finish I got the AMA Arenacross Rookie of the Year. But we kind of did what made financial sense. I could have tried supercross back then but the money for me was in the arenacross. I wanted to keep making money to where I could keep racing.
What was your favorite race, and what made you decide to move onto next phase in your life?
So I did all the regional arenacross events until 2004. Then in 2004 I did the local [San Francisco] supercross. I made the night show in both classes. I came really close to making it in the 450 class. That was really cool.
But I always had issues with arm pump. Looking back on it, I am pretty sure it was my fitness program and nutrition. I just didn't really know what I was doing as far as fitness and nutrition go. So in 2005 my arm pump got so bad and I decided that being a professional motocross racer wasn't… well, I wanted to create a career for myself and kind of move on from it. So in 2005 I went to the police academy. I got hired by the San Benito sheriff's office right out of the police academy. I started working for about a year and then of course I got bitten by the bug again and I started riding again. This was about 2006. I started racing again and the next thing you know I was back in arenacross again. I also started testing for Honda and doing some R&D work down at the Honda testing facility. Then I decided I was going to go try arenacross one more time. I went to reserve status at work so I was still a sworn peace officer, but was just not full time. So I raced the 2007 Bookoo Arenacross series. I finished ninth overall in that series in the year end standings.
You finished ninth in that series working as a police officer?
Yes. At that time though, I was not full-time. But when I was home I was working as a reserve. I would do bailiff. I would go on patrol. The San Benito sherriff's office was really cool. Like, "Hey man, we get it. You want to go chase a dream, chase a dream. When you're done with it there'll always be a job waiting here." I've been very fortunate because the two departments I've worked for have always understood how devoted I was to racing. But In 2008, I broke my leg and went back to police work full time. I knew the racing was over.
But you did durability testing for Honda? That must have been fun!
Jeff Pestana helped me out with that. I tested with Honda for a year or two and it was awesome. We tested pretty much everything that Honda was making for the dirt, and watercraft. That was a blast. That was so much fun. I was getting paid to go out and put motos on the bike.
Tell me a little about what are you doing today as far as a job?
Today I work for the Morgan Hill Police Department. I've been there since 2012. But I have been employed as a police officer since 2005. That's when I initially started. I was with the San Benito sheriff's office from 2005 to 2012. In 2012 I made a lateral move to Morgan Hill. Right now I work in their detectives division, which allows me to have weekends off. That's why I was able to hit all these races. But I love working there. I have a great job and I'm able to race when it works out.
What kind of detective work do you do?
Right now I'm in their narcotics division. We're kind of a catchall task force. Not just narcotics. Pretty much if there's something criminal going on, we do what we can to solve the problem. If it's a burglary or car thefts or whatever it is, we'll do what we can to rectify the situation and get people their property back or stop the criminal activity in their neighborhood.
One thing I should mention. Ed Wilson is starting a new program, it's called C*A*M*O or Careers After Motocross. Basically, he is trying to help motocrossers find jobs, because they're actually a great fit for fire or police work. He has a website you can check out for more information.
Thanks for chatting, Billy. Anyone you want to give a shout out to?
For sure. My dad and mom, Bill and Debbie Jurevich, and my wife Kristen. Also, Pros Plumbing and Rooter has been a big sponsor for me. My industry sponsors are Fox Racing, Blonix Suspenton, Fasst Company, Mika Metals, Bills Pipes, DT1 Filters, Rekluse, Crossfit Ranch, Moto Pro Graphics, Tubliss, ODI, Moore and Sons KTM, Ride Eternal, Mobius and Atlas.