Edward Jones Dome
St. Louis

,

MO
St. Louis
Monster Energy AMA Supercross Championship
A few weeks ago we asked 250SX West Region racers what it was like coming out of break to race Santa Clara, then immediately going back on break until Las Vegas.
In St. Louis this past weekend we decided to flip it and ask the 250SX East Region racers how racing the East Coast conflicts with prepping for Lucas Oil Pro Motocross. Does it make it harder? Is racing the East a disadvantage? Does it even make a difference? Those questions are answered in the responses below.
Tyler Keefe | Troy Lee Designs/Red Bull KTM | Team Manager
Racer X: This is the first year the team has gone east. Have you noticed a difference in the guys being able to prepare for Lucas Oil Pro Motocross?
Tyler Keefe: Well this year we've just had a ton of injuries so it doesn't matter which coast you're riding. But Shane [McElrath] is going to start riding outdoors next week, he was injured in November and we just got him back riding supercross. Now he's somewhat comfortable in supercross, so now we have to get him prepping for outdoors. Jessy Nelson, he's been riding outdoors already and so has Mitch Oldenburg. They're getting some baseline stuff going for us. We're lucky the bike didn't really change from last year. It's difficult to switch up motocross and supercross, but it's the same for everyone and we all have to do it.
Are you noticing a difference with the West Coast guys vs. the East Coast guys? Are the West Coast guys farther along?
Yes and no. Alex Frye actually rode some motocross during the two-week break so that was good for him. Shane stayed strictly with supercross. The west guys are more comfortable with the high speeds, but we'll start incorporating some motocross in for the east guys next week through Vegas.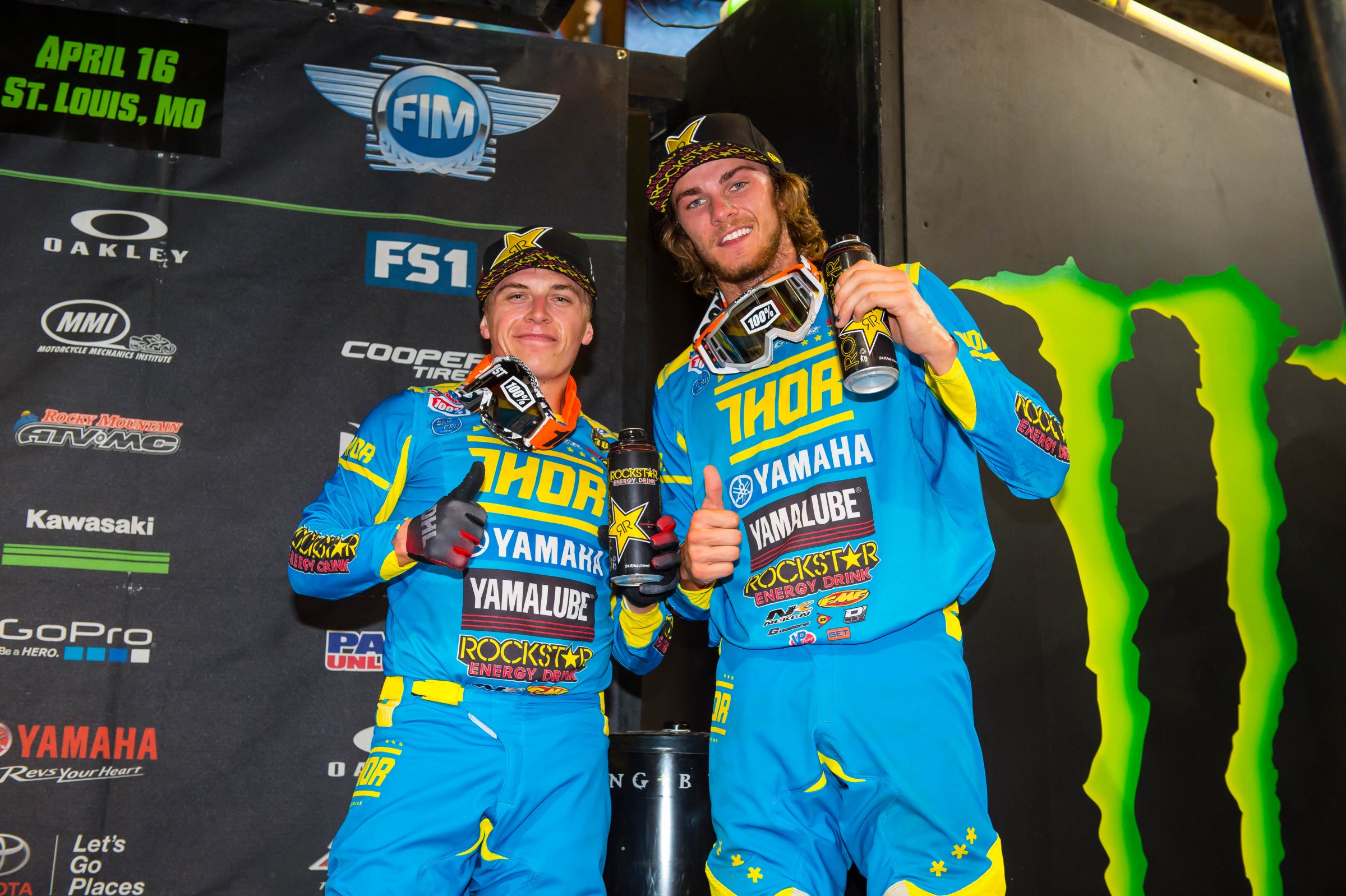 Jeremy Martin | Yamalube/Star Racing Yamaha | Two-time 250MX Champion
Racing the East makes it way harder. My brother [Alex Martin] and Cooper [Webb] and those guys have been riding outdoors and they get to sit there and focus on that all the time now. For me I'm in that supercross mode still, so we're a little behind the gun. But I'm the champ outdoors, and I put a lot of time in on the supercross track and that'll carry over and I'll be golden.
Aaron Plessinger | Yamalube/Star Racing Yamaha | Entering second 250MX season
It's definitely an advantage racing West for outdoors I think. But they get to test all the parts and we just get to do motos when we can. So less testing on my end, but I think we'll have a lot to do during the break. I don't think they have that much of an advantage, but they definitely do have an advantage.