Indianapolis, IN
Indianapolis
Monster Energy AMA Supercross Championship
Indianapolis Supercross hosted Round 13 of Monster Energy Supercross this past weekend. Yeah, Ryan Dungey's going to win this championship for a third time going away so that reduces the drama in this 450SX title chase, but the last two races—one on the far West Coast and one back East—have certainly offered up some great racing. Kenny Roczen, kind of like he did last year in Lucas Oil Pro Motocross, seems to have found a new level. It's too little, too late for the title but we're all beneficiaries of Roczen's speed increase, because the last 40 laps have been fun to watch.
Indy was perhaps the best race of the year for a few reasons, and one of them was the track. The last few years the tracks have lost some local character in the dirt. That's due to Monster Jam events coming in before some of the races, and due to the Dirt Wurx guys figuring out drying/lime usage and storage of the dirt between events. The days of deep ruts in the winter cities like St. Louis, Indy or Detroit are almost over. I say almost, though, because this weekend the ruts were back! With dirt softer than a batch of those truck stop chocolate chip cookies I used to buy on the road, the track in Indy was very challenging. Riders were making mistakes everywhere you looked and that was refreshing. If the dirt was "normal" we would've had another race like Santa Clara last week with short lap times, obstacles that wouldn't challenge the KJSC and a night that was easily forgettable.
Since the advent of four-strokes, supercross has never been easier. Now, I use that term loosely of course because if I was out there, I would probably need an ambulance after two laps. But for these guys, the increased horsepower and torque of the thumpers have made it much easier to clear the jumps. Come around the berm, go four-four, make a right, blitz the whoops (also WAY easier on four-strokes), make a left, triple on, double off and triple into the corner, blah, blah, blah. It really gets that simple and repetitive for the top riders. Well, with dirt like Indy, the riders struggled to clear the jumps and it made for an exciting night of racing. Maybe this is the secret to help supercross—make the dirt the obstacle! Or maybe shark tanks, I can't be sure just yet.
Roczen should have probably won the race. He got a so-so start, went right to the front, reeled in Dungey not once but twice, passed into the lead and looked great. Like I said, he SHOULD'VE won Indy but he made a mistake on the dragon's back (odd because he was probably the fastest dude over this tricky obstacle all night long) and couldn't double the finish line, which allowed Dungey to zoom back by into the lead. He wouldn't relinquish it the rest of the way, after Roczen, for a third time, closed the gap, but couldn't make the pass. It was a great race by both dudes and they crushed the rest of the field.
It doesn't happen very much but Indy was one of those races where the second place guy had a faster average lap time than the winner (45.8 for #94, 45.9 for #1. The lap time average doesn't take into account the time between the start and hitting the finish at the beginning of the race, and Dungey was ahead at that point.) Like I said, Roczen was great. Last week he pushed Dungey for fifteen out of the twenty laps and this week it was all twenty. So Kenny's better than ever but it's frustrating for him and his team, I'm sure, that this thing is over, points wise, and now he's on it. Bad starts and some mystifying so-so rides early in the year did the German in.
Can we PLEASE stop with the "Dungey's got the title, he doesn't have to try and win" tweets/emails/calls? After watching last week and this week how can ANYONE say that? Dungey's pushing incredibly hard, he made a lot of mistakes in Indy because he was going for it. Forget the points, the dude wants to win and as great as Roczen has been the last two weeks, guess who's still got the two wins? Yep, Ryan Dungey, folks. Please stop the talk of him riding this thing home without caring about wins—he was pushing in Indianapolis.
It's no coincidence that Aaron Plessinger took his first career 250SX win in Indy. We've seen this kid just fly when the conditions get muddy/rutty (think Indiana National last year or the year he dominated Loretta Lynn's) and you'd have to be pretty dense to not think his prior GNCC racing experience didn't help him in the stuff. Yes, I think Plessinger's GNCC experience (his dad was a GNCC champ, bro!) helped him win a supercross and yes, Weege is probably shedding tears of joy right now [Editor's note: Pass me the Kleenex]. But seriously, the kid is so good in the stuff. He won his heat, grabbed the lead right away in the main and took off. More importantly, he moved into second in the 250SX points in the wacky East Region where it seems no one wants to win it.
Cooper Webb and Jeremy Martin will both be gone next year from Yamalube/Star Yamaha so the team's star power (get it?) will definitely take a hit but maybe this Plessinger guy can take the mantle and make 2017 his year. He needs to stop growing, but he's got great style and makes his height work. And now he's got a 250MX and SX win.
With the Arnaud Tonus experiment just about done over at Monster Energy/Pro Circuit Kawasaki (to be fair, Tonus can't stay healthy, we haven't seen what he can do) Mitch Payton needed someone for Tonus' bike and I loved what he did. He went out and grabbed privateer Gannon Audette and gave him a shot. Audette has been a privateer for a number of years now—one of those dudes under the radar and putting in some good results here or there, including a sixth in Detroit a couple of weeks ago.
I know Audette a bit. He's a quiet, soft-spoken kid and just a hard worker that isn't a self-promoter. This is a great shot for Gannon and all he did on the new bike was grab the holeshot and hunt down Davalos in the main event to get a third. It's a real cool story, props to Payton for picking Audette (although let's be honest, Payton had to pick up a replacement because of commitments to Monster Energy) out of a bunch of dudes. Audette delivering a third (PC's first podium on the East by the way) is a storybook moment. A real tear jerper as Kenny Watson would say.
Let's take a look at the results.
250SX Results
1 23 Aaron Plessinger Hamilton, OH Yamaha YZ250F- I doubt he has any idea what I'm talking about, but Plessinger reminds me of Spicoli from "Fast Times at Ridegmont High." Is this just me?
2 50 Malcolm Stewart Haines City, FL Honda CRF 250F- If there was ever a track for Mookie to "pull a Mookie" it was Indy. He's always been balls out fast, he's always had that Stew talent, but he's also made a lot of mistakes. Well, if those mistakes were going to happen they were going to happen on this track. But nothing happened! Mookie rode fast and more importantly, steady, to take a second behind a dude he wasn't going to beat. This was important for Mookie and now he's got a ten-point lead in the series.
3 61 Gannon Audette Tallahassee, FL Kawasaki KX 250F- As I wrote above, I'm happy for Gannon. This is a cool opportunity for him and you want to bet that if he keeps giving Mitch good rides then he just might find himself on the team for motocross when, not if, there's an injury to a regular guy? Just watch.
4 30 Shane Mcelrath Canton, NC KTM 250SX-F- Quiet night for Shane who's past his bad luck and crashes at the start of the series and has become a consistent top five guy now.
5 49 Martin Davalos CLERMONT, FL Husqvarna FC250- Marty had third on lock, but, well, you know I have to point this out--the proverbial anvil fell on him late in the race when he crashed and bye-bye went a sure podium.
6 31 Rj Hampshire Brooksville, FL Honda CRF 250- Hamsphire had to make the main via the LCQ so his gate pick wasn't ideal. It's been a tough East Coast year for RJ with a bunch of injuries and he's not quite hit the heights that people thought he would just yet. He's talented, but he's yet to break through with "that ride" y'know?
7 48 Anthony Rodriguez Cairo, GA Kawasaki KX 250F- Nice job by A-Rod. Pro Taper's Paul Perebijnos told me that when A-Rod was at Star Yamaha he was the hardest rider on handlebars that he's ever seen and I believe it. A-Rod's greatest hits are very impactful and I don't mean that in a good way.
8 53 Tyler Bowers Corona, CA Kawasaki KX 250F- How would you feel if you're Bowers and PC picks this long-time privateer up and he beats you first time out? Probably not good, right? Yeah, Bowers got a crappy start but still, he never really got going in the main.
9 46 Luke Renzland Hewitt, NJ Yamaha YZ250F- The force was with Luke this week in his return from injury. He dominated his unseeded practice to set the sixth-fastest time overall and then this finish was solid for his first race in over a month.
10 201 Cedric Soubeyras Venasque, France Kawasaki KX 250F- I've seen this guy race over in Europe for a long time now and I'm not surprised he's a top ten guy. He's got SX skills, broseph.
11 175 Paul Coates Zephyrhills, FL Honda CRF 250
12 62 Justin Starling Deland, FL Kawasaki KX 250F- Starling rode from the back to get this finish so that's cool to see. Traders Kawasaki has themselves a pretty solid team and if Nick Gaines was healthy they'd be even better because, in between crashes, Gaines usually shows some speed.
13 32 Matthew Bisceglia Weatherford, TX Suzuki RM-Z250- I've gone by Matt's truck at almost every race looking to say hi and talk to him but he's never around. So I have no idea how he's liking the Suzuki or how his season has been going.
14 83 Daniel Herrlein Bethesda, OH Honda CRF 250
15 64 Dakota Alix Jay, VT KTM 250 SX-F- Can someone please give Alix some graphics please?
16 297 Henry Miller Rochester, MN Honda CRF 250- I know nothing about Henry Miller; but good job Henry Miller!
17 118 Levi Kilbarger Logan, OH Yamaha YZ250F
18 373 Jacob Williamson Swartz Creek, MI Kawasaki KX 250F- This guy's a pretty cool story. He picked up Audette's bike with the Legends and Heroes program and put it back into the main event. Read this Privateer Profile and tell me you don't want to cheer for the dude /2016/03/24/privateer-profile-jacob-williamson
19 167 Benny Bloss Oak Grove, MO Yamaha YZ250F- It seemed that every time Bloss was out on the track he was cartwheeling out there. He was up there early in the main, but yeah, you know.
20 128 Alexander Frye Huntingtown, MD KTM 250SX-F
21 6 Jeremy Martin Millville, MN Yamaha YZ250F- Well the 250SX title isn't completely gone with this crash and then bike break for JMart but it certainly doesn't look great. Martin has been sick for much of the East Coast break and hadn't ridden much at all coming into Indy. He was looking great for a third until a rut grabbed him and sent him to the turf.
22 159 Darryn Durham Menifee, CA Yamaha YZ250F- It's not Durham's fault but he's in a video series called "The East Coast is Toast" so when he comes back and DNF's early into the main I can't help but make 63 "toast" jokes on some text messages.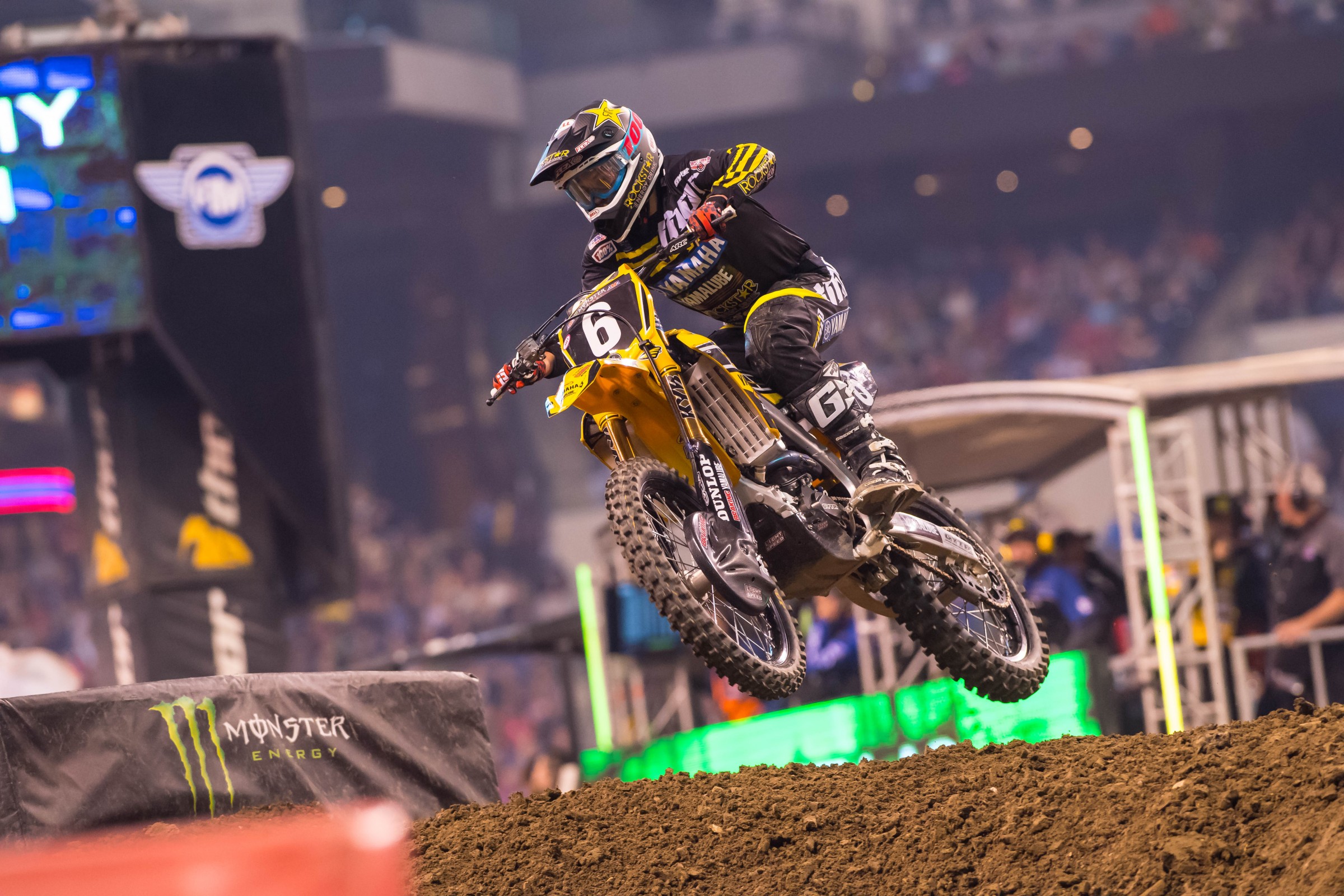 450SX Results
1 1 Ryan Dungey Clermont, FL KTM 450 SX-F- Dungey needed to be in some retro Fox stuff like Roczen was. Whether it's the orange and yellow stuff or whatever, it would've been cool to see. Hey, KTM how about you join the retro party and bust out some lime green seats?
2 94 Ken Roczen Clermont, FL Suzuki RM-Z450- Interesting that Roczen's gone to stock clamps on his RM-Z. Shades of Grant Langston in 2007 running stock clamps and forks (revalved of course) on his way to a 450MX title. I spoke to Kenny a bit about this change and he admitted that he's put his bike back to stock in more ways than just the clamps and sometimes, stock is best. I agree. The Japanese put a lot of work into these bikes in terms of flex in the frame, suspension, swingarm and yep, sometimes stock is best.
3 21 Jason Anderson Rio Rancho, NM Husqvarna FC450- Great ride by Anderson to come from around tenth to third and, don't look now, but he's gone 1-3-3 the last three races after only getting one podium in the previous nine races. Hey Husky, how about joining the retro look with some blue graphics on the white plastic?
4 41 Trey Canard Edmond, OK Honda CRF 450- Canard was happy with his race afterwards because he survived. He rode well to get this finish and told me that he was in third for a bit also. Who knew? Trey commented that some of the lappers were really struggling to stay straight out there and with the way Trey's season has been, you know he was thinking that of course one of those lappers would fly right into him.
5 4 Blake Baggett Grand Terrace, CA Suzuki RM-Z450- Crappy, rutty, deteriorating-by-the-lap SX track and Blake gets his best finish of the year? Not a coincidence, by the way.
6 22 Chad Reed Dade City, FL Yamaha YZ450F- I talked to Chad after the race and despite me saying his start was crap he said it was good and then he said he had some bike issues late in the race. But more than anything else, he couldn't believe I was wearing shorts.
7 377 Christophe Pourcel San Antonio, FL Husqvarna FC450- Things I was impressed with: 1.) The 377 absolutely eating poop and then three laps later setting the fastest time in qualifying. 2.) Absolutely eating poop again in the heat race and coming out for the semi race when I, along with a lot of other people, figured he'd pack it in. Things I was not impressed with: 1.) After eating poop in the heat race, CP walking the length of the stadium while leaving his bike there. Never, ever, not push your bike back, riders.
8 10 Justin Brayton Mint Hill, NC KTM 450 SX-F- Brayton was up there but guess what? He fell like a lot of other riders.
9 3 Eli Tomac Cortez, CO Kawasaki KX 450F- This was a perfect track for Tomac, we've seen him go so fast on crappy SX tracks in the past and hey, he did win Daytona this year. So when he was in third early on I figured he'd at least get that or maybe better. But this being 2016, Eli crashed, took a while to start his bike and got lapped. The outdoors can't come soon enough for Team Tomac.
10 800 Mike Alessi Hilliard, FL Honda CRF 450 - Crappy, rutty, deteriorating-by-the-lap SX track and Mike gets a good finish? Not a coincidence by the way. A few years ago in Indy, on a track worse than this, Mike ran third for most of the race before a late race crash.
11 55 Vince Friese Cape Girardeau, MO Honda CRF 450
12 33 Joshua Grant Wildomar, CA Kawasaki KX 450F- Nothing to do with Grant, but I was hanging out in the Kawi truck waiting forever for Big B to get done with this nacho bar he'd been promising and finally I gave up. I have to wonder if everything was ready and they were just waiting me out before diving in for nachos.
13 19 Justin Bogle Cushing, OK Honda CRF 450- Justin's starts are so on point I'm sure the Honda guys can point to him when talking to Canard about his starts and say "See?" Bogle was in the top ten early on but then like just about everyone else made some mistakes and settled in for a long night.
14 20 Broc Tickle Holly, MI Suzuki RM-Z450- Hey, look who's back! I thought Broc was going to be out for the rest of SX but he makes a return from his wrist injury and because it's Broc, he quietly puts in a decent ride. Not a fun race to come back to.
15 51 Justin Barcia Greenville, FL Yamaha YZ450F- Last week he qualified 20th, this week he was 23rd and both main events he hasn't looked like "Justin Barcia" y'know? Not sure what's up with him but I thought, along with I'm sure the JGR team, that the 51's comeback to racing would be a little more competitive.
16 28 Weston Peick Menifee, CA Yamaha YZ450F- Peick had a streak of three good races in a row snapped at Indy. Every time I looked at him he seemed to be crashing out there. Not a great night for Weston who I thought would absolutely hate the retro Fly gear they made for him but he seemed okay with it when I spoke with him.
17 27 Nicholas Wey Murrieta, CA Kawasaki KX 450F- Wey's back and riding pretty well but I'm sure he's still switching linkages out like no other searching for those elusive two seconds.
18 761 Cade Clason Chesterfield, SC Honda CRF 450- Speaking of AXO (Clason's gear brand of choice), I picked up a pair of Damon Bradshaw signed AXO pants from 1992 from a listener for a hell of a deal. This is like finding a Picasso, people! Don't tell my wife what I paid for them please.
19 79 Nicholas Schmidt Lake Elsinore, CA Suzuki RM-Z450- This week's track was tough so I'll give a SoCal dude like Schmidt a break. But I want to see more from Nick in the main events. He qualifies not problem, but he's got to get in there a little higher and start doing some damage to get noticed.
20 12 Jacob Weimer Wildomar, CA Suzuki RM-Z450- Weimer was not pumped on Barcia's move on him before the triple early in the race that left him with a bent up bike and no brake. How bad was it? Well, after the race Barcia came and apologized to him so you KNOW it had to have been ugly for Bam Bam to think it crossed a line.
21 70 Tony Archer Waldorf, MD Kawasaki KX 450F
22 801 Jeff Alessi Victorville, CA Honda CRF 450
Some news and notes:
- This week was a retro race and as usual, some teams did a great job with it while others did nothing. Some riders had retro gear but no retro graphics and some were vice-versa. I feel like Feld Motor Sports needs to get everyone on whatever bandwagon they're doing, or don't do it at all. It's a cool deal but it just seems like some people care, some don't. Last year I hammered the Yoshimura Suzuki guys for using 1970s numbers with 1980s blue/yellow graphics because, well, it looked hack. This year the team came back with the '80s yellow and blue but used modern numbers and it was way cool. Chad Reed's gear and bike looked on point but can we get some 1986-era red/white going on? What about some magenta? We get the yellow, bro.
- By far the dumbest idea I heard this week came from Pro Taper's Paul Perebijnos on Monday's Pulpmx Show. He suggested that we have a "super hero" themed race so Chad will be in Iron Man colors and Barcia will be Wolverine or whatever. Like, seriously, Paul—cut out the drugs.
- Friday night there was a Feld Motor Sports meeting with the team managers, and despite everyone I spoke to telling me that they couldn't talk about it, they all still talked about it. I mean c'mon, DC was there! JT was there! These people work for Racer X, it couldn't be that secret, right? With the departures of long time Feld bosses Charlie Mancuso and Ken Hudgens, the meeting was run by Todd Jendro (now looking to be the big boss of SX with Mancuso's departure) and Dave Prater (the boots on the ground guy that runs the events) and everyone I spoke to was enthusiastic about the future. Feld wants to change things up, but the Chase-style format has not been decided on and locked in just yet. They are also rumored to be going to Minneapolis in the new stadium and back to Salt Lake City in 2017 (dropping one San Diego and Santa Clara) and they're open for ideas from the teams. Feld's done a lot of good for SX over the years but there's still some ways to go to make this sport good for everyone (which strengthens the series overall). The vibe from all the people I spoke to that attended the meeting was one of a fresh start, open communication and a dialogue with Feld that perhaps hadn't really been there before. That's a good thing, and I hope we see a revamped program as soon as next year.
- Chad Reed had, for me anyways, the line of the night when Mike LaRocco rode out on a CR250 in his old gear. Reed said that when Mike won in Indy in 2004 (Chad finished second that night) he "thought he was so old and now I bet that's what these guys (the other riders in opening ceremonies) now think of me." Pretty awesome line.
Thanks for reading, bros. Take a second and email me if you want at matthes@racerxonline.com and we can chat about this race or anything else really.