Indianapolis, IN
Indianapolis
Monster Energy AMA Supercross Championship
This weekend's event theme was retro. We saw gear companies bringing back designs and colors from yesteryear. We saw the OEMs reverting back to how their bikes looked decades ago. Many of the fans were decked out in clothes that haven't been in fashion since Ronald Reagan was telling Gorbachev to knock a wall down. While all of this was cool and a fun change of scenery, I think the track itself may have been the biggest retro aspect of them all.
Over the years, Dirt Wurx has become masters of taking soft, rutty dirt and optimizing it. They can ad hardening agents to the dirt and have also become more proficient at keeping it dry during the storage process at each venue. That has all led to less breakdown of the track during the racing and a better visual presentation for the fans both on television and at the event.
For the riders, it really depends on who you ask as to whether it's better or not. For the West Coast riders, they grew up on hard-packed soil that never develops ruts or deteriorates too much. They surely would prefer the picture-perfect tracks that Dirt Wurx has become so successful at delivering. The drier the soil, the less traction it will offer but for those that grew up riding in desert-like conditions, it's just another day in paradise. On the flip side of the coin, there are the East Coast riders along with the Euro contingent. East Coast dirt, as well as dirt used in European indoor events, is softer and changes far more drastically than out west. The winter weather leaves a ton of moisture for riders to work with and while the track may not look as postcard worthy as Anaheim, the gained traction is worth the rutty nuisance for anyone who grew up east of the Mississippi.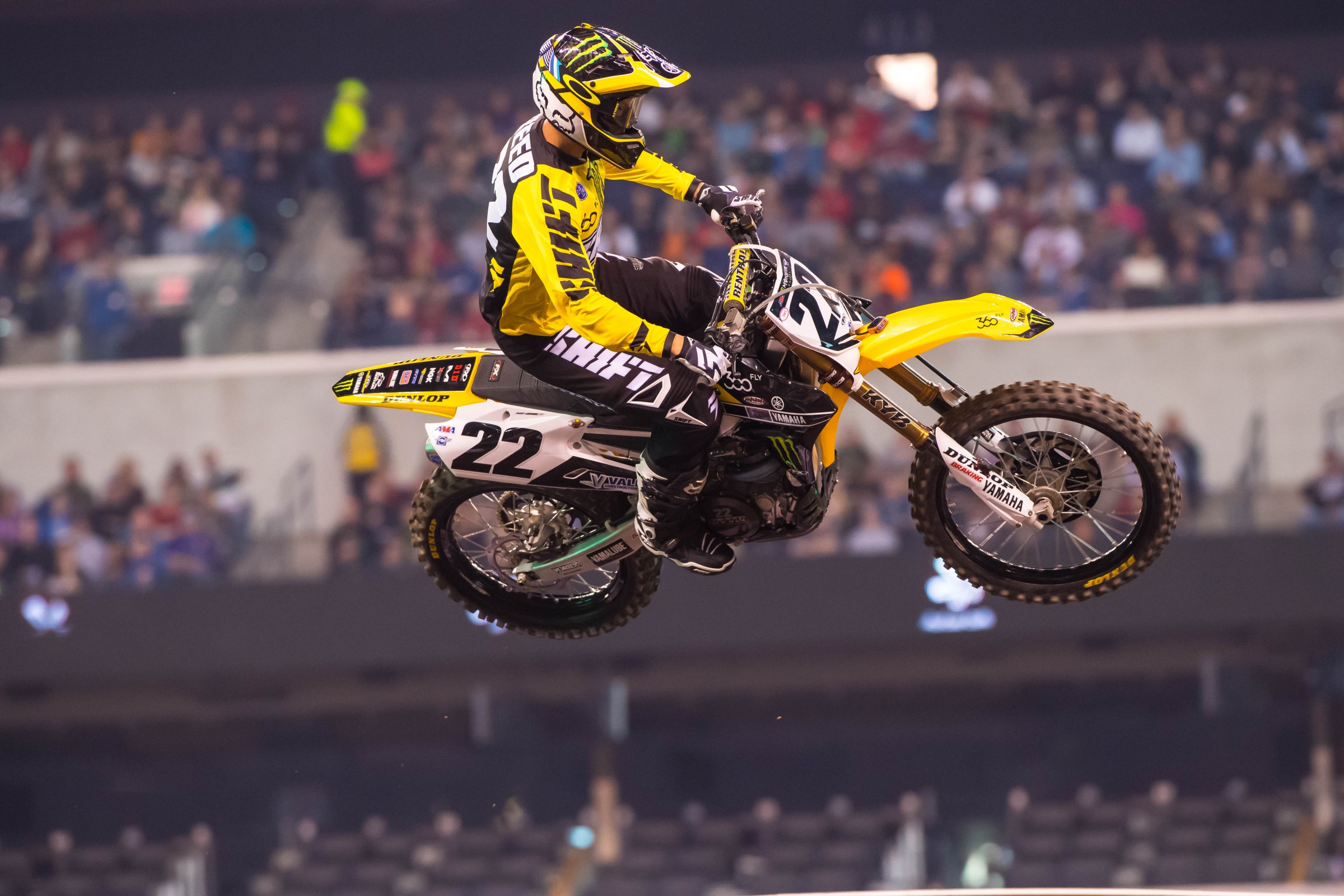 Tracks today are drier and therefore the dirt is harder than ever. This leads to all of the riders being able to jump the same jumps, take the same lines for twenty laps, all while never making a mistake. Watching a race like Santa Clara, for example, you could see everyone was able to execute every section perfectly all night long. Riders were basically in single line formation as if they were orchestrated in unison. Now compare that to Indy's ruts and ever changing terrain and the difference is clear. Riders in Indy were unable to put in perfect laps because the track was simply tougher. The ruts raised the level of difficulty exponentially. The optimal line was constantly changing as ruts grew deeper and holes were formed.
It became less about racing the fellow racer and more about racing the track. There were mistakes made by every rider on every lap. Even for Ryan Dungey and Ken Roczen, their best hope was to minimize their mistakes and jump all of the rhythm sections each lap. "A track like this isn't going to be mistake free," Dungey told us after the race. "I think I had my fair share of mistakes, but I tried to minimize the damage." That is how racing used to be just a few short years ago. It was a battle of who could best manage a track that challenged even the best in the world. It was less about tenths of a second and more about not losing multiple seconds per lap. The tracks were tough and the dirt made the job even tougher. There were wide variations in the lap times, not twenty identical laps within the same second. In short, the races were unpredictable and less robotic.
Maybe I am being a bit nostalgic and blindly encompassed by the retro spirit. Maybe I am having a "get off my lawn" moment. Or, maybe I am just of the mind that these riders should be pushed to the limits of their abilities. The simple fact in all of this is that the standard, modern-day supercross track is a walk in the park for the sport's best. They can jump every combination within three laps of the first practice. The dirt never changes shape or presents any unique wrinkle. I feel that just inhibits excitement.
Did anyone notice how much more captivating it was at Indy when Roczen would make a pass, then make a big mistake and Dungey would pass him back? That would not have happened if the track was dry and hard-packed. We would have had far less of the thrilling battle and much more of the follow-the-leader type racing we generally get (and last week at Santa Clara Roczen was right behind Dungey but unable to do anything different for twenty laps).
I understand that for some, racing is nothing more than a show. Selling tickets and generating television ratings trump all other key points. For the true fans, however, which I assume you are if you are reading this rambling assembly of nonsensical thoughts, seeing the best riders in the world bringing their expertise to its maximum level should be the aim every Saturday. I have no doubt that the sport's elite can race around a basic track and make it look elementary. I also have little interest in seeing it over and over and over. If you can offer me the sport's elite on a stage where they are truly tested, using their full array of skills, then I can assure you that I, along with most other core fans, will be captivated in the most retro of ways.