Lucas Oil Stadium
Indianapolis

,

IN
Indianapolis
Monster Energy AMA Supercross Championship
Without a doubt, this season has been the most difficult in the distinguished career of James Stewart—well, besides last season, which didn't even happen. After a sixteen-month suspension for a positive test for a banned substance following the Seattle Supercross in 2014, most thought Stewart would take the time off to reflect on how much he missed racing his dirt bike and come out guns blazing in an effort to climb closer to Jeremy McGrath's mythical 72 AMA Supercross main event wins.
It hasn't worked out that way. Knocked out at the opener, not ready in Oakland, a lapper in Atlanta and a mystifying crash at Daytona—it's been a rough go for Stewart. There appeared to be light at the end of the tunnel this past weekend in Santa Clara. After missing the previous three rounds, Stewart provided us with his most complete effort of the year. Three solid practices, a second his heat and on the gas moving forward in the main, Stewart appeared to be on his way back. But, like many things this year, it just didn't go according to plan, as he suffered a mechanical in the main event and finished twenty-second—his third last place finish of the year.
We had James on the Pulpmx Show Monday and he credited his comfort on in Santa Clara to a switch from the Showa air forks to more traditional spring fork—joining Eli Tomac, Trey Canard and others in going away from air and back to the coil-sprung fork.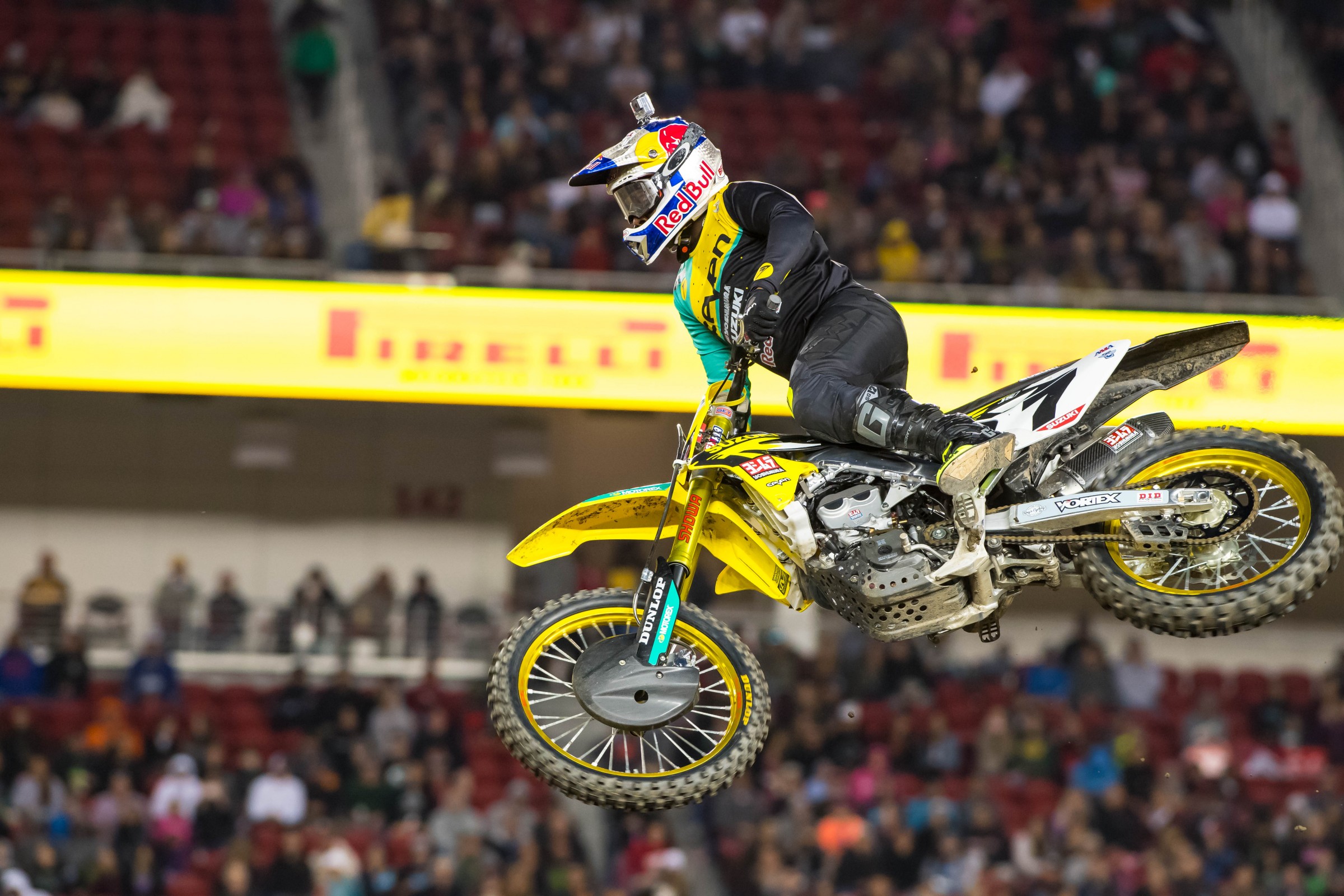 "We switched from air to spring forks and for me that was one of the biggest changes, if not the biggest change that I had over the last two weeks," Stewart told us. "That's why I felt quite a bit better. I went all the way back to something that I was riding previous to the US Open [Monster Cup], then it became like searching. So finally we just said, let's just go completely back to something I know. Then it was like a light switch clicked on for me."
If you're like me and wonder who we've been watching out there all year long with the #7 on his Suzuki, don't worry, James has too and mentioned that his Daytona crash was a low point.
"I would tell you that the icing on the cake was Daytona. When I looped out in the whoops it was like, what the hell is going on? This ain't me," he said. "But I kind of knew, like I said, I was struggling. At Atlanta I'm qualifying and I put in a hot lap and I was like 13th quickest. I'm like, What is this? Same thing at Daytona. So when I finally looped out I was like, Look, man, this ain't my kind of program. But at the same time I'm like, Just keep sticking with it. So after Daytona that's when we switched over to the spring forks."
The beginning of Stewart's woes started with that hit to the head at Anaheim 1. We're a lot smarter than we once were when it comes to head injuries and even James admits that those stops and starts after his injury weren't ideal.
"The head issue—that took a long time. Unless you've had one, people really don't understand," he said. "I was probably one of the ones that normally when I have a head injury there was always something else that was hurt. So just to kind of deal with that it was kind of the first time in my career that I was able to possibly come back racing the next weekend. I was struggling with that, not even riding a motorcycle but just kind of my everyday life. So I finally got through that. Atlanta I was pretty much back, kind of feeling normal."
Anaheim, Oakland, Atlanta and Daytona weren't what we're used to seeing but there's hope going forward in these last five rounds that Stewart can maybe get on a podium and maybe, just maybe (GASP!) get a win. It's insane that we're talking about Stewart that way—the rider with 50 career AMA Supercross wins to his name—but that's how far he's fallen this season. Up front Ryan Dungey, Ken Roczen and company don't have a lot of sympathy for Stewart and his issues. They're raising the bar every week, but even if it's a long shot to think that Stewart could stand atop the podium, he's taking the small gains at Santa Clara and looking forward.
"Basically about two weeks ago was when the light kind of started shining. I was like, all right, now I feel pretty good," he said. "So to go to this weekend, honestly from the practice and the heat race and then finally the main event I was actually starting to ride good. I got better and better as the day went on.
"I've been slow in practice… So you got to go out there and [finally], "Hey, I'm up here battling with these guys. I'm actually kind of quick! Now I'm up here passing and catching these guys." It's funny that I won all these races in my career and then I'm just looking for my name to pop up on the top four, all the way up until last weekend. But now that's kind of changed again. Racing is 100 percent mental. I don't care about anything else."