Josh Strang Looks for Third Win as GNCC Heads to Steele Creek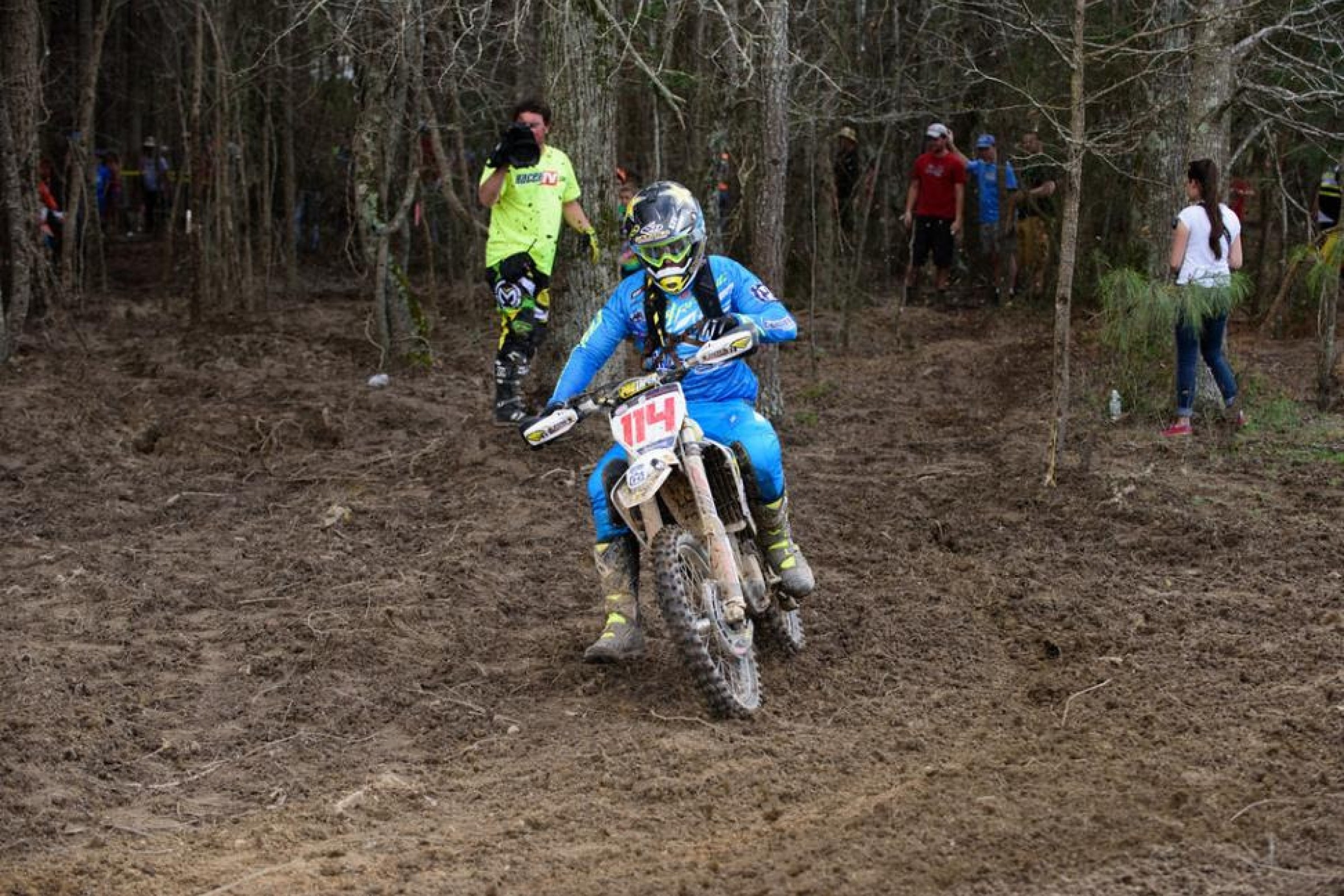 MORGANTOWN, W.Va - The 2016 AMSOIL Grand National Cross Country (GNCC) Series presented by Maxxis, an AMA National Championship, moves to Morganton, North Carolina this Sunday, April 3, for round three of the 13-race championship series. With two wins behind him already, Rockstar Energy Husqvarna Factory Racing/Bel-Ray's Josh Strang looks to make it three-in-a-row at this weekend's FMF Steele Creek GNCC, an event that is now considered his home race.
Strang's consistency has been hard to top, but FMF/KTM's Factory Racing's Kailub Russell will be looking to end Strang's winning streak and take his first win of the season. Russell, another North Carolina transplant, will attempt to utilize the home turf advantage this Sunday as he looks to capture his first victory of the season.
"I really like Steele Creek and there's always a huge fan turnout," said Strang. "It's a great track and I'm just going to keep training how I have been and just have a good time as I go for the win."
Russell's teammate, Charlie Mullins, will be making his return to GNCC Racing after a season-long hiatus where he underwent surgery and physical therapy for a double-wrist injury. Mullins is known for consistent finishes at Steele Creek and will look to repeat his success in his home state.
N-Fab/AmPro Yamaha's Daniel Milner sits in the third place position following a podium finish at the season opener. After having his career-best finish in Florida, Milner struggled in Georgia but still finished ninth and heads into this weekend with hopes to make his way back to the podium.
Coastal Racing/Rockstar/Husqvarna's Ryan Sipes hasn't got the start he was looking for thus far in the season. However, Sipes was able to bounce back from dead last at the first two rounds to get a fifth and seventh place, but is eager to take home his first GNCC overall win.
Sitting just one point behind Sipes is SRT/KTM/Kenda Tires' Steward Baylor. After making his first podium appearance in four years at the last round, Baylor not only has the knowledge of what it takes to be a top contender, but also the confidence.
"Steele Creek has been a long-time favorite of mine," said Baylor. "It's normally a lot of tight trails and it makes for good racing. My plan is to get a good start and stay up in the front."
JCR Honda/Lucas Oil/Maxxis/FLY Racing's Chris Bach sits in seventh, followed by N-Fab/AmPro Yamaha's Grant Baylor in eighth.
JCR Honda/Lucas Oil/Maxxis/FLY Racing and Morganton native Trevor Bollinger holds the early lead in the XC2 Pro Lites class with an impressive 1-1 sweep in the first two rounds. Beta USA Teammates' Tegan Temple and Jesse Groemm sit tied for second, with Coastal Racing/Husqvarna/MSR's Craig Delong in fourth and Connecticut's Benjamin Kelley rounds out the top five in the class.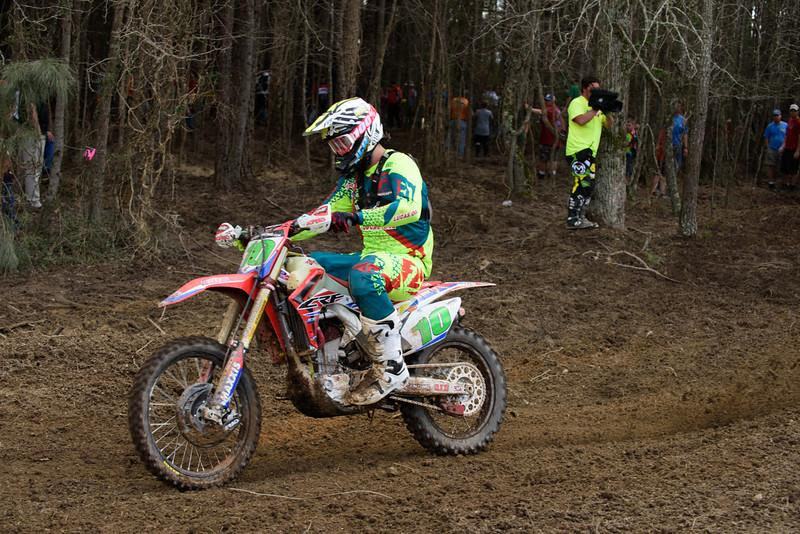 Sunday's race schedule is as follows: Youth Bike racing begins at 8 a.m., followed by amateurs and women at 10 a.m. and pros and top amateurs at 1 p.m.
Adult (12+) gate admission is $20 for the full weekend and $10 for kids (6-11), with kids five and under free. Gate admission includes pro pit access and pro autographs at no additional charge. Camping fees are $40 for full-hookup spots, and $20 for primitive camping. Full-hookup camp campsites are first-come-first-served.
Local racers are invited to compete at this event, as GNCC Racing offers classes for riders of all skill and experience levels. The amateur racer entry fee is $40 and riders can sign up at the track. Local racers expected to compete this Sunday will be Kailub Russell (XC1 Pro), Charlie Mullins (XC1 Pro), Josh Strang (XC1 Pro), Trevor Barrett (XC2 Pro Lites), Cody Jeffers (Open A), Conner Smith (Open A), Cameron Sisk (250 A), Drew Bolton (4-Stroke A Lites), Hunter Williams (4-Stroke B Lites), brothers Lucas and Robby Towery (Junior A/B 25+), Jesse Robinson (Vet A 30+), Noah Stephens (250 B), Bryson Jenkins (Super Mini Sr. 45-15), Zack Davidson (Super Mini Jr. 12-13), Tyler Palmer (85 12-13), brothers Grayson and Cole Lail (85 12-13), Drew Callaway (65 10-11), Alexis Phillips (Girls 8-15), Noah Beddingfield (50 Sr. 5-7), Harry Engelhart (Super Senior A 45+), Jeffrey Coats (Masters B 50+), Blake Gibbs (250 C 22+), Landen Wray (200 C Schoolboy 12-15), Eli Childers (125 B/C), Blake Bowman (125 B/C), Daniel Parlier (Vet C 30+), Rance Nicholas (Super Vet C 35+) and Michael Melton (Super Senior C 45+).
For a complete schedule of the weekend's activities, please visit the Steele Creek GNCC event page on the series website by clicking HERE.
Tune into RacerTV.com on Sunday at 1 p.m. EST to catch LIVE coverage of the Pro Bike race at round two. For more information on GNCC Live coverage, visit www.racertv.com.
For more information on the series, visit the official website at www.gnccracing.com or call (304) 284-0084. Join the conversation on the series Facebook page, follow us on Twitter and Instagram, and be sure to always hashtag #GNCCLIVE.