RacerTV Gears up for Record Season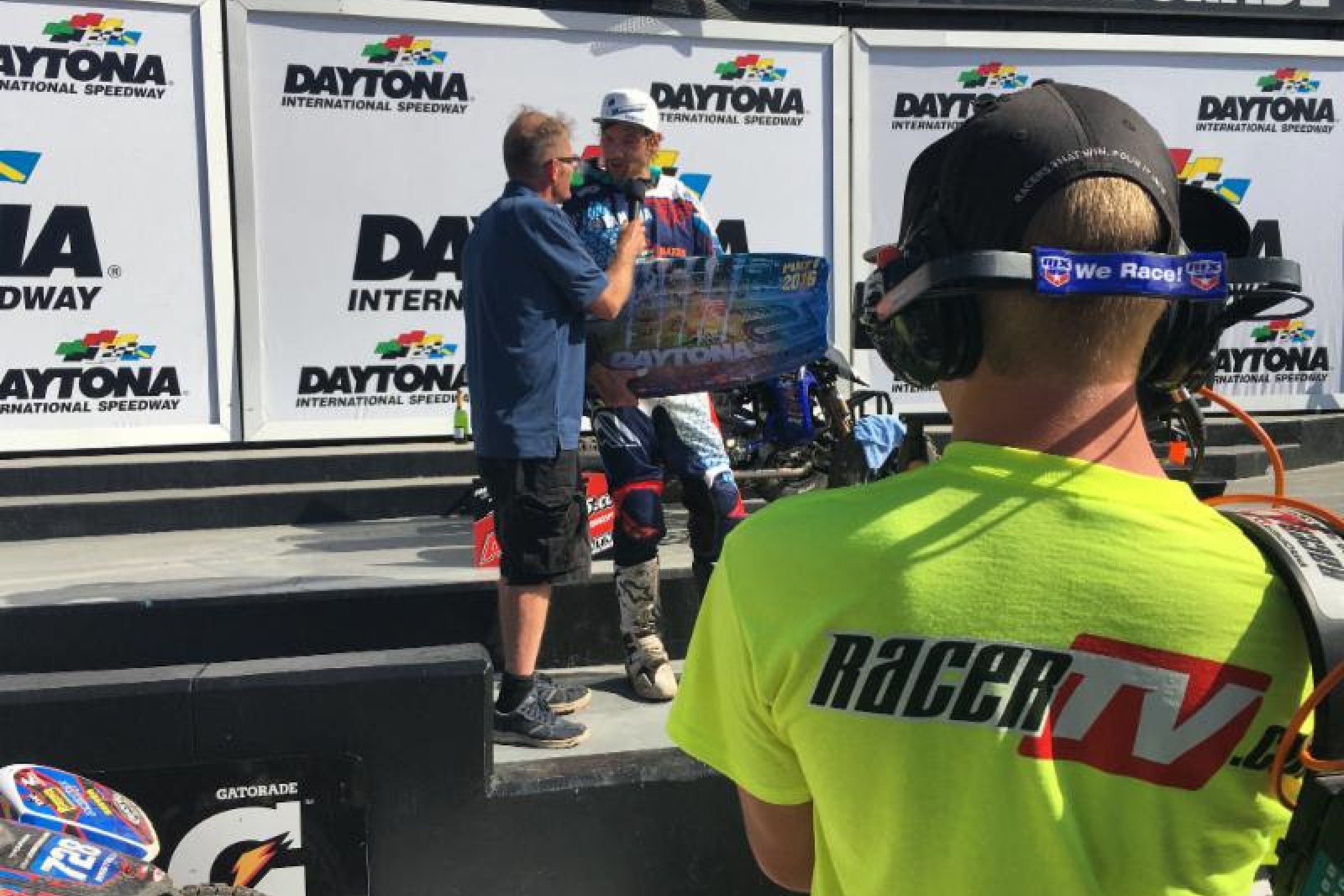 MORGANTOWN, W.Va. - RacerTV is pleased to announce that 2016 is set to be a record season after the successful season opening broadcasts at the AMSOIL Grand National Cross Country Series presented by Maxxis (GNCC), Ricky Carmichael Daytona Amateur Supercross (RCSX) and the FLY Racing ATV Supercross (ATVSX). Over a nine-day period, RacerTV produced six live broadcasts totaling 24 hours of live streaming coverage with over 88,000 total views.
The 42nd Annual GNCC Series kicked off with the Moose Racing Wild Boar GNCC in Palatka, Florida on March 5 and 6. After a four-month off season the anticipation was at an all-time high as a total of 12,492 unique viewers tuned in to GNCC LIVE to watch the world's fastest off-road ATV, UTV and motorcycle racers start their quest for an AMA National Championship.
Monday, March 7 played host to the RCSX main events and the opening round of the Women's Motocross Championship (WMX), where RacerTV was again in attendance covering the pursuit for the coveted AMA No. 1 plates. Nearly 9,000 unique viewers were plugged in and watching the latest race action from the renowned Daytona International Speedway in Daytona Beach, Florida.
Just one day later the track was turned over and adjusted to perfectly suit four-wheels as the ATVSX took place. This unique event also serves as the opening round of the 2016 ATV Motocross National Championship, presented by CST Tires (ATVMX). Over 11,000 unique viewers logged on to RacerTV.com, producing 25,009 total views in 86 countries.
RacerTV then moved north to broadcast the inaugural Maxxis Cannonball GNCC in Sparta, Georgia on March 12 and 13, where 23,599 additional unique viewers tuned in to watch the America's premier off-road racing series live.
"The RacerTV property has expanded the reach of our racing disciplines," said Marketing Manager Nick Koester. "In just over one week's time, the live stream broadcasts have allowed us to share GNCC, RCSX and ATVSX with over 43,000 unique viewers around the world, creating more exposure for our athletes and corporate partners. We look forward to enhancing our programming as we move forward in 2016."
Later this summer RacerTV will travel to Hurricane Mills, Tennessee to cover the Rocky Mountain ATV/MC AMA Amateur National Motocross Championship, presented by AMSOIL. Racers from all over the United States will descend upon the historic Loretta Lynn Ranch to compete in the world's largest and most prestigious amateur motocross national championship.
In addition to live streaming, RacerTV will also continue to produce cable television programming. RacerTV will feature 13 GNCC highlight episodes on NBC Sports Network (NBCSN) showcasing either the Pro ATV or bike race per event weekend. Thirteen additional highlight episodes will be broadcasted directly on RacerTV.com. The premiere NBCSN episode from the Wild Boar GNCC is set to air Saturday, April 9 at 1:30 p.m. EST.
Similarly, ATV Motocross continues its cable television programming on MAVTV. All 12 rounds of the AMA Pro class will be aired, allowing race fans across the world to watch the fight for the championship unveil on cable television.
RacerTV returns on April 2 and 3 at the FMF Steele Creek GNCC at 1 p.m. for coverage of the Pro ATV race. With 27 GNCC LIVE shows and three ATMX live streaming broadcasts remaining, the groundwork is being laid for a record breaking season of coverage.
Even though the season is underway, there is still time to advertise with RacerTV for the remainder of the 2016 broadcasts. RacerTV has a variety of advertising options available; to explore these opportunities contact Nick Koester at nick@mxsportsproracing.com.
For more information on RacerTV visit www.racertv.com or call (304) 284-0084. Also make sure to follow the official Facebook, Instagram and Twitter accounts for the latest news and updates.