Toronto, ON
Toronto
Monster Energy AMA Supercross Championship
Before the Eastern Regional 250SX season of Monster Energy Supercross got started, Racer X's Jason Weigandt asked Troy Lee Designs/Red Bull KTM team manager Tyler Keefe how Justin Hill was progressing, but he didn't come up with much.
Not because Keefe didn't have any information, but because he simply wasn't willing to provide any insight into Hill's pre-season speed, simply stating he preferred to come in under the radar. Was Keefe covering something up, or did he really just prefer to let Hill's riding do the talking? In an industry where even innocuous info is frequently kept secret for no apparent reason, there was just no clear answer and we weren't quite sure what to make of the cryptic response. Now, after three rounds Hill sits just two points out of the lead and is the series' newest winner, having thumped the competition in Toronto. It would seem Keefe was indeed walking confidently and softly, fully aware of the big stick Hill is carrying right now.
"This is absolutely where I was expecting him to be," Keefe confirmed when we doubled back with him earlier this week. "His talent level is up there with the best of them and it was just a matter of time. Last year he came in with a lot of hype and this year everybody kind of forgot about him. Now his results and riding are doing the talking for him, and I believe it's better that way, instead of dealing with a bunch of hype."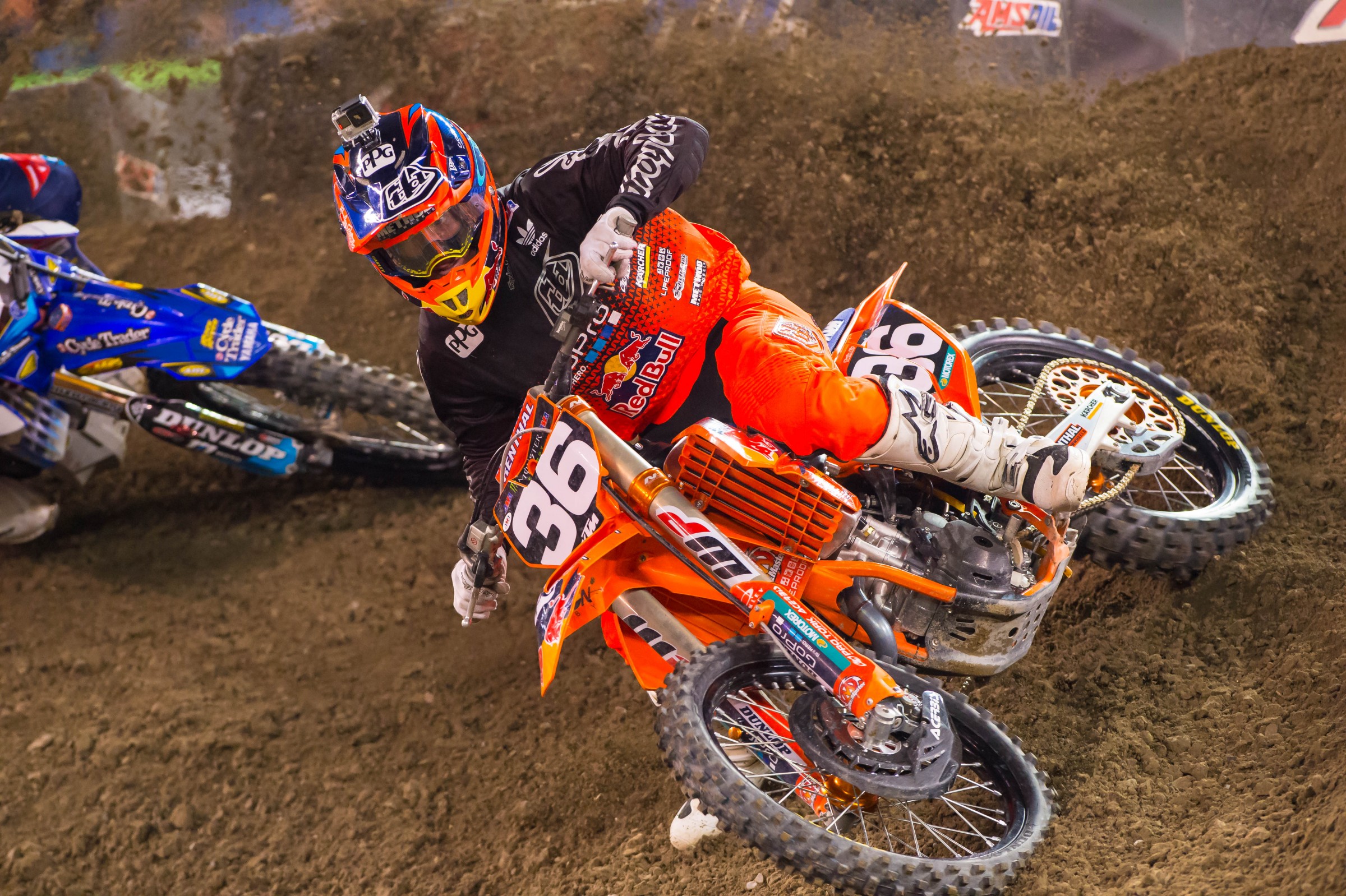 Last Saturday's win was a big one for Hill, who didn't win a single race in 2015, despite being a heavy title favorite. In fact, Hill hadn't won since 2014 when he took his second career win at the East-West Shootout in Las Vegas. In other words, win number three was a long time coming.
"Obviously it's a huge step forward from what I was up to last year, being healthy and getting excited to race. I had fun and winning's fun. We just need to keep doing that," Hill told Racer X after Toronto. "Last year I just smacked my noggin. That's a huge thing because that can change a guy. For me, I just lost the fire. I lost the reason why I do this. I just lost the desire to go out there and throw caution to the wind and race my dirt bike how I grew up doing it. But now it's such a big relief for me because I'm having so much fun mixing it up out there, motoing down. It's a blast to me. I longed for that feeling. It's been a long time."
The win was big for the team as well. After losing their title hopeful, Jessy Nelson, to injury out west, the team was winless for the year. This season is also the first time the team has ever even contested the East Region, and it's also their very first win as KTM's official 250 factory effort. Getting this win was a big deal, especially considering KTM was originally considering not giving the team official factory status until 2017.
"We've already established ourselves as a team that should be winning, whether it's East or West, and being the factory team, we should definitely be winning," says Keefe. "When you're not, it's a tough hill to climb. We had a rough start to the season with Shane McElrath getting hurt in November, and we had high hopes for Nelson in the West before he got hurt. Not getting a win was tough, but Justin did well and got us our first win, and it was definitely a weight off our shoulders!"
Despite running away with it in Toronto, Hill is maintaining focus and has his eyes set on the bigger prize. "It was an awesome experience. It's been a long time since I've been up top so it was awesome. But for sure, my mind is set: I'm not going to be happy until I have the red plate, and then until I keep it. So until that day comes, then you can see me smiling all day long. When that happens and then I have the big bike, I'll be smiling. But I want to win this thing. That's the plan."