Daytona International Speedway
Daytona

,

FL
Daytona
Monster Energy AMA Supercross Championship
Since turning professional in 2012, Jesse Wentland's attempts in Monster Energy Supercross have been thwarted by countless injuries, and as we've come to find out, confidence issues. However, this trend is looking like it's coming to an end in 2016.
Wentland kept his same program as last season with Rick Schugel Racing and trainer Dylan Turner and delivered the first top ten of his career over the weekend. Wentland's a bigger guy and enjoys racing a 450 much more than the smaller displacement—finishing twenty-first overall in Lucas Oil Pro Motocross Championship last summer—but he's been solid this year in the 250SX East Region
We called up Wentland on Monday afternoon to find out how this career milestone felt, as well as what made all of the difference in Daytona.
Racer X: What's up with you today Jesse?
Jesse Wentland: Oh, nothing too much. I'm just relaxing in Tallahassee. I had a mountain bike ride today, but that's about it.
It's been a little bit since I've been able to catch up with you. Congratulations on your eighth in Daytona!
Yeah, that's definitely the best that I've ever done. I'd say that's a good start to the series for me, even though the first week didn't go the best for me. It was a pretty fun time.
So what was it this week that made you have your best result? Was it just your time to shine in Daytona?
I thought it was all right. I thought it was pretty one lined, like a lot of riders did. I think it catered to the fans and it did make some good racing. I enjoyed it.
I've been working with my trainer Dylan Turner for about a year now. We've been plugging away trying to find some speed. I think I just found a new level of speed in myself. I actually surprised myself in Atlanta by qualifying twelfth out of practice. Normally my qualifying is my weakest and now it's becoming my strongest area. Everything is just getting better. I'm getting more confident and I'm starting to believe that I'm a front-runner.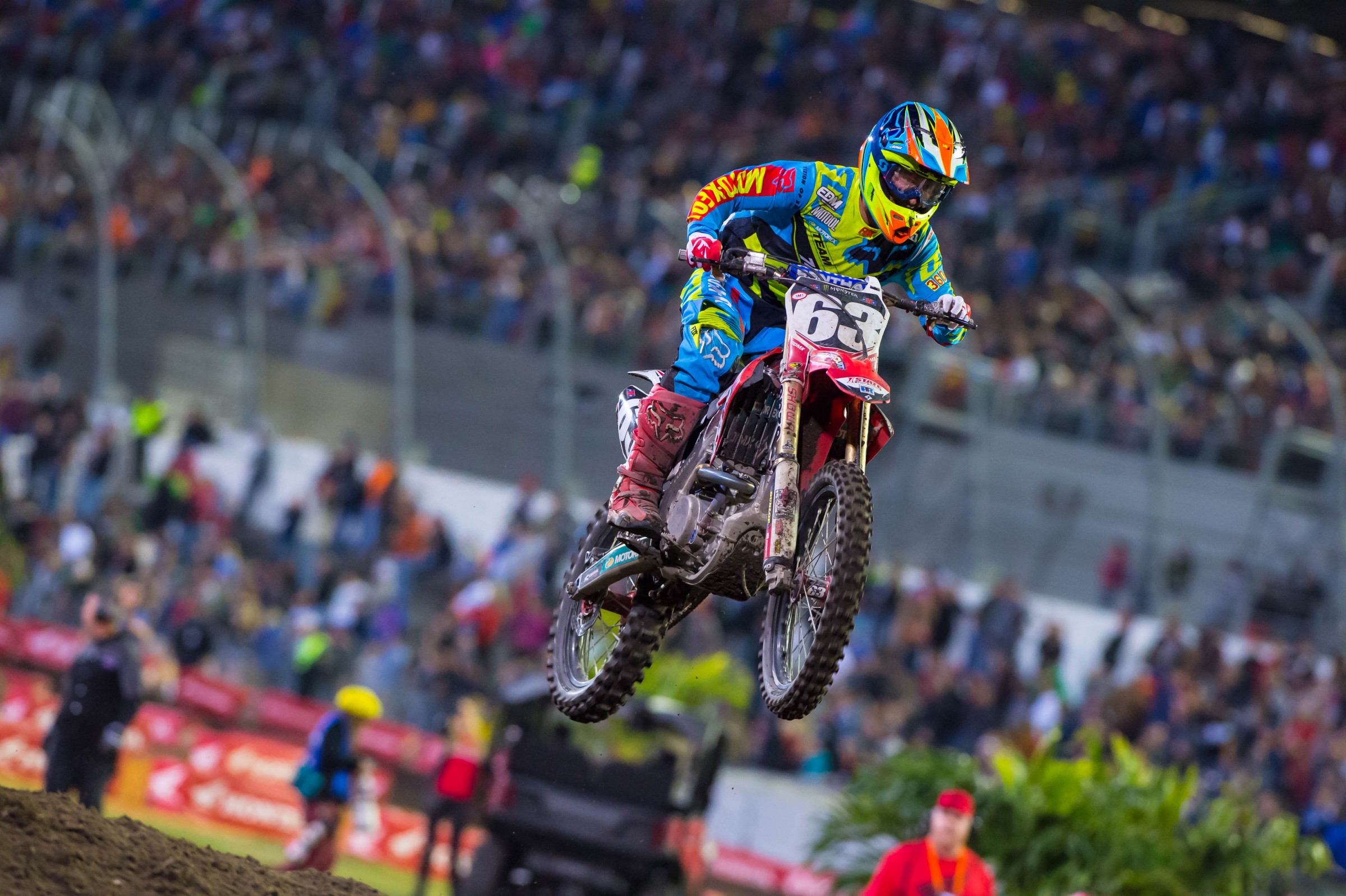 You've ridden 450 outdoors, but for supercross you've dropped down to a 250. You're a bigger kid, have you had fun throwing the bike around so far?
Yeah, absolutely it's a lot of fun switching it up back to the 250. I definitely like riding the 450 more, but with the 250 East Coast would be a good start to the year. I've never been able to finish a coast. I've always had a problem getting injured in years past. One of my goals this year was to finish the East Coast season and so far it's been good.
Yeah, second round you end up getting a top ten. I know Atlanta didn't go the way you wanted it to, but it looks like you're back on track now.
Atlanta was going good, but [Arnaud] Tonus got together in the main and ended my night a little early. I'm hoping to keep building towards the end of the season. Hopefully I can get into the lower part of the top ten.
It's all a testament to the program that you have with Rick Schugel (RSR Racing). You've been with him for a while now.
Our program has stepped up this year. My practice program has been awesome. I don't remember the last time that I've been able to have two awesome practice bikes that get rebuilt and everything gets serviced. They put on fresh equipment when I need it. I'm able to push as hard as I can on those bikes to find the speed that I've been looking for. I'm staying in Tallahassee. My girlfriend and I have an apartment. We ride up at MTF, GPF, Climax, and Zach Bell's place.
I think you caught a lot of people off guard this past weekend. I'm sure you're excited that you got to show everyone some more of your potential, am I right?
Like I said, I'm starting to believe in myself man. I know I belong up near the front. I've never had that confidence before. It was the same for me in amateur racing. It always took a while for me to become confident. I'm finding it now. Having a good program and Dylan helps a lot too. Having a structure to follow everyday with the practice program, race bike, a good mechanic, and a team owner behind you one hundred percent, it all adds up. My confidence is through the roof and I just want to get better.
You riders are head cases when it comes to the confidence you need to succeed. It doesn't come easy.
No, it definitely doesn't. It's something I've had to work on the past four years as a professional. It's pretty scary going out on a Daytona track when you have a million ruts going up the face of jumps. Just finding the confidence to hit those lines and jumps is unreal. I've just had to work on it and it's coming together.
You've come through the ranks with some of these guys and I'm sure you beat them. Why has your confidence not been there?
It's a whole new ballgame when you turn pro. You have fifteen fast guys instead of before when it was only four or five fast guys in amateurs. I remember racing against [Justin] Bogle and I raced against Jeremy [Martin] and stuff. I had no problem battling against them, but then you throw in [Eli] Tomac and all of the other guys I was racing in my first year it was tough to believe in myself. I was thinking I was in their way. I was a head case my first year. I didn't come in with the mentality that I wanted to push people around in my first year. I didn't show everyone that I meant business, but this is the year that I need to do it. I feel like I am in these first couple of rounds this year.
In past interviews that we've done you've put a lot of emphasis on your trainer Dylan. He's more than just a trainer to you; he's a mental coach as well. What is this guy all about?
He's definitely the whole package. He works every area that can help me on the bike or off of the bike. He's not only a good trainer, but he's also a good friend, and a good person too. The other week my van broke down and he was the first person to come and help me. That's the kind of person he is. He goes the extra mile to help me and he wants to see me succeed. That's the bottom line. He'll do anything it takes to get me where I need to go and I'm the same way. I want to succeed. We want to help each other to get to that point.
The hard work is paying off as evident of your Daytona weekend. Now tell me how your team setup works and how you get to the races.
We have a box van all decked out. I have a locker and a lot of spots for tools and things like that. My mechanic drives to all of the races for me. I did drive to Atlanta and Daytona, but I'll be flying to the rest of them. The more help and the more people that notice me the better. Nothing bad can come from that.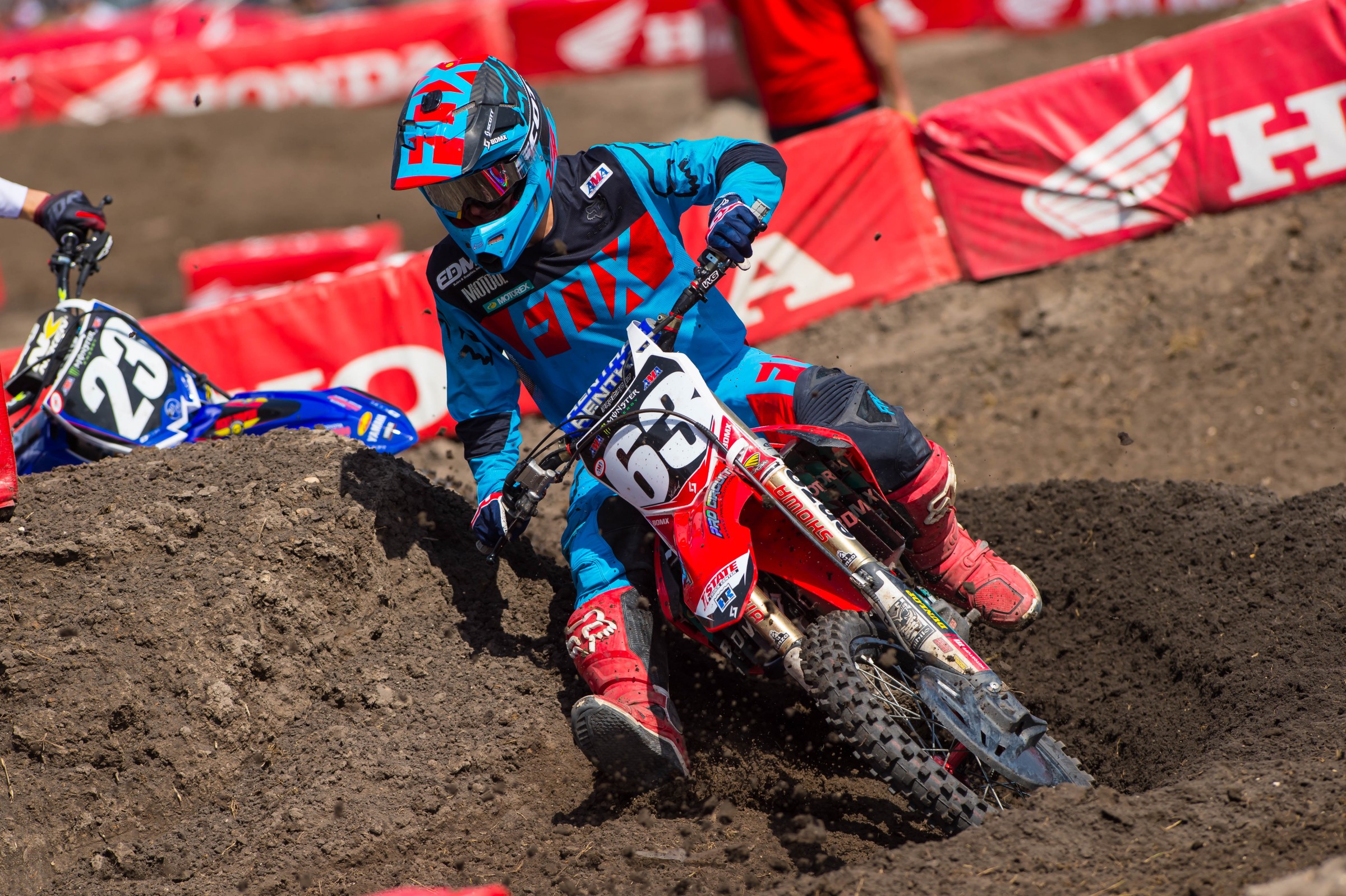 What is something that people may not know about you? Don't say you like to go mountain biking or road biking either. That's what everyone says.
Well, I would say that I like to go road biking, but my bike was just stolen and my trainer's too. It's such a bummer. Some guys in Havana, Florida, stole them and put them up on Craigslist really quick. It was over Atlanta weekend. Then they were spotted near the campus of Florida State in Tallahassee. We haven't found them yet though. We're trying to crack down on them still. It's crazy, it seems like ever since then everyone's stuff is getting stolen. I saw the arenacross team got their bikes stolen that weekend too.
It is a bummer. Michael Akaydin had his race bike stolen too.
That too. It's scary out there. Other than that I have a favorite movie too. It's probably every dirt bike rider's favorite, which is "Dumb and Dumber." It's tough to think about anything else because everything I do revolves around motocross. Everyone knows what I do already.
Thanks Jesse. Who would you like to thank for helping you out this year?
I'd like to thank: Rick Schugel Racing, Starr Cycle Honda, Wisconsin Kenworth, Motorex, IState Truck Center, North American Trailer, Badger Utility, Thermo King, Rekluse, Pro Circuit, BlackDiamond MX, Works Connection, Dunlop, Twin Air, FasterUSA, Cycra, Light Speed, Renthal, Motostuff. Nihilo Concepts, Fox, Enzo, Scott Goggles, EDM Sales, and Motool.