Daytona, FL
Daytona
Monster Energy AMA Supercross Championship
First off, I didn't go to Daytona. Although it seemed just about every other media/industry person did go, I stayed home. I don't really have a special reason for not going, I just decided I wanted a weekend off from the races, plus, Daytona isn't a great place to spectate from for the media. It's tough to see the whole track or much of it at all really which kind of sucks but on the flip side, Florida is a beautiful place to be at this time of the year.
Let's not talk too much about Daytona because I won't be able to contain my anger for long. So we'll touch on some thoughts I have and then look at the 450SX points with nine races down and eight to go yes? Okay, everyone happy?
Having watched the race, I'm actually okay with not going. The track was terrible and it's not even debatable. Ricky Carmichael designed the track (or at least put his name on it) and he knows what makes a good track. The past RC designs have been good. This year, though, whether it was the lack of space from widening pit row a few years back or the speedway lawyers making changes or sprinkler placement or whatever, it was horrible. The track had switchbacks galore where the inside was the only way to go, easy obstacles and no real speed at all, which equaled up to a REALLY bad track. In fact a top rider texted me after practice saying it was the worst track ever and GEICO Honda's Justin Bogle tweeted: "@justinbogle19 honestly worst track design I've ever raced on" and I agree.
The good news is I've heard the folks in charge realize they're getting some flack for this track and recognize some of the "obstacles" that prevented this track from being more of an obstacle need to be fixed, so I think we'll see a better track next year. Hey, it can't get any worse right?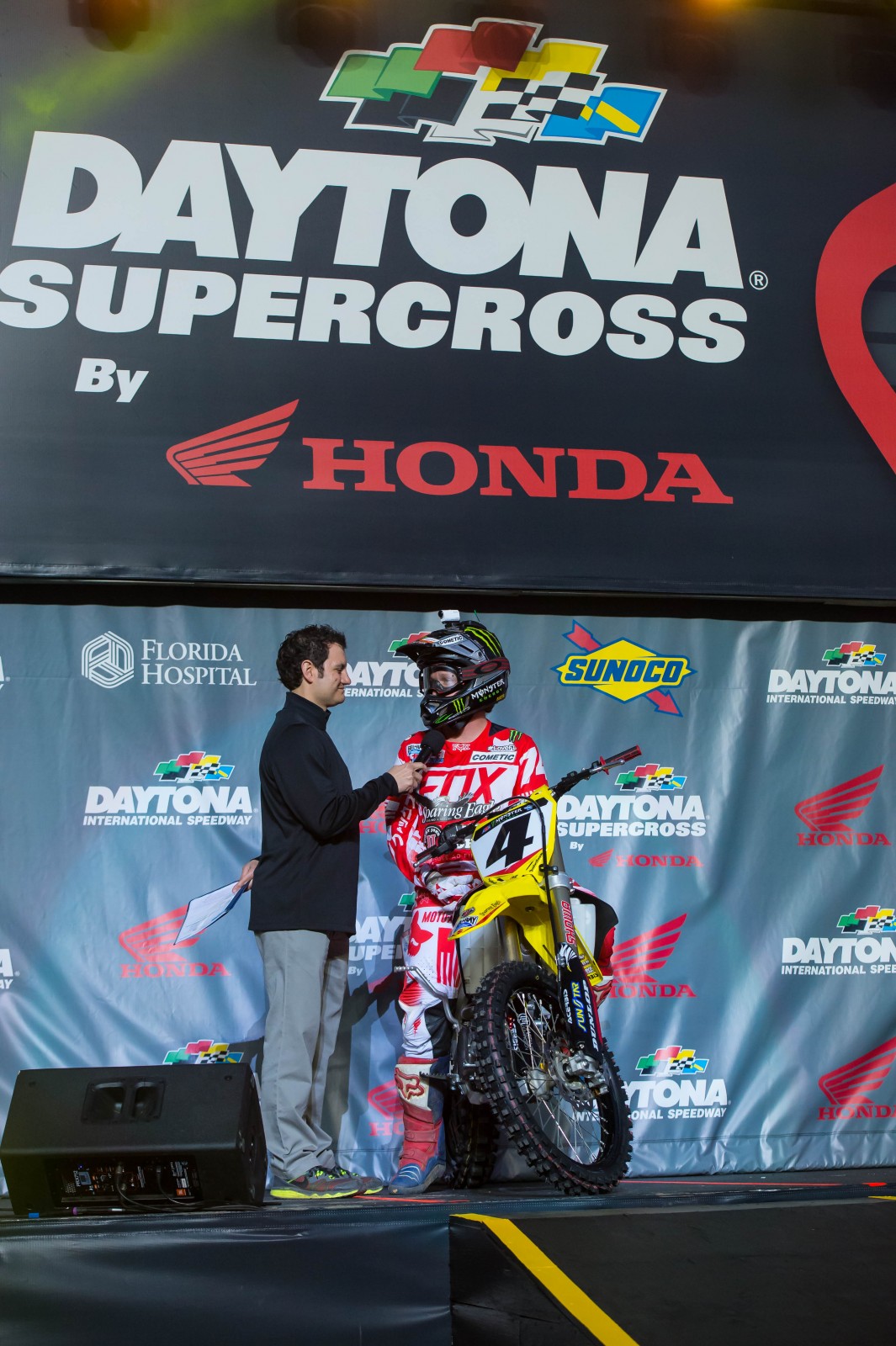 I bet it was a long sigh of relief from Eli Tomac, his crew and the Monster Energy Kawasaki guys when he took the checkered flag at Daytona. Eli was the premier free agent rider this past off-season but had been merely okay to start the year on the green machine. Yes he was coming off double shoulder surgery and a slow start was expected but one podium through eight races is not what anyone thought would happen. Well, if you're going to win a supercross and it's not Anaheim 1, make it Daytona because although the track was a tire fire, it's still Daytona y'know?
Tomac was great. He pulled a Ryan Dungey on Ryan Dungey in the heat race and crushed it. In the main he grabbed the lead on the first lap and brought it home with Dungey right there lurkin like Dirt Shark in 'Newps. It was a masterful ride for Eli and I think it showed us that he does indeed feel more comfy in motocross conditions (Daytona isn't motocross but it's the closest the SX series comes to it). Give him some berms, soft dirt and ruts and he's feeling good. He's like a giant long-legged gopher or something.
I think there's a real possibility that Eli uses this win to step up a level for the rest of the series. I'm not saying he's going to take down Dungey every week but I think from now he should be battling for wins and getting on the podium more times than not, whereas earlier this year, it's been more "not". Last summer Justin Barcia won the mudder at Budds Creek and turned his season around. Riders are delicate little flowers and just one win can jumpstart a whole new outlook. I think Tomac will be better from here on out.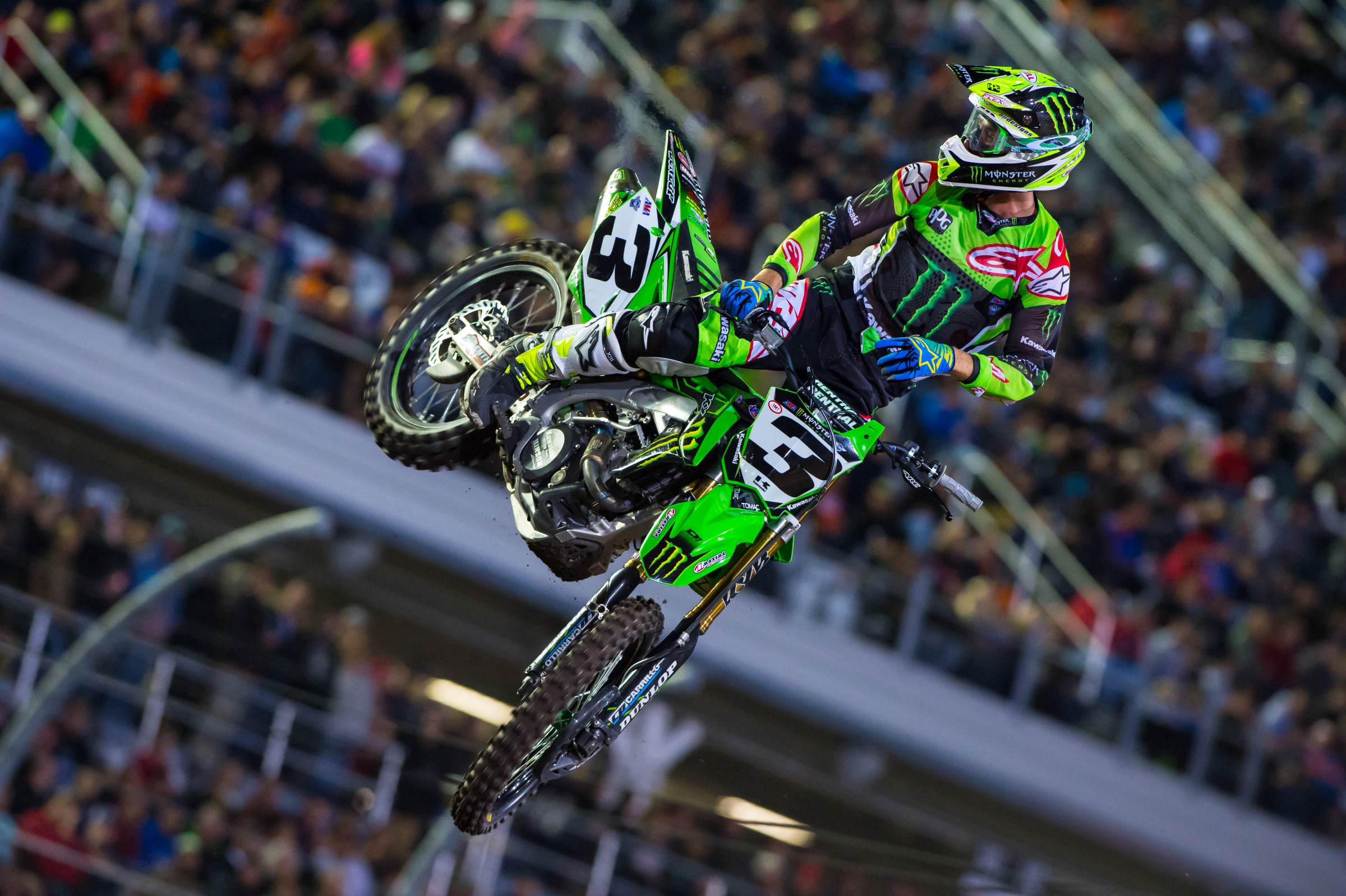 Another "outdoor" guy won the 250s, with Jeremy Martin showing impressive speed and patience behind Malcolm Stewart to wait for his spot (due to the track, he really had no choice but to wait for Stewart to make a mistake), make the move and take off for the win. Martin's fitness won this race more than anything else because Stewart had the lead, controlled the insides and this would've been his until he looked to me like he got tired. He was sitting down way more than needed and hesitating in the turns, which allowed Martin to get by. Stewart fell apart after the pass and went from winning to off the podium in three laps.
Great ride by Martin and he got good starts in Daytona also. If he can keep those up will help him out a ton. At times Martin had heat from a mega-fast Justin Hill but he didn't freak out and try to force something on Malcolm (well, one time he did) and make a mistake of his own. I imagine he was just telling himself that Stewart will wear down and he'll get him. And that's exactly what happened.
Hill was great and Marty Davalos rounded off the podium in a good ride. Davalos still has the red plate and I think we're already seeing, just two rounds down, a four man battle for this title. I think Aaron Plessinger can get into the mix but with him fighting the flu and finishing fifth, he lost some valuable points.
Daytona is probably Marty's worst track and he got a third so maybe, just maybe, this is a new Martin Davalos in 2016 and he can hold onto this thing. And yeah, Hill looks like a race winner REALLY soon.
James Stewart's nightmare 2016 season continued when he crashed out in the heat race. Stew looped out in the whoops and landed right on his back/side in an impact that had to hurt. I heard that he's got a broken tailbone from the crash and will be out for a while but I guess we'll see. To put it bluntly, James' comeback from a year off has been a total disaster of epic proportions, which is something no one could ever have predicted. He wasn't ready coming into the season, he got knocked out at the first race and it's somehow gotten worse since then! I said it before and I'll say it again…see you at Hangtown Stew! I'm sure Yoshimura Suzuki isn't going to like cutting checks to a guy who's not racing (they probably have insurance anyways) but this "thing" or whatever you want to call it, isn't working. Even when he actually is able to get out there and race like in the Oakland heat race or Atlanta heat/semi, he looks like a guy who knows what he needs to do but isn't sharp enough to actually do it. Send him home, stop this madness, get in better shape and build yourself back up. That's what I'd do if I was Mike Webb and the yellow crew.
Okay, let's take a look at the points here and spew out some thoughts.
1 1 Ryan Dungey Clermont, FL- I swear Ryan's better than ever and damn you Ryan Villopoto for retiring and preventing us from seeing this RD/RV battle from continuing. Ryan's opening lap aggression and his starts have been so, so, so, so good. And oh yeah, that bike is something else.
2 94 Ken Roczen Clermont, FL- Roczen's been very good but not great this season. And that difference is all Dungey needs to have a massive points lead. Kenny's starts were bad, then they got better and now they're back to sucking again. But two wins is two wins and that's strong. Only Dungey has more.
3 21 Jason Anderson Rio Rancho, NM- I think Anderson has been the second most impressive rider in the 450SX class and I'd like to see what he can do with better starts. When you look at his stats and see only two podiums on the season (including his win at A1) that's surprising right? He's gotten four 4ths and almost all of his results have come from the back. I like a lot of his passes out there but he still does some dumb stuff like the Cole Seely move at ATL. You don't see Dungey, Villopoto or even Reed (on anyone not named James Stewart) do those kinds of things. You have to stay above that fray if you want to be "a guy" and hopefully he figures that out.
4 3 Eli Tomac Cortez, CO- Another guy who can't seem to get starts consistently, Tomac's been up and down this season, but this Daytona win is a big up. I think Tomac will be really fast this summer and maybe we all just think too highly of his supercross skills, I'm not sure.
5 14 Cole Seely Sherman Oaks, CA- Seely probably should've won Anaheim 1 but other than that he's been pretty good. Like a lot of dudes, he's not really getting a sniff of winning thanks to Ryan Dungey but I think if he gets another chance to pull a start and have Dungey buried a bit, he can win.
6 22 Chad Reed Dade City, FL- When Reed was getting second two weeks in a row and pressuring Dungey it was so awesome and made me think that life is beautiful and I could do anything I wanted to do. Maybe even be an astronaut! Then when he absolutely sucked and couldn't do anything after that for a few races I wondered why life was so cruel and unfair?
7 25 Marvin Musquin Corona, CA- He's getting good, right? Musquin is probably a bit underrated this season and should have one win but he's heating up right when needed. I think Marv's ability in traffic is his one weakness but if he has some space around him, he can get into his pace then he'll win.
8 10 Justin Brayton Mint Hill, NC- Brayton came into this year at a career crossroads. He had a terrible 2015, his contract is up, he's older and there are a ton of fast dudes coming up. He had to be better this year or risk getting off the "good bike" carousel. And you know what? He's been better! He's putting together a season that proves he can make a nice second guy on a factory team. I don't think he stays at BTO for next year but his riding is proving that he's still, you know, good and stuff.
9 18 David Millsaps Murrieta, CA- Millsaps just weeded himself at Daytona but the team hopes he's back by Santa Clara which would mean he just misses two races and then a week off. Davi, like Brayton, needed a good year to fend off the kids in the class and he's done just that. I think he and Brayton are capable of getting on the podium with some luck and they've both won heat races, which is no joke.
10 12 Jacob Weimer Wildomar, CA- Two bad races in a row for Jake and you'd think he would get a little better with the factory Suzuki ride but he averaged more points on the privateer Kawasaki than he has on the RCH (small sample size on the Kawi though to be fair). He, like Brayton and Millsaps, had a tough 2015 with injuries so to be top ten halfway through the series is good. I want to see some more balls-out speed from him though, is that wrong?
11 41 Trey Canard Edmond, OK- This hasn't been good for Trey. He's missed some races with injury, he can't get a start and he hasn't made a podium this year, which is super weird. At A1 he was putting in a terrific ride from the back to third (even passing Dungey), and if he could have carried that through the entire year would've been better. But instead he crashed and finished seventh, then got hurt and it's been catch-up ever since then. I think he'll get better, he's too good not to right?
12 377 Christophe Pourcel San Antonio, FL- Pourcel's shown some impressive qualifying speed and he's gotten better since round seven (which is what he said he would do) but he's still a mystery wrapped in a riddle and you never know what he's going to do week in and week out. Just about every PR from the team quotes him as saying, "I'm still getting used to my bike."
13 54 William Hahn Menifee, CA- Wil's out for a long time, probably the rest of the outdoors which sucks for him because he really needed to NOT get hurt. And it wasn't even his fault!!! Poor Wil. He'll be off the factory team list for next year and will be forced to try and build himself back up again.
14 800 Mike Alessi Hilliard, FL- I think Mike's been a bit invisible this season although his starts have been back the last few races. He's raced hard (he's always done that), he's trying and in the end, this spot is where he belongs. He's got to get better at big whoops but then again, so do a lot of dudes.
15 28 Weston Peick Menifee, CA- Peick's battered and bruised from a crash from Oakland and before that he was just battering Vince Friese. His DNQ-DNQ at the first two races just set the tone for a crappy season and sort of wastes all the hard work going into it. I would think it would be tough mentally be the same at round three as he was before round one, and then add in the hard crash and it's been rough.
16 19 Justin Bogle Cushing, OK- Bogle has not been as good as his 250SX rookie buddy Musquin, but he missed some races with a concussion and he's figuring things out as he goes. He's gotten better with more races under his belt and he should creep into the top ten if he can stay healthy.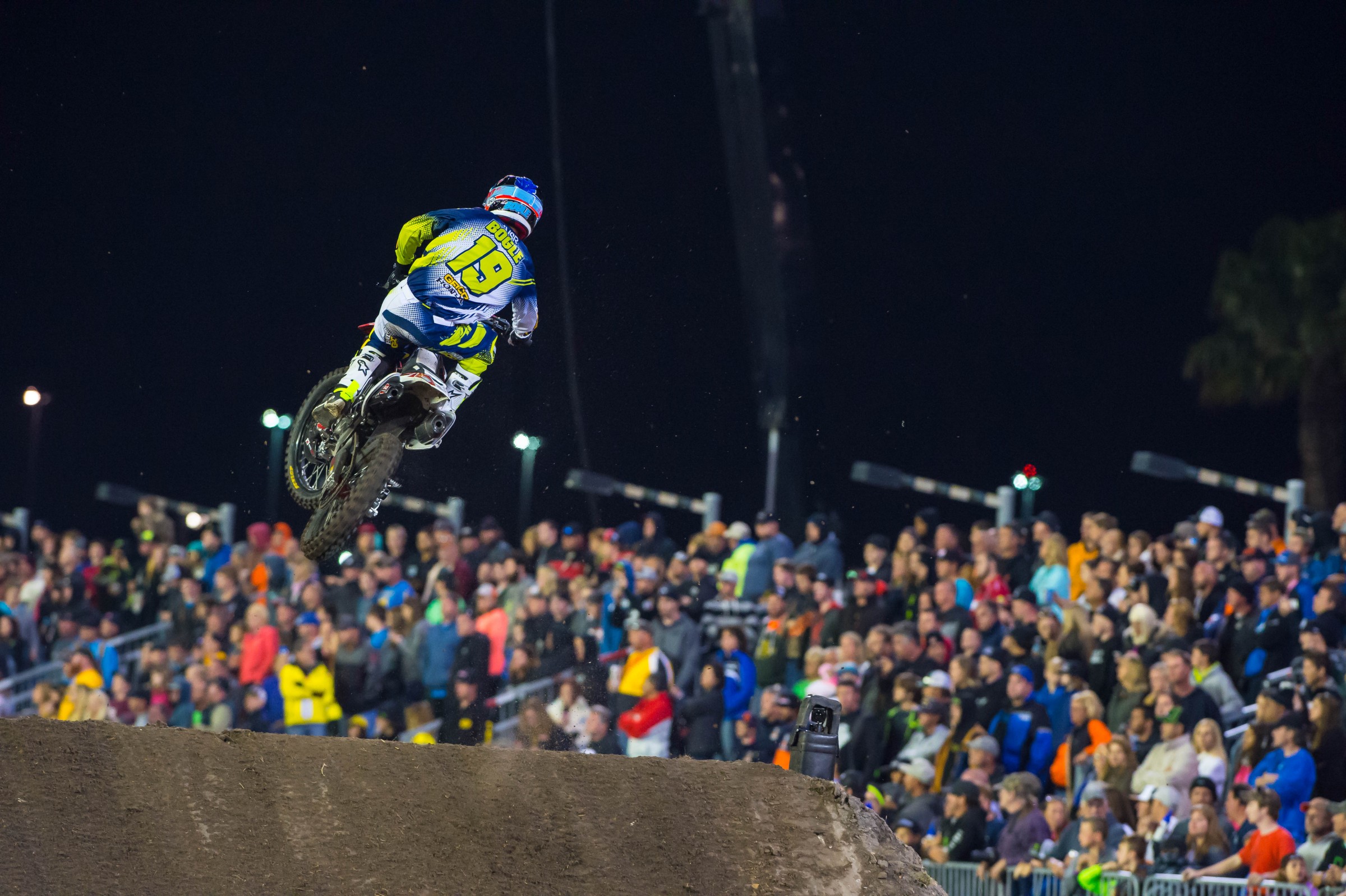 17 55 Vince Friese Cape Girardeau, MO- I was high on Friese coming into the season because we've seen him excel when he was part-time in the 450 class before. He hasn't done as well as I thought he would do but it hasn't been bad. It's just sort of a shrug your shoulders season. Of course the whole Peick/Anaheim1 thing and getting put on probation was probably a massive blow to his season. Literally.
18 47 Thomas Hahn Decatur, TX- Hahn's not a fan of me for reasons I'm not quite sure about but he told me a long time ago to never talk about him again and since I've had a couple of "issues" with him off the track, I'm perfectly happy to grant him his wish.
19 15 Dean Wilson Wesley Chapel, FL- Dean's out for the year with a torn ACL and he, like Wil Hahn, will have to drop off the factory team list and rebuild himself. I 100 percent could see Wilson moving to the GP's next year where he can make more money than he can in the USA, get on a better team than he can over here and stay away from SX which has tended to hurt him over the years. I'm not sure what's going to happen to Dean from here on out but he could be one of those guys where we say "If only…" when he's all done.
20 34 Phillip Nicoletti- Filthy wasn't supposed to race supercross this year and Yamaha didn't let him ride the factory SX track at the start of the year, so that probably didn't help when he was dropped into action after Barcia's injury after round two. Phil's crashed in every single main event but one, I believe, and it's been tough for him and the team. Still, I admire Phil that when he gets a good start, he's not scared to pin it and try to hang with the leaders even though he's not on their level. Think of him as the anti-Pourcel.
Thanks for reading, we're going to Toronto next week! Yay for Canada! Email me at matthes@racerxonline.com if you want to chat about this or anything else really.